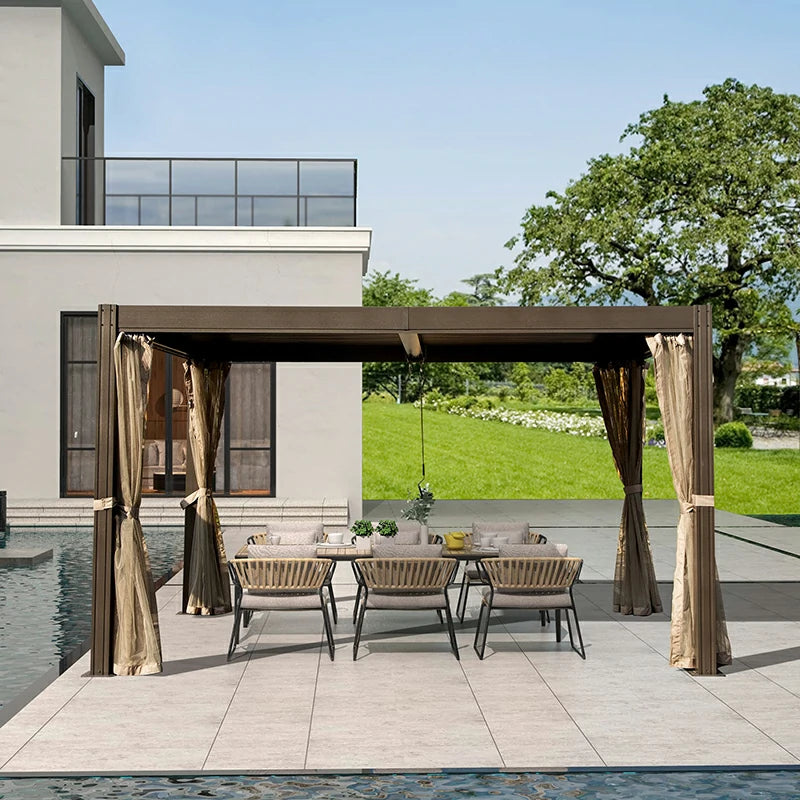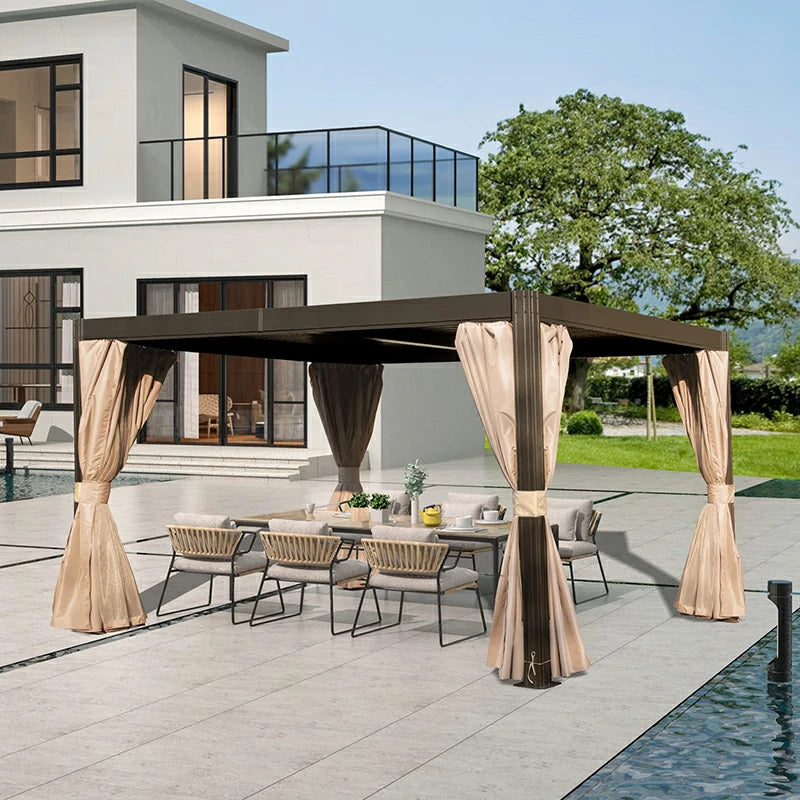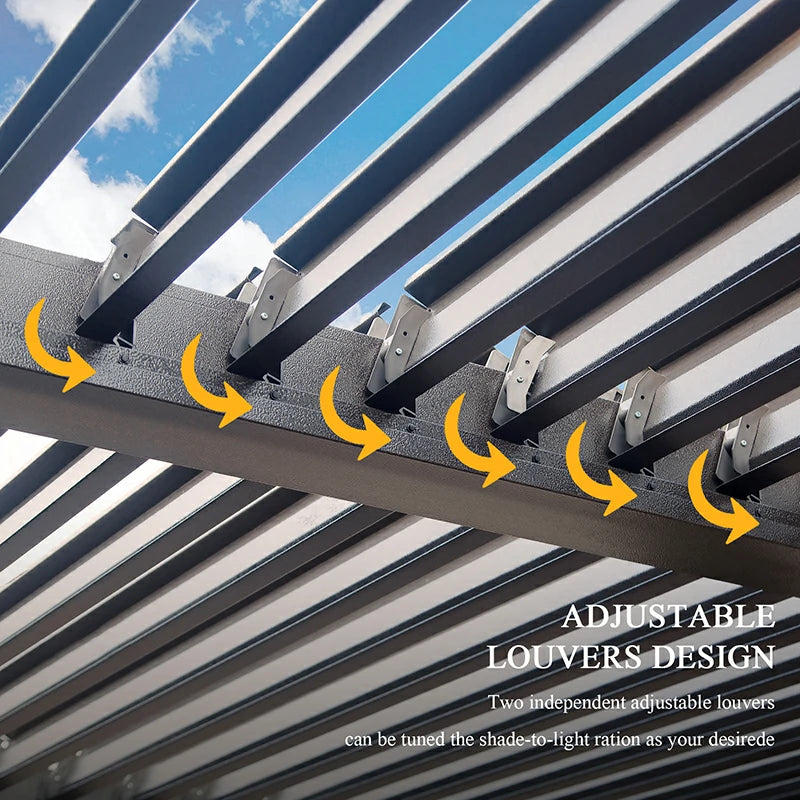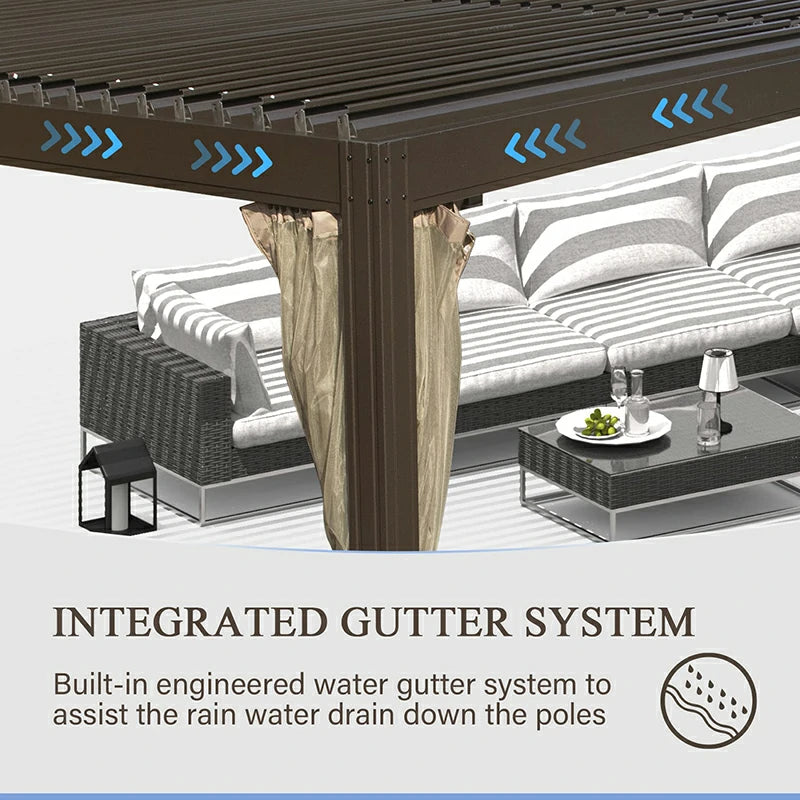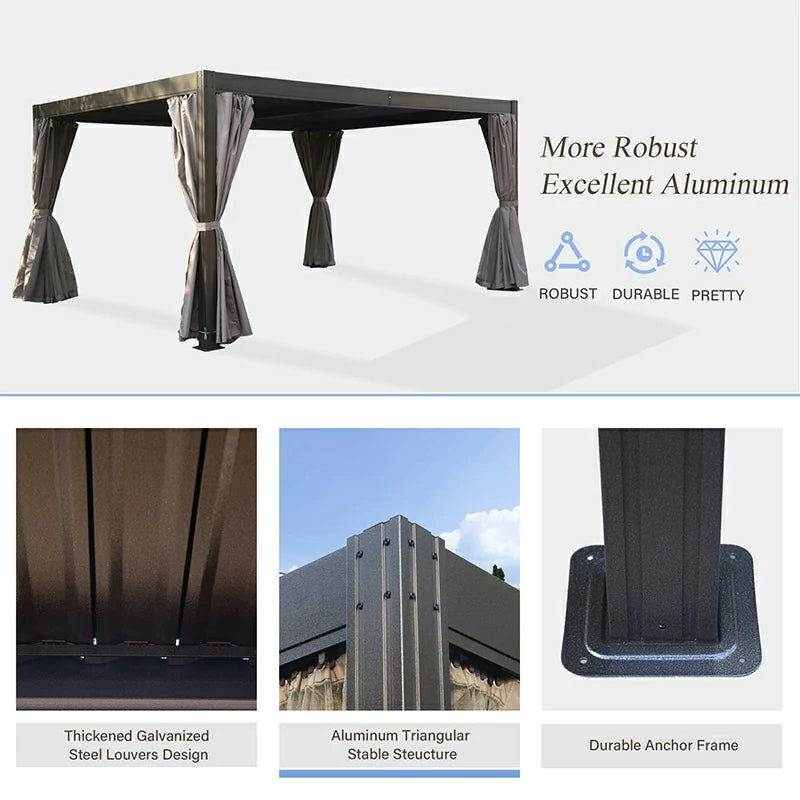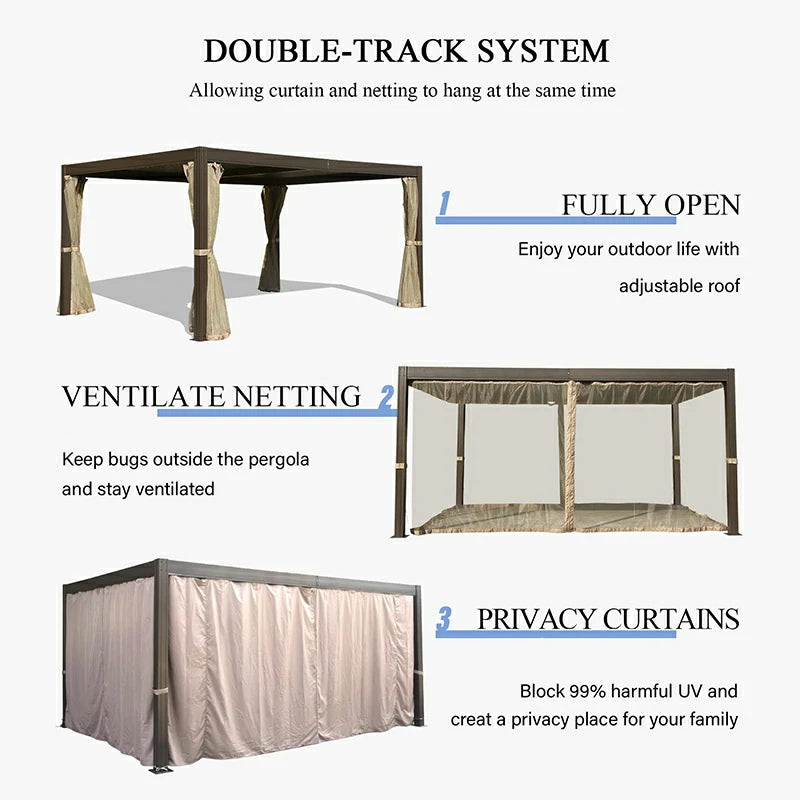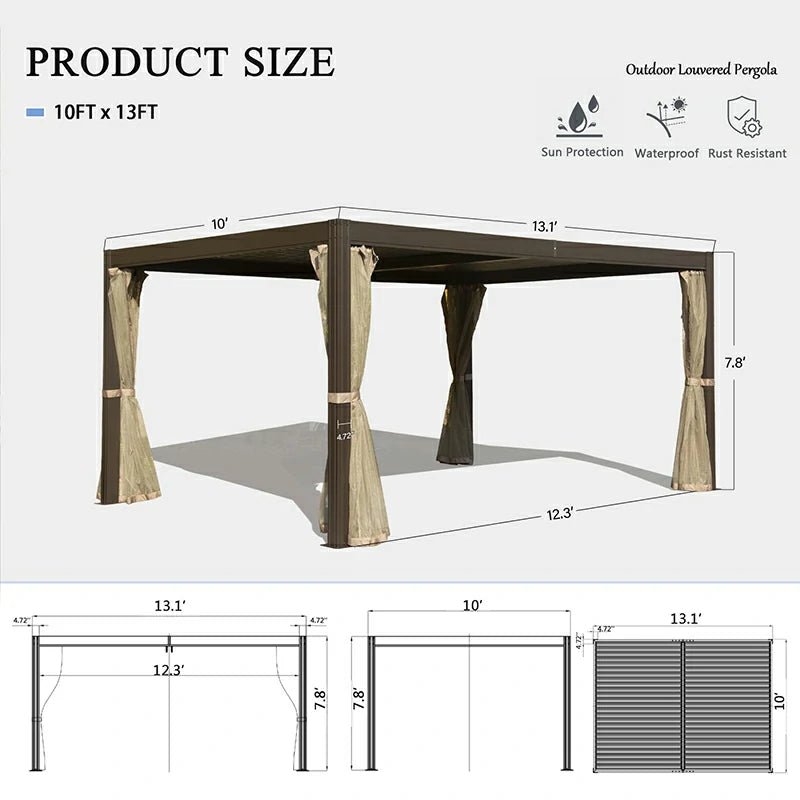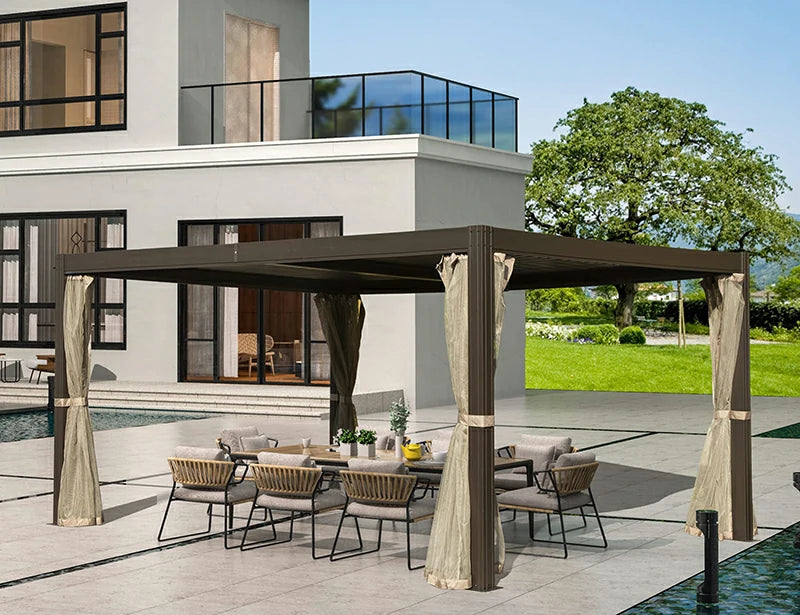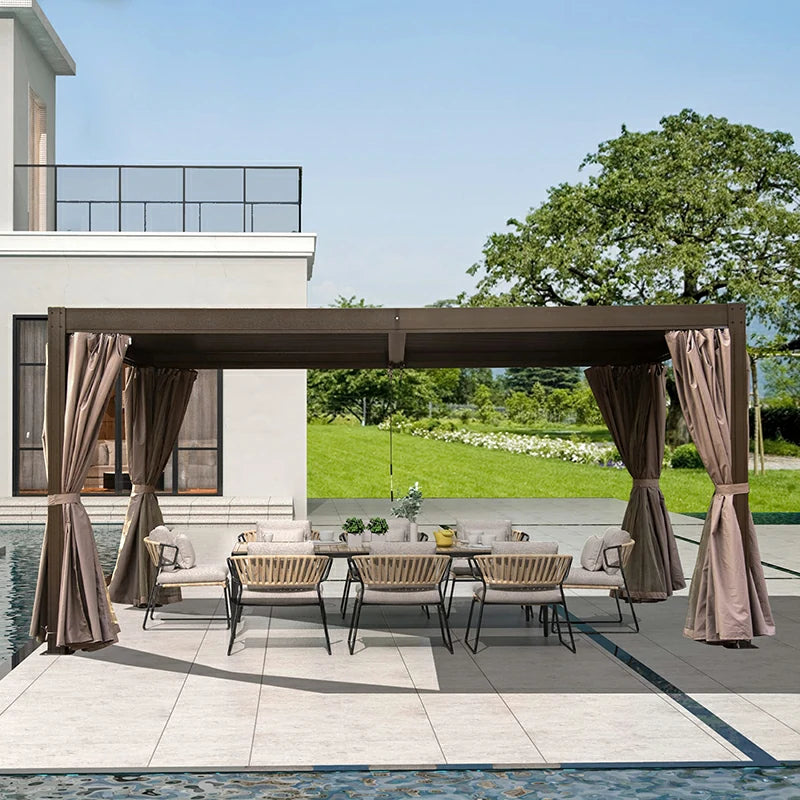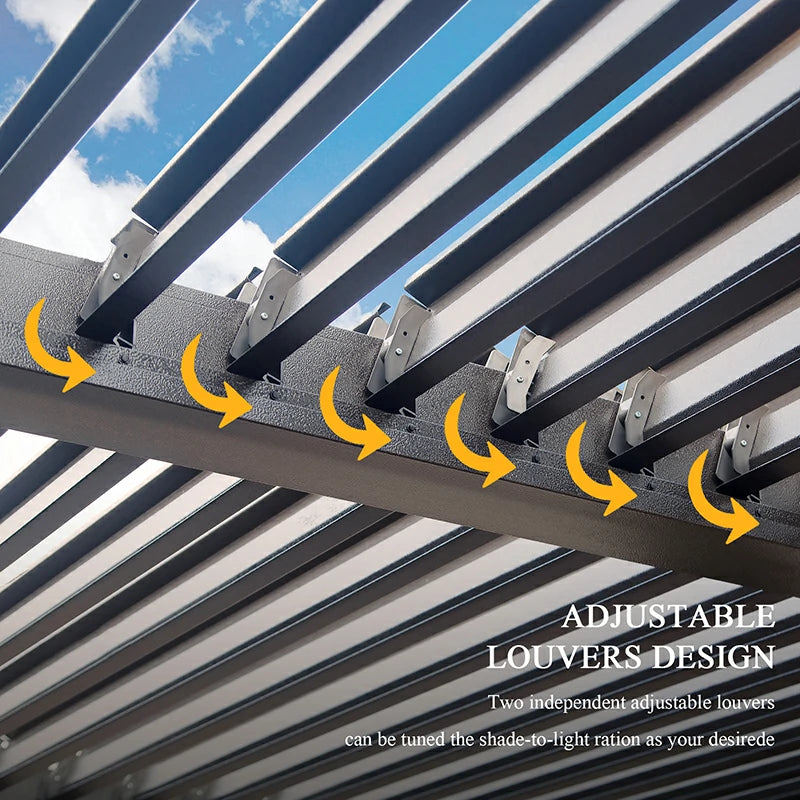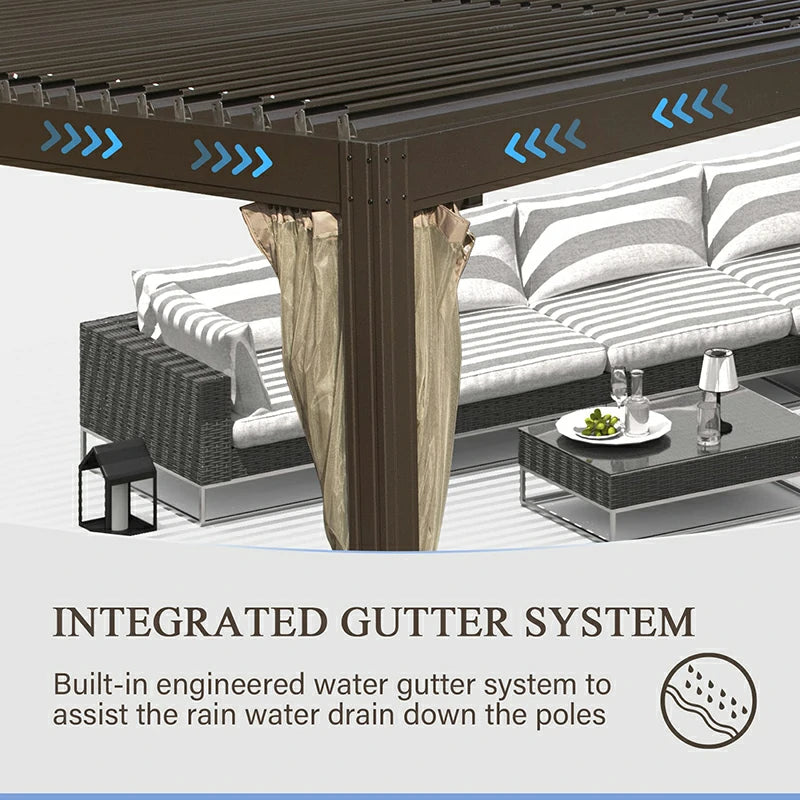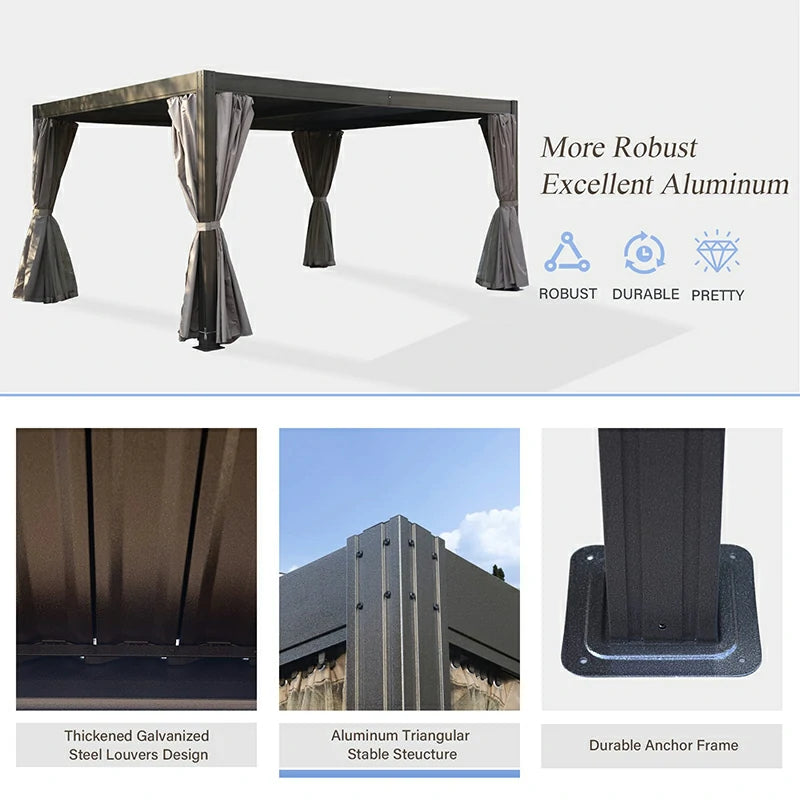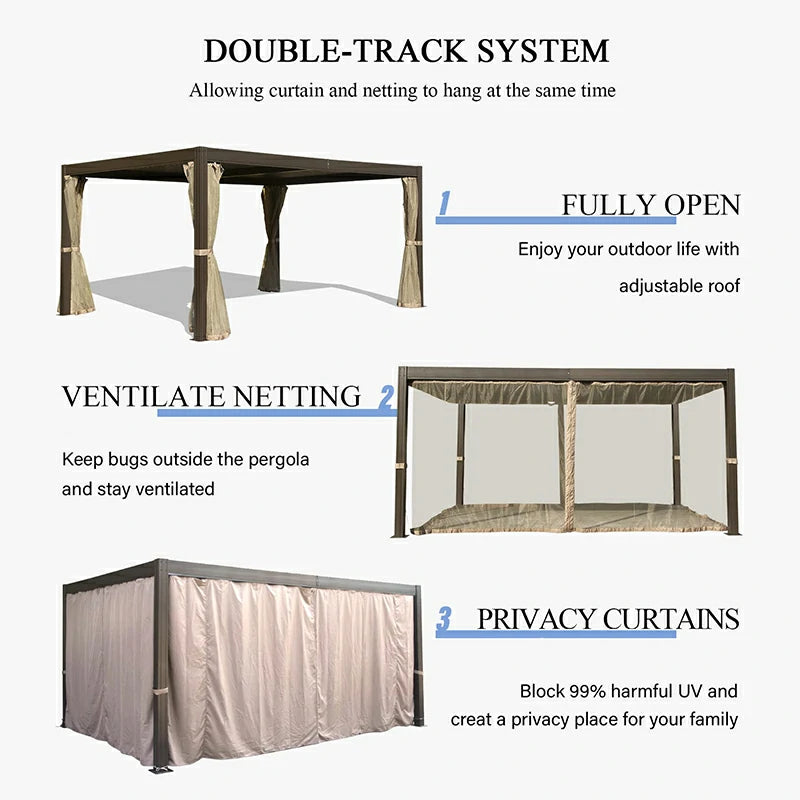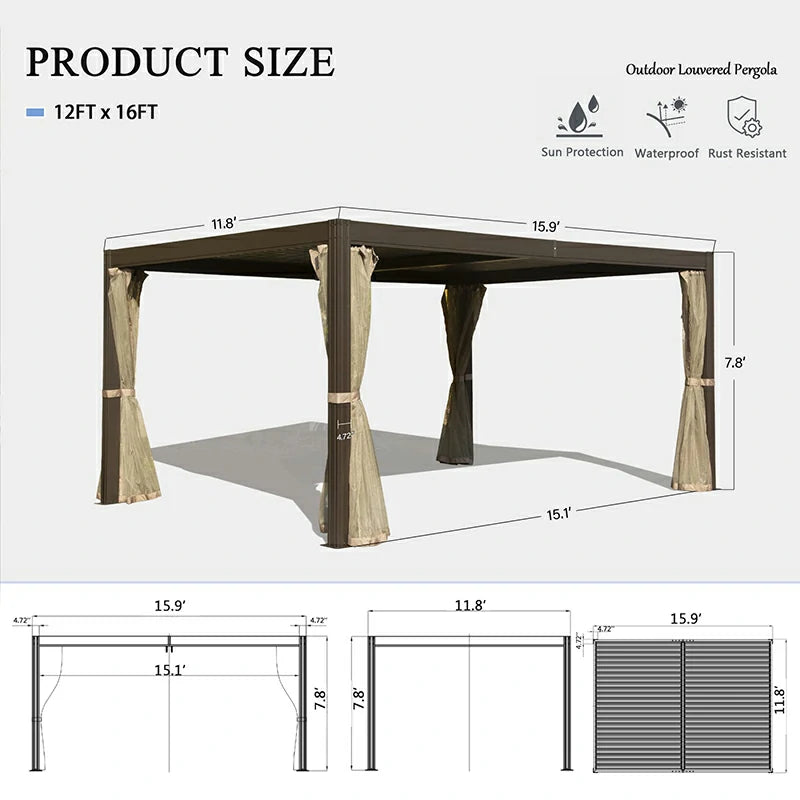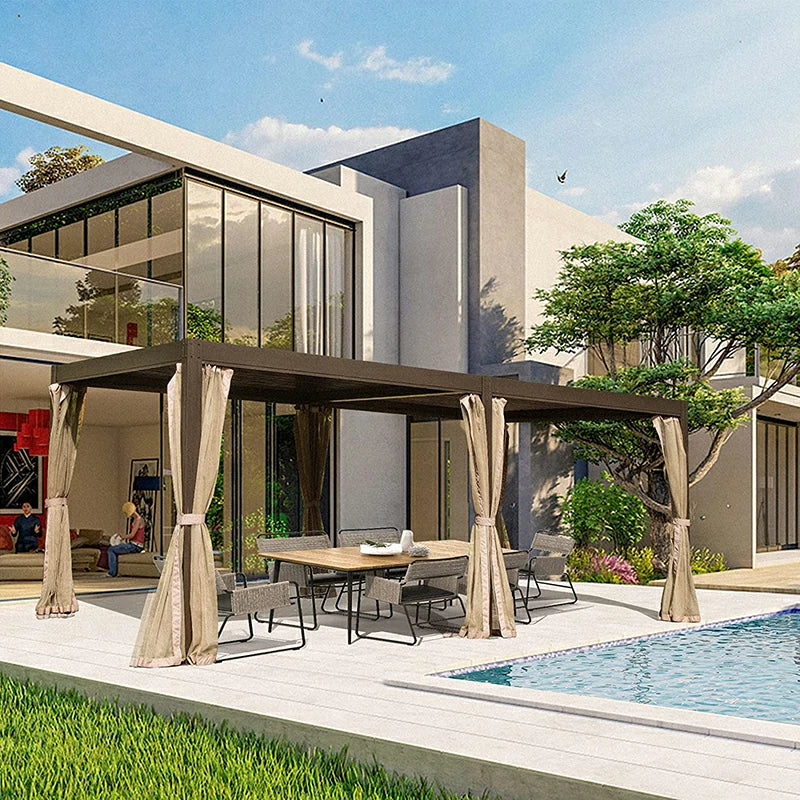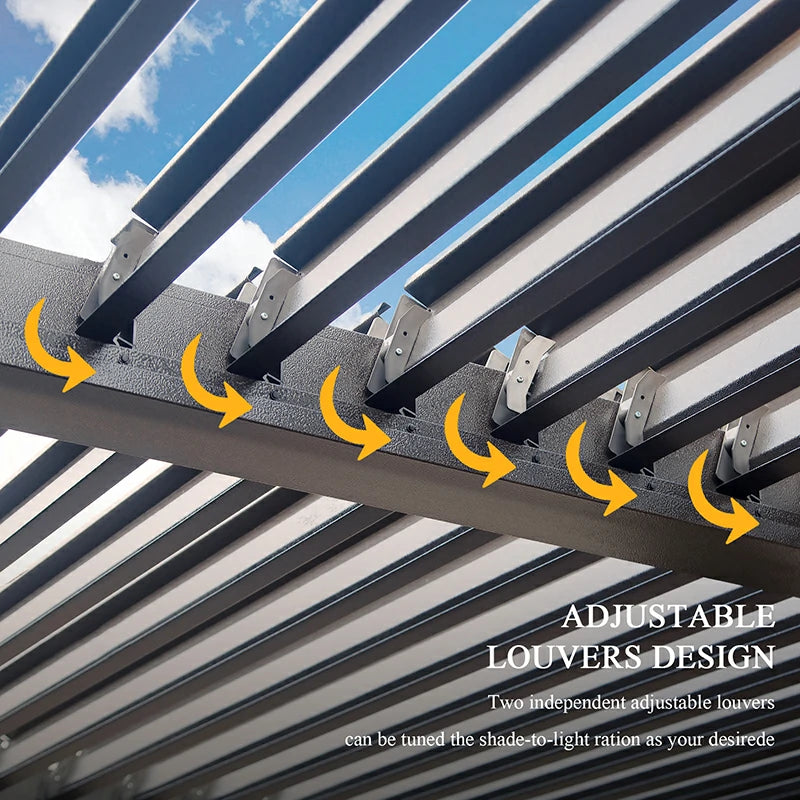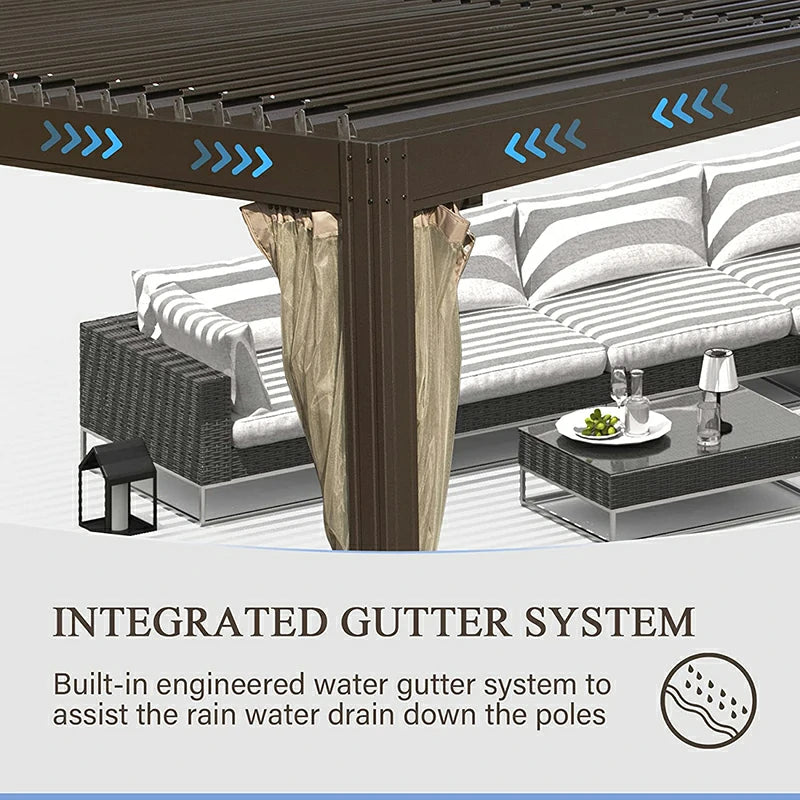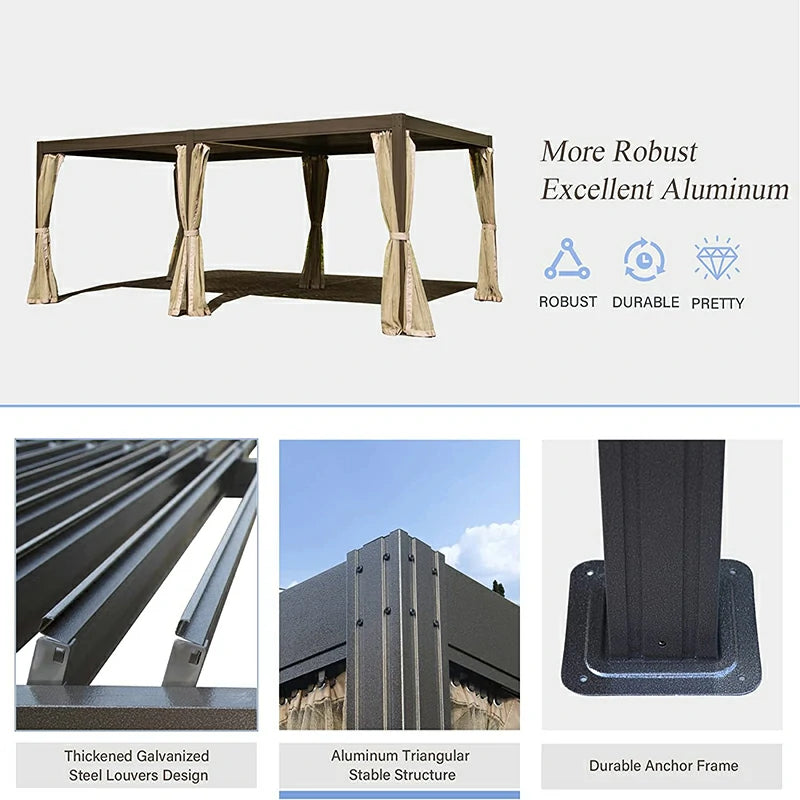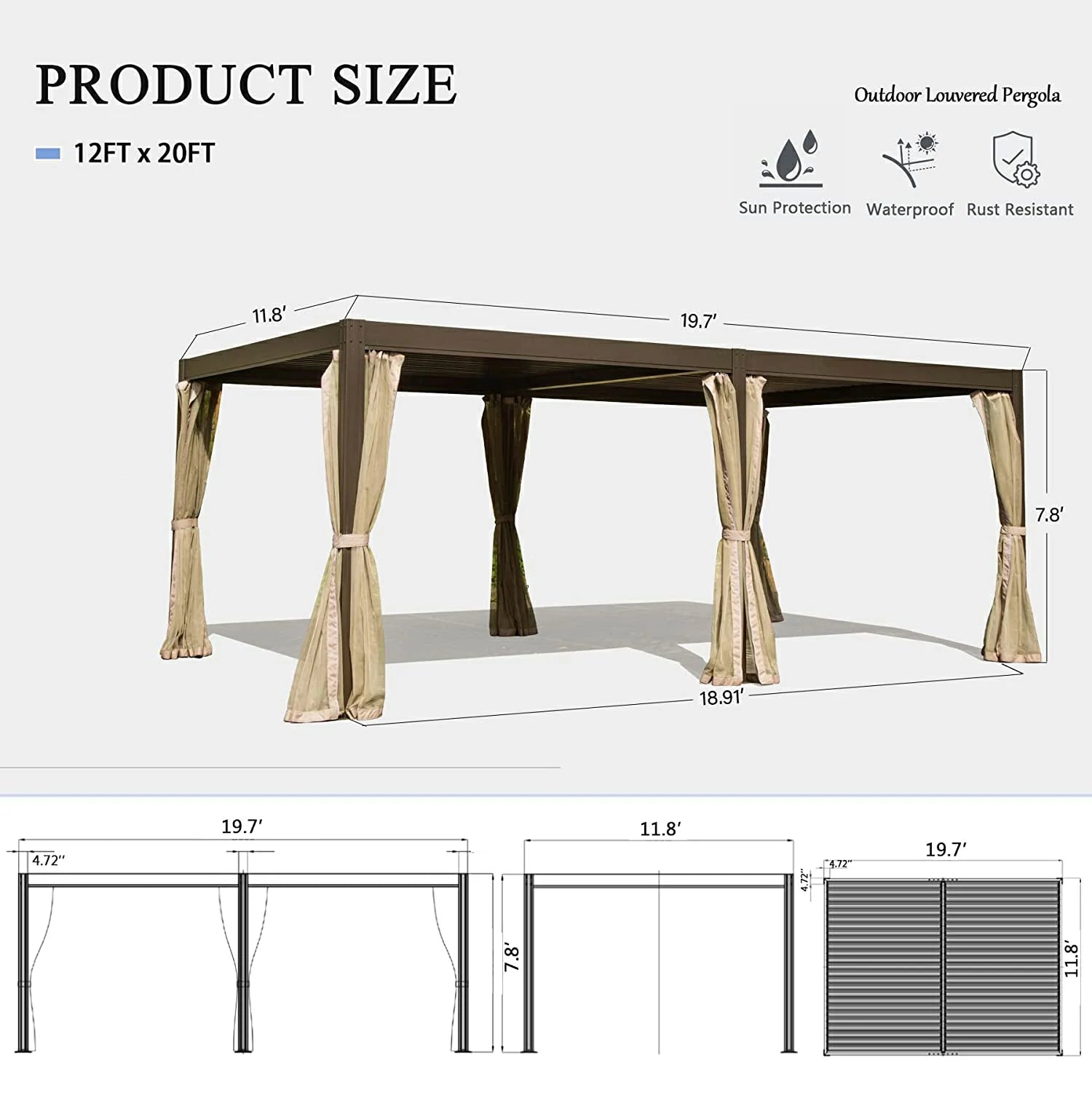 Louvered Pergola Brown with Galvanized Steel Roof
SKU: LGMF1590-BR
Assembly manual

10' x 13' Instruction manual PDF→
12' x 16' Instruction manual PDF→
12' x 20' Instruction manual PDF→

Installation requirements
2-3 people are required to assist in the installation. Ladder and gloves are required for installation. Anchor the pergola as soon as finish the installation.

Attention
Consult with your local governing authority / local municipal codes regarding the installation of temporary structures before purchaser and/or assembly. This structure may require a permission.

Installation services
The installation of the pergola might be a bit challenging, but our collaborating professionals are here to make it convenient for you. Please visit HANDYBUDDY to schedule your installation service.

Disclaimer
All the installation service from website is from thrid party!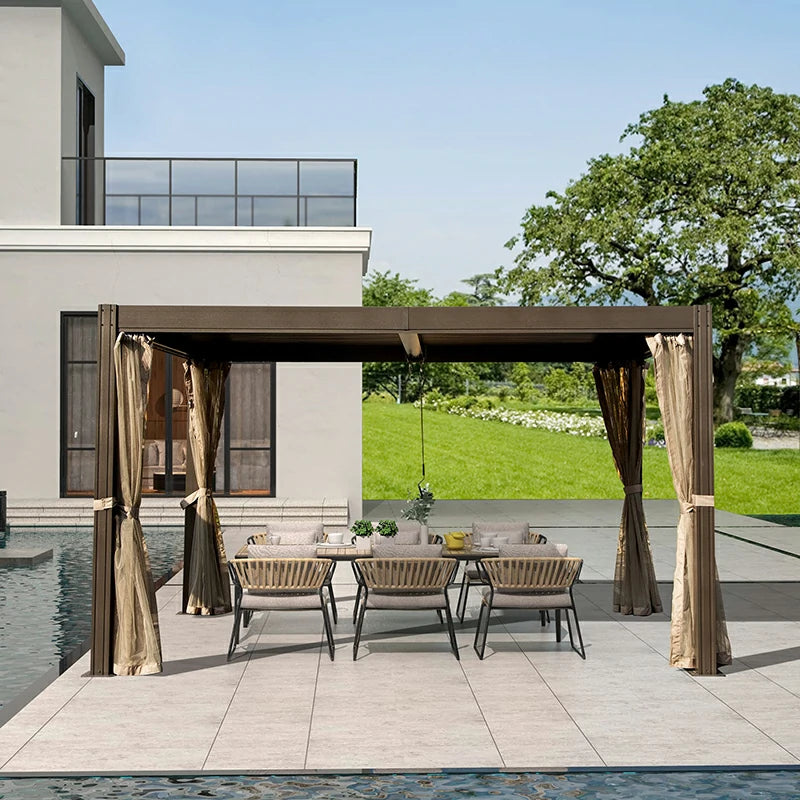 Product specification
To ensure maximum stability, please anchor the pergola to the ground as soon as installation is complete. Additionally, in extreme weather conditions, we recommend securing the curtains and netting tightly and regularly clearing snow accumulation from the roof during the winter. These simple tips will help you make the most of your pergola in the days ahead.
Material
Aluminum Frame, Galvanized Steel Louvers
Fabric
180gsm polyester with PU coating, CP-84 flame retardant material
Sun & UV protection performance
Gazebo total weight
409 lbs (10x13 ft), 502 lbs (12x16ft), 640 lbs (12x20ft)
Unleash the Perfect Outdoor Oasis
Create an inviting outdoor haven with the Domi Outdoor Living Louvered Pergola. Designed to enhance your patio, backyard, deck, garden, or lawns, this aluminum frame pergola is a stylish and functional addition to any outdoor space.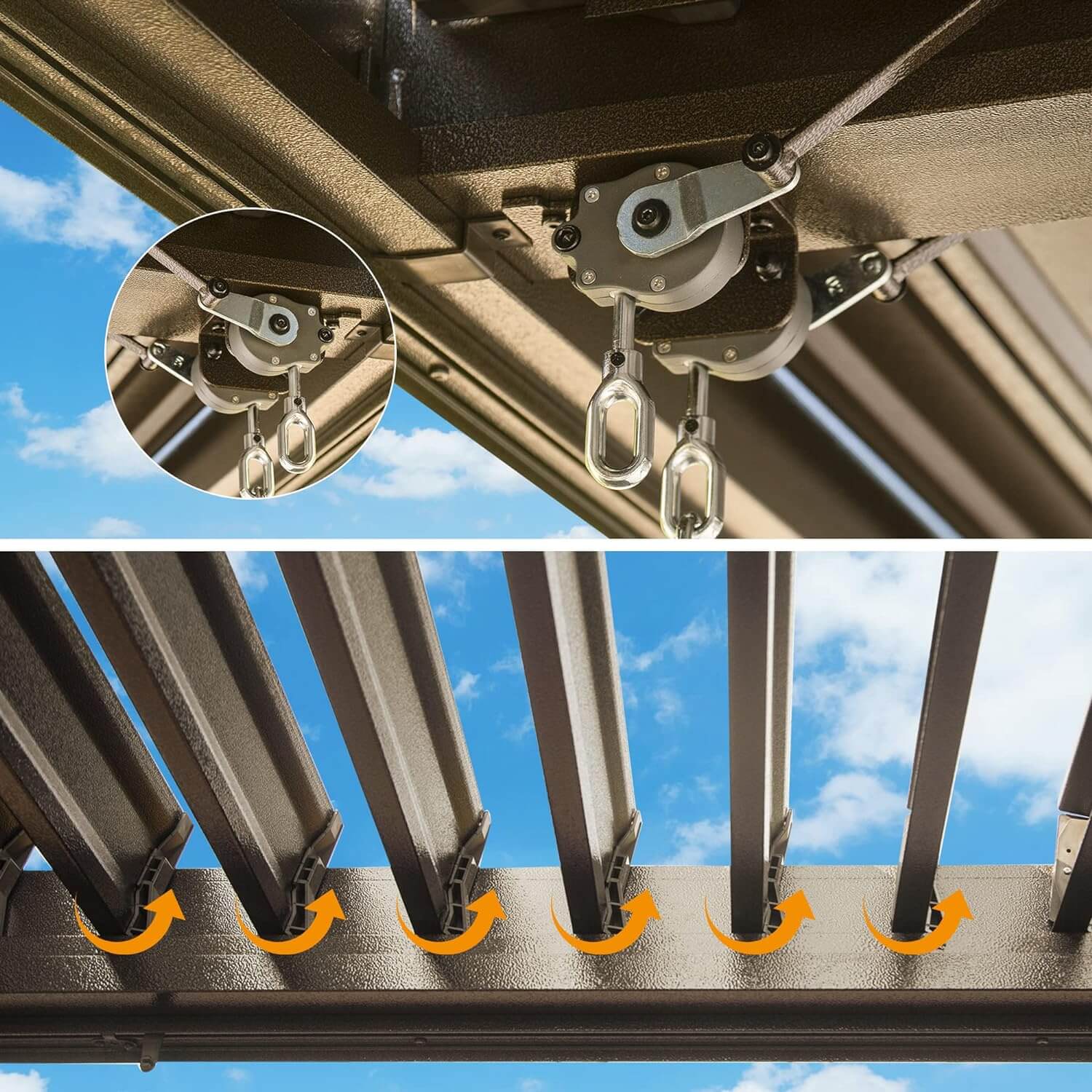 Enjoy Versatile Outdoor Living
Experience the best of both worlds with a louvered roof that allows you to control the amount of sunlight and shade. Whether you desire a sun-drenched space for relaxation or a cool retreat on hot summer days, this pergola offers adjustable galvanized steel roofing to effortlessly meet your preferences.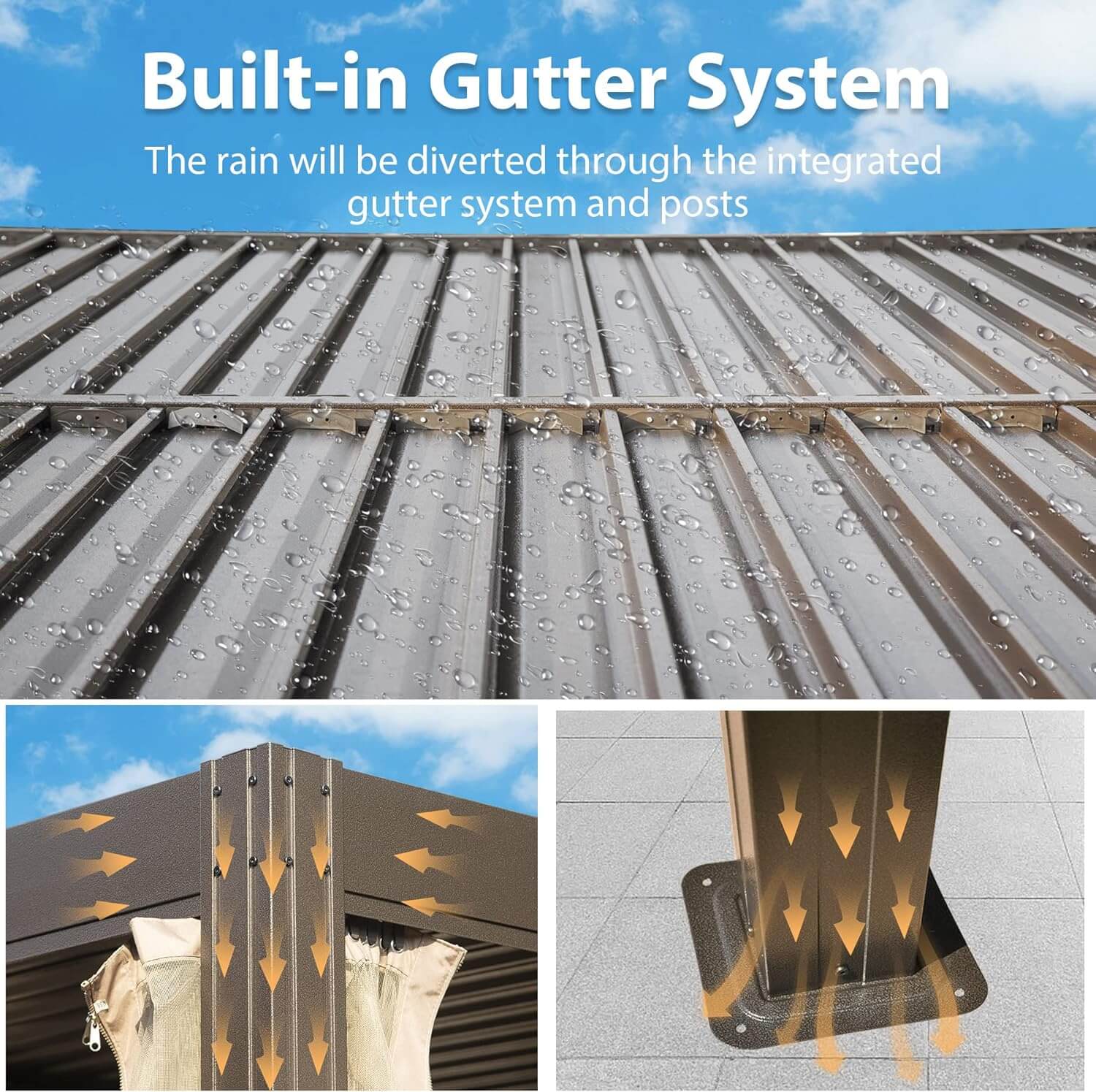 Durable and Weather-Resistant
Crafted with high-quality materials, the Domi louvered pergola ensures long-lasting durability and withstands the elements. Its aluminum frame provides strength and stability, while the galvanized steel roof is resistant to rust, corrosion, and UV rays. With integrated gutter systems, rainwater is efficiently managed, ensuring a dry and enjoyable space underneath.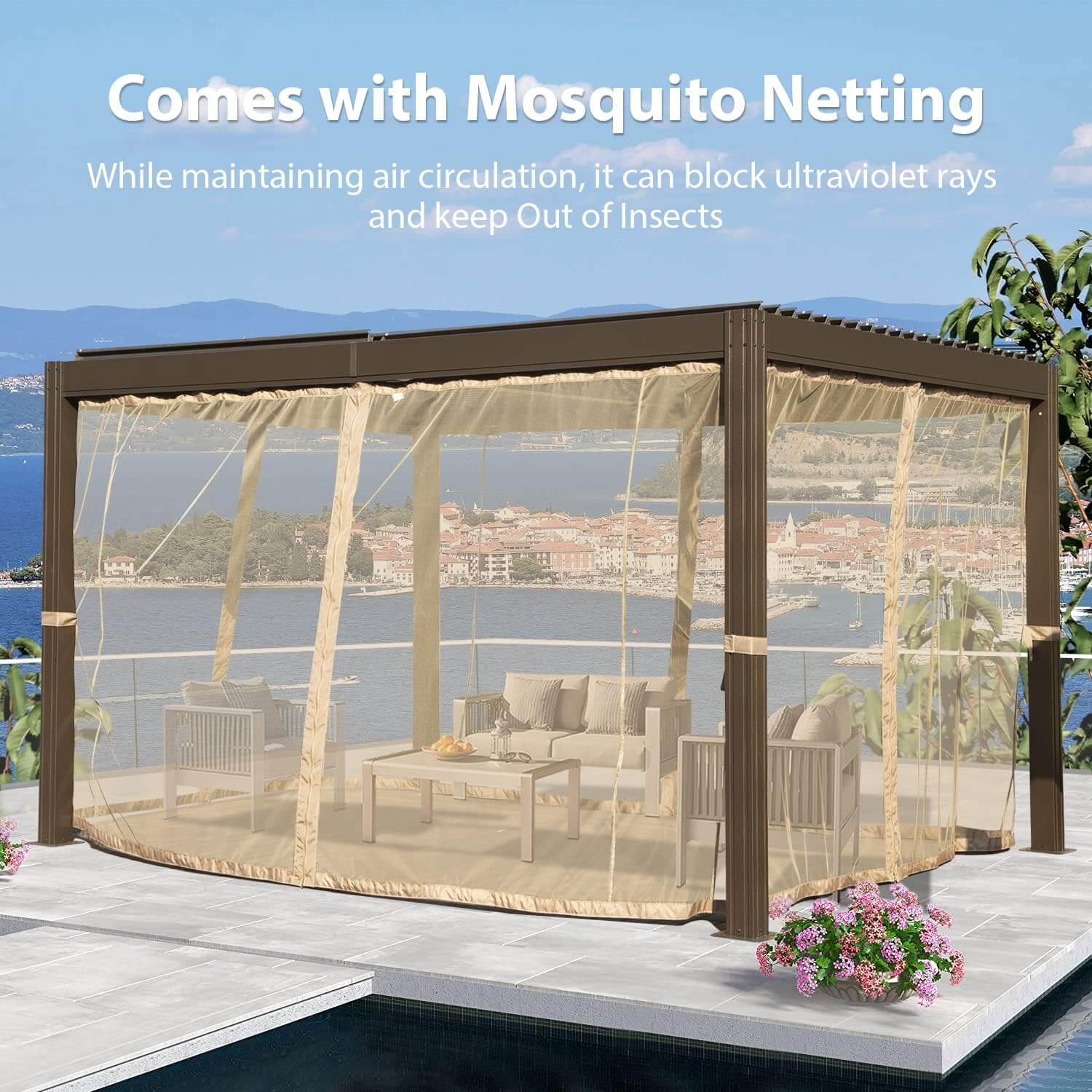 Mosquito-Free Zone
Experience tranquility and freedom from bothersome insects with the included mosquito netting. Whether you're unwinding with a book, hosting a dinner party, or simply soaking up the serenity of your surroundings, the mosquito netting provides a peaceful oasis, allowing you to fully immerse yourself in nature without any interruptions.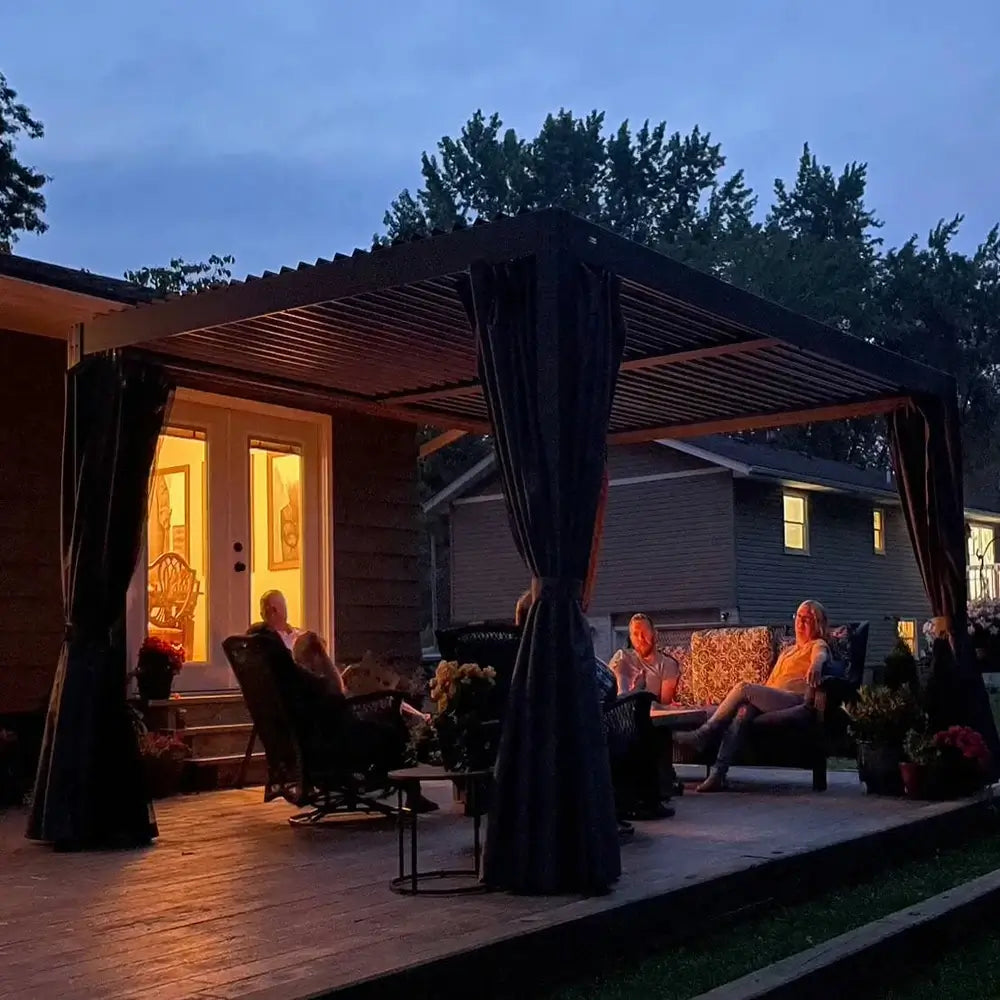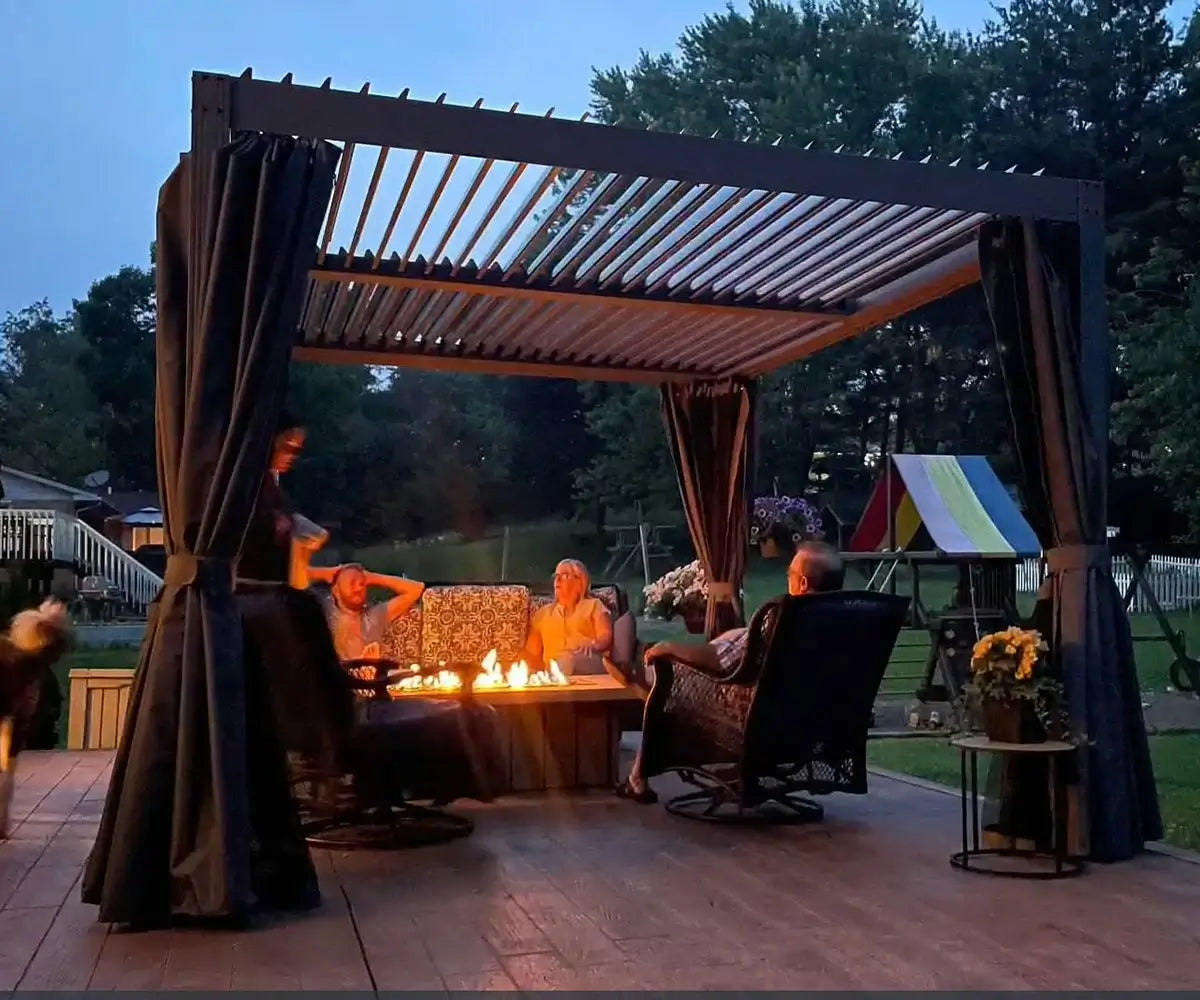 Unparalleled Versatility for Every Occasion
Whether you envision hosting unforgettable dinner parties under the stars or creating a cozy nook for quiet contemplation, the Domi Louvered Pergola effortlessly adapts to your every need. Immerse yourself in the breathtaking beauty of an open sky or seek solace under the protective shield of the adjustable roof. Whatever your desires may be, the Domi louvered pergola is ready to elevate your outdoor experience.
Compare with similar items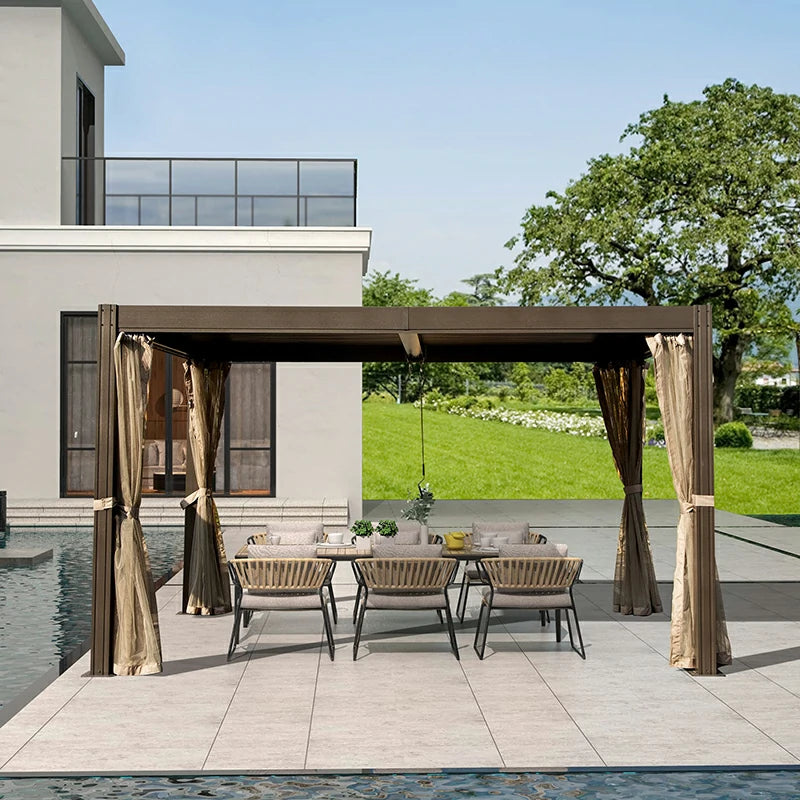 Material
Aluminum Frame, Galvanized Steel Louvers
W/ Netting & Curtain
With netting, curtains optional
FAQ
Our pergola is made to last. The whole installation requires at least 2 people to ensure safety and sturdiness. Make sure all parts are clicked or screwed properly following the instructions to ensure water resistance and sturdiness. Please contact us for any installation problems.
Our customer support is available Monday to Friday: 00:00 AM- 02:30 AM, 17:30 PM- 24:00 PM(GMT -8:00)
Average answer time: 24h
Contact Us
How long is the warranty?

5 years warranty on the roof and frame.1 year warranty on curtains and netting. For detailed warranty policy, please check Warranty page.
How many boxes are there in total for the pergola?

Different sizes come in different numbers of boxes. The pergola are all shipped via truck and all boxes will be delivered at the same time.
Can the pergola be anchored to the ground/ a concrete pad?

The pergola can be secured to wooden decks or concrete floors with M6 expansion bolts.
Does this structure require a permit?

Each state has different regulations and we do not provide any permit. Please consult HOA.
Does it have a rating for high winds?

The structure is absolutly fine in high winds, can handle 50 mph winds. Make sure all posts are screwed to a deck. As for the curtains, please keep them tied up. There is nothing that can keep them from blowing in the wind. So any storms, please cover furniture and tie the curtains secure.
Our customer support is available Monday to Friday: 00:00 AM- 02:30 AM, 17:30 PM- 24:00 PM(GMT -8:00)
Average answer time: 24h
Contact Us
This product has no reviews yet.