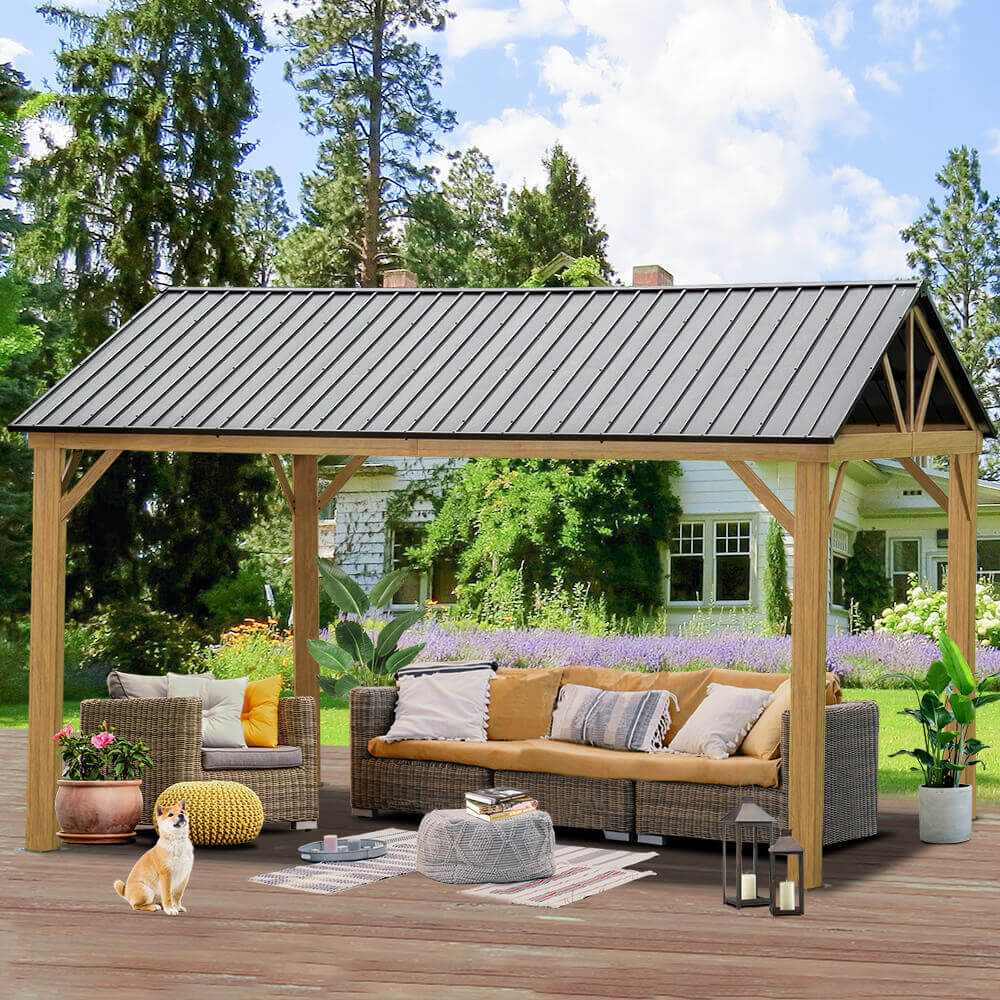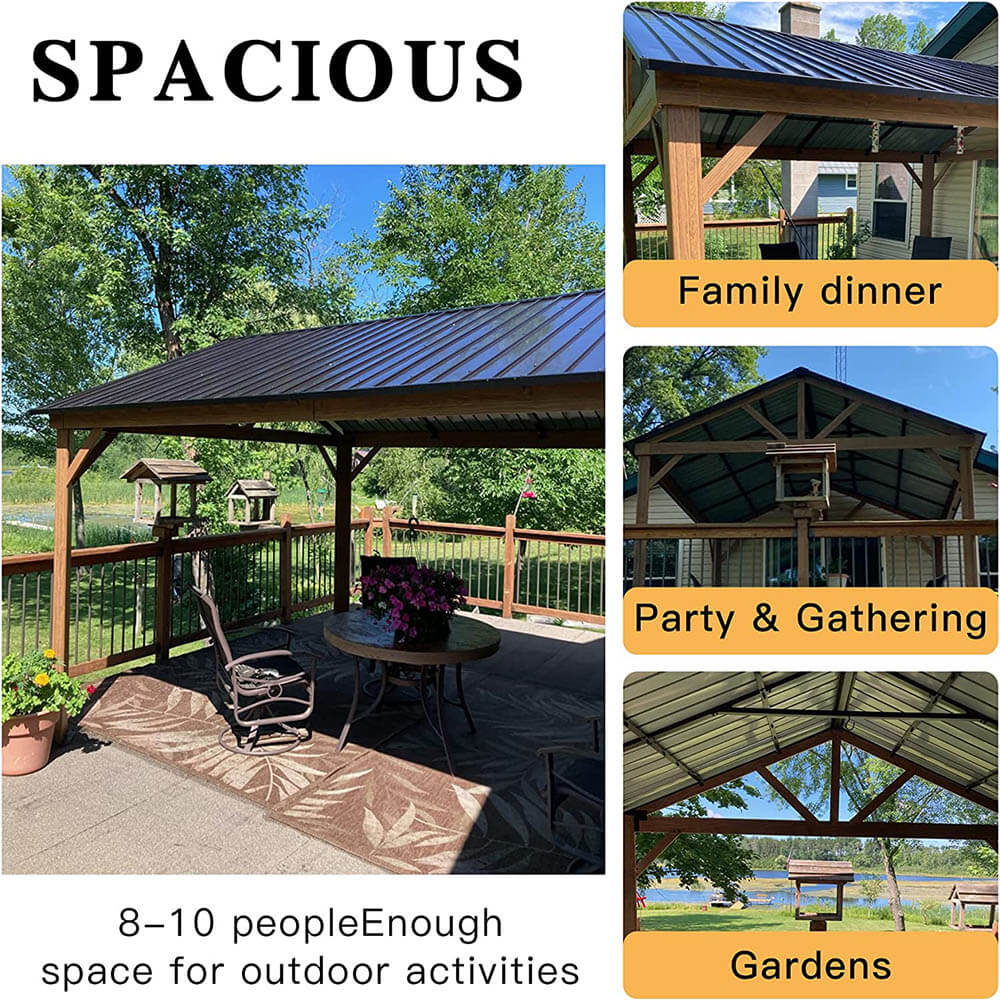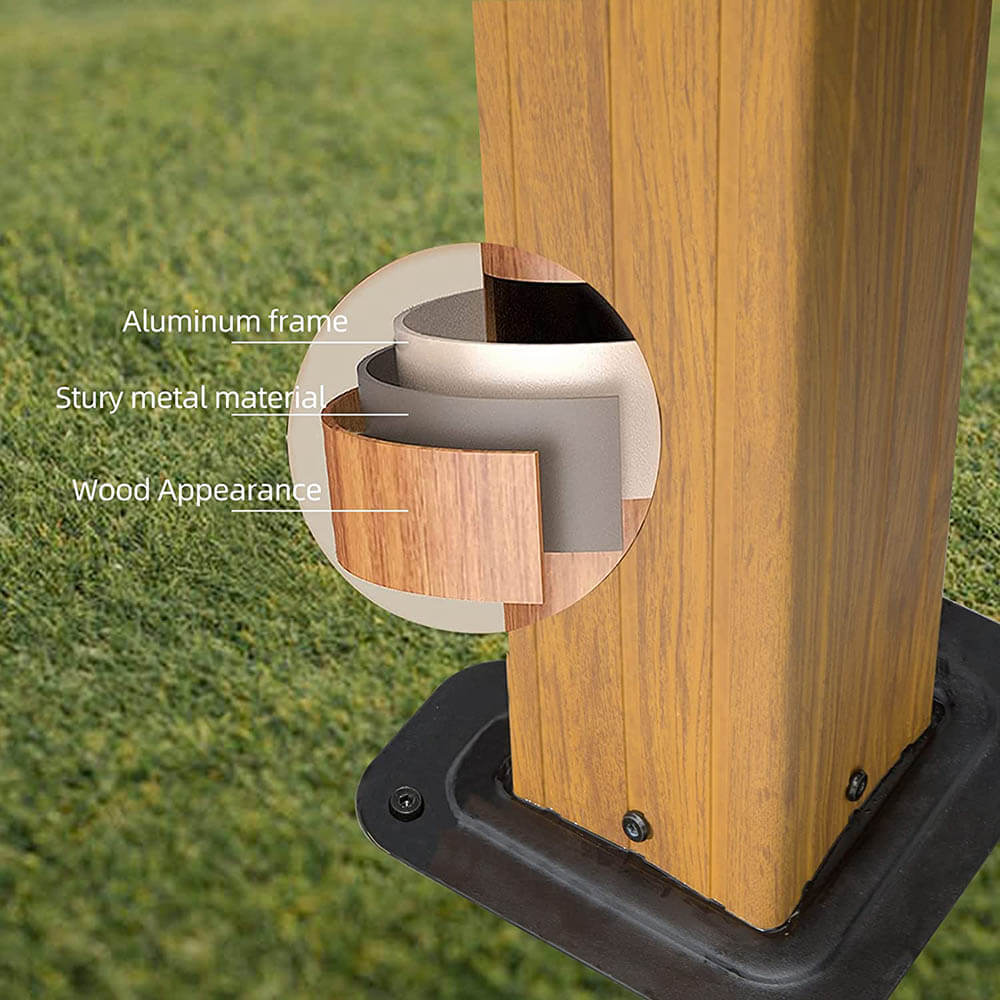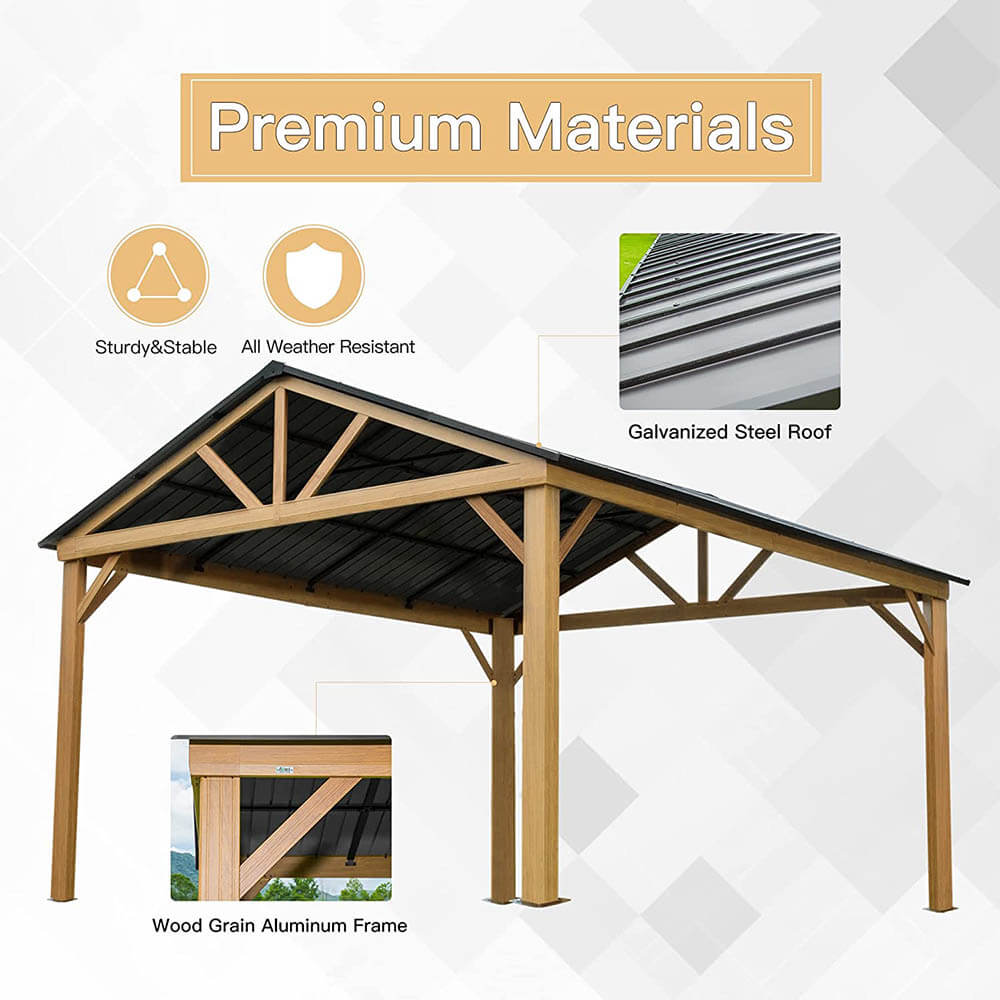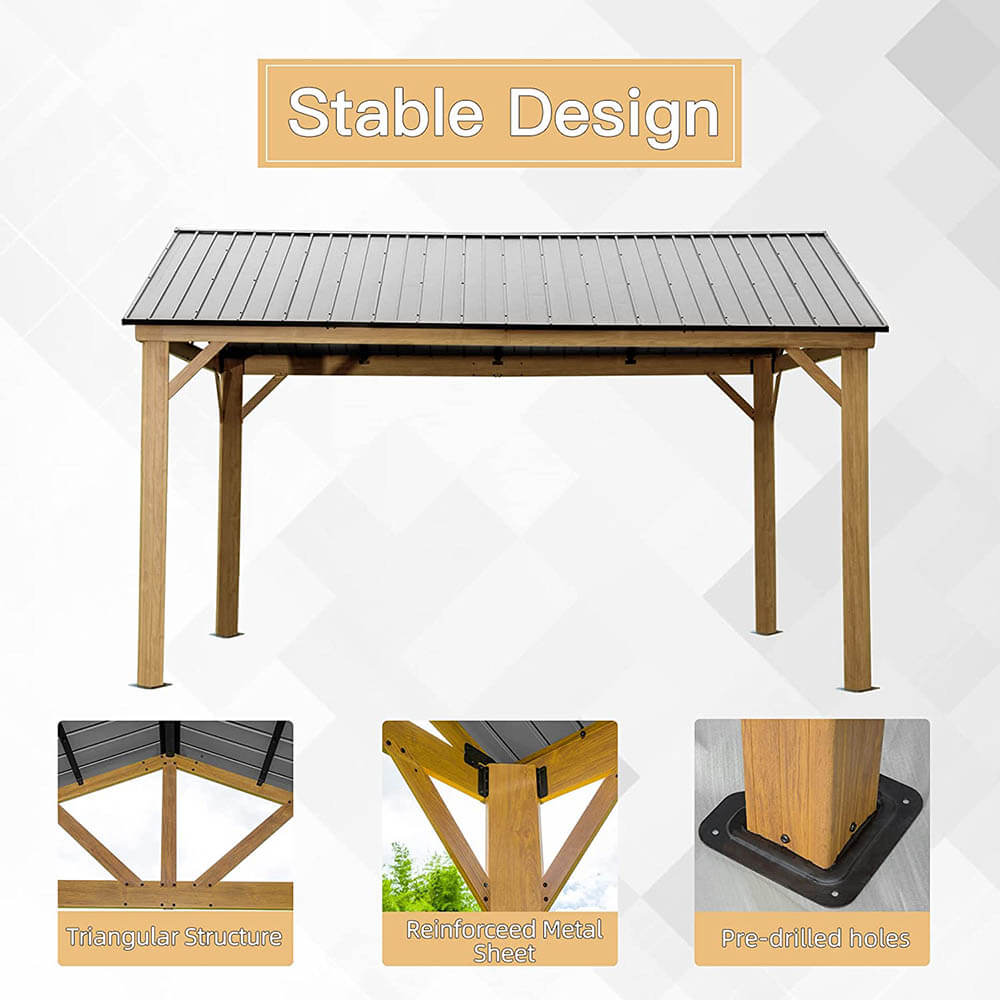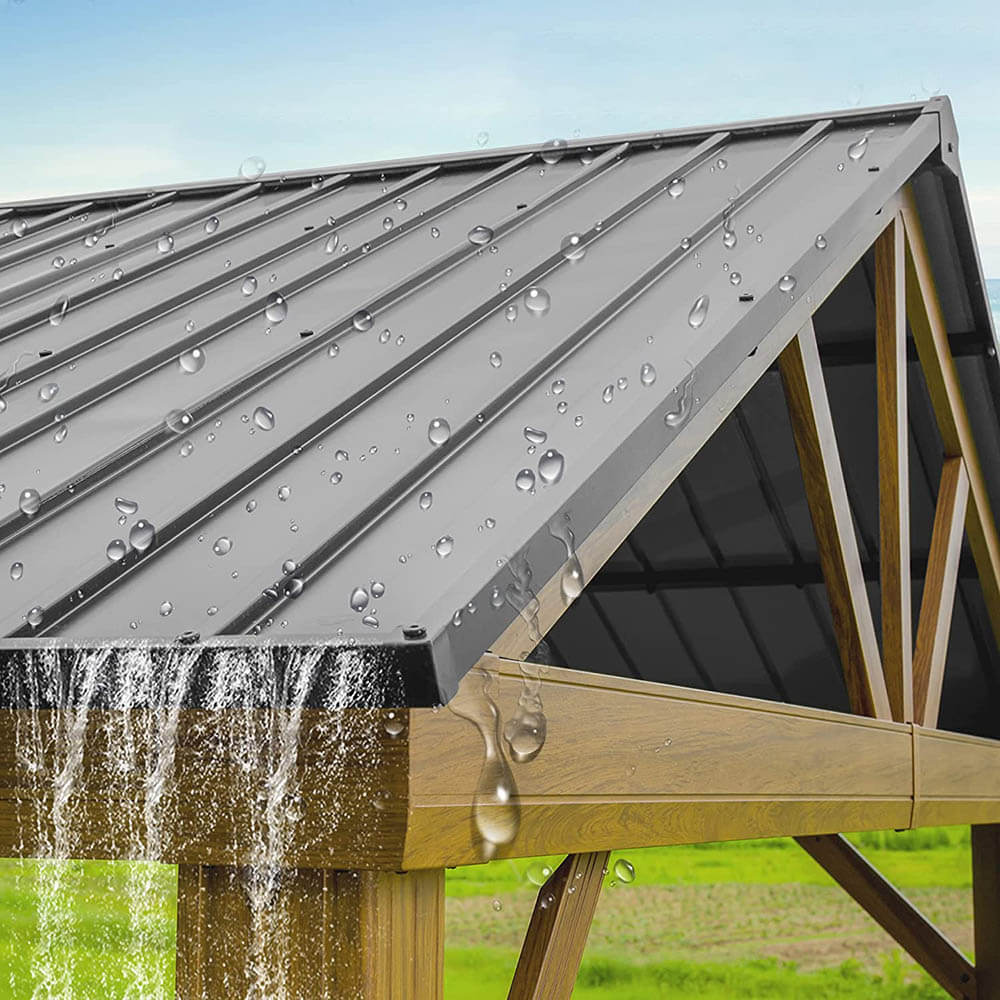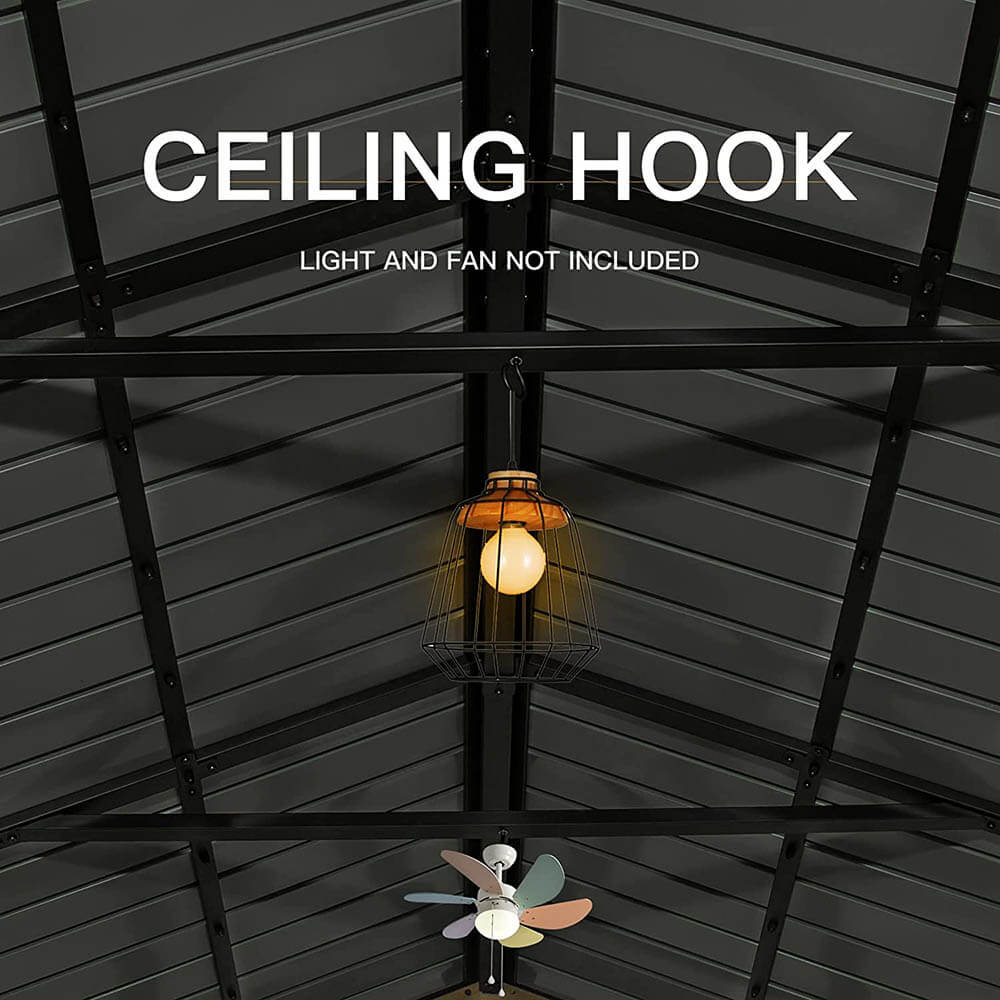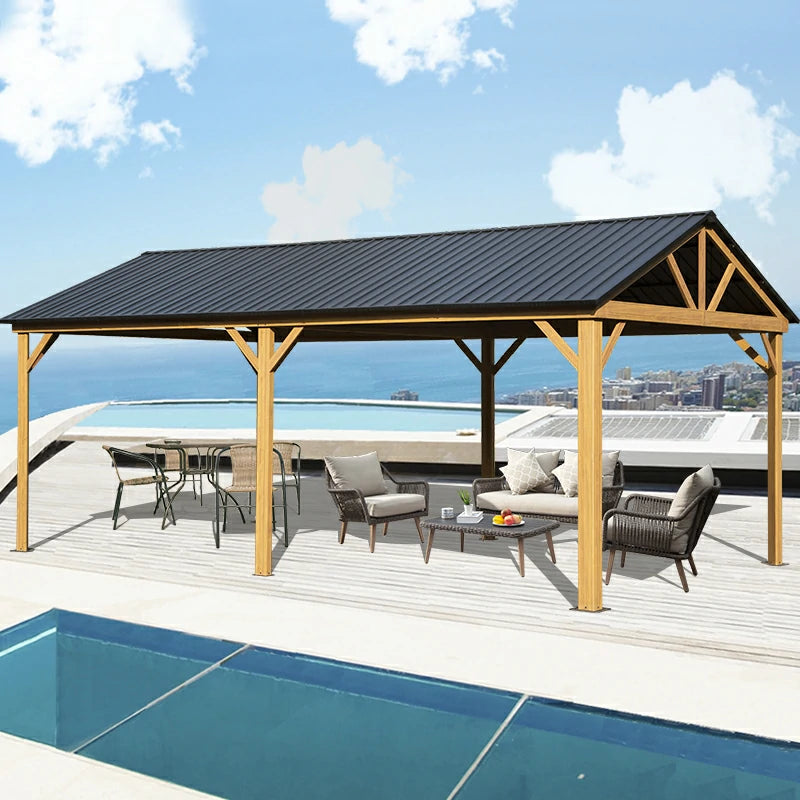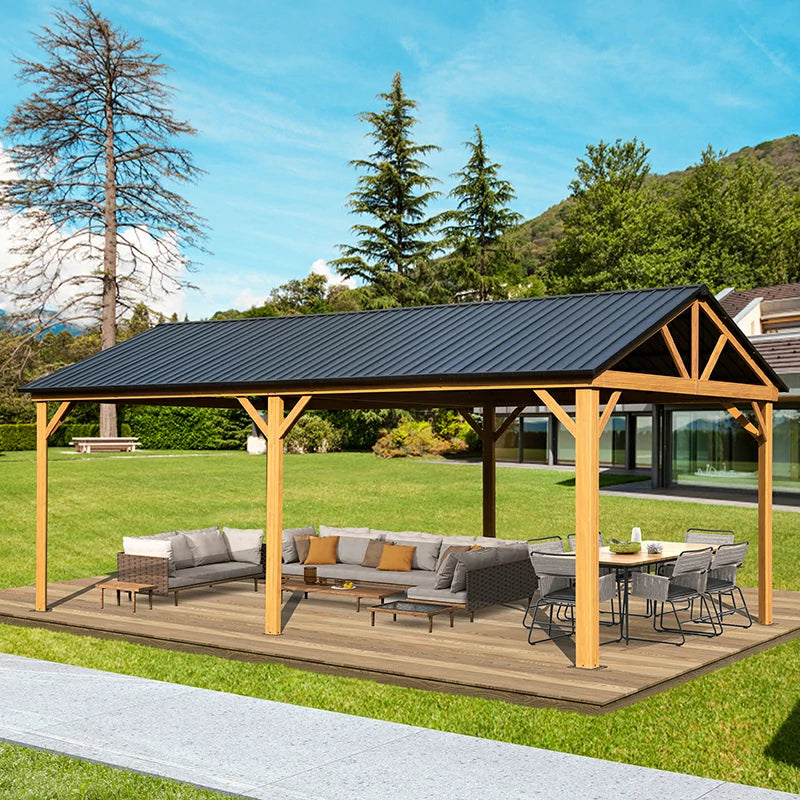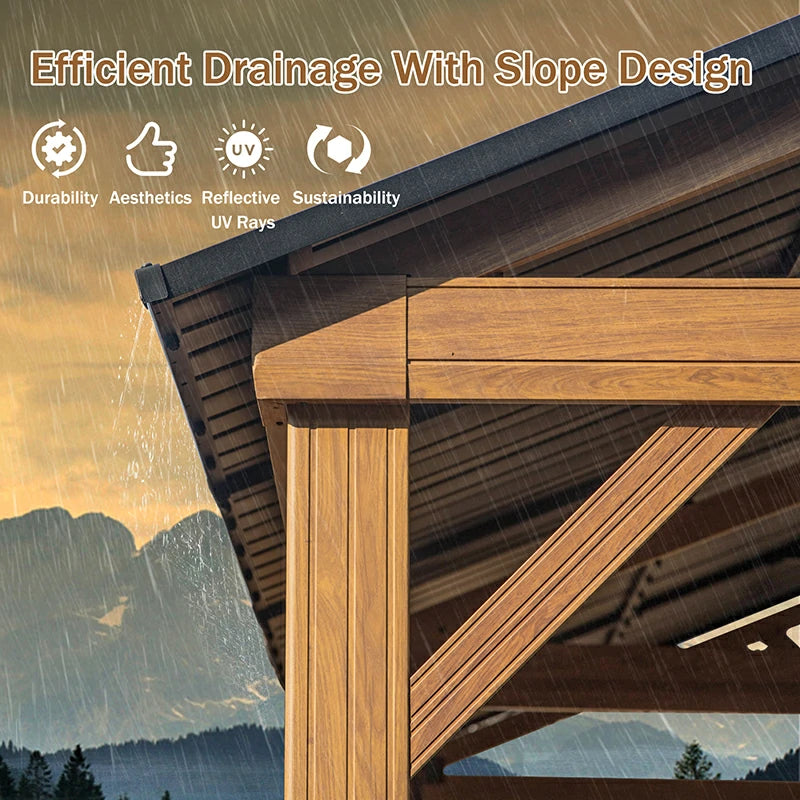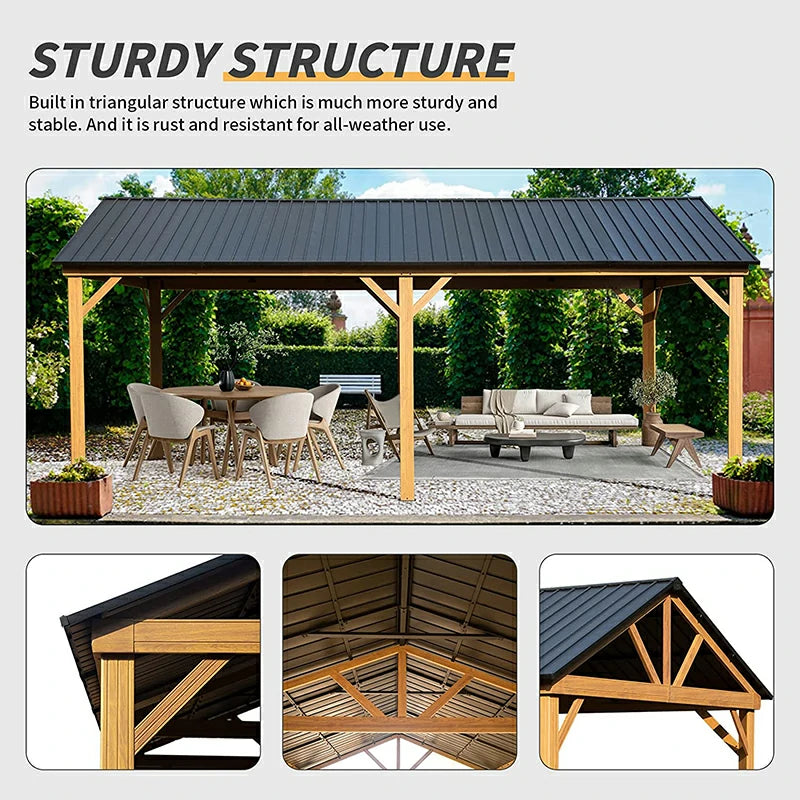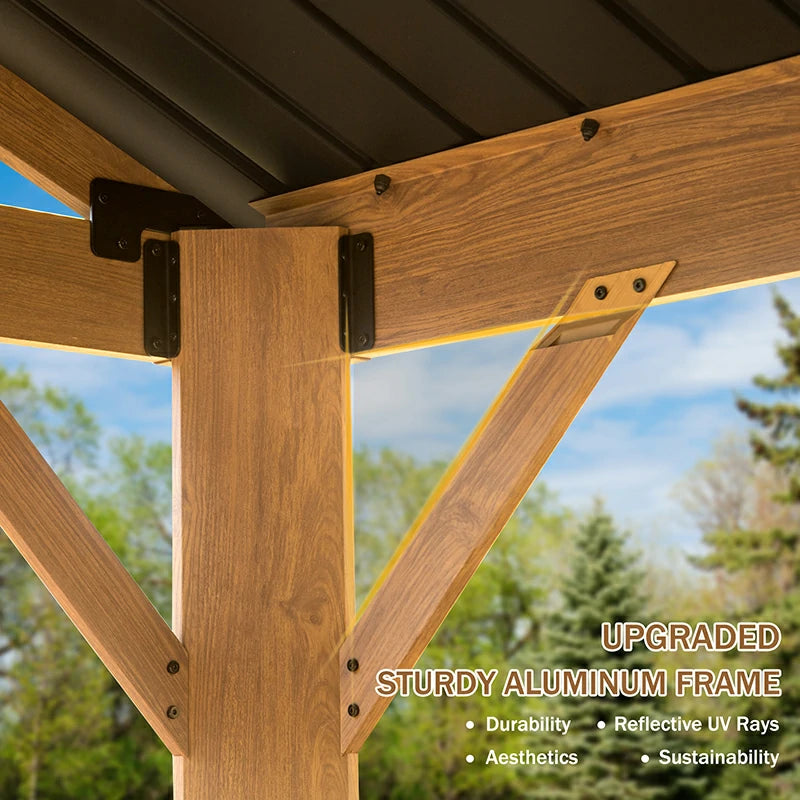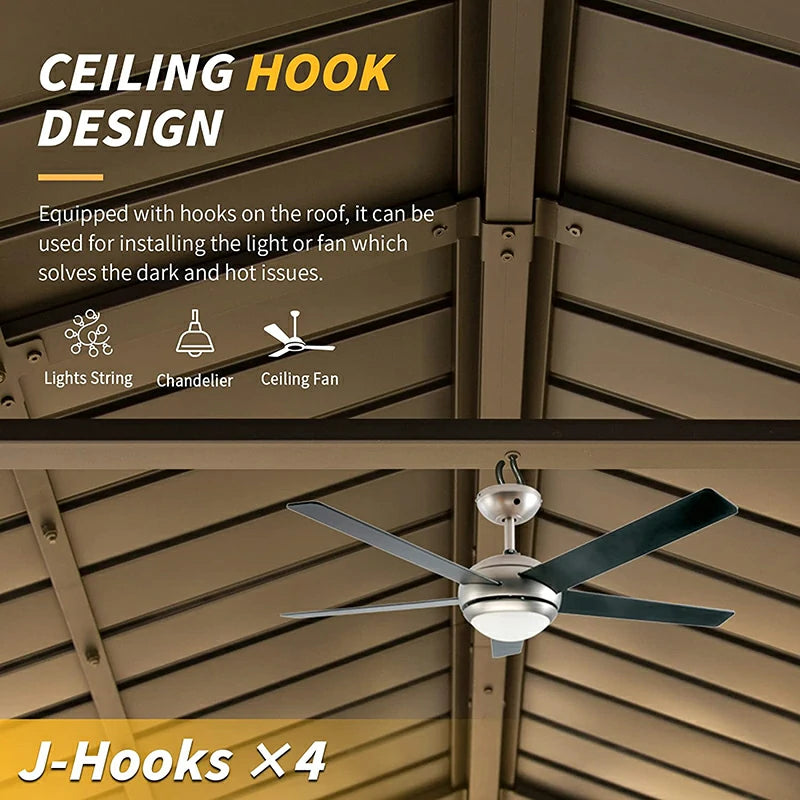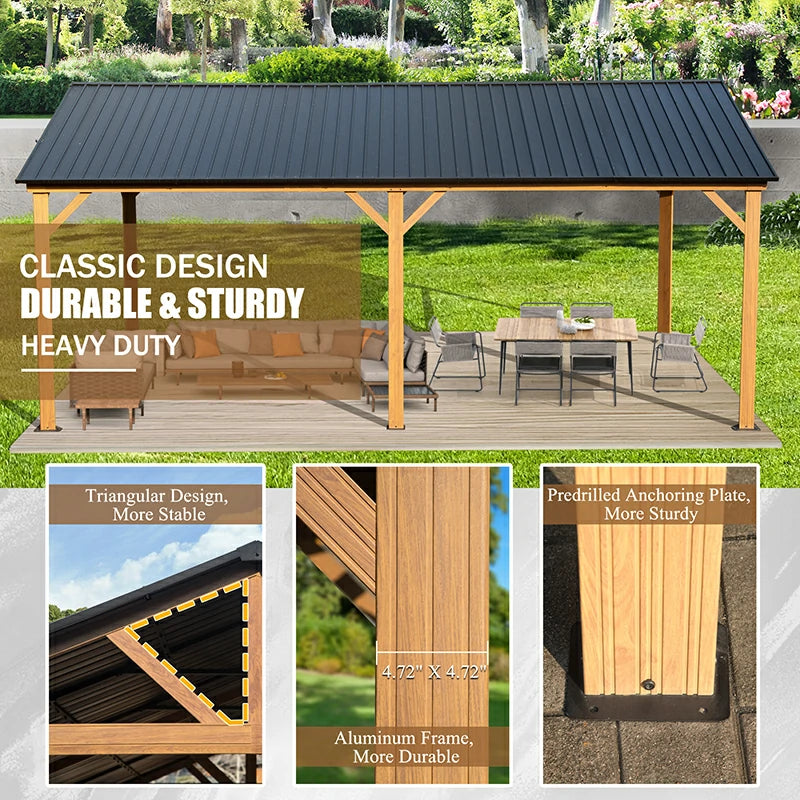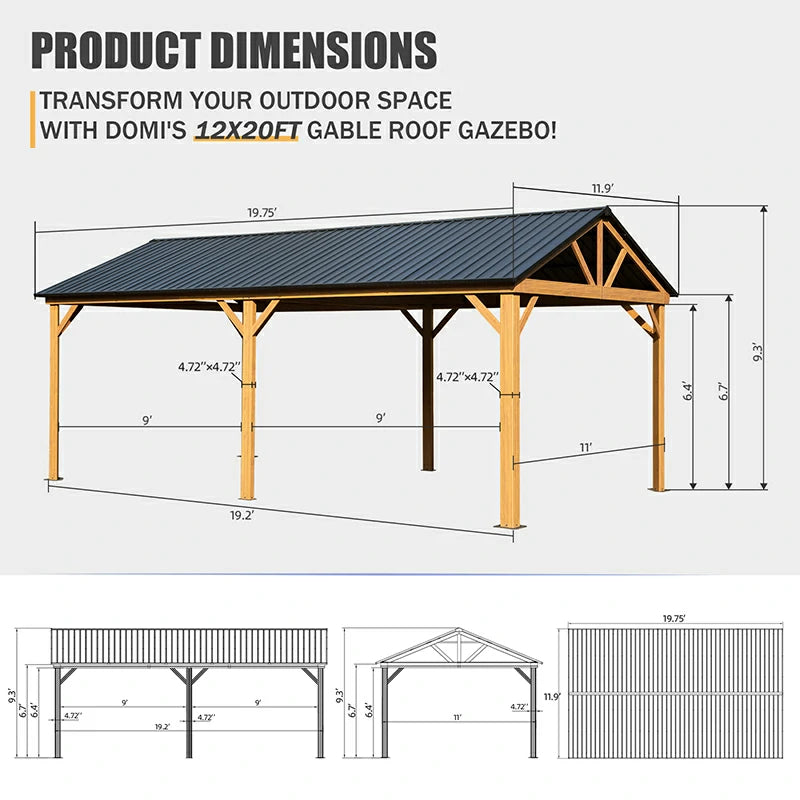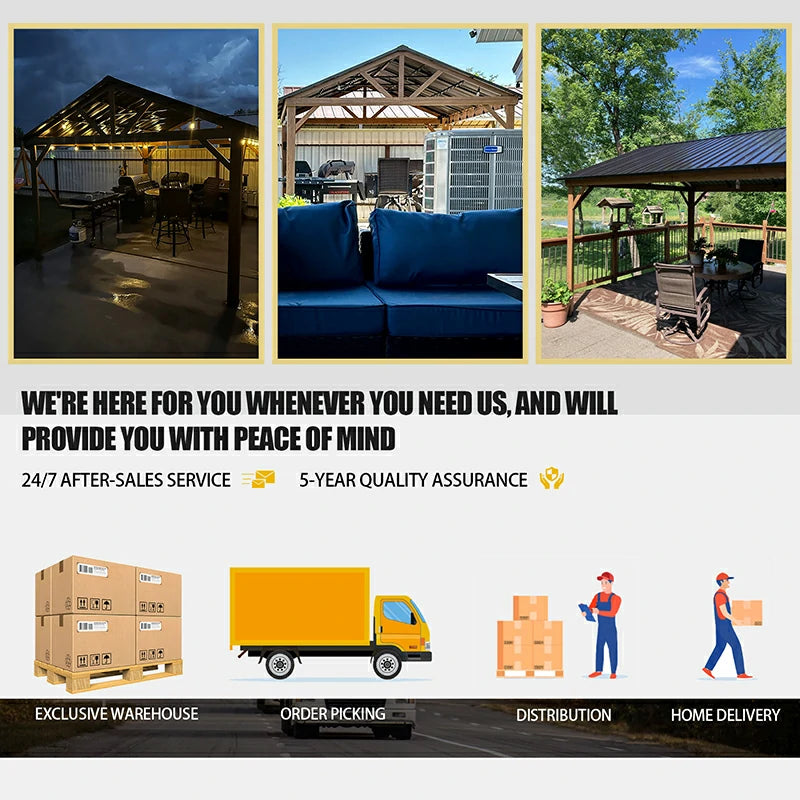 Gable Hardtop Gazebo - Wood-looking Frame
SKU: LGMF1557
Product Specifications
Brand: Domi outdoor living
Material:

Galvanized Steel Roof and Aluminum Frame

Item 

Weight: 328 LBS (12' x 14'), 440 LBS (12' x 20')
Roof Hanging Weight Capacity: E

ach hook 20 LBS

Snow Pressure Resistant:

 

22 LBS./Square foot

Wind resistance: 50 mph
99% UV-proof, UPF 50+
Installation Services: Gazebo can be difficult to install, we recommend qualified technicians. Please visit HANDYBUDDY to schedule your installation services.
❗Attention: Anchor the gazebo as soon as finish the installation. 
Unleash the Joy of Outdoor Living, Rain or Shine
Are you tired of your outdoor plans being washed away by unexpected rain showers? Look no further than the Domi Outdoor Living Hardtop Gazebo! This sturdy and stylish structure is designed to provide you with year-round protection from the elements, allowing you to make the most of your outdoor space in any weather.


Crafted with a wooden coated aluminum frame and a galvanized steel gable roof, this gazebo is built to last. The combination of these materials ensures exceptional durability and resistance against rust, corrosion, and fading, making it the perfect investment for your patio, deck, or lawn.


Elevate Your Outdoor Experience with Timeless Elegance
Imagine yourself relaxing under the elegant canopy of the Domi Outdoor Living Hardtop Gazebo. Its sleek design and classic appeal make it a stunning addition to any outdoor setting, creating a focal point that effortlessly enhances the aesthetics of your space.


But it's not just about the looks. This gazebo offers more than meets the eye. With a snow pressure resistance of 22 lbs. per square foot and wind resistance up to 50 mph, you can rest assured knowing that it will withstand various weather conditions, providing you with a safe and comfortable outdoor retreat.


Uncompromising Safety and Versatility
Safety should never be compromised when it comes to outdoor structures, and the Domi Outdoor Living Hardtop Gazebo takes this seriously. Each hook on the roof has a weight capacity of 20 lbs., allowing you to hang decorations, lights, or even a beautiful chandelier to create a magical ambiance.


But the benefits don't stop there. This gazebo also offers 99% UV-proof protection, with a UPF rating of 50+. Shield yourself and your loved ones from harmful sun rays while enjoying the outdoors. Whether you're hosting a summer gathering, a cozy evening with friends, or simply seeking solace in nature, this gazebo has got you covered.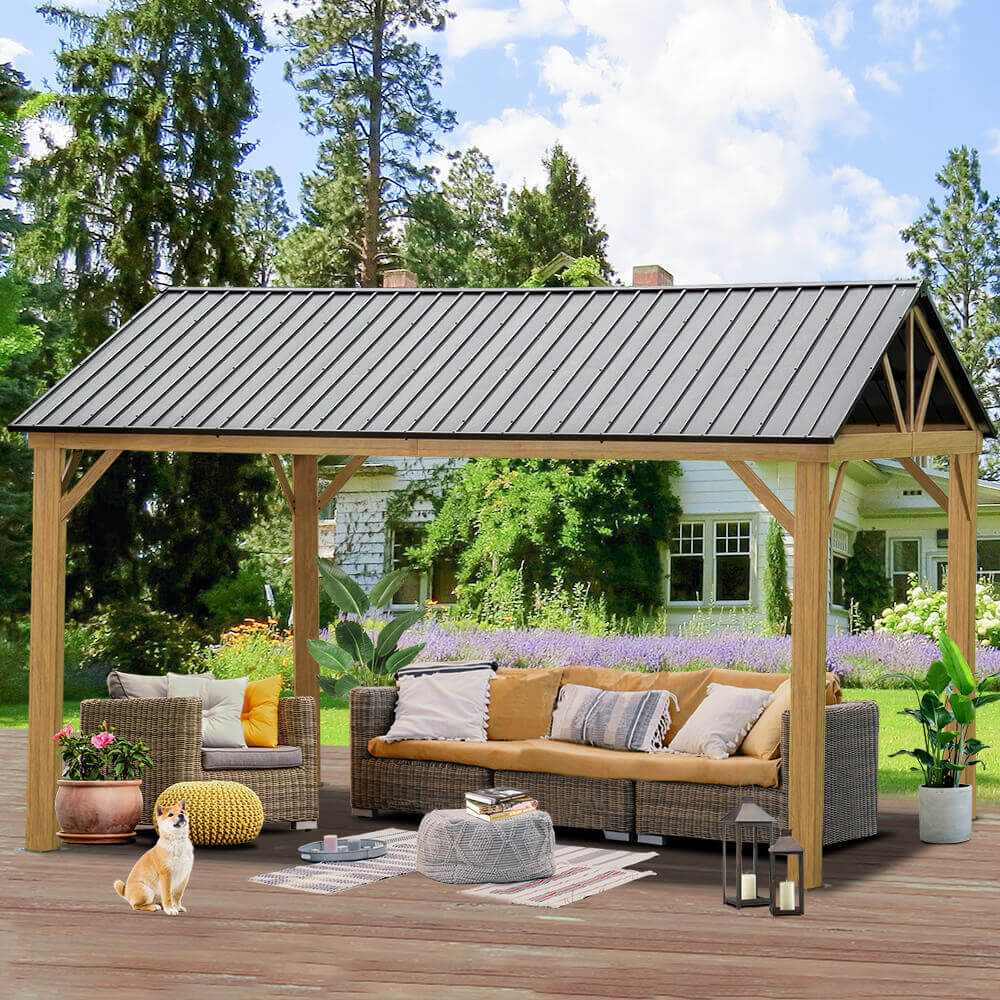 FAQ
Our gazebo is made to last. The whole installation requires at least 2 people to ensure safety and sturdiness. Make sure all parts are clicked or screwed properly following the instructions to ensure water resistance and sturdiness. Please contact us for any installation problems.
Our customer support is available Monday to Friday: 00:00 AM- 02:30 AM, 17:30 PM- 24:00 PM(GMT -8:00)
Average answer time: 24h
Contact Us
ls this a 4 season gazebo? Will it hold up with snow?

This is a 4 season gazebo, 99% UV-proof, UPF 50+ and the snow load rating is 22 LBS./Square foot.
How long is the warranty?

5 years warranty on the roof and frame.1 year warranty on curtains and netting. For detailed warranty policy, please check Warranty page.
How many boxes are there in total for the gazebo?

Different sizes come in different numbers of boxes, ranging from 4 to 8 boxes. The actual quantity will be determined based on the number of tracking numbers provided in the shipment notification email (one number corresponds to one box).
Can the gazebo be anchored to the ground/ a concrete pad?

The gazebo can be secured to wooden decks or concrete floors with M6 expansion bolts.
Does this structure require a permit?

Each state has different regulations and we do not provide any permit. Please consult HOA.
Does it have a rating for high winds?

The structure is absolutly fine in high winds, can handle 50 mph winds. Make sure all posts are screwed to a deck. As for the curtains, please keep them tied up. There is nothing that can keep them from blowing in the wind. So any storms, please cover furniture and tie the curtains secure.
Our customer support is available Monday to Friday: 00:00 AM- 02:30 AM, 17:30 PM- 24:00 PM(GMT -8:00)
Average answer time: 24h
Contact Us
This product has no reviews yet.