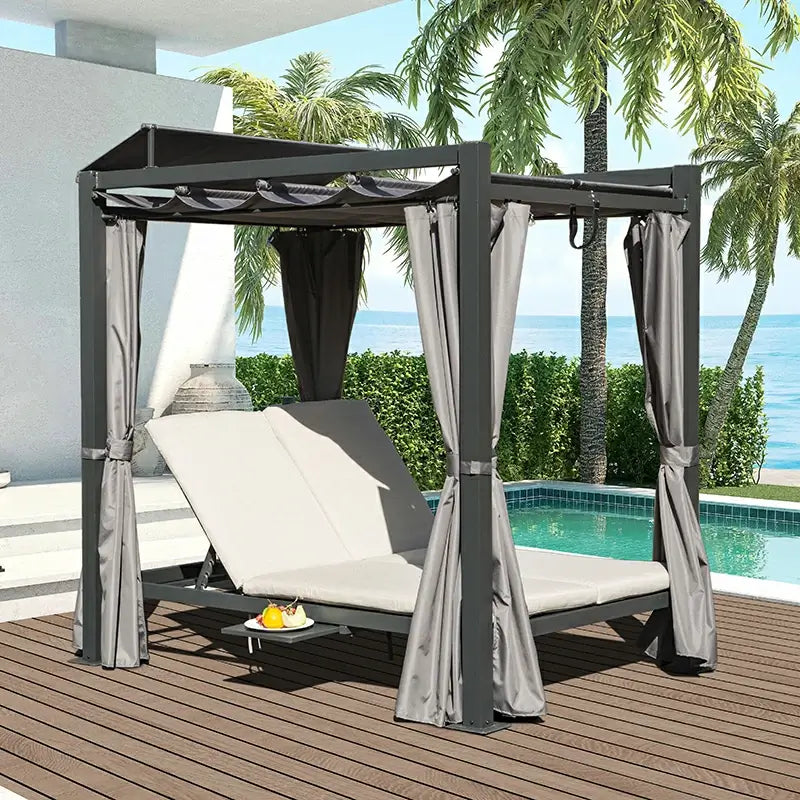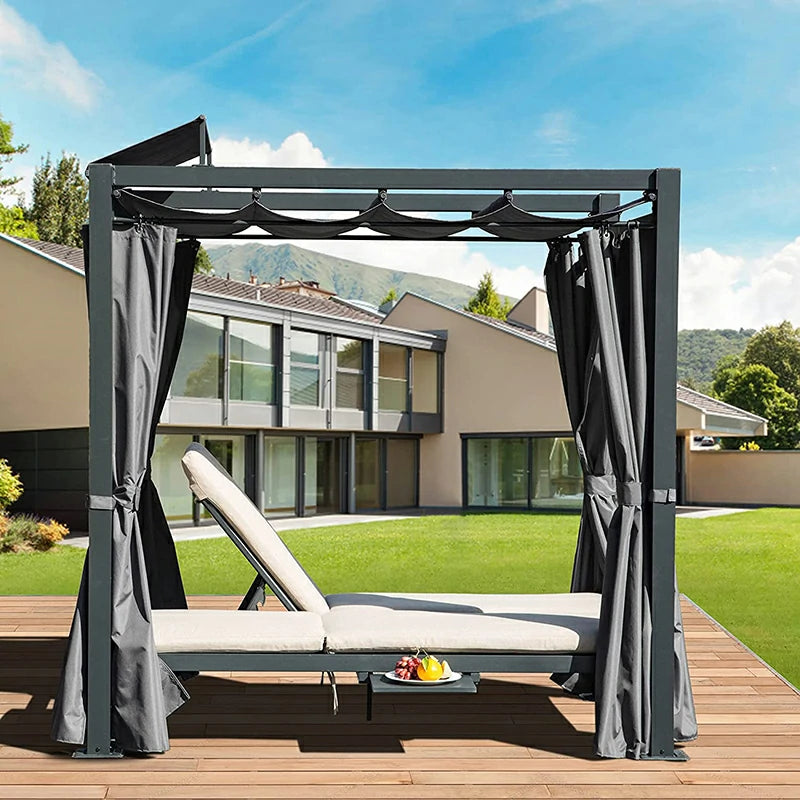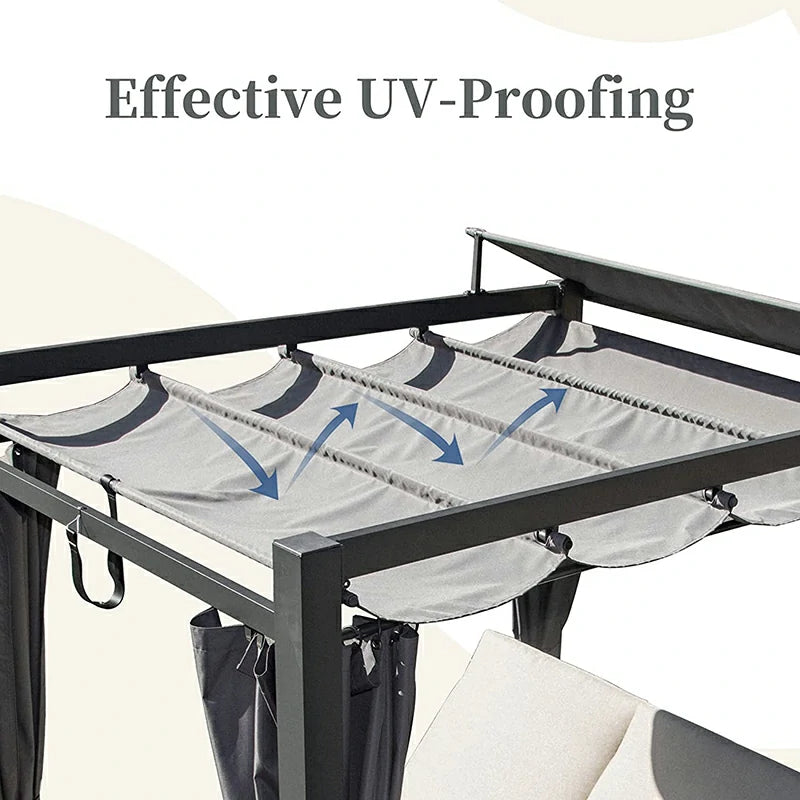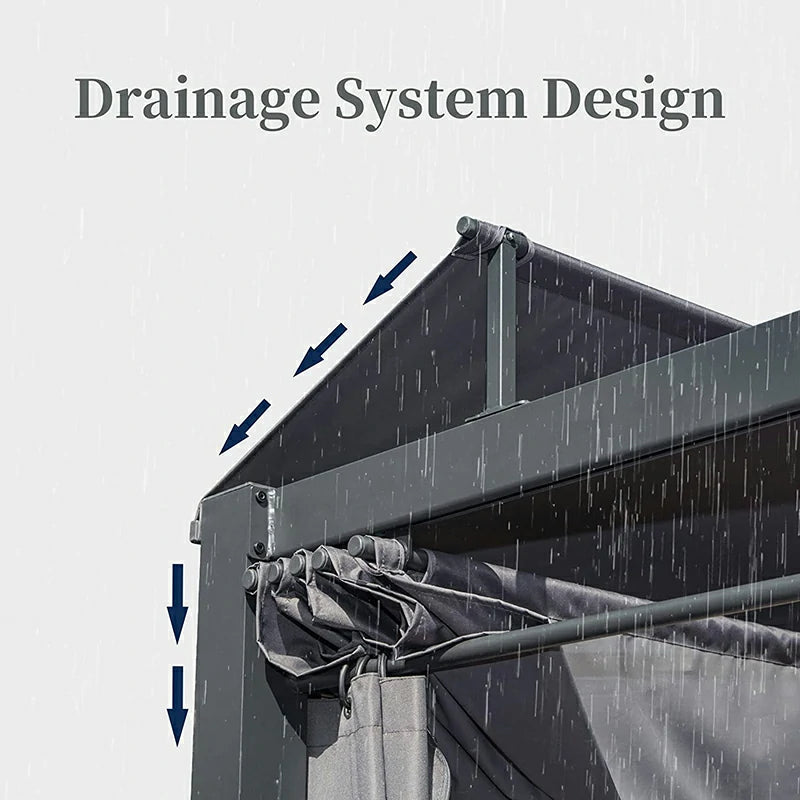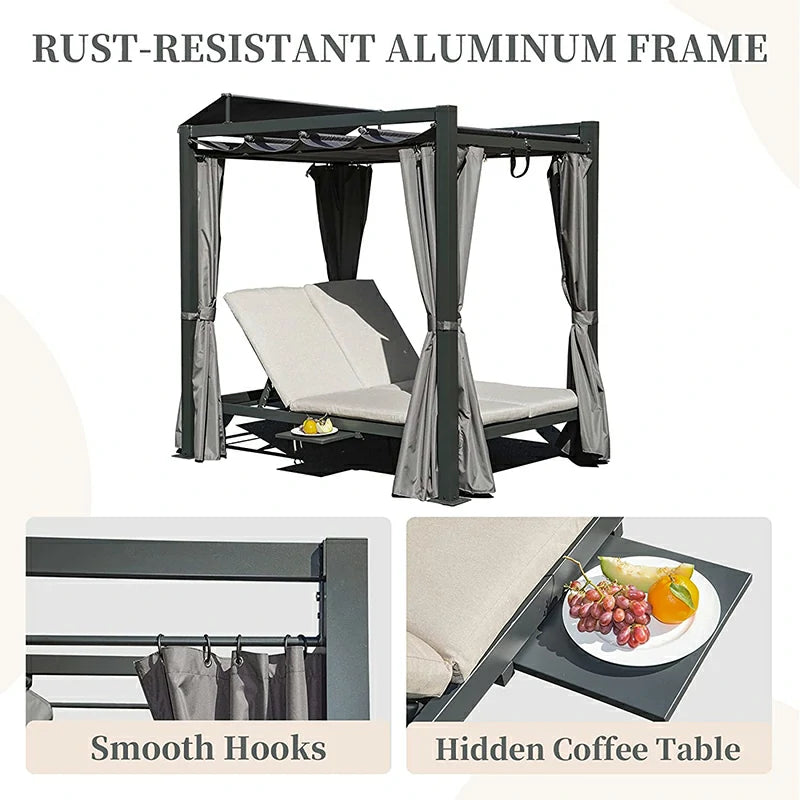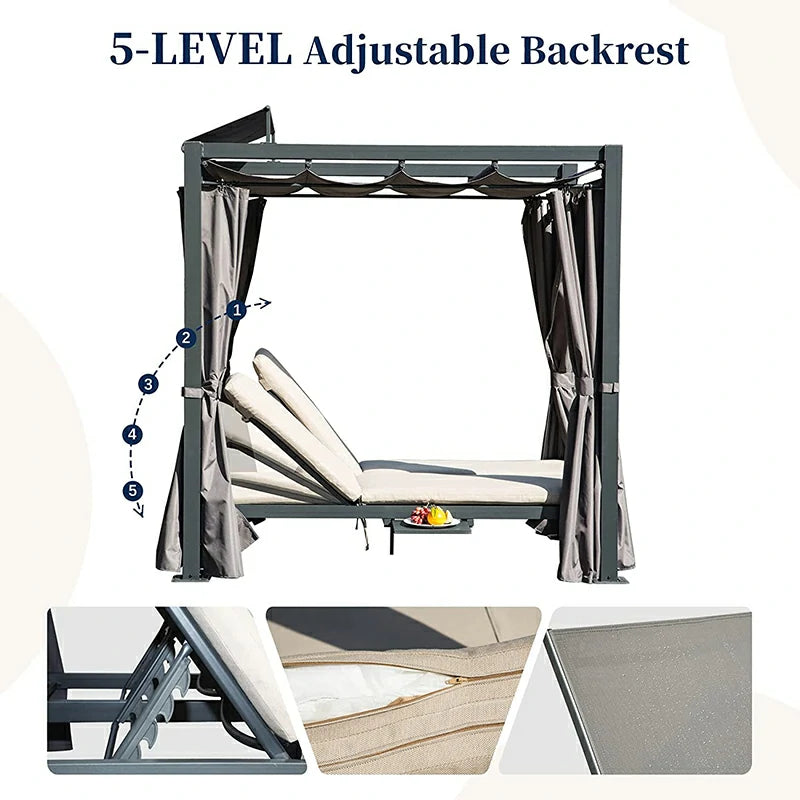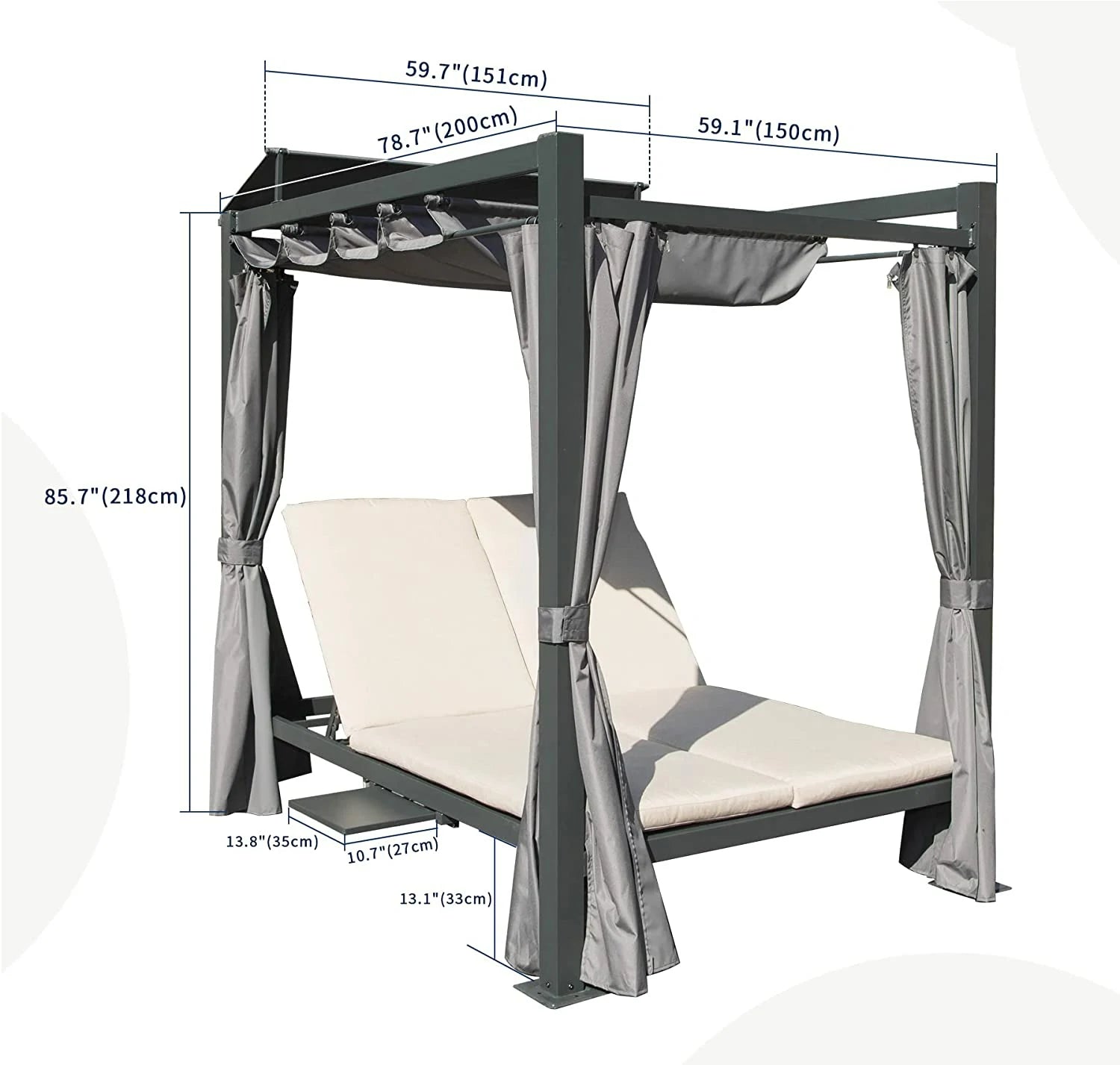 Chaise Lounge Daybed with Canopy
SKU: LGMD1603
Product Specifications:

Brand: Domi outdoor living
Frame Material: Aluminum
Color: Gray
Item Weight: 129.8 Pounds
Item Dimensions LxWxH: 78.7x59.1x85.7 inches
Relax in Ultimate Comfort with Domi Outdoor Chaise Lounge
Experience Luxury Lounging at its Finest
Indulge in the epitome of relaxation with the Domi Outdoor Living Aluminum Frame Outdoor Chaise Lounge Daybed. Crafted with meticulous attention to detail, this exquisite daybed promises to elevate your outdoor experience to new heights. Whether you're lounging by the pool, enjoying a sunny day in the garden, or simply unwinding on your backyard patio, the Domi Chaise Lounge offers unparalleled comfort and style.
Unwind in Style and Elegance
Featuring a sleek aluminum frame and contemporary design, the Domi Chaise Lounge seamlessly blends into any outdoor setting. Its sophisticated aesthetics and modern lines create a statement piece that enhances the visual appeal of your outdoor space. With its versatile design, this chaise lounge daybed complements various decor styles, be it minimalistic, coastal, or urban chic.
Experience Unmatched Versatility with the Retractable Canopy
Escape the Sun's Glare, Embrace Tranquility
Say goodbye to uncomfortable squinting and scorching heat with the Domi Chaise Lounge's retractable canopy. This innovative feature allows you to effortlessly shield yourself from the harsh rays of the sun, providing a cool and shaded oasis for complete relaxation. Whether you desire a gentle shade or prefer to bask in the sun's warmth, the adjustable canopy ensures you have full control over your outdoor lounging experience.
Enhance Privacy, Create Intimate Ambiance
The retractable canopy not only offers protection from the sun but also adds a touch of privacy to your outdoor sanctuary. With a simple glide, you can transform the chaise lounge daybed into your personal haven, shielded from prying eyes. Immerse yourself in moments of solitude or create a cozy atmosphere for intimate conversations with loved ones, all while luxuriating in the supreme comfort of the Domi Outdoor Chaise Lounge.
Unmatched Convenience and Functionality with Added Features
Unrivaled Comfort with Plush Cushions and Cup Holder
The Domi Chaise Lounge understands the importance of pampering yourself. Sink into the plush cushions that cradle your body, offering unrivaled comfort and support. The thick padding embraces you as you unwind, creating a serene environment that encourages relaxation. Additionally, the built-in cup holder allows you to keep your favorite beverage within reach, eliminating the need for constant trips to quench your thirst.
Durable and Weather-Resistant Design
Crafted with longevity in mind, the Domi Chaise Lounge features an aluminum frame that is not only lightweight but also exceptionally durable. The high-quality materials ensure the daybed withstands the test of time, remaining a staple in your outdoor space for years to come. Furthermore, the weather-resistant construction protects against the elements, allowing you to enjoy the Domi Chaise Lounge's luxurious comfort throughout the seasons.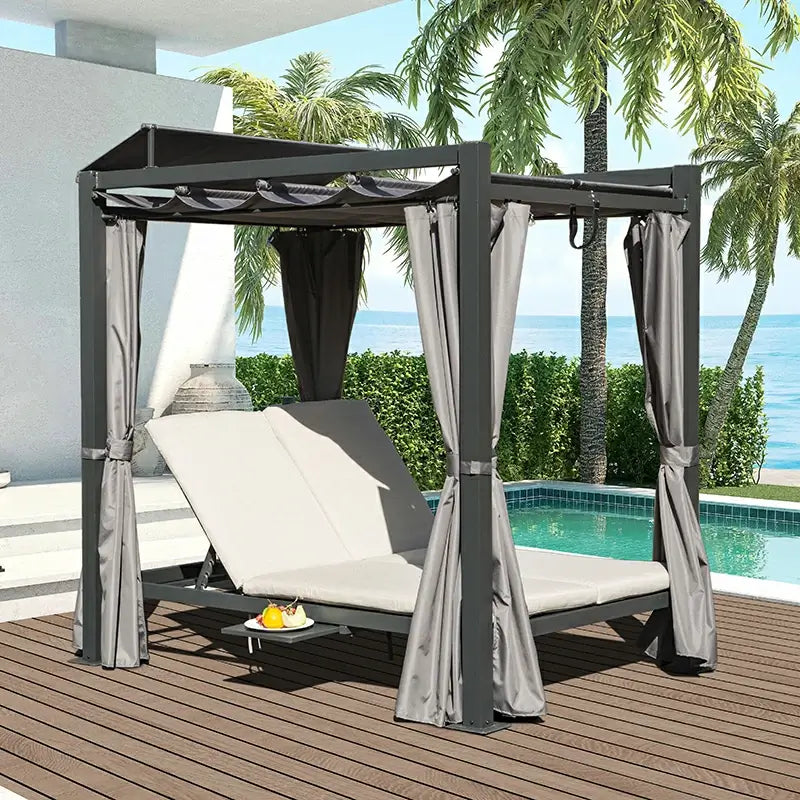 This product has no reviews yet.