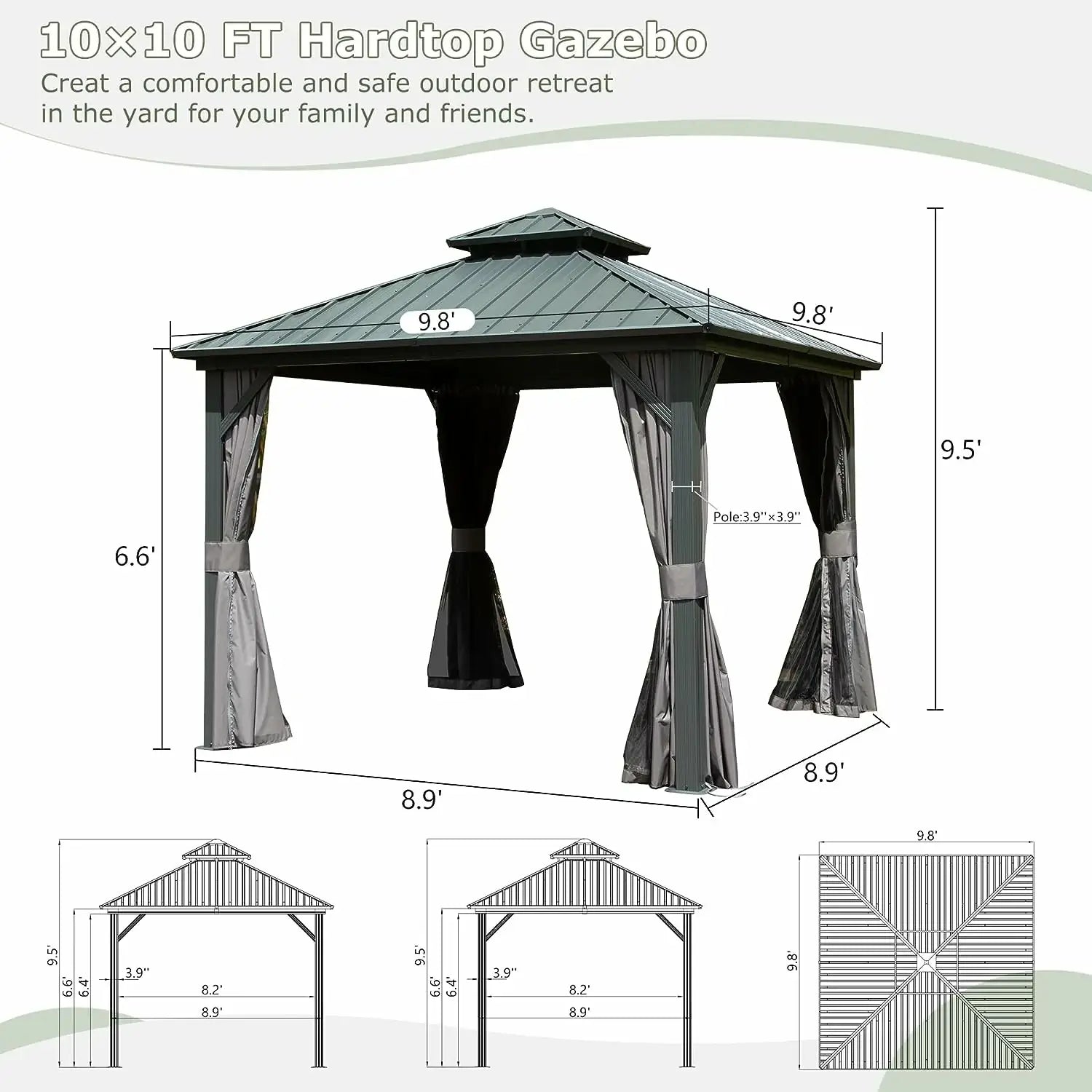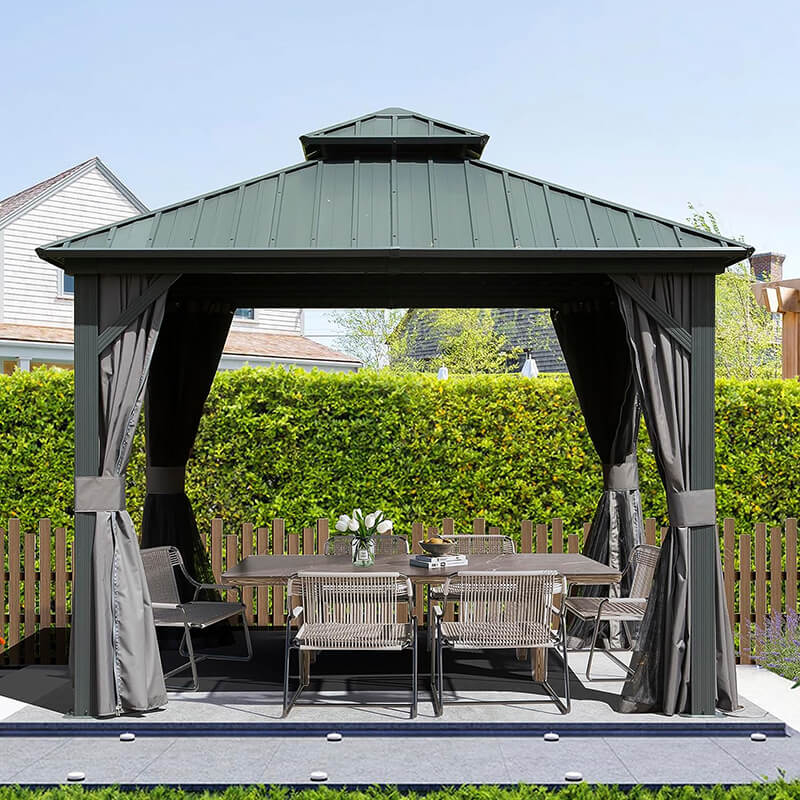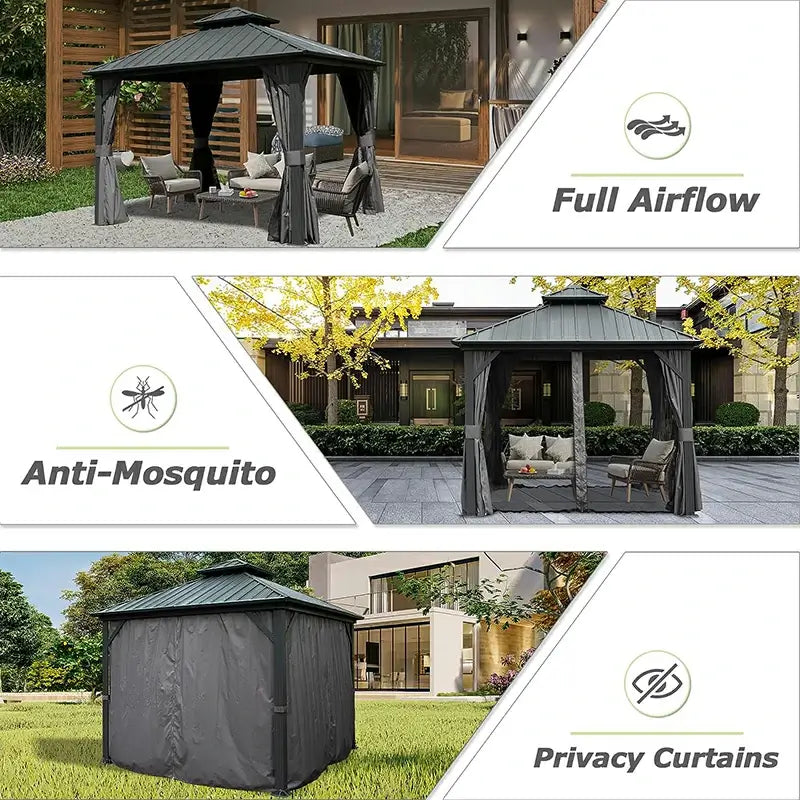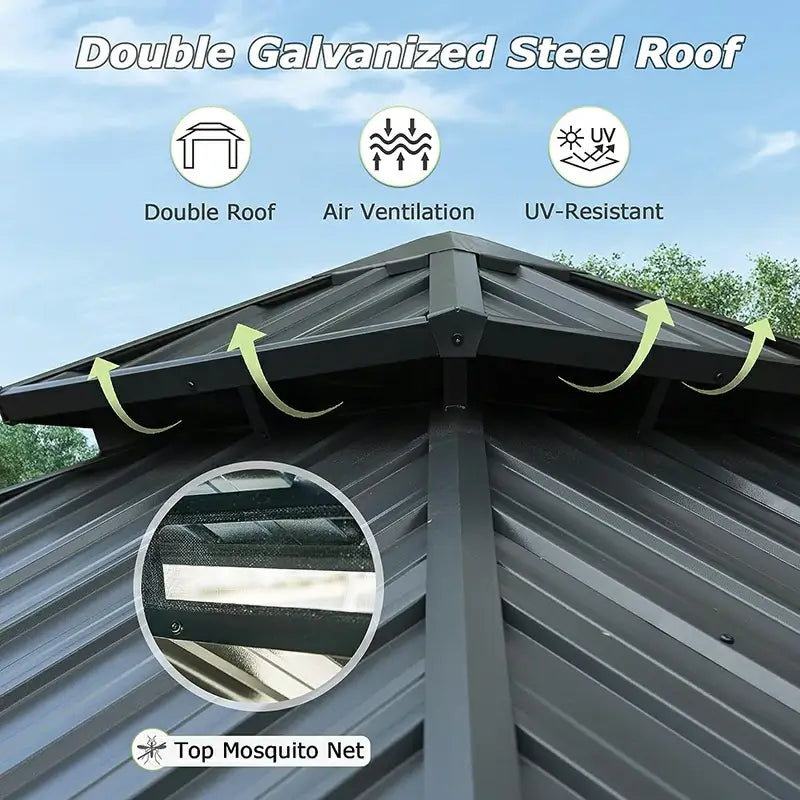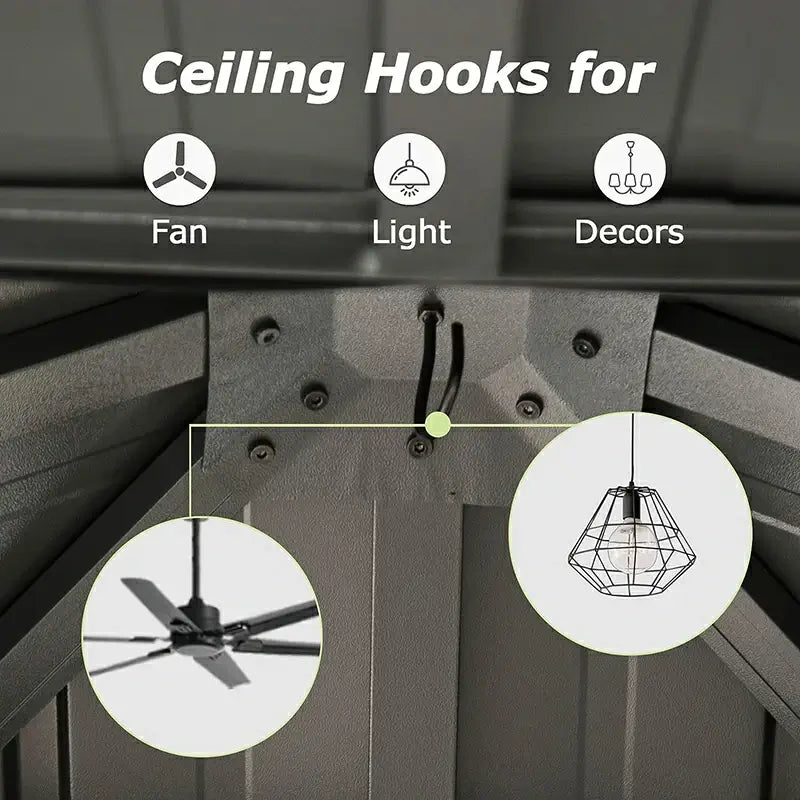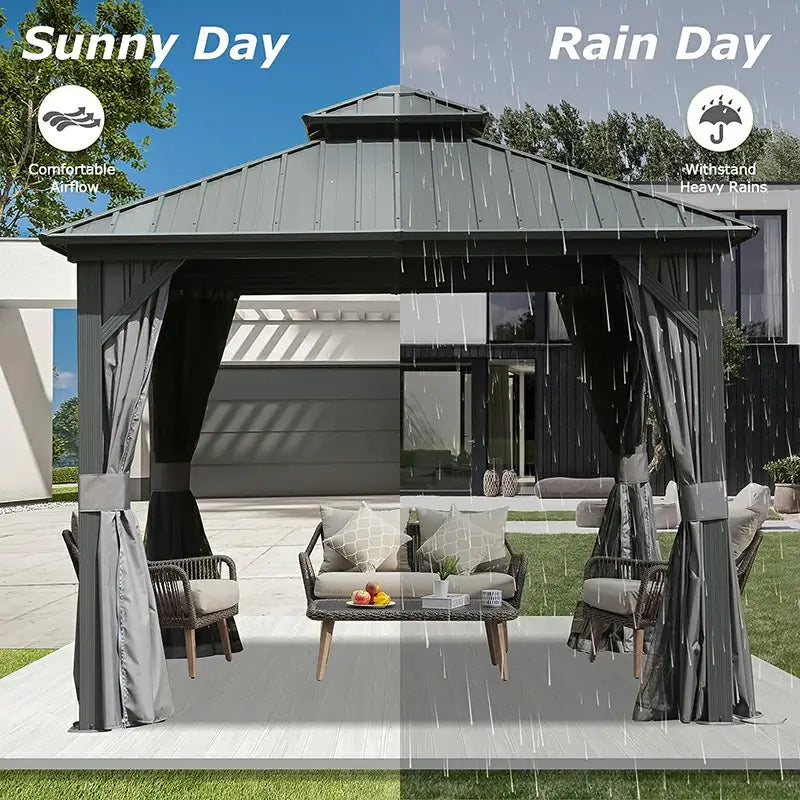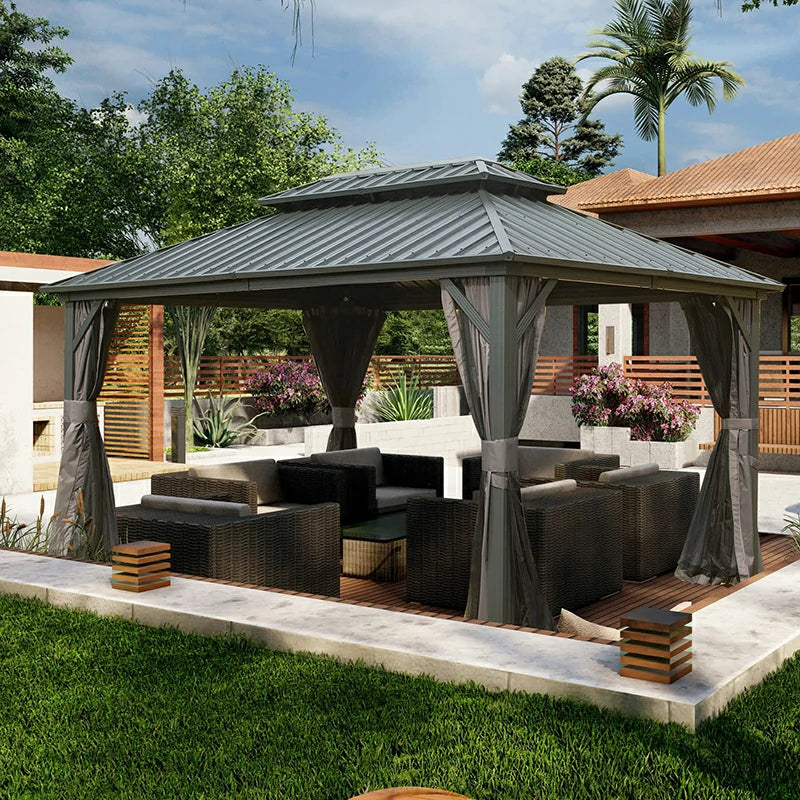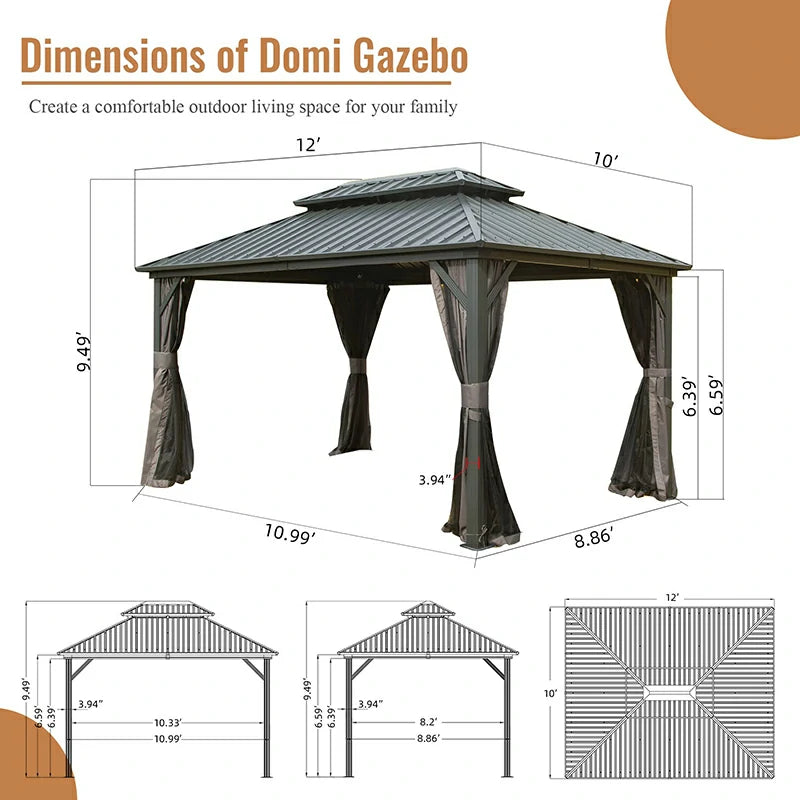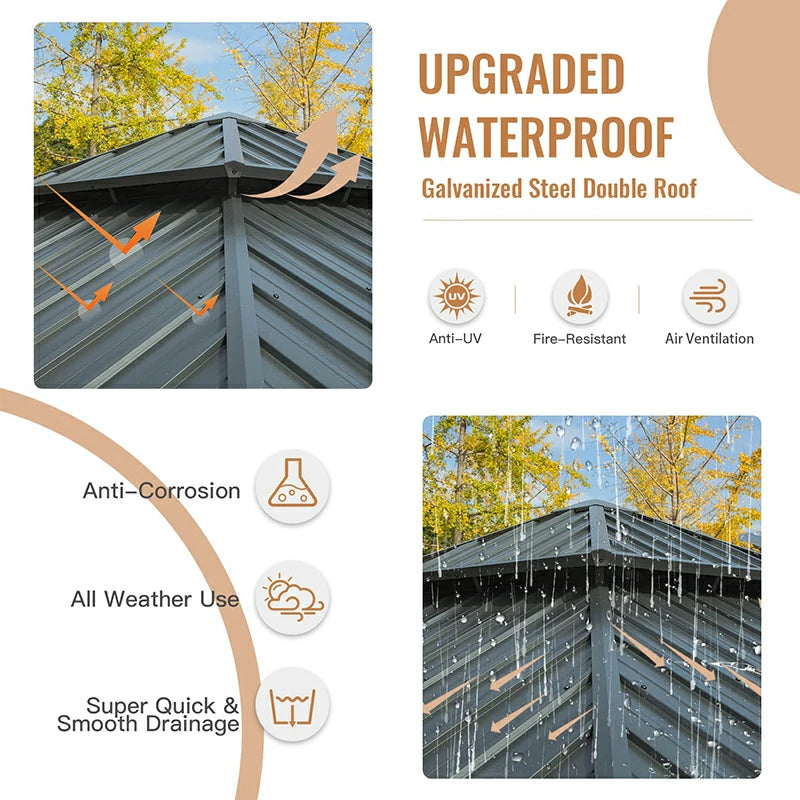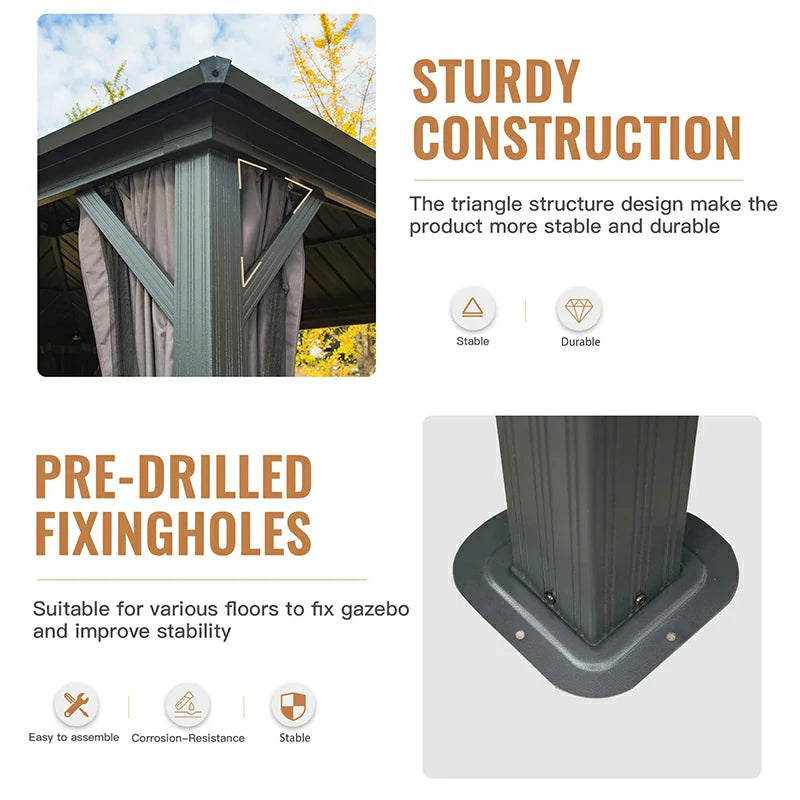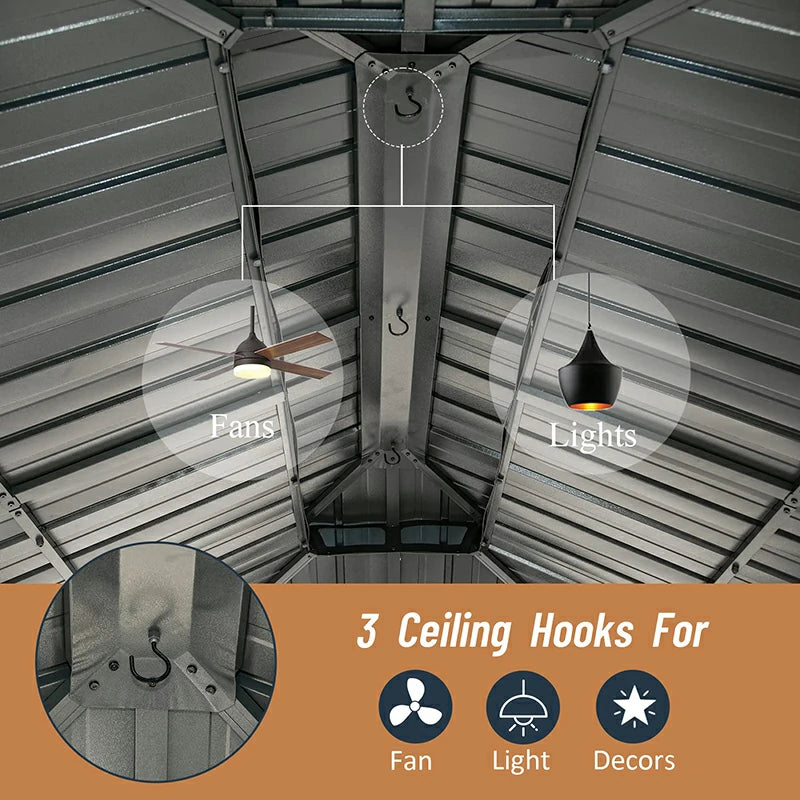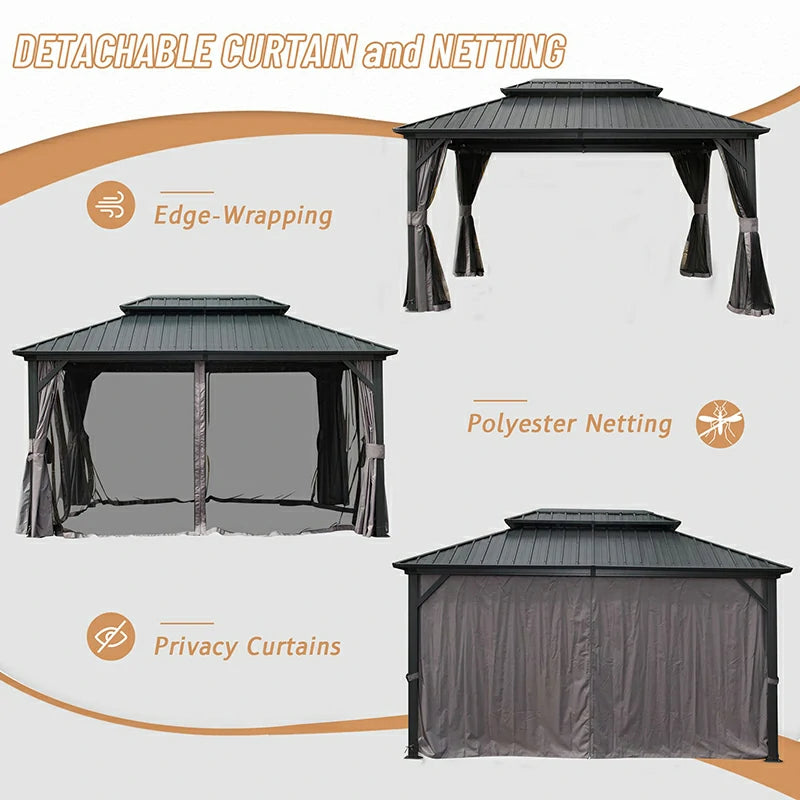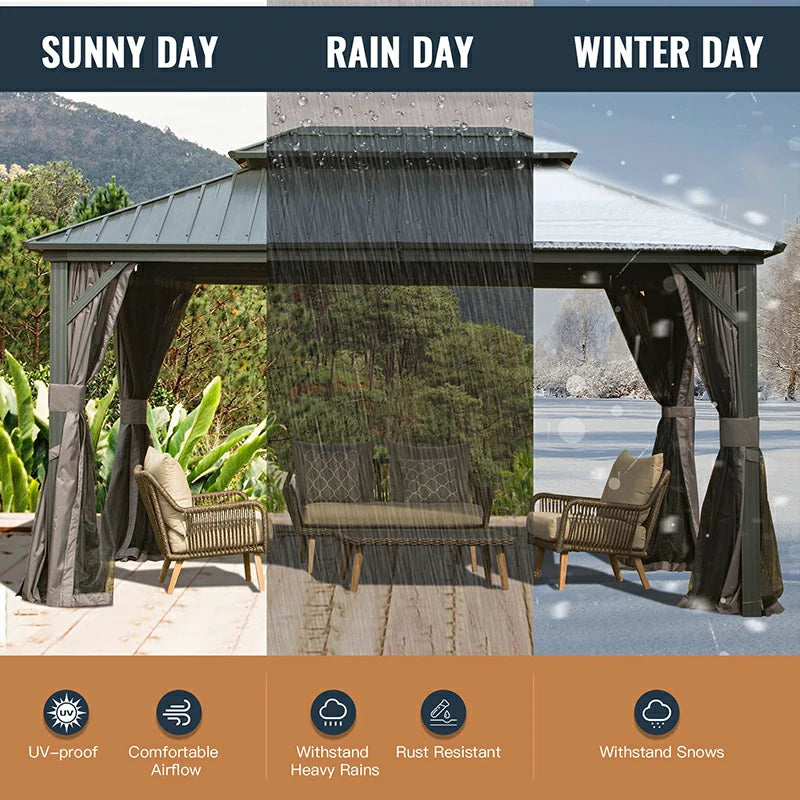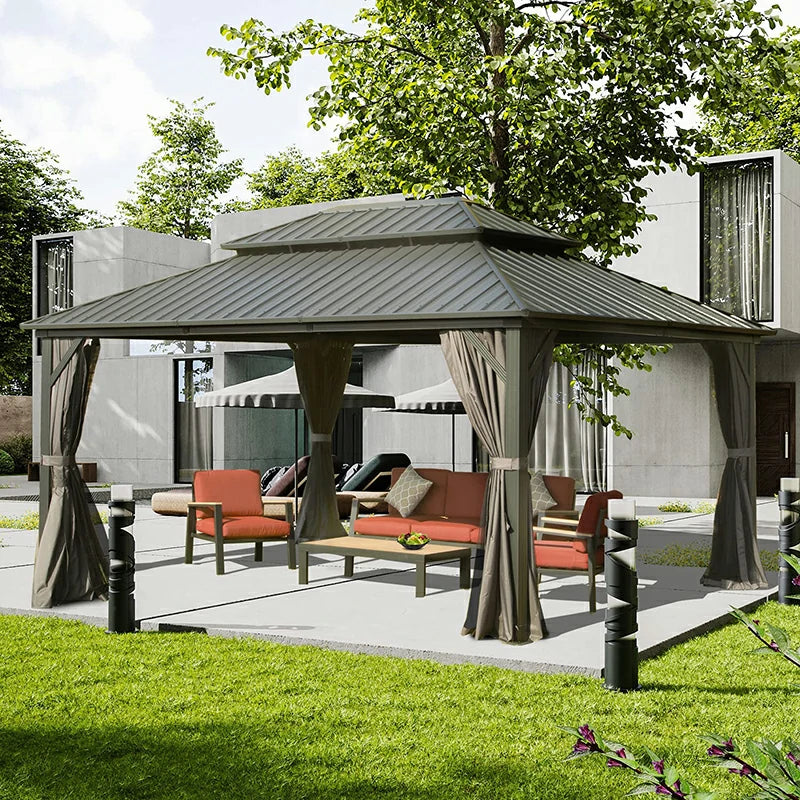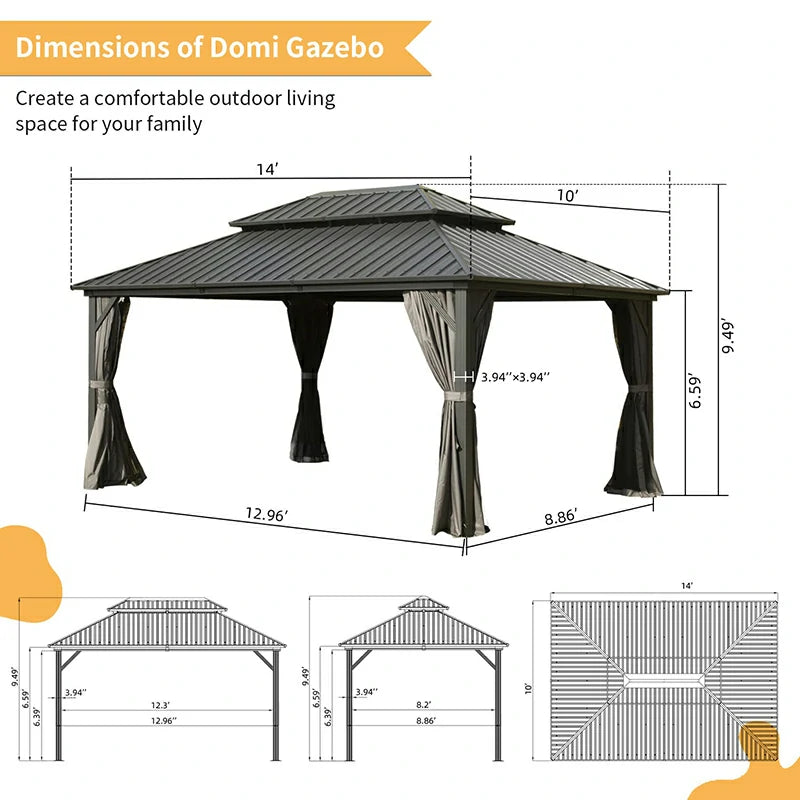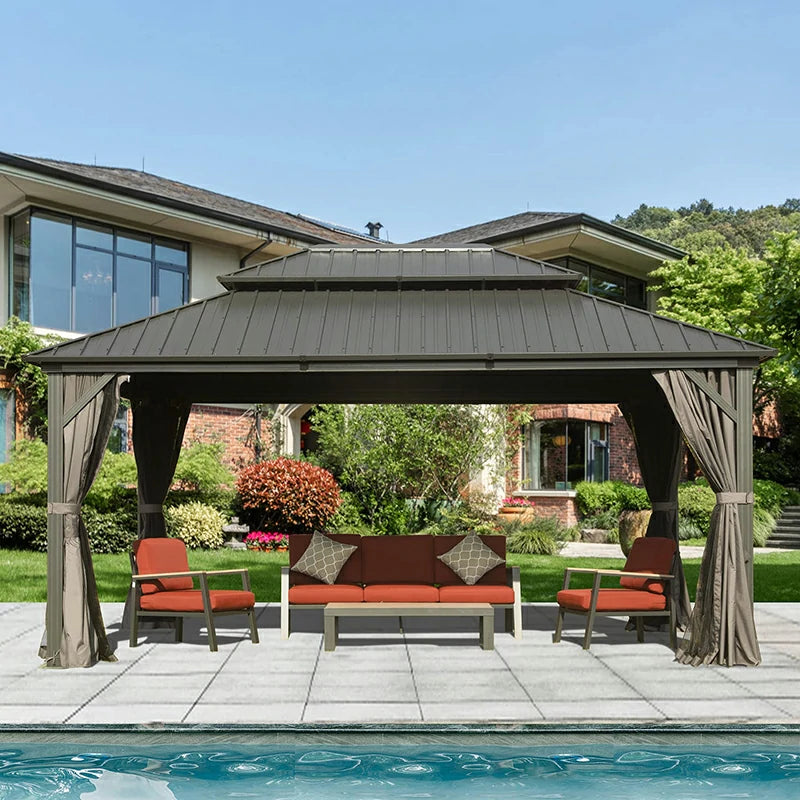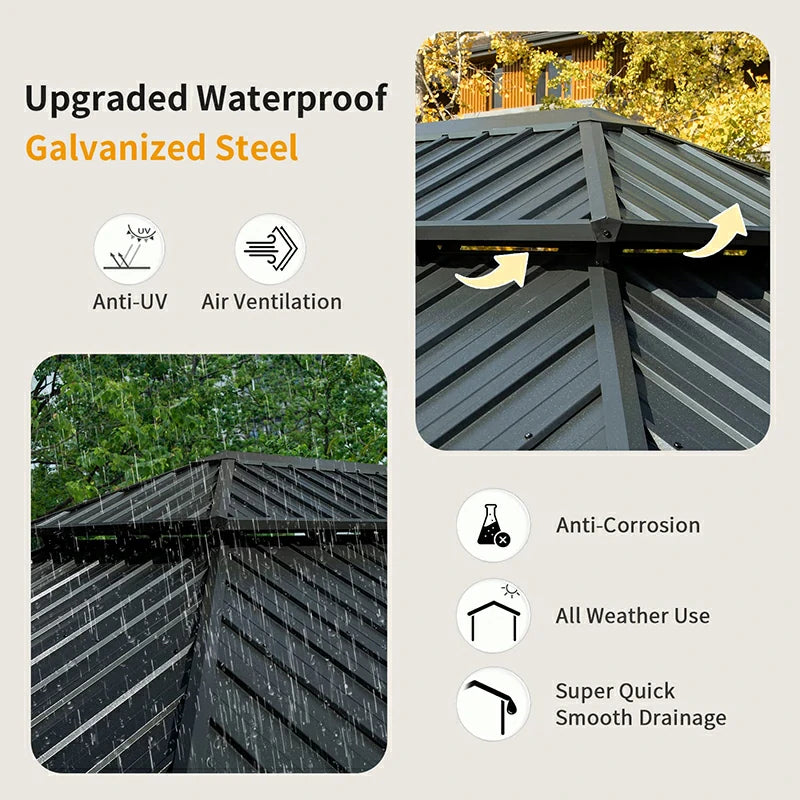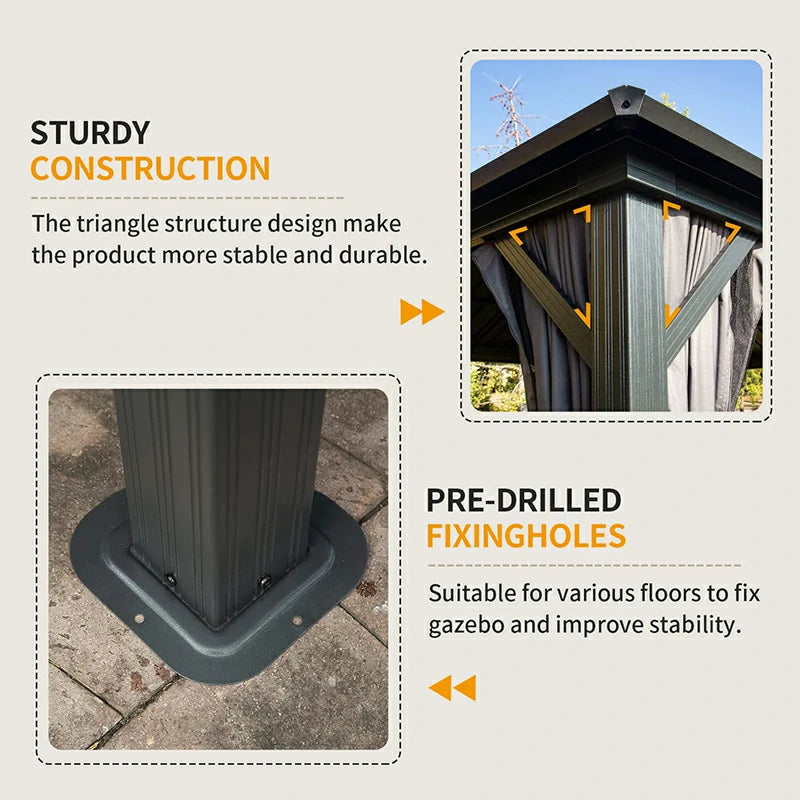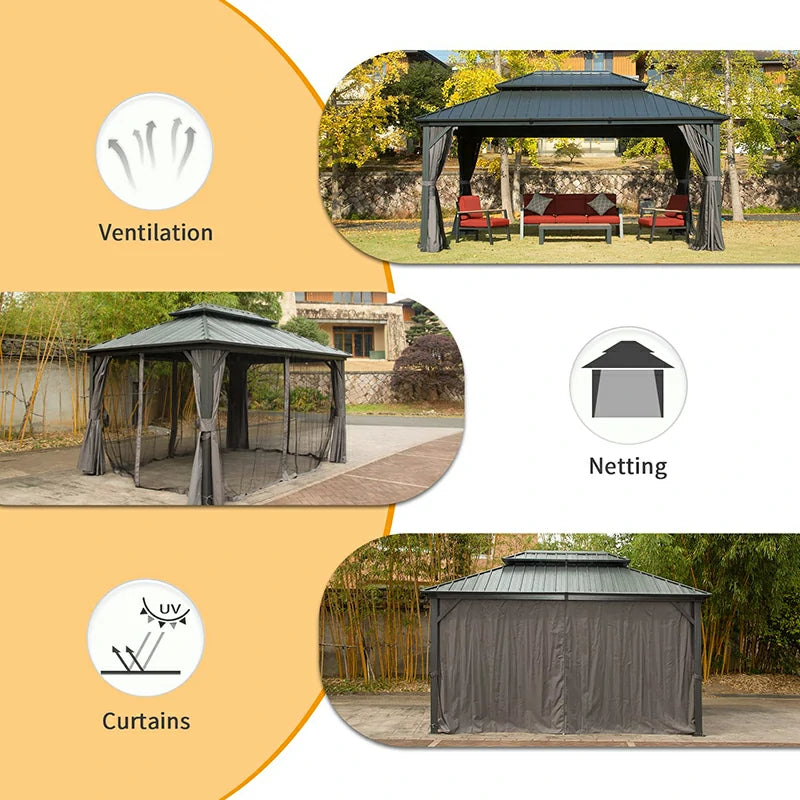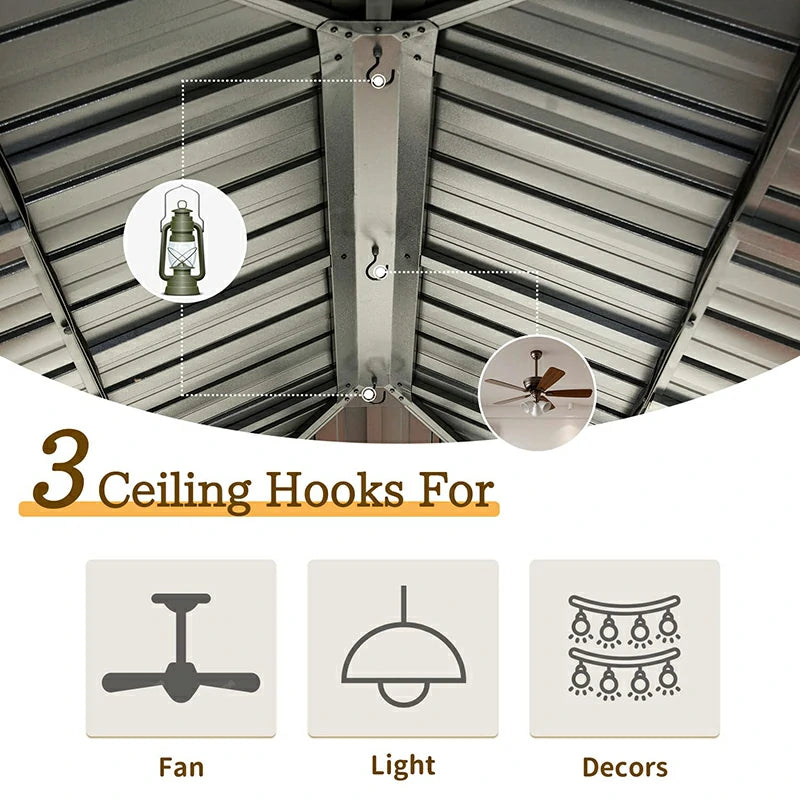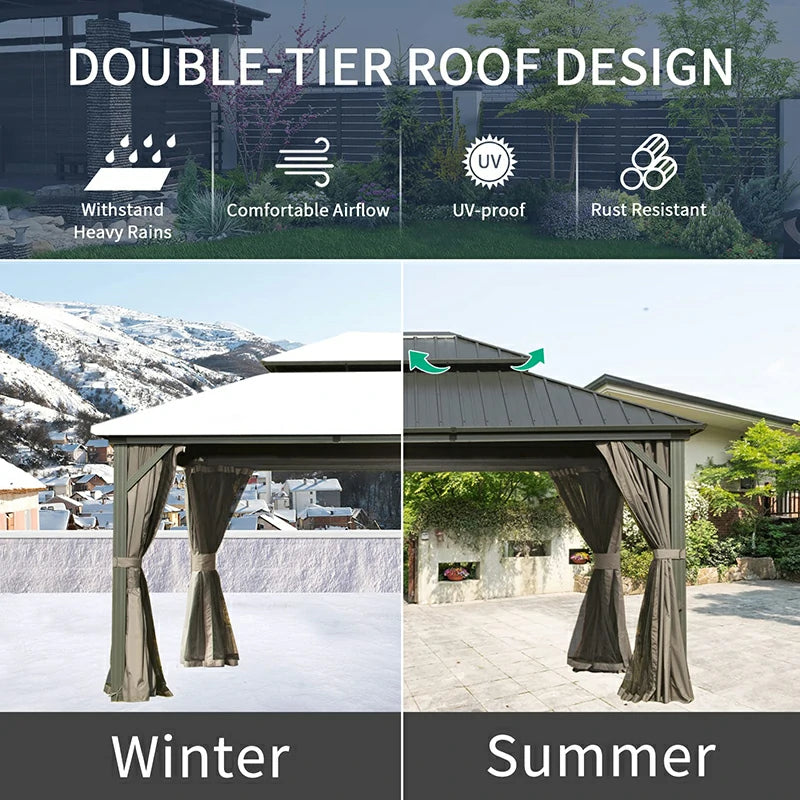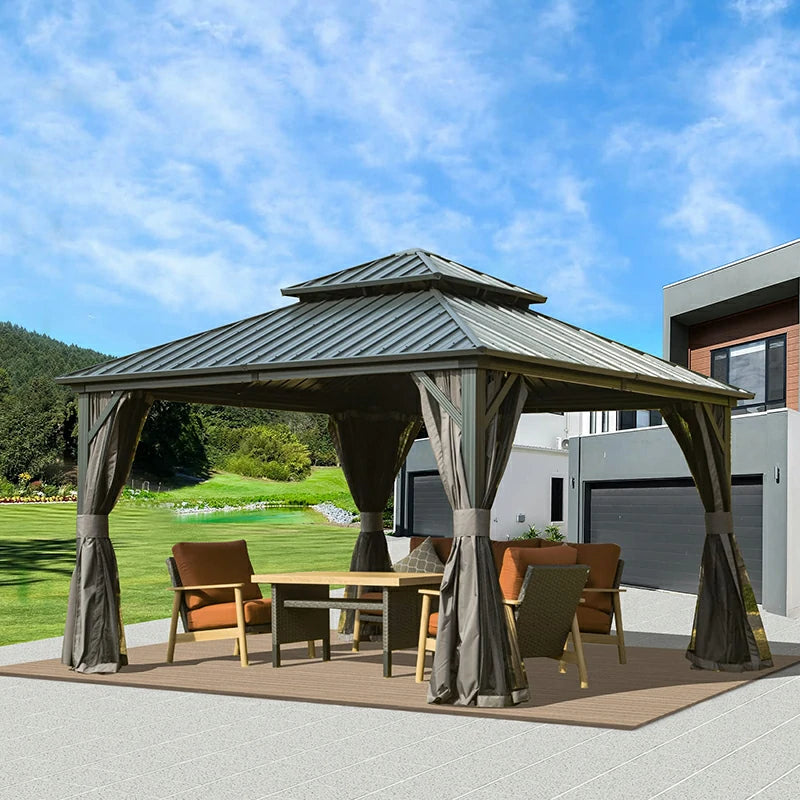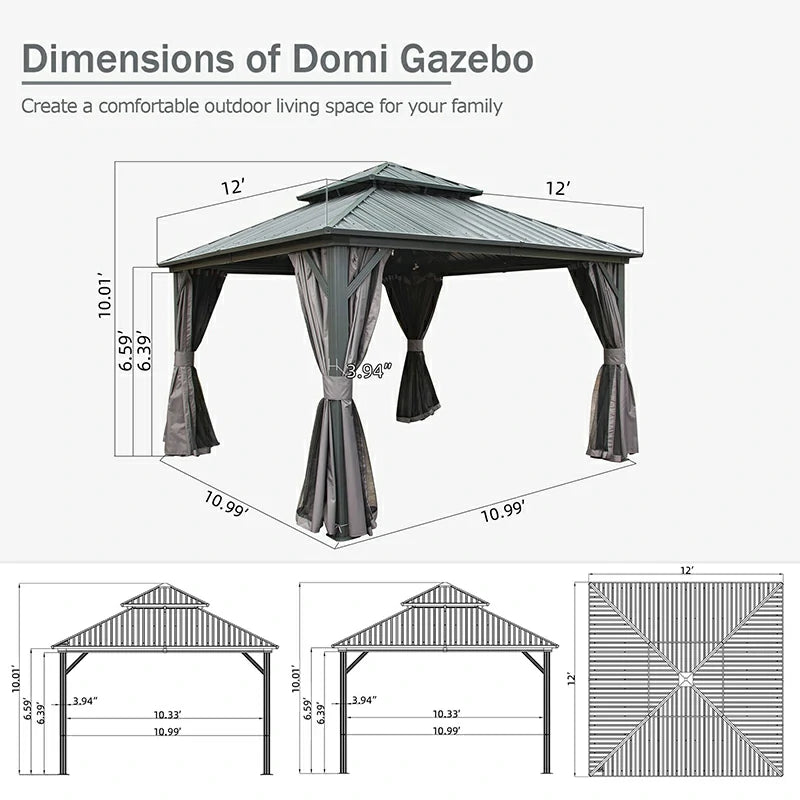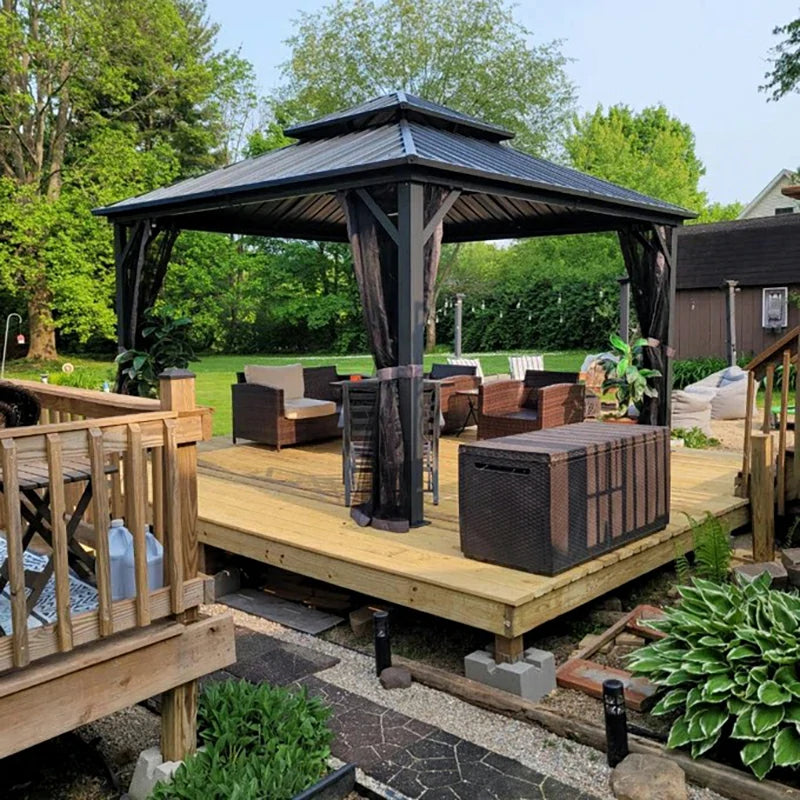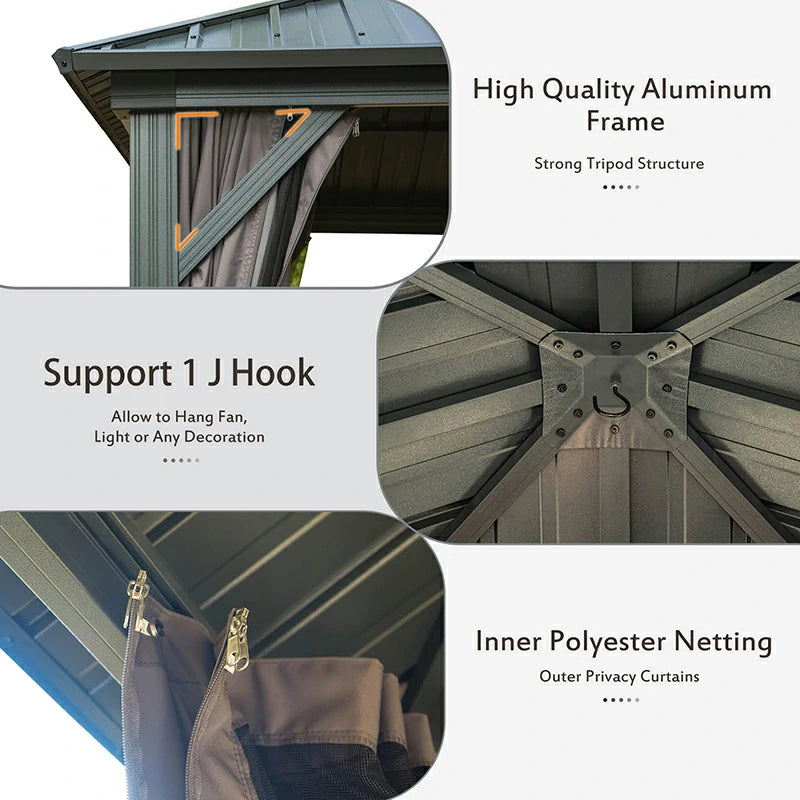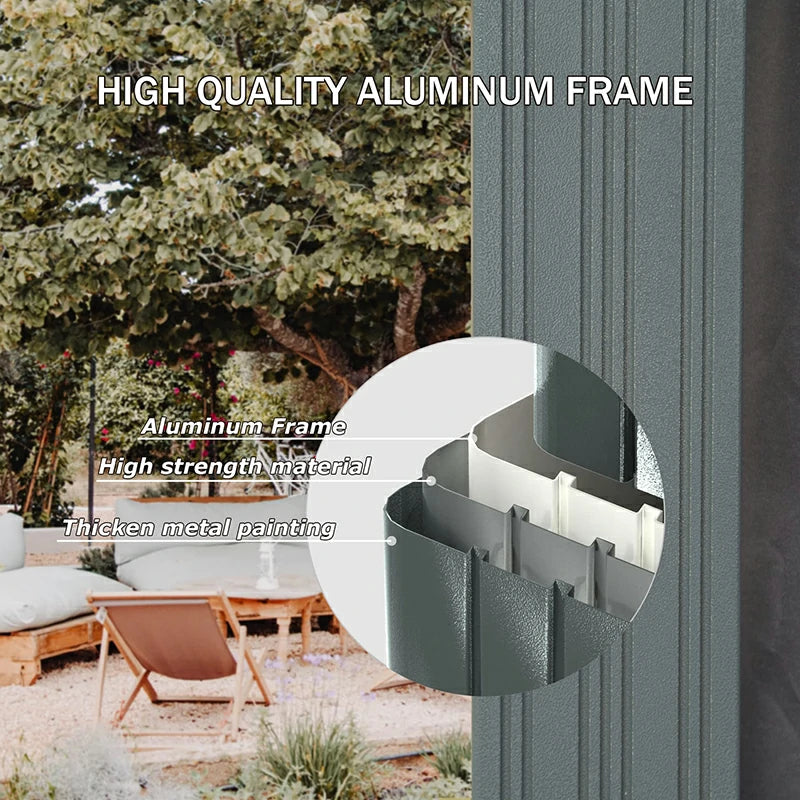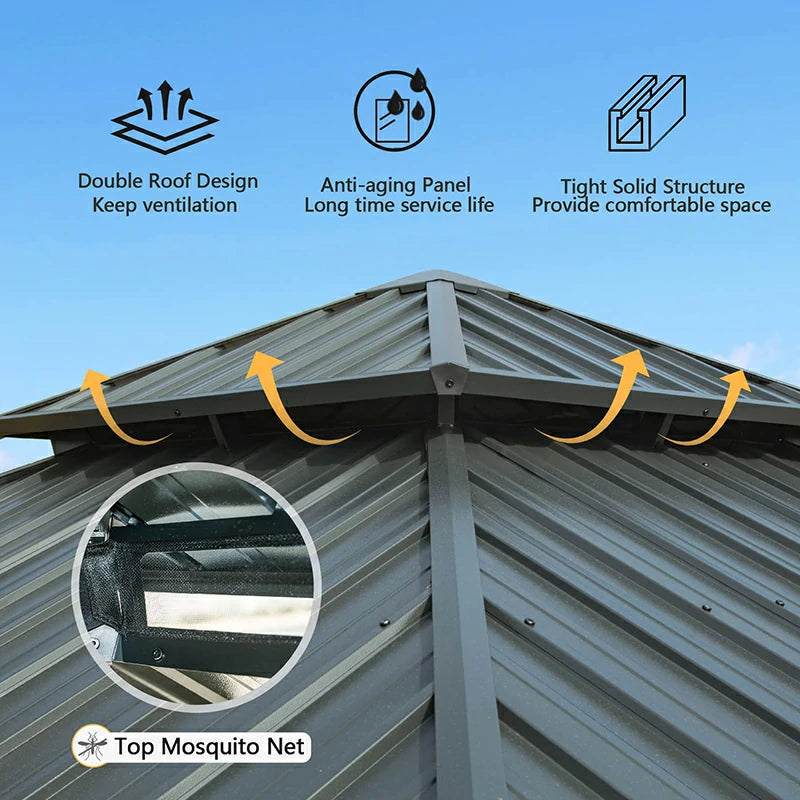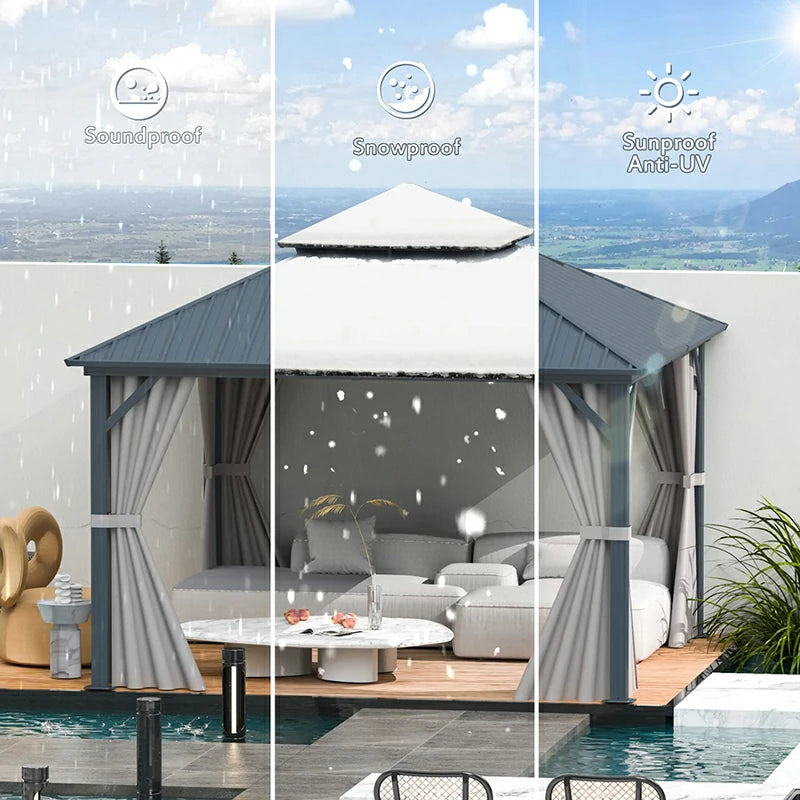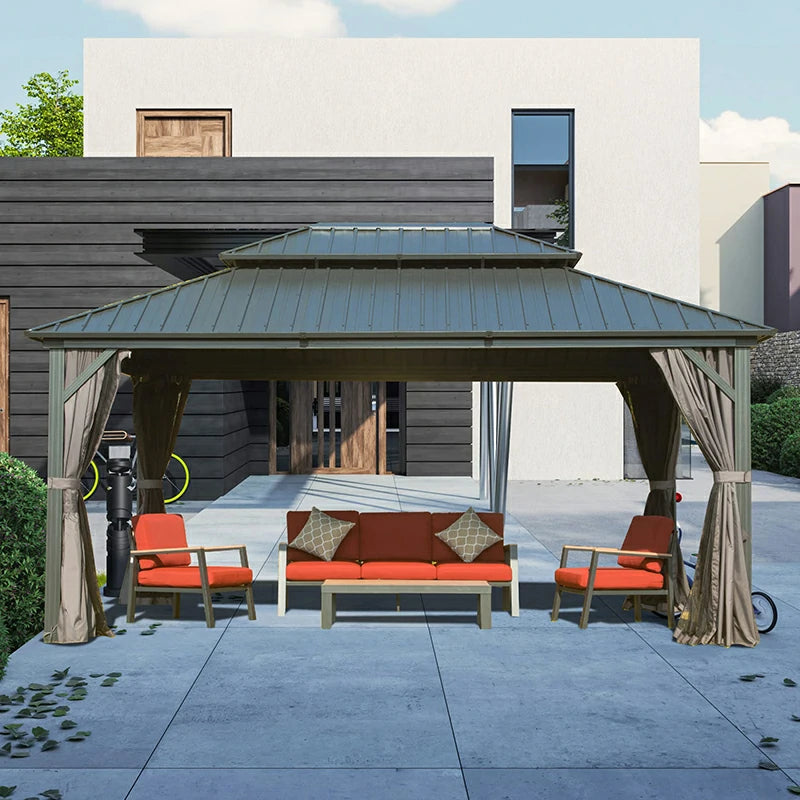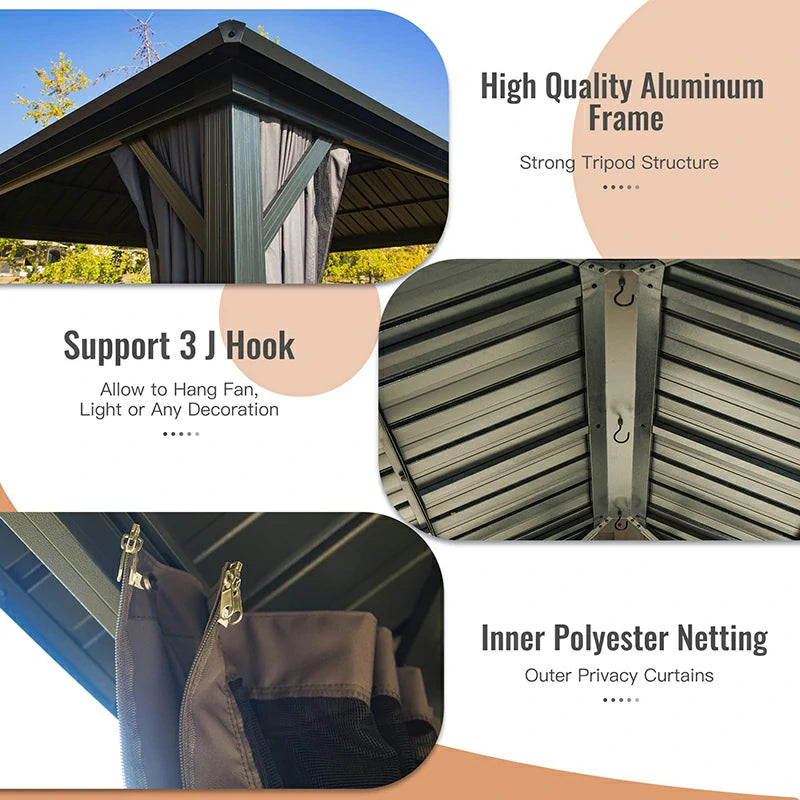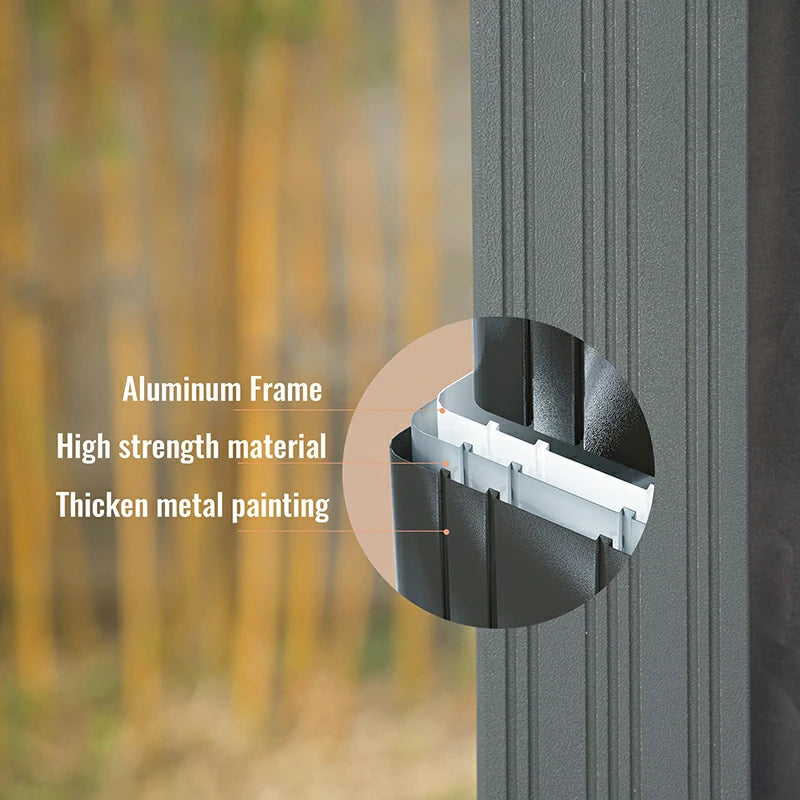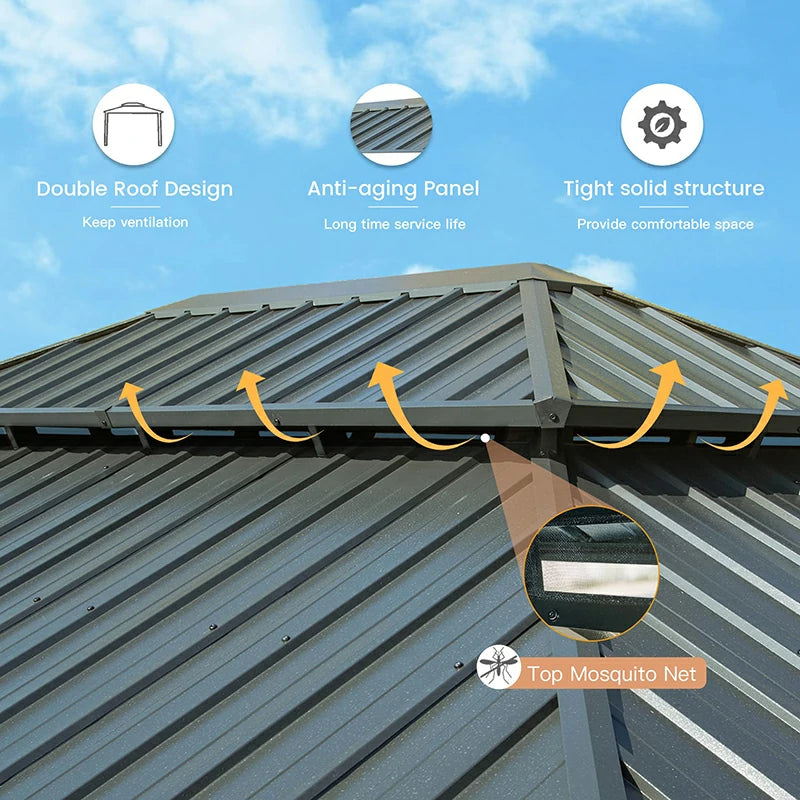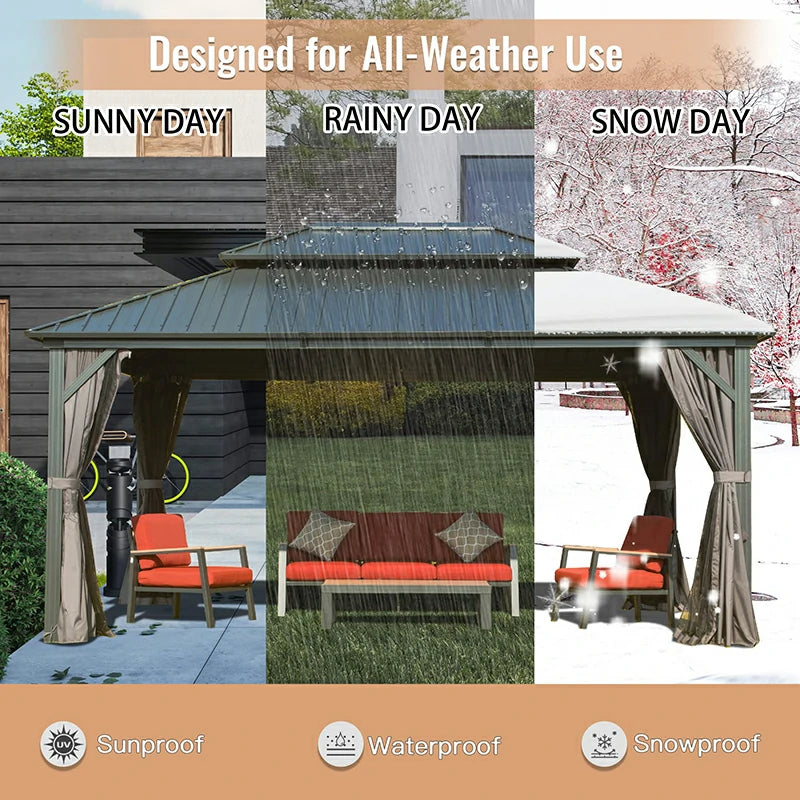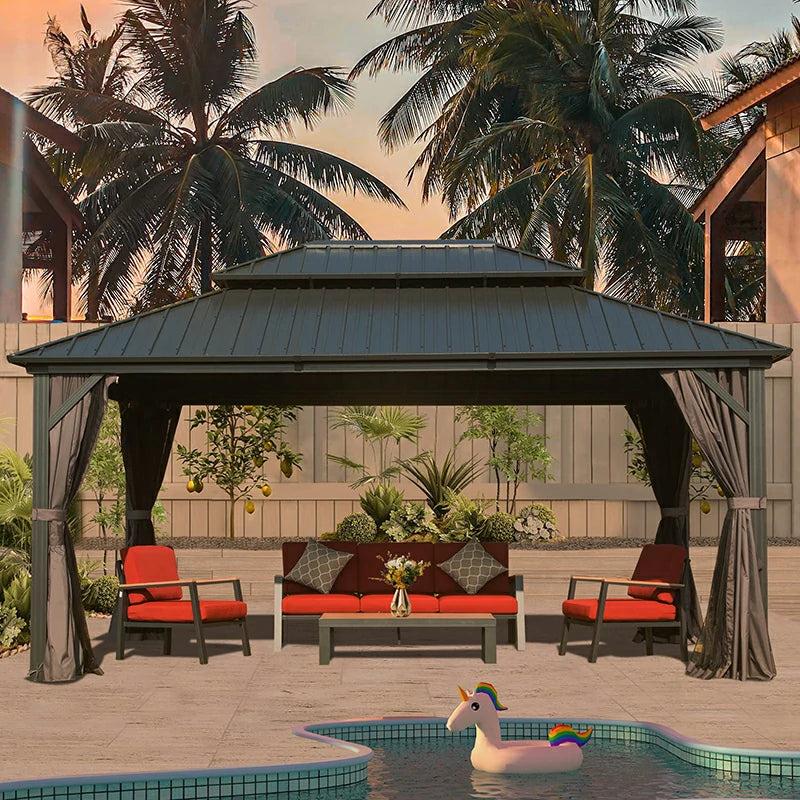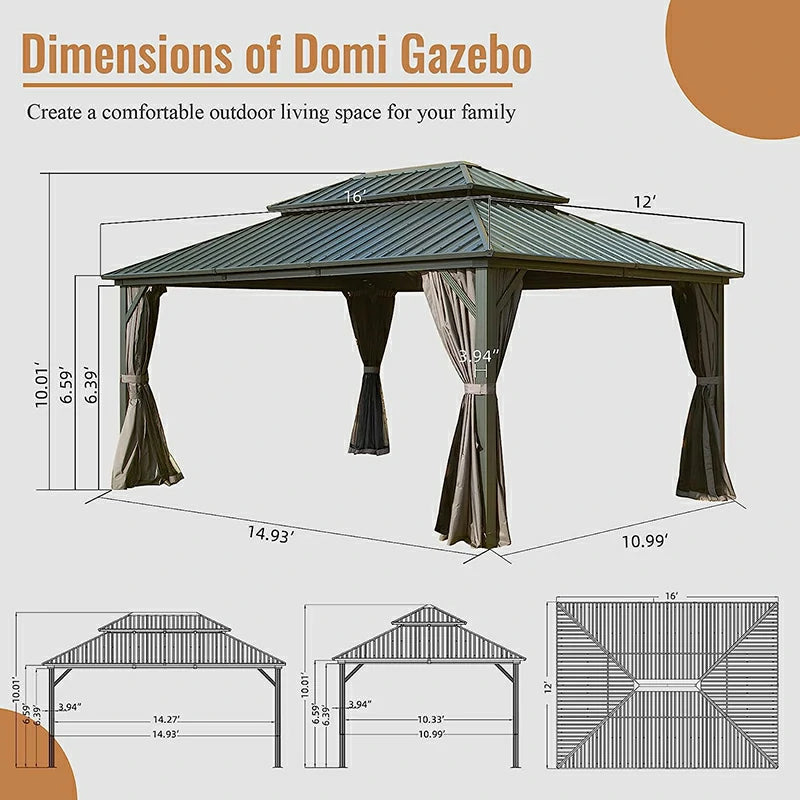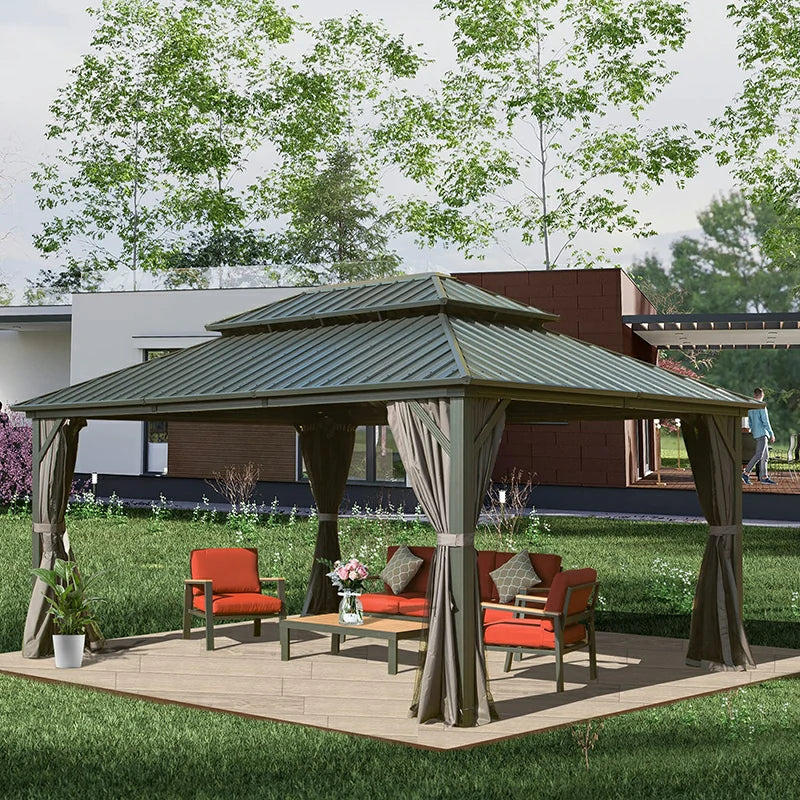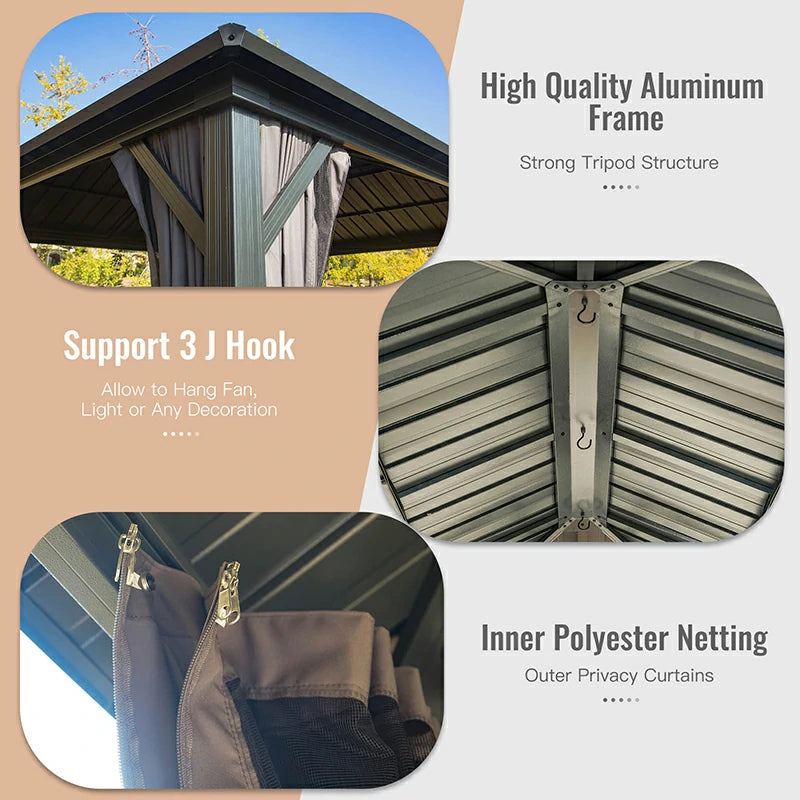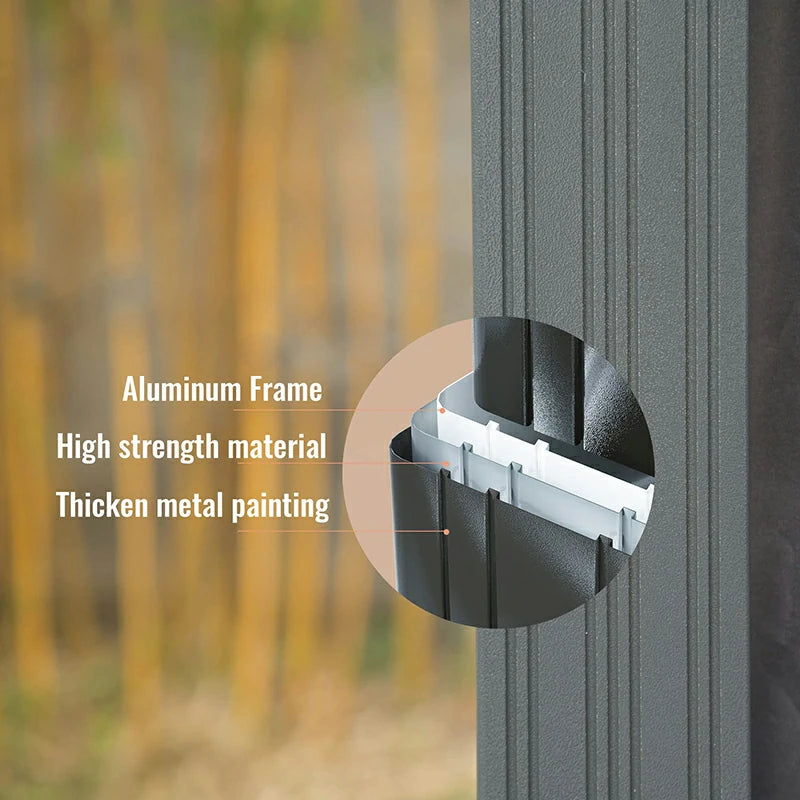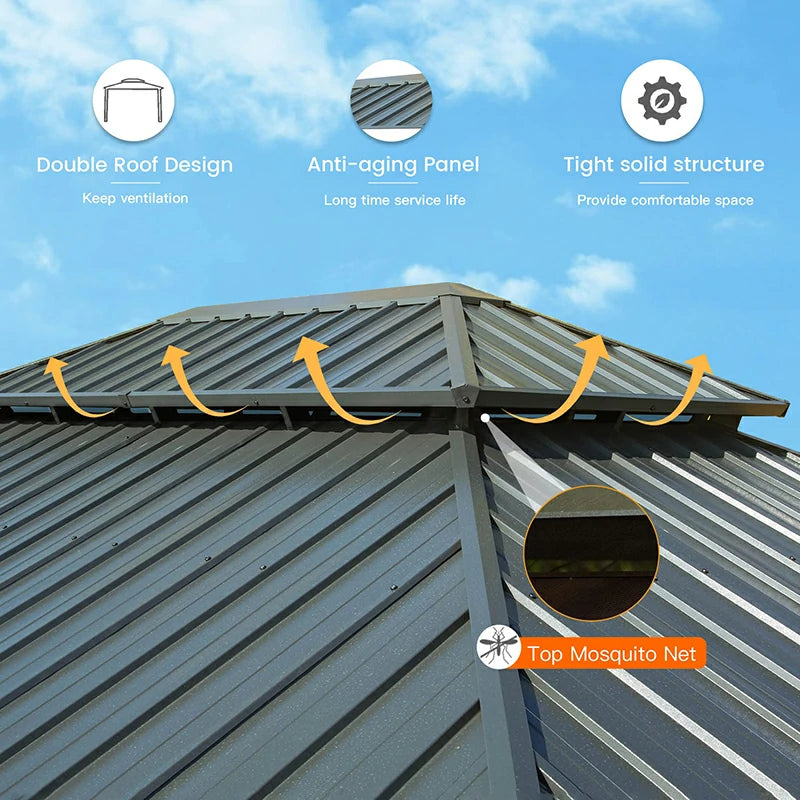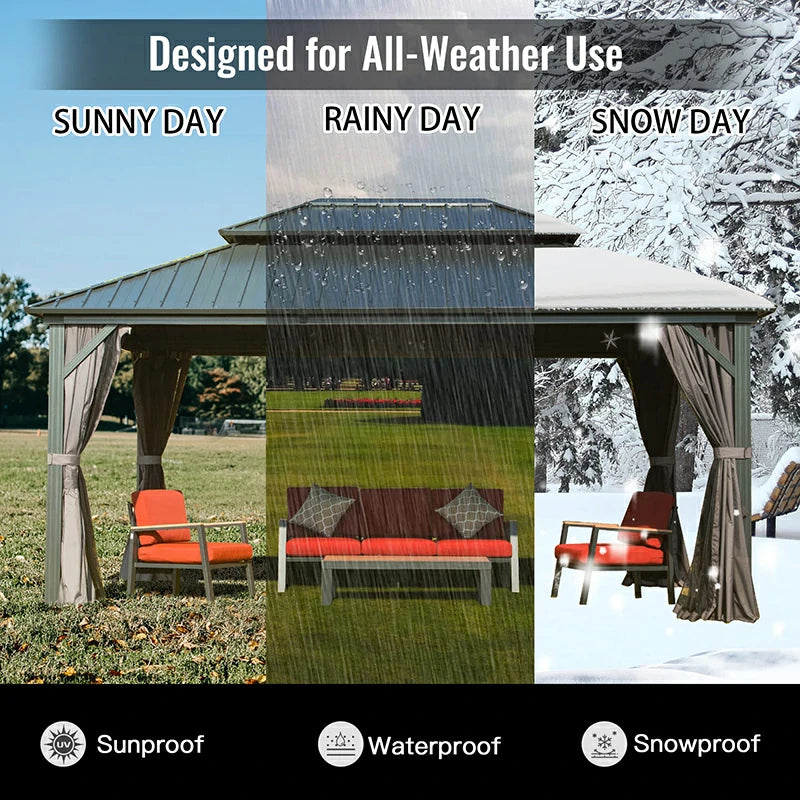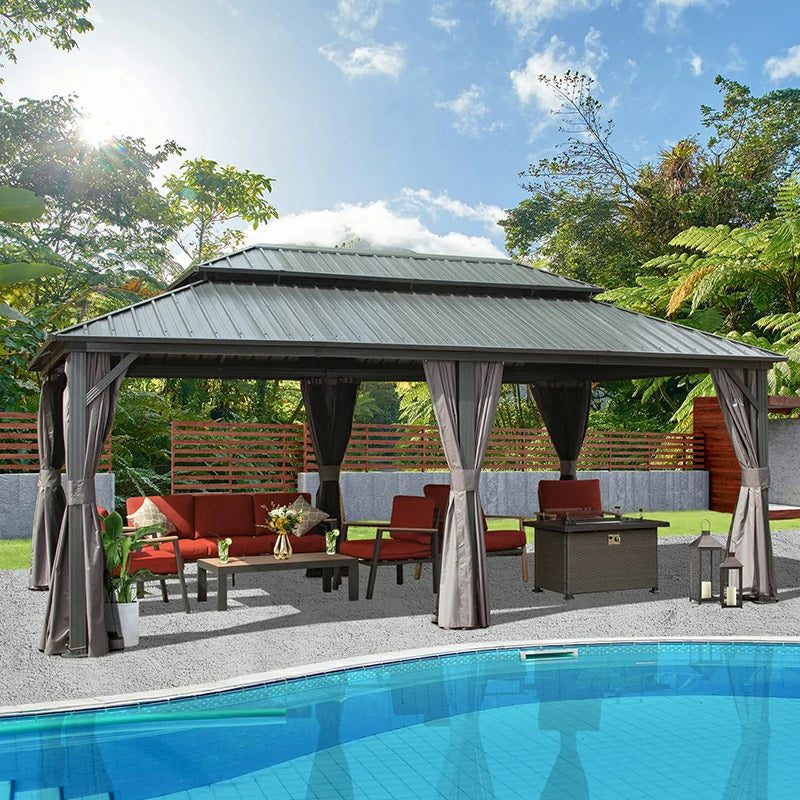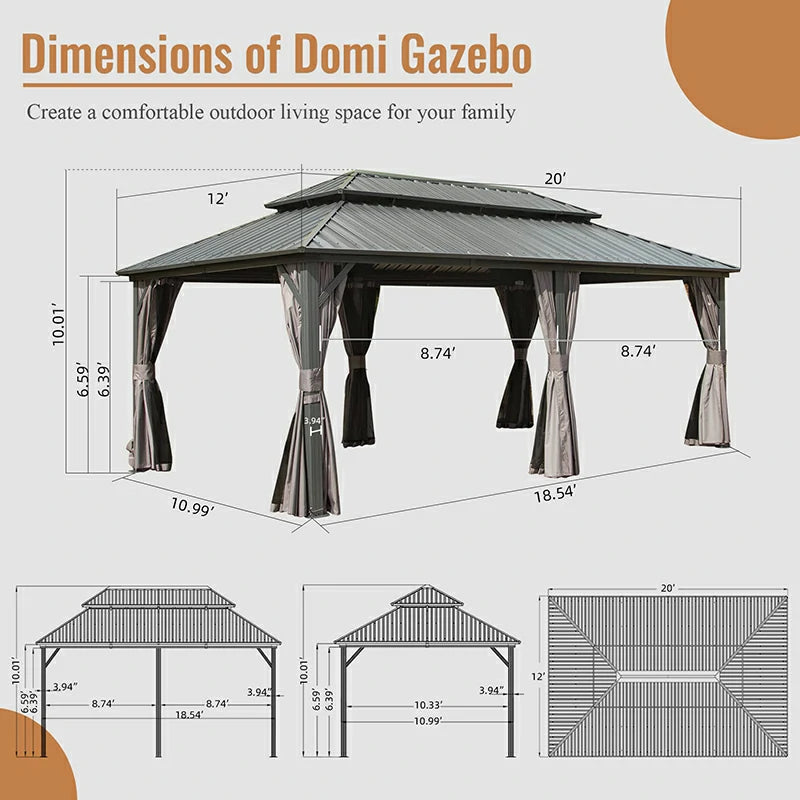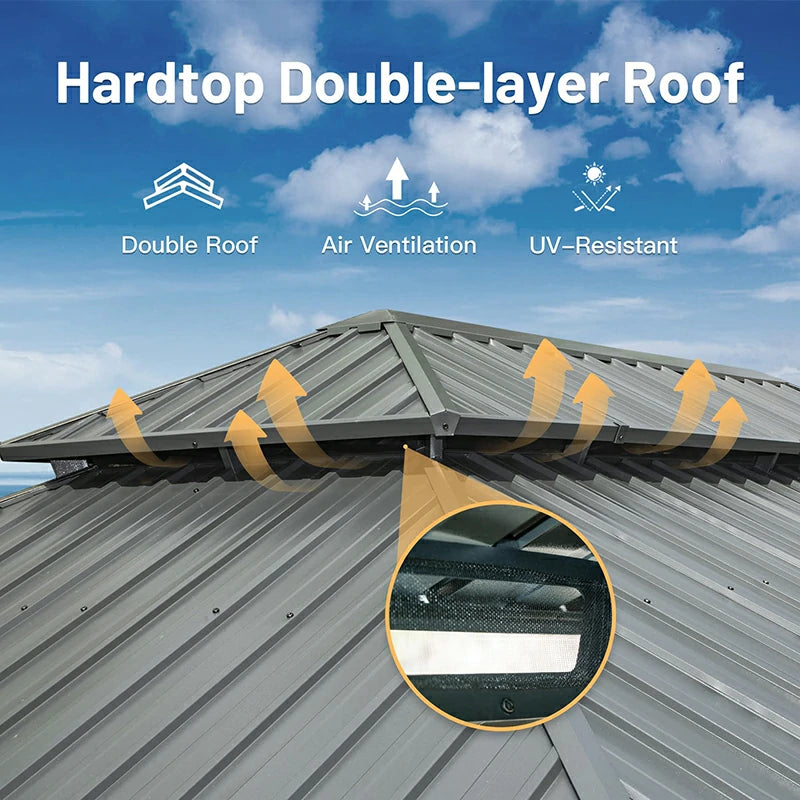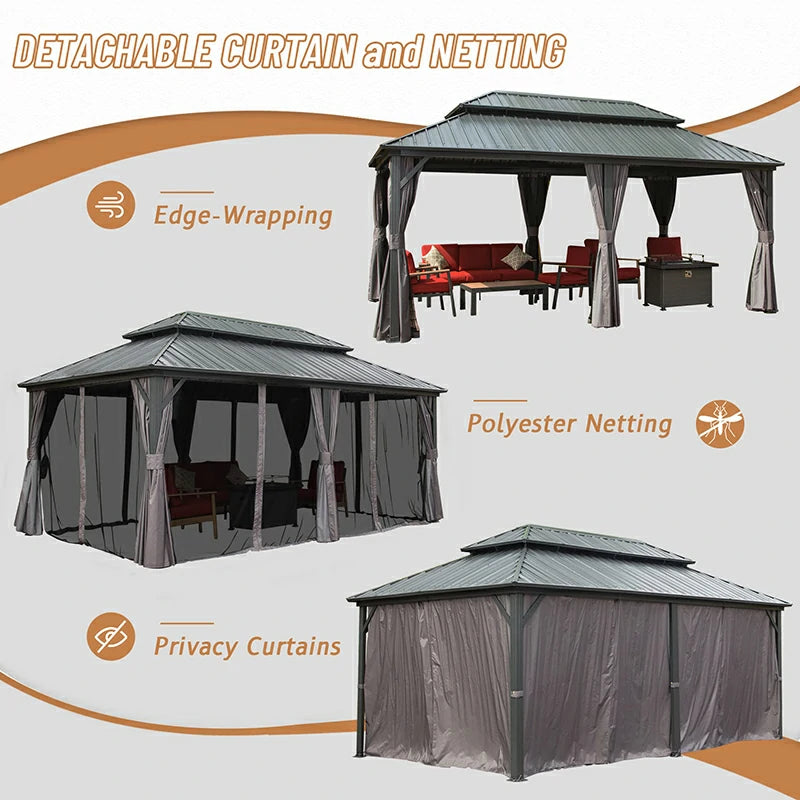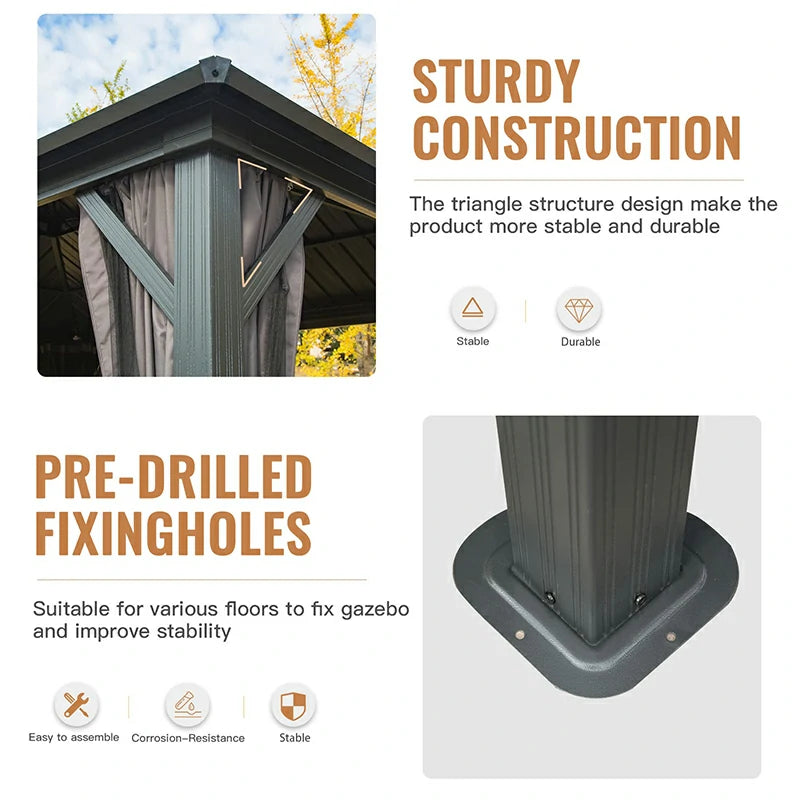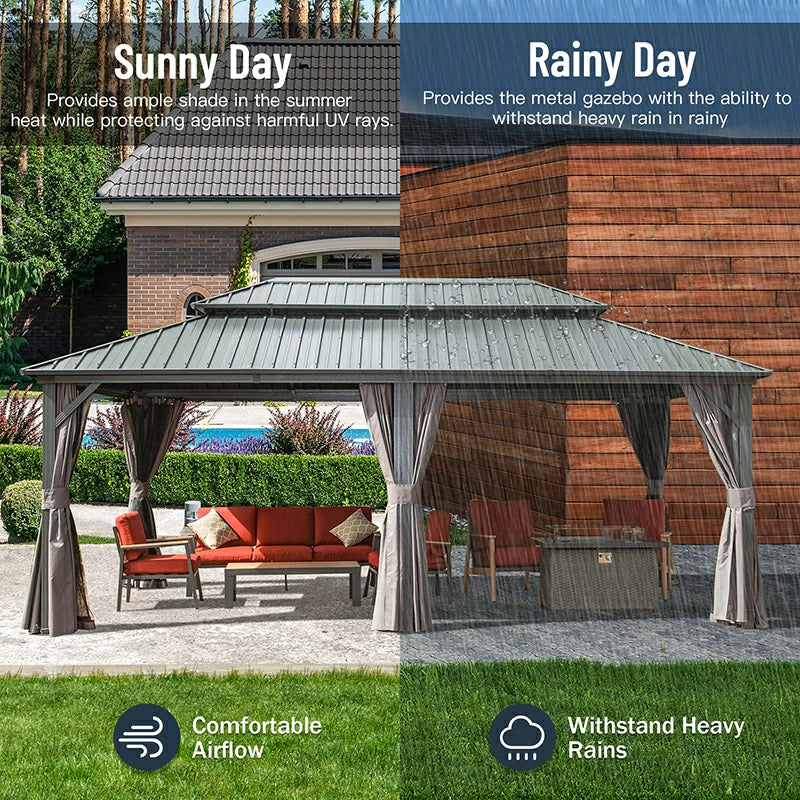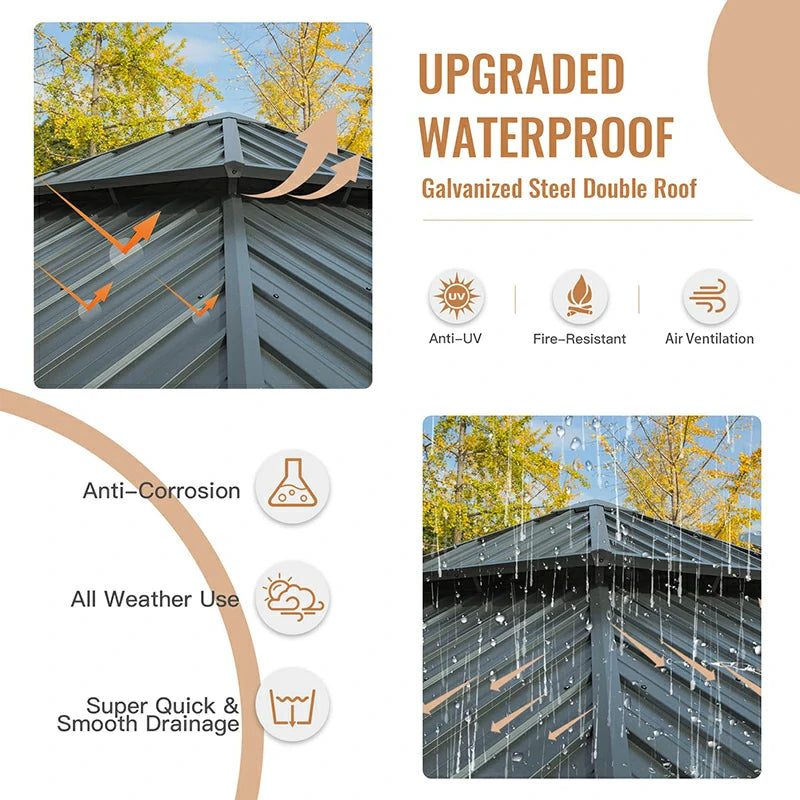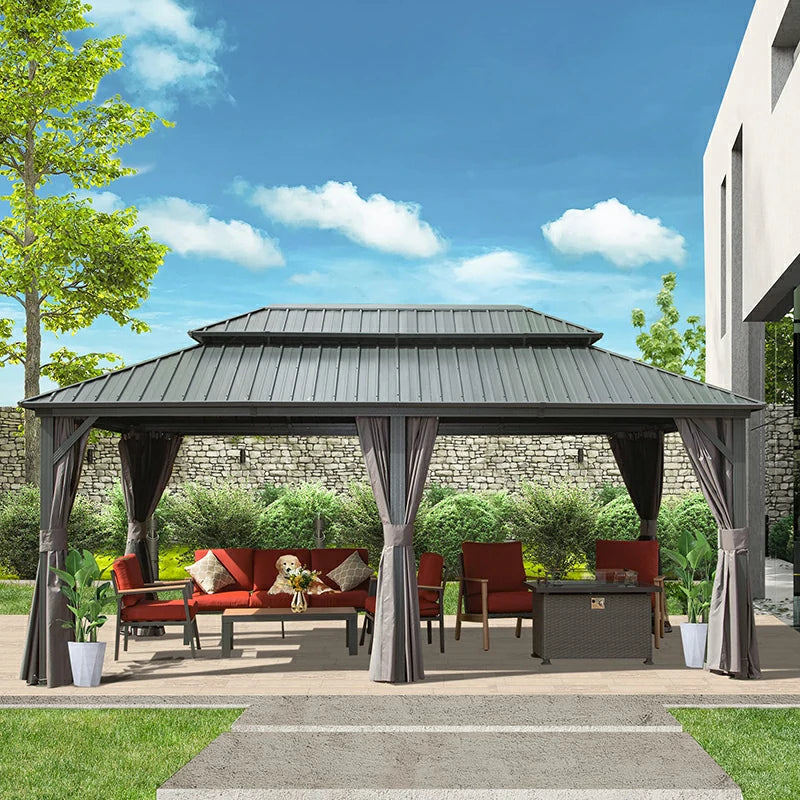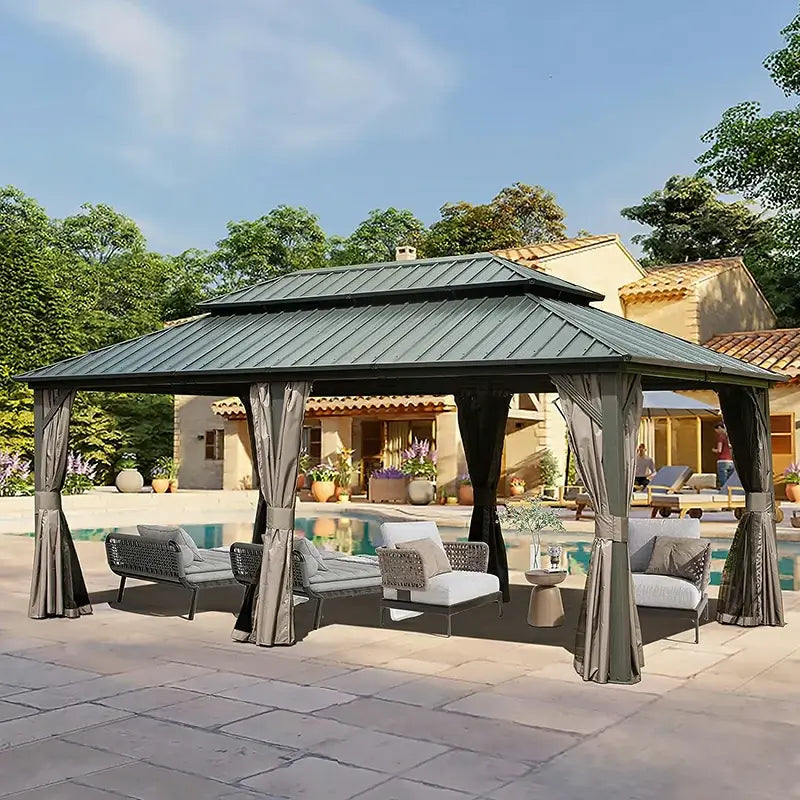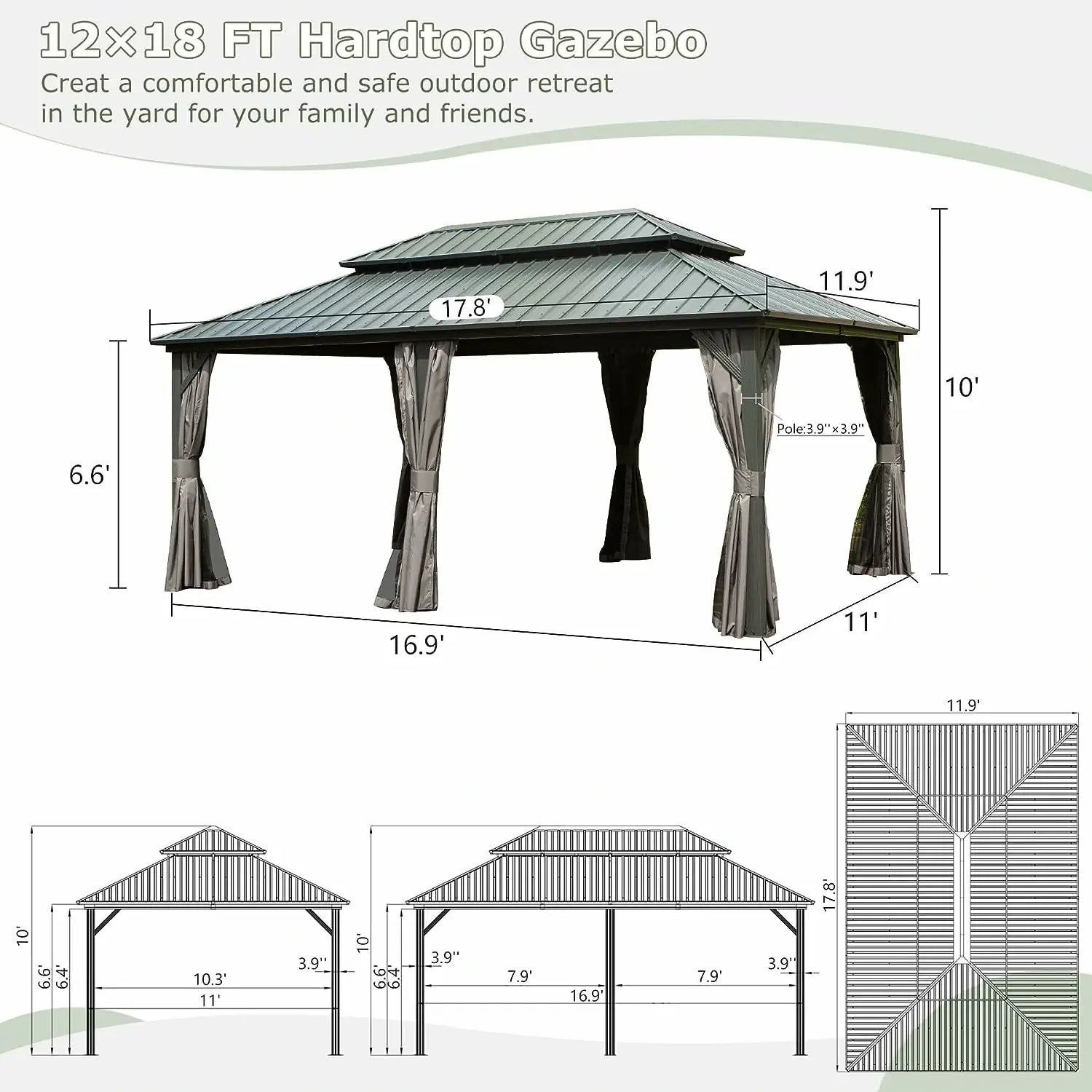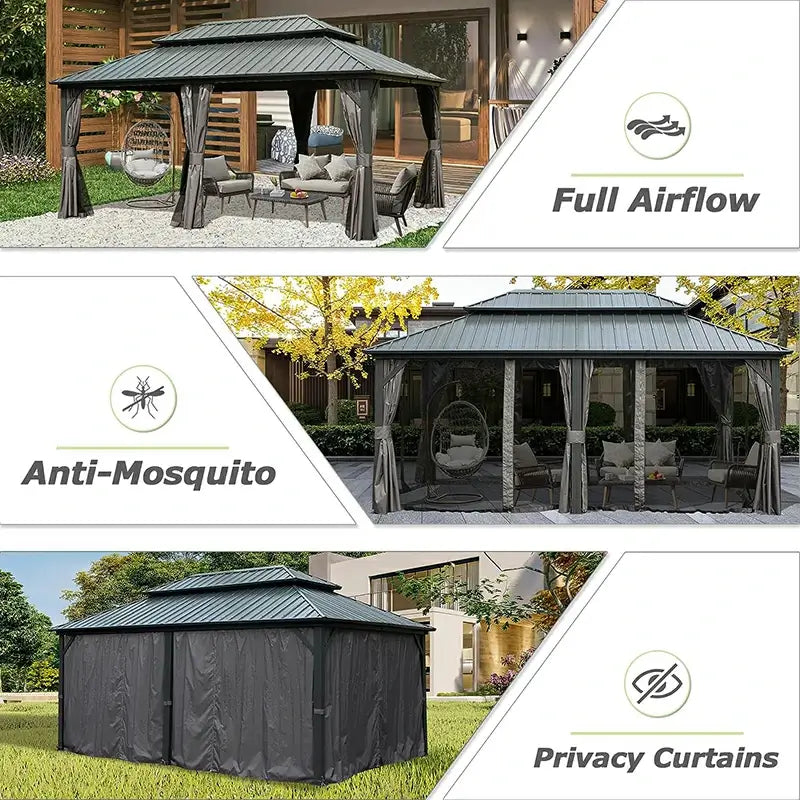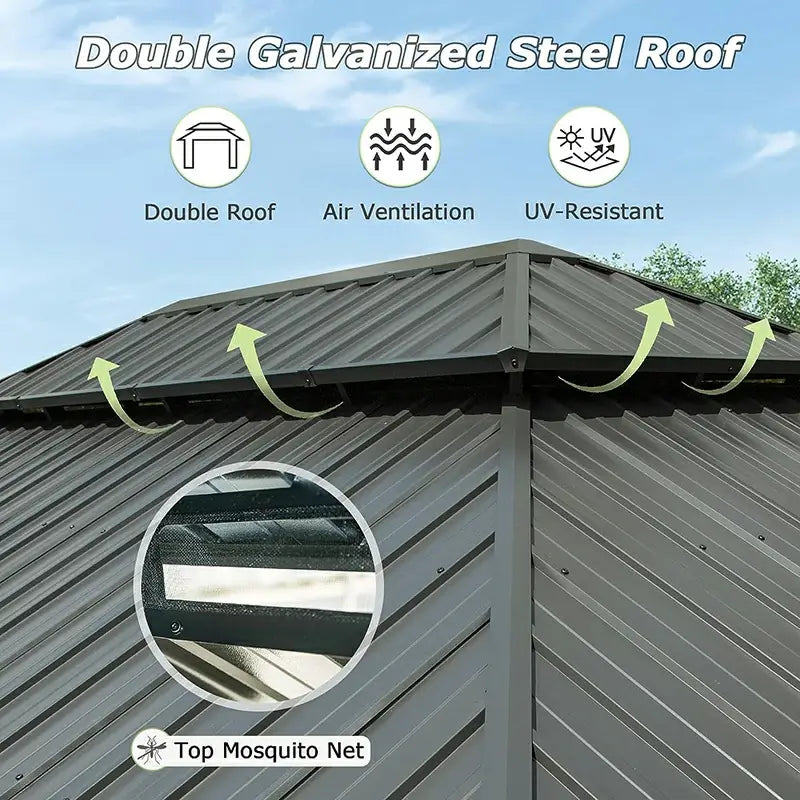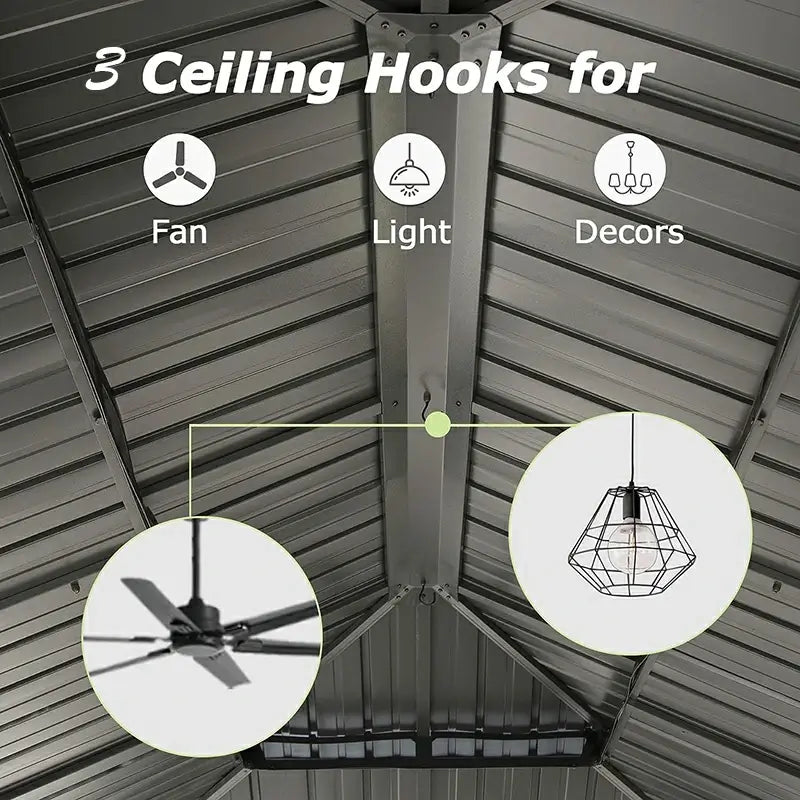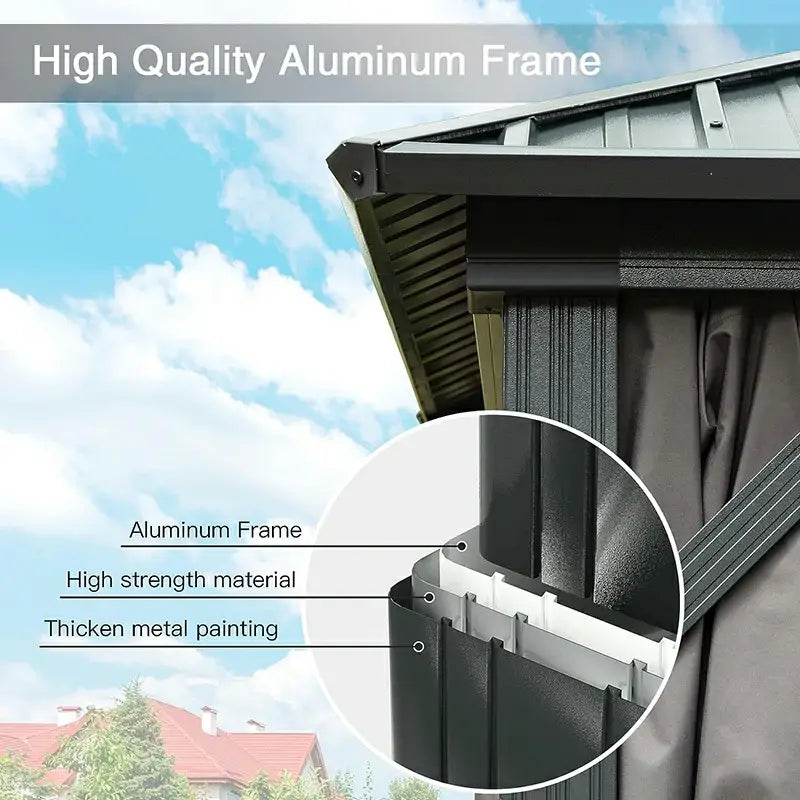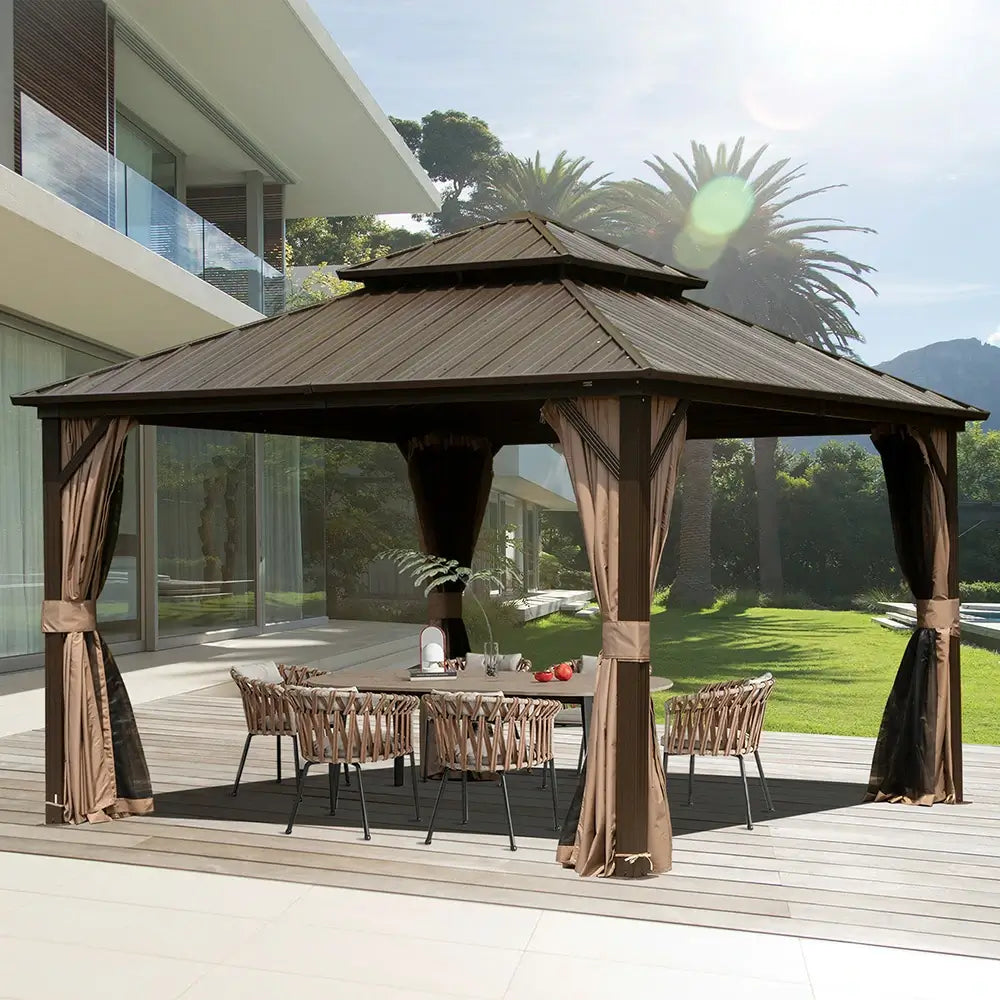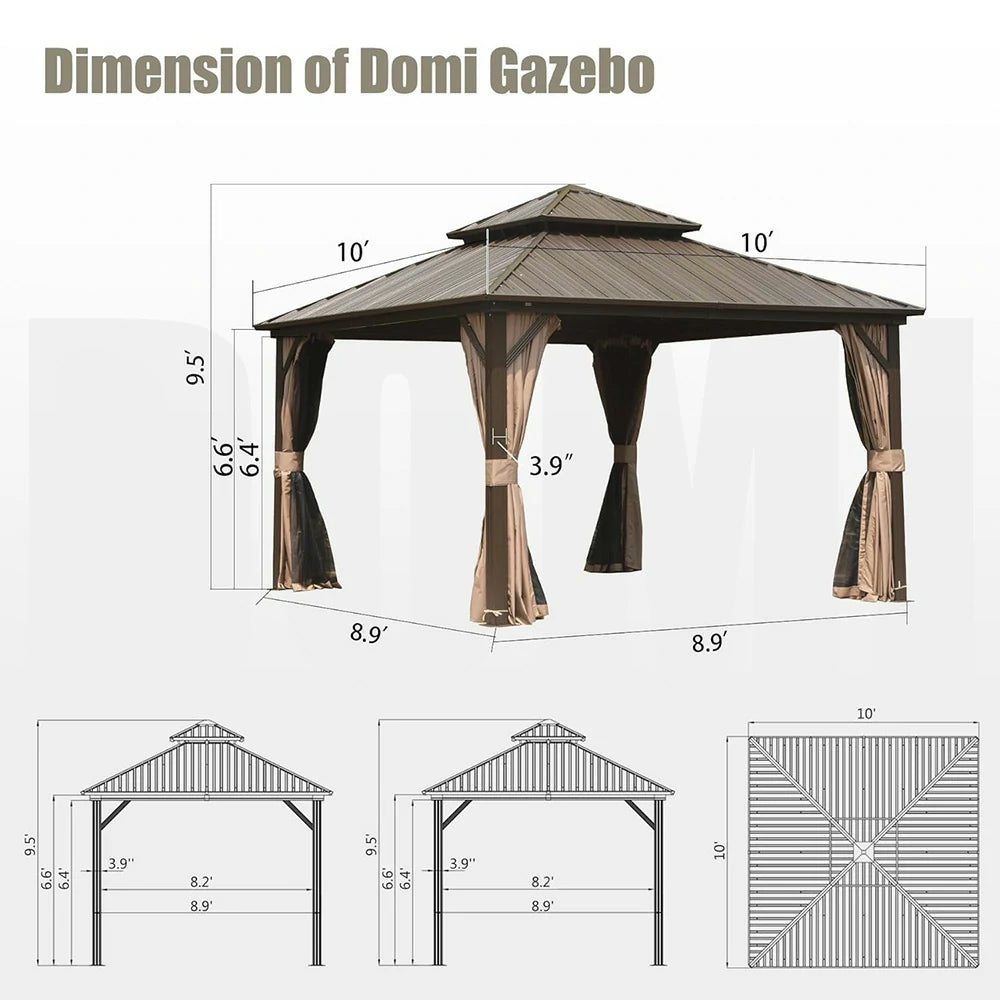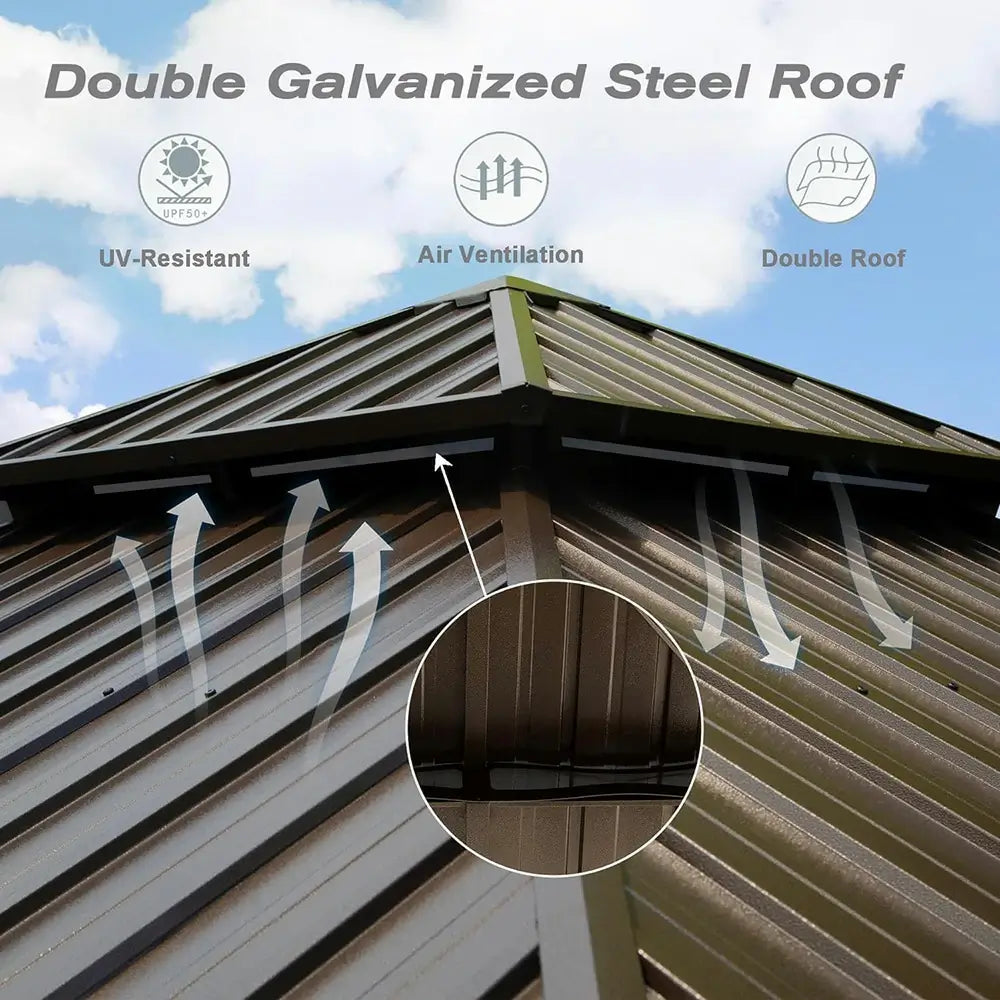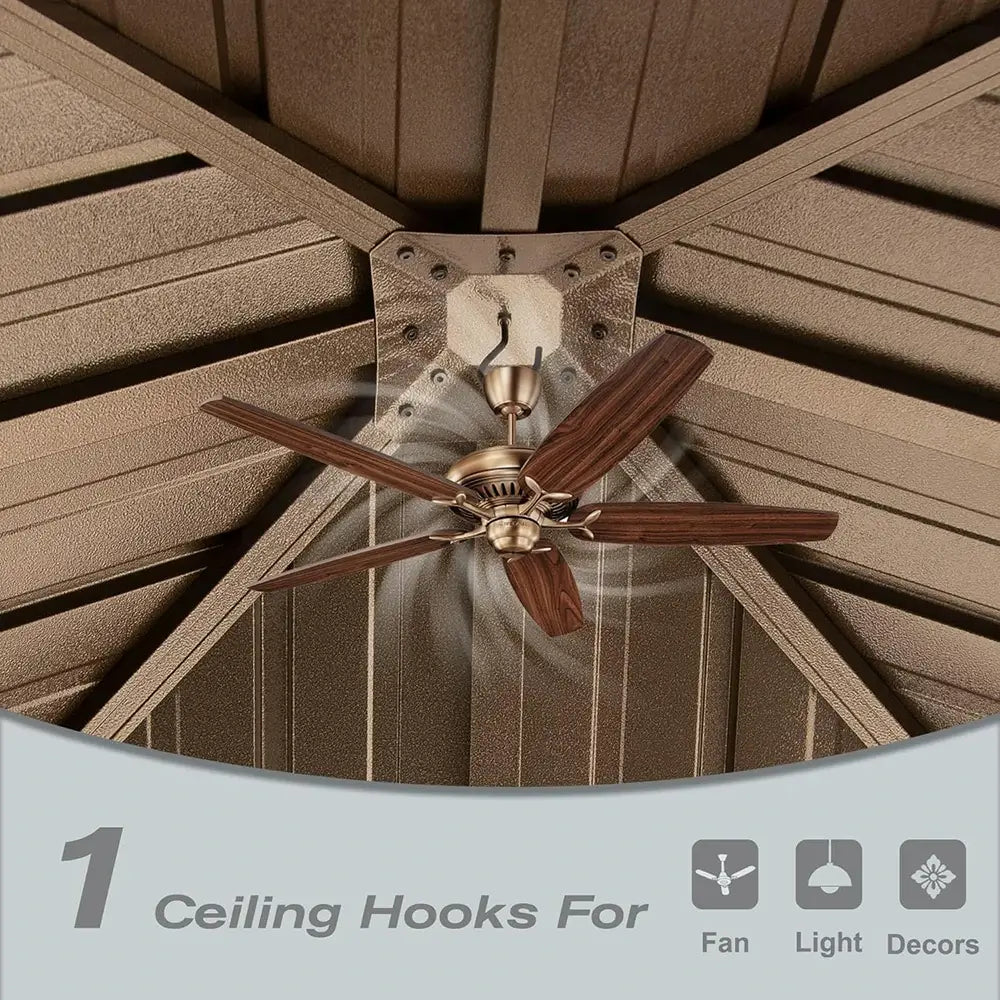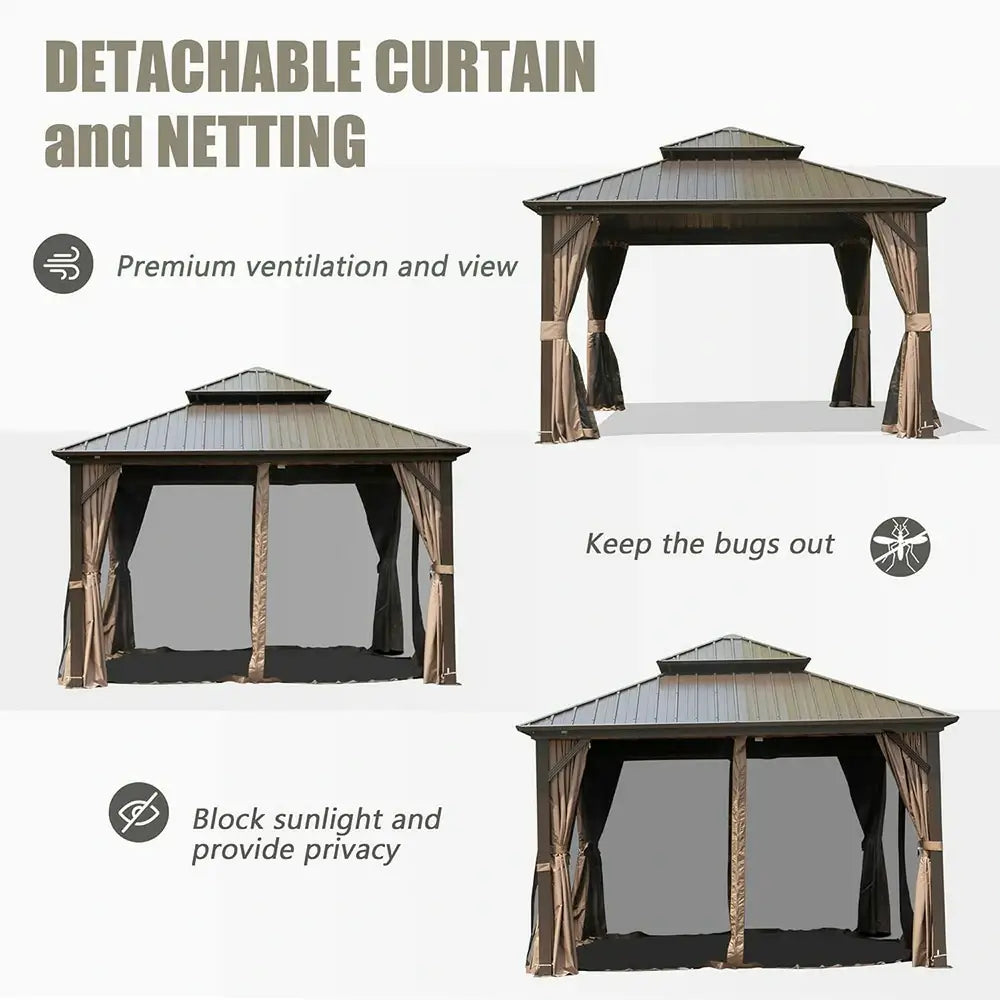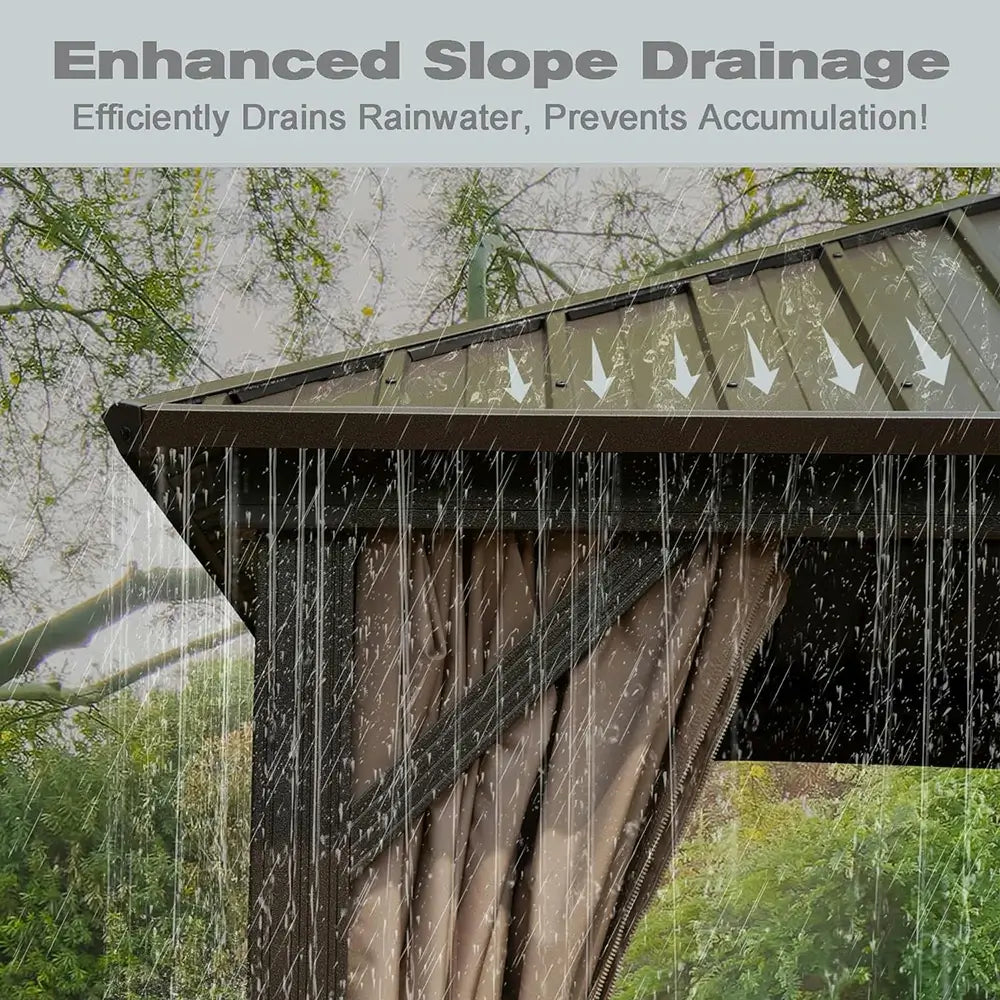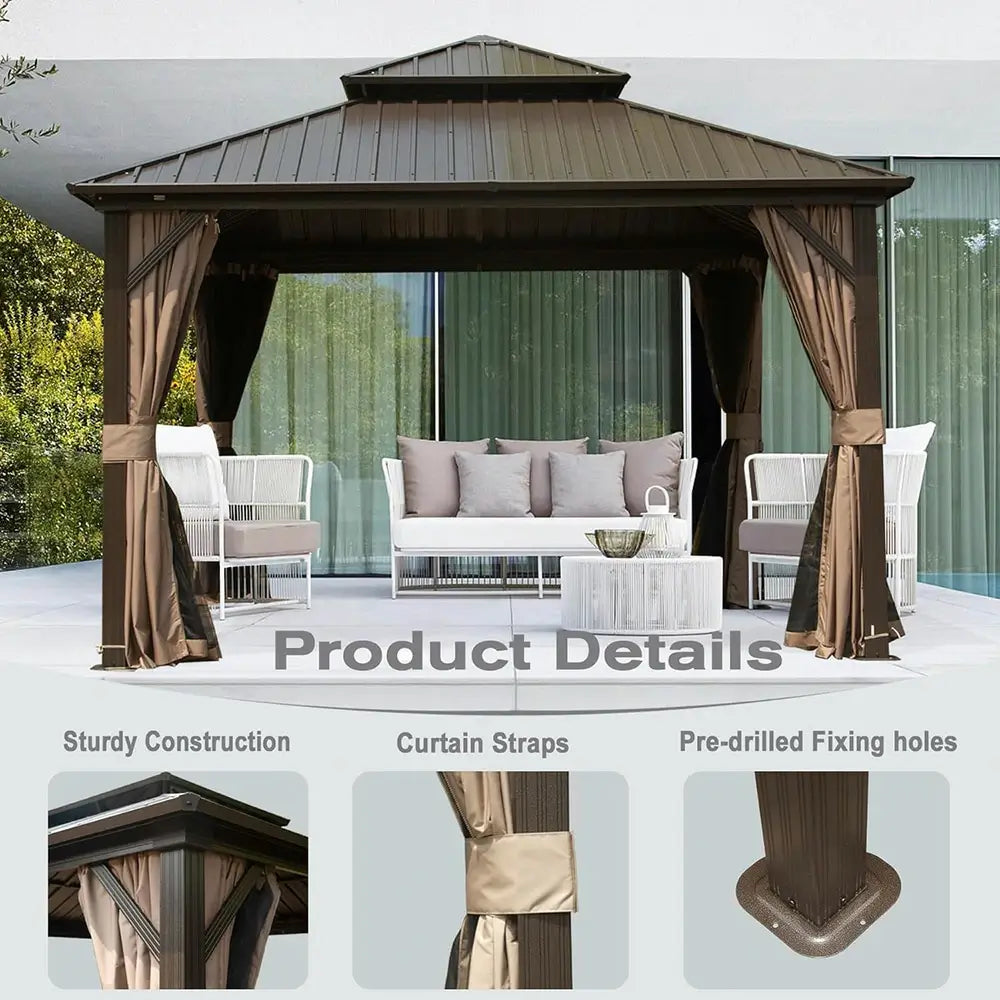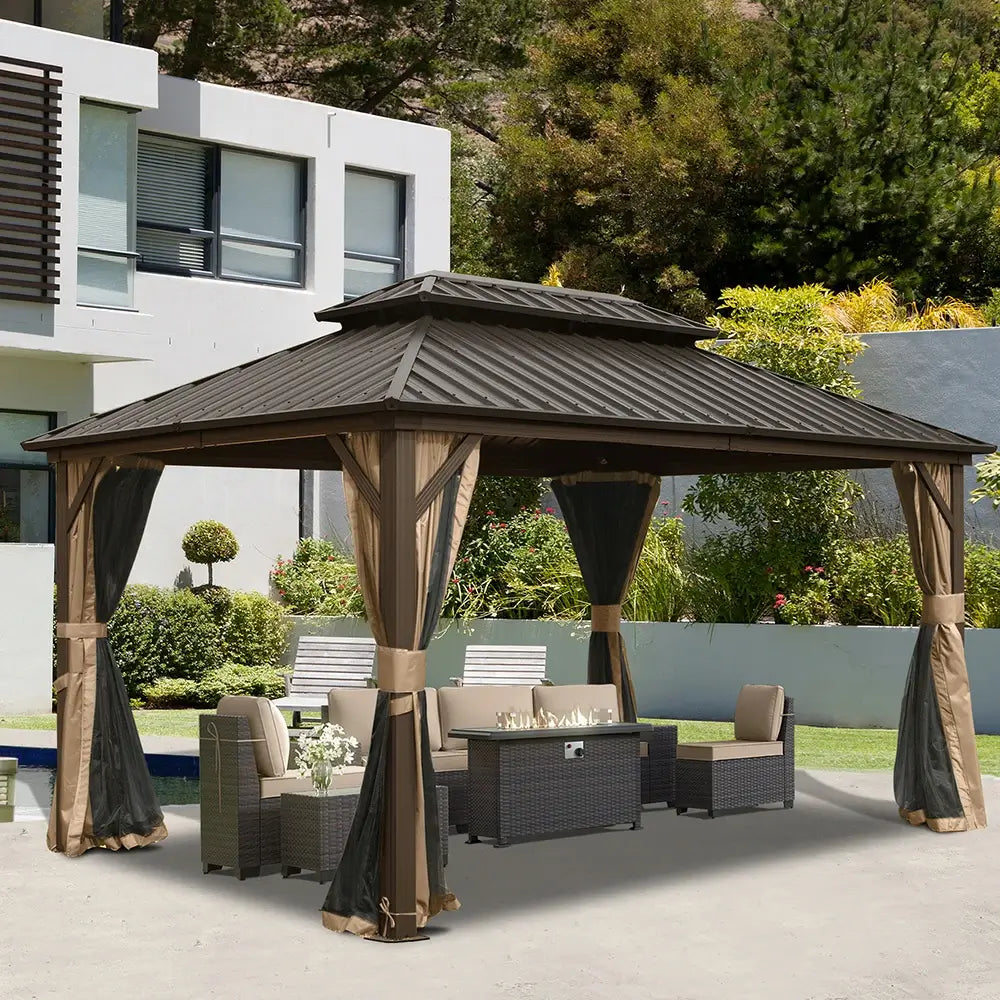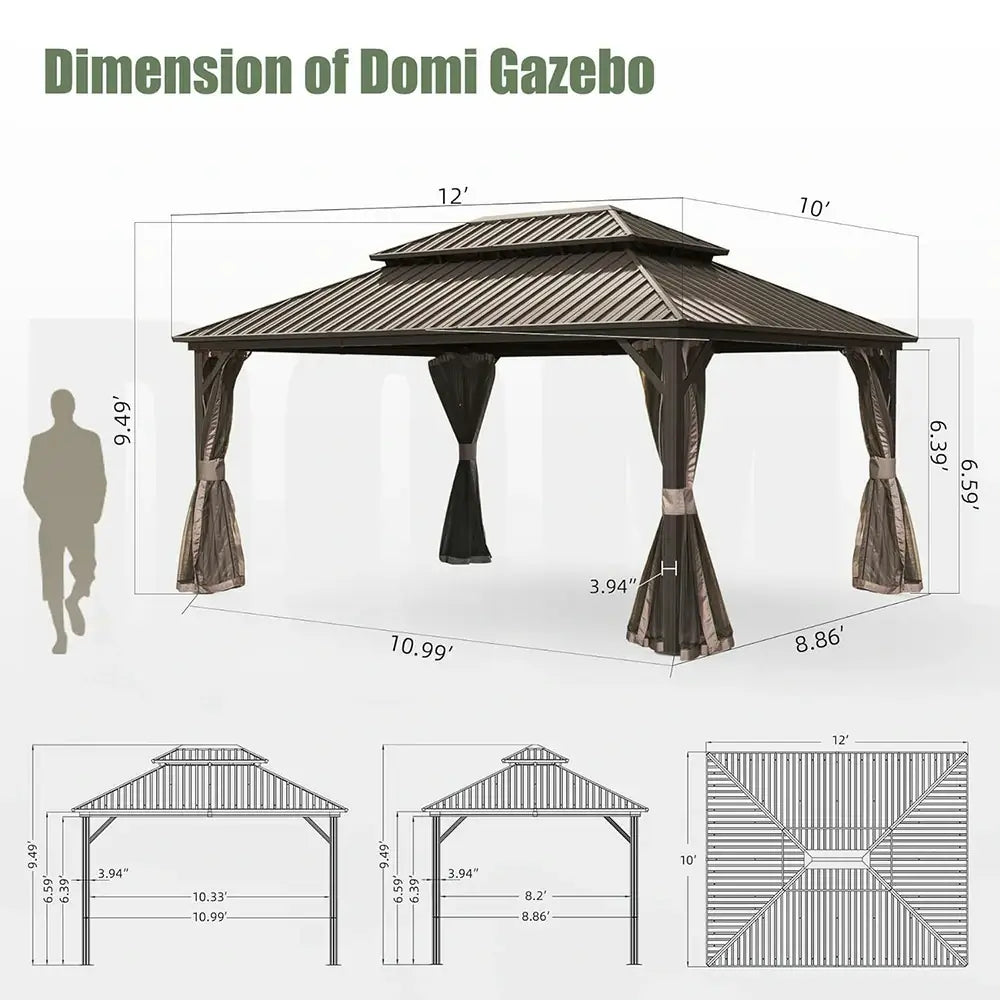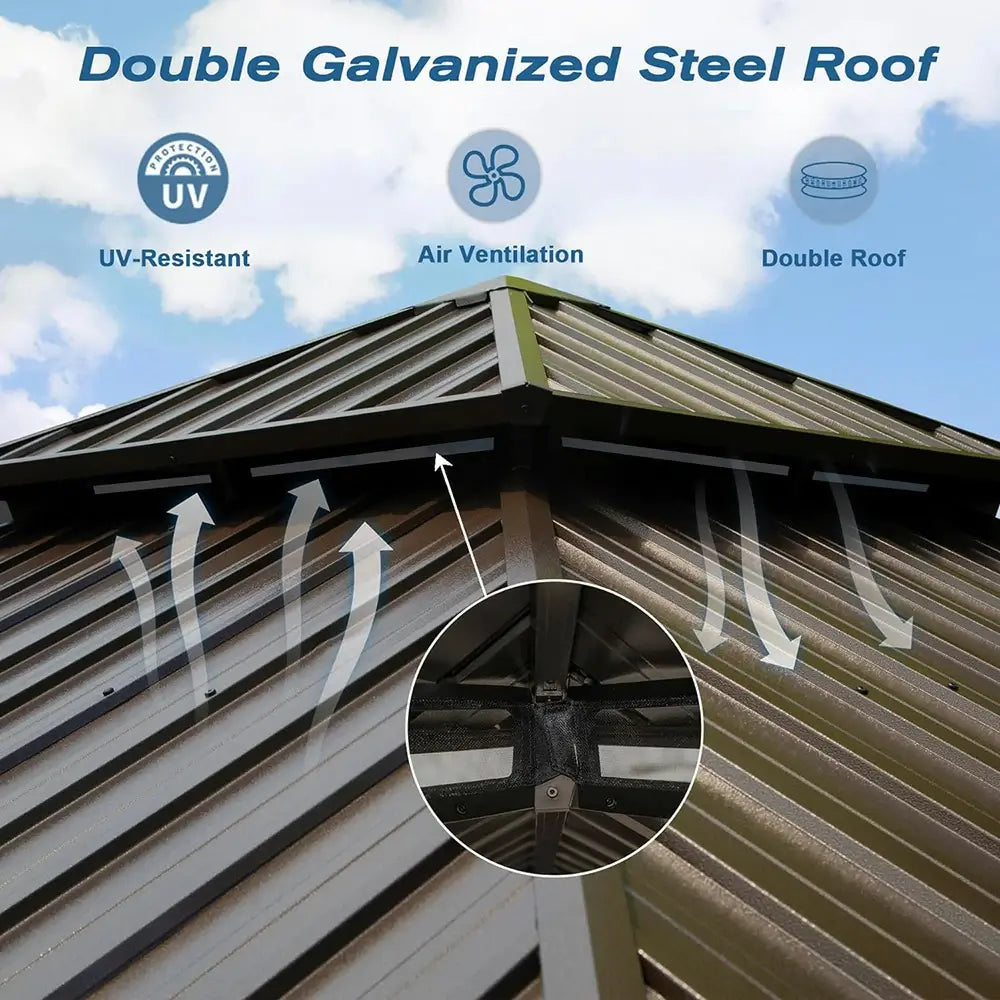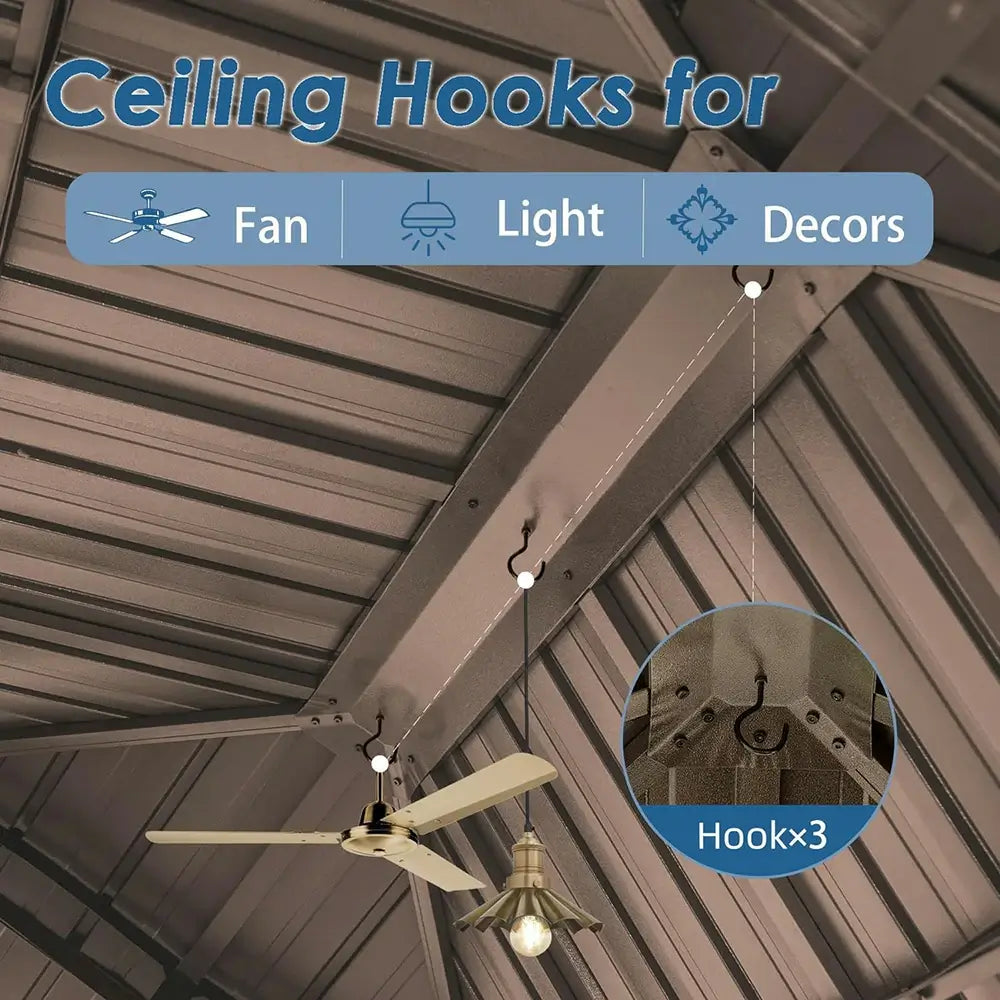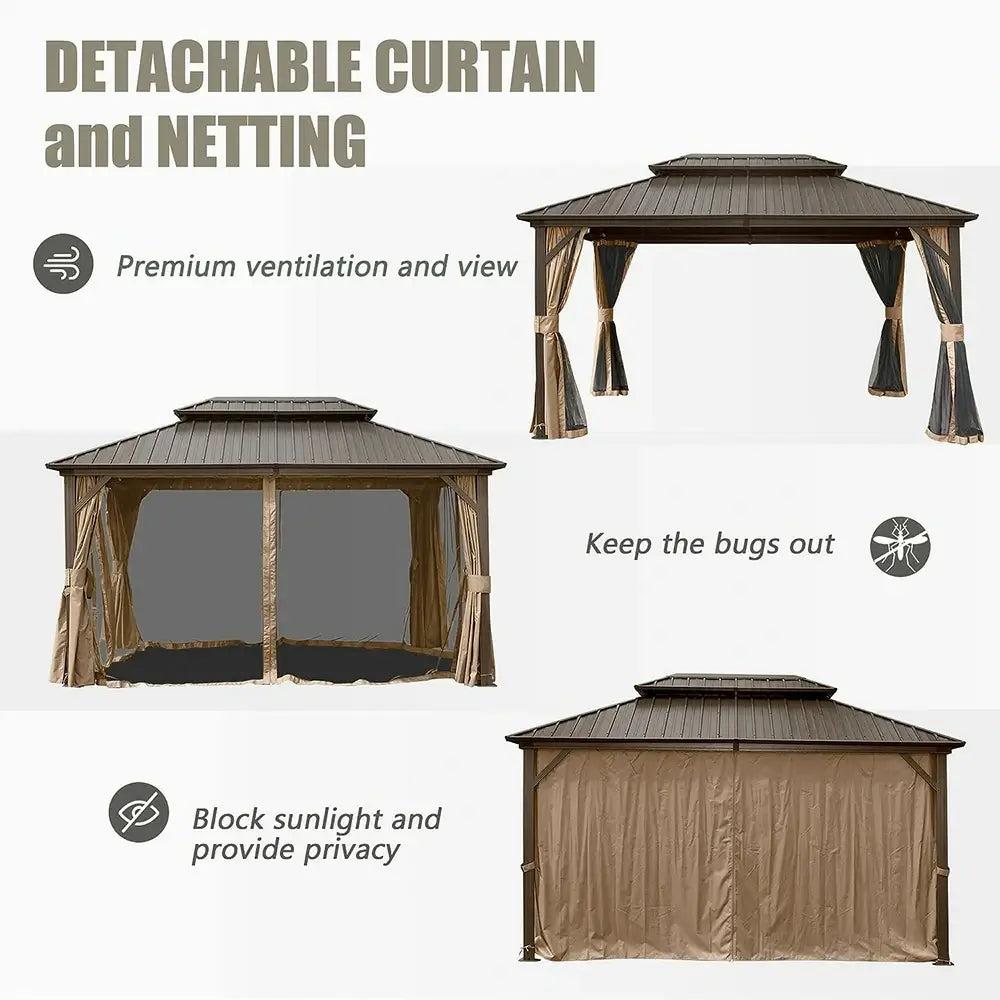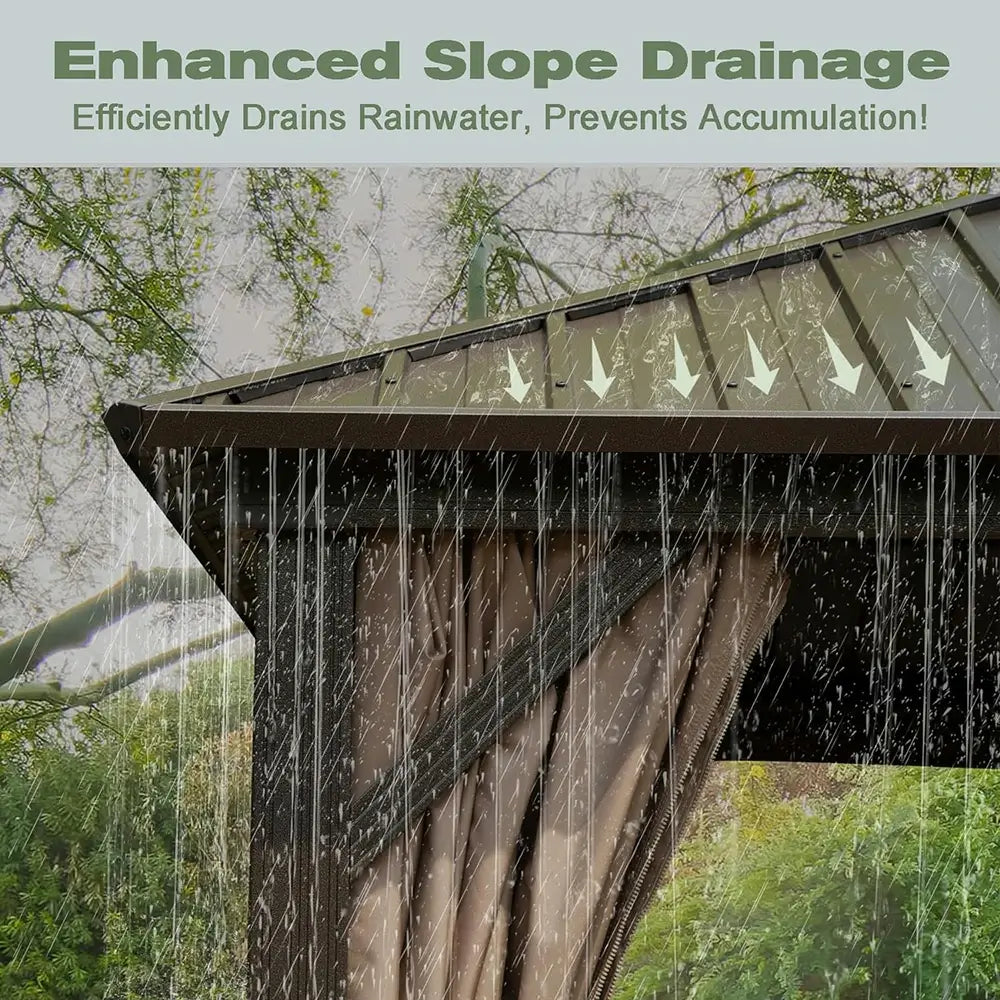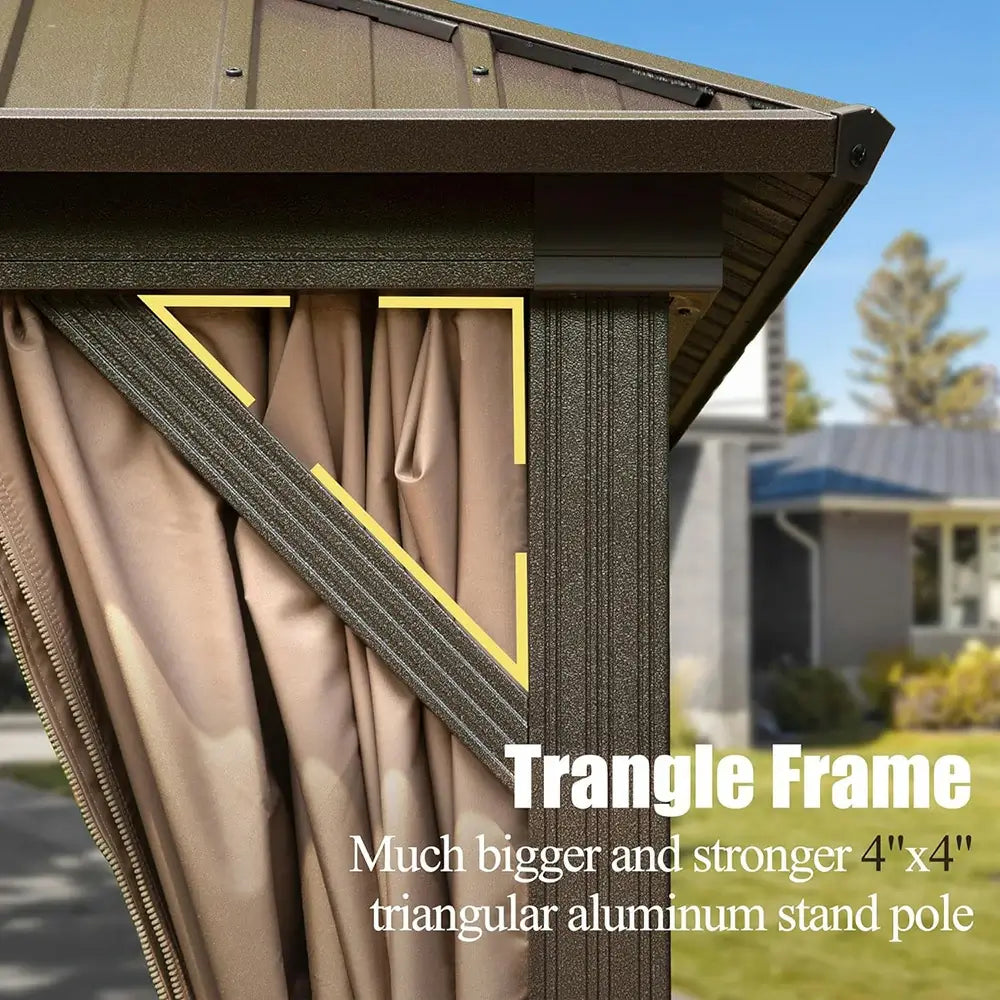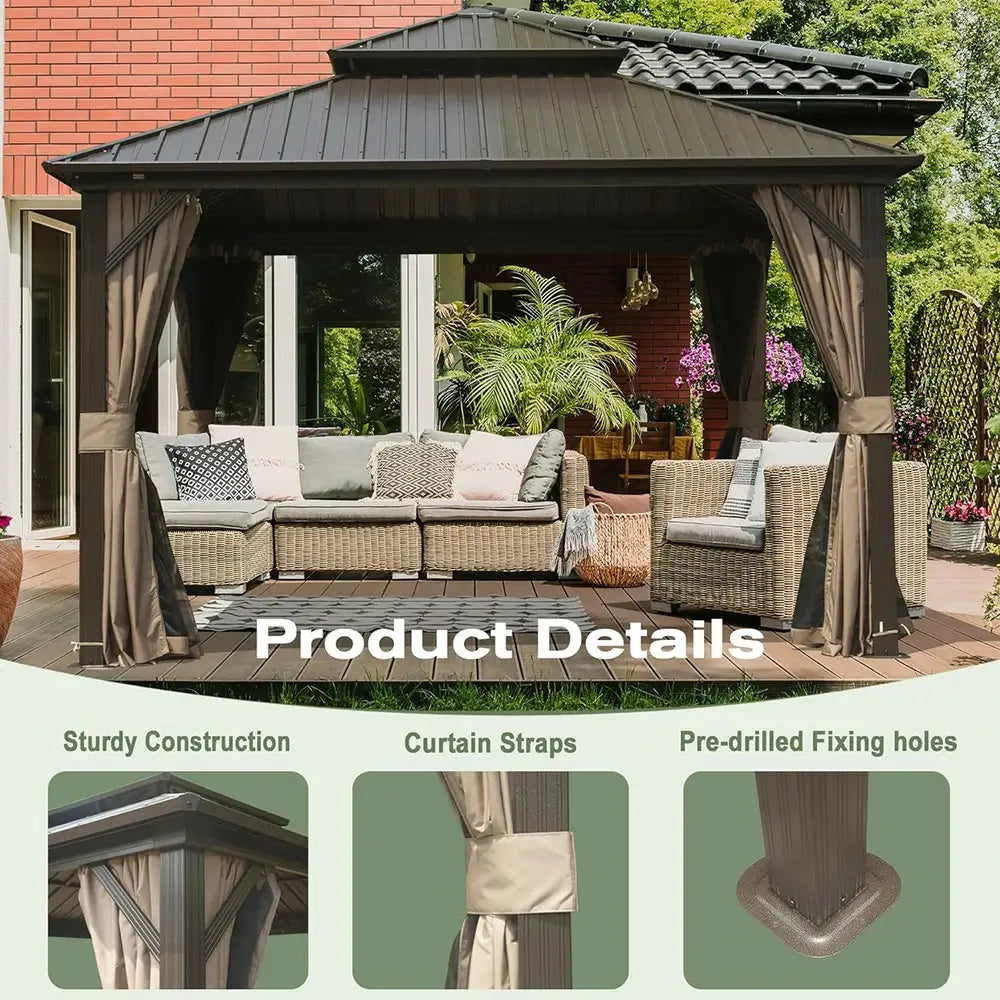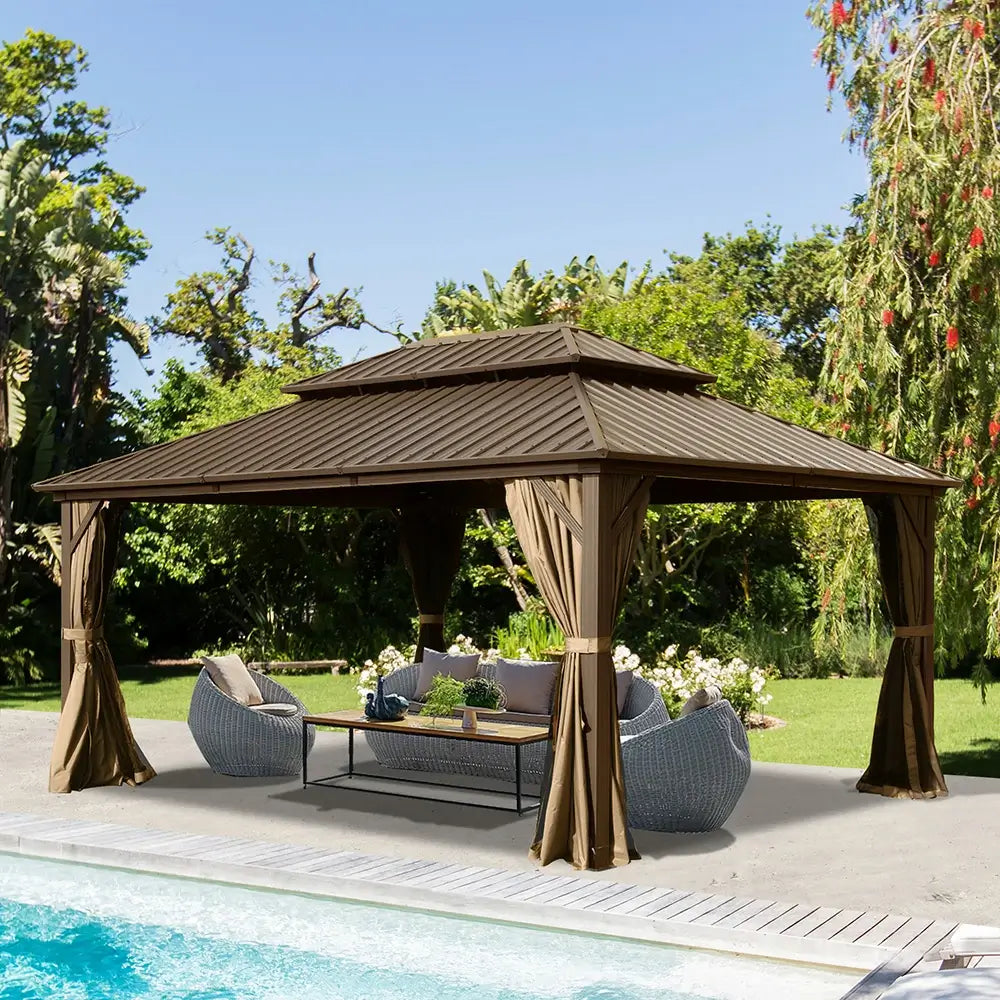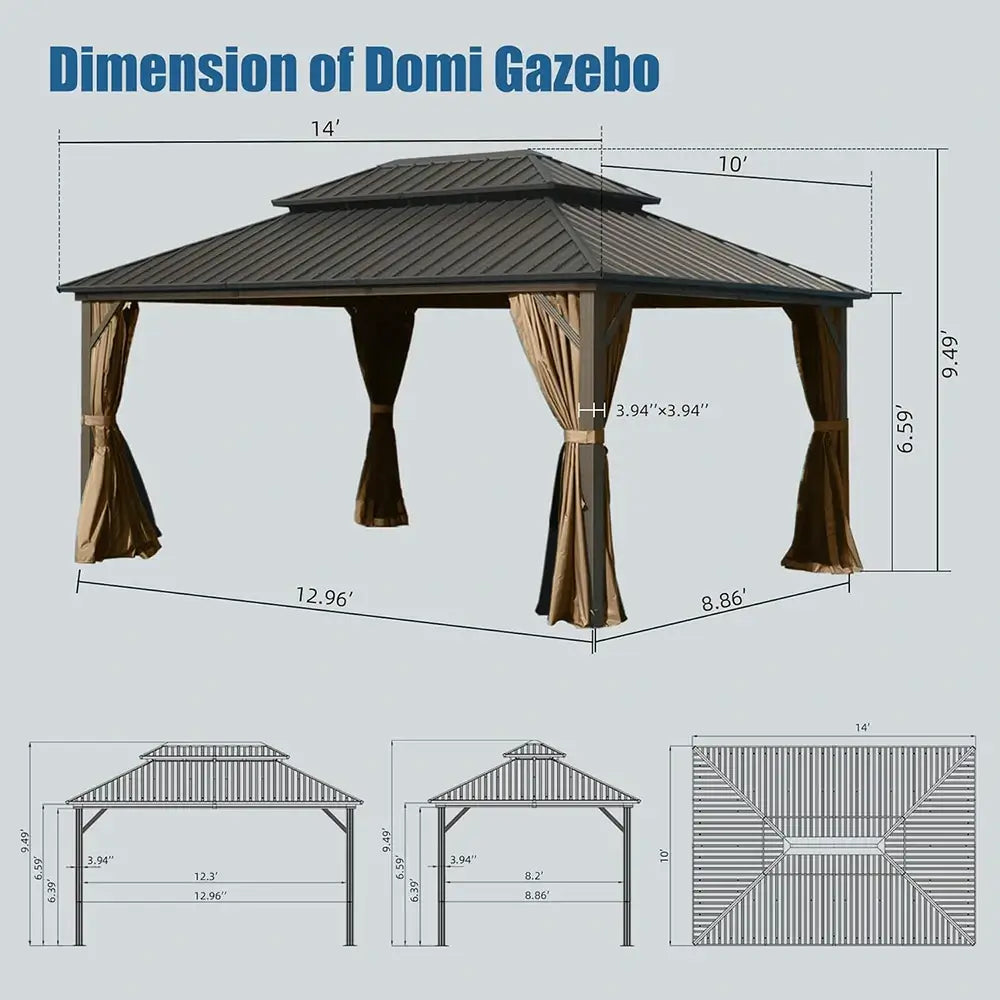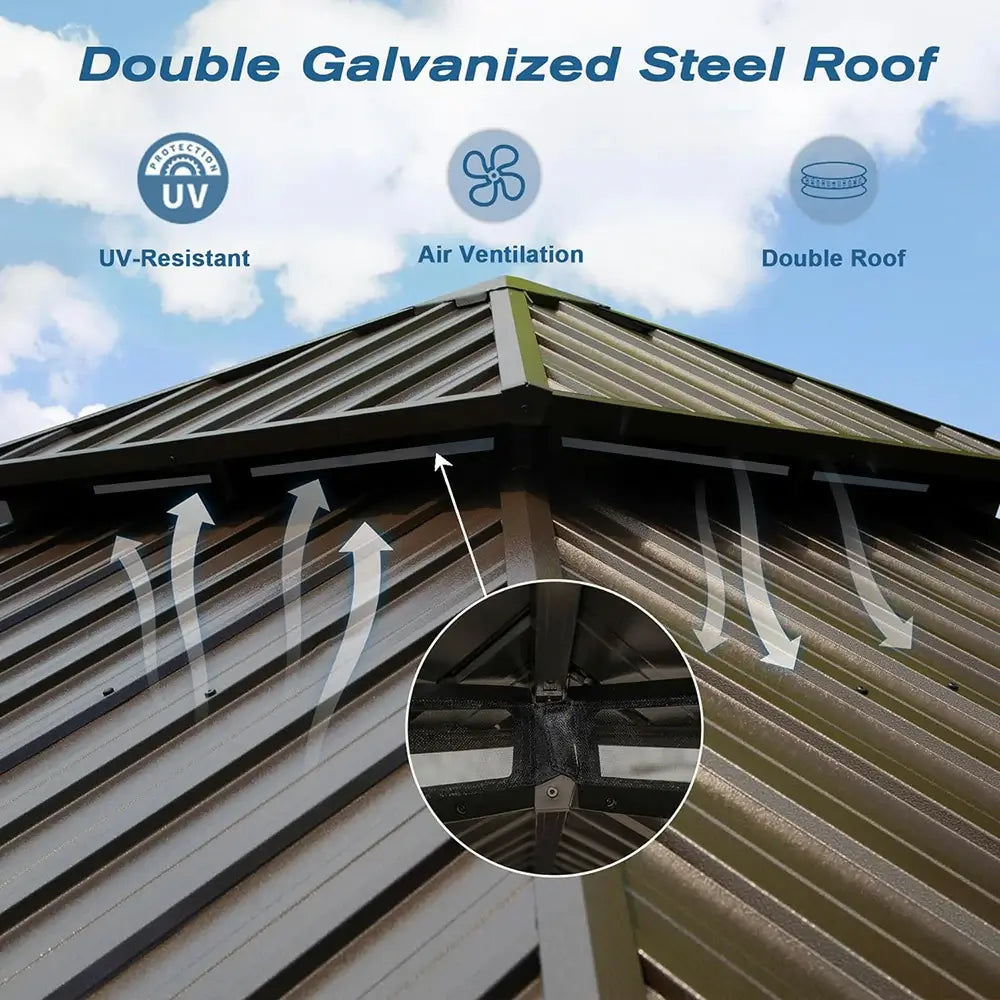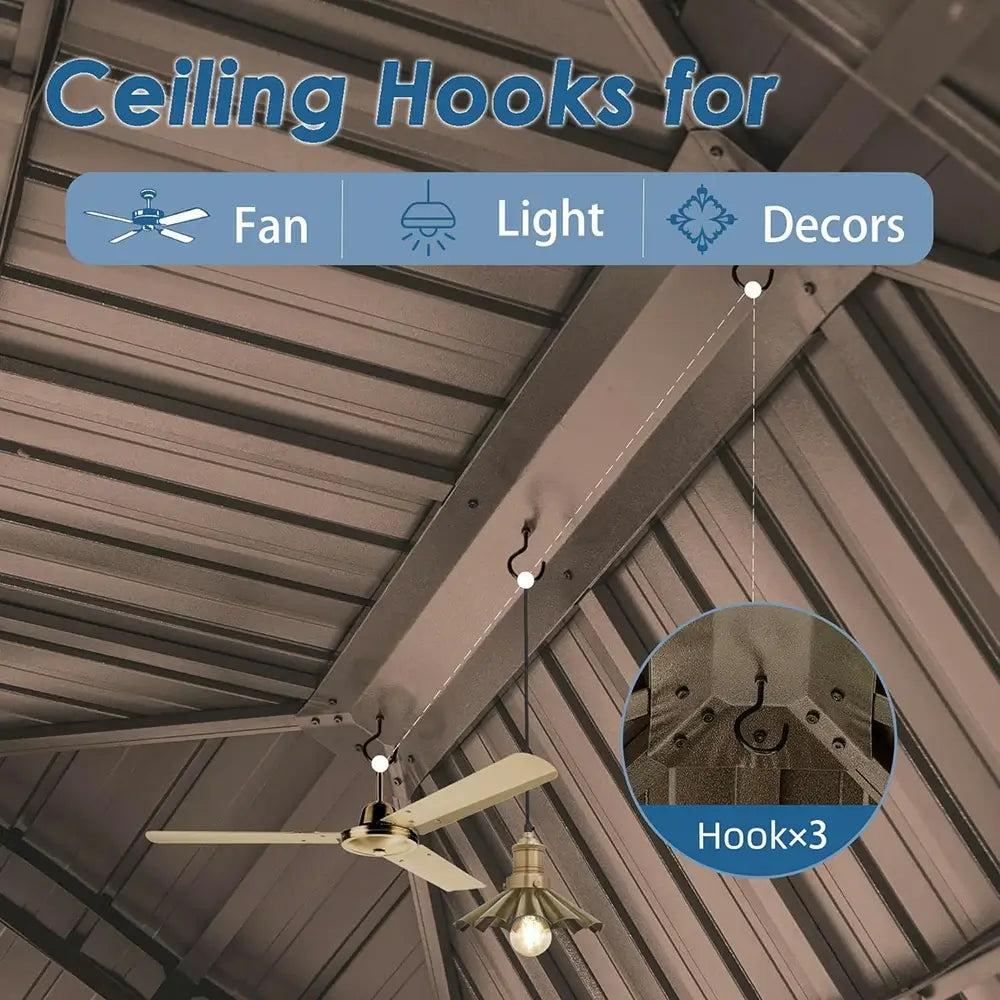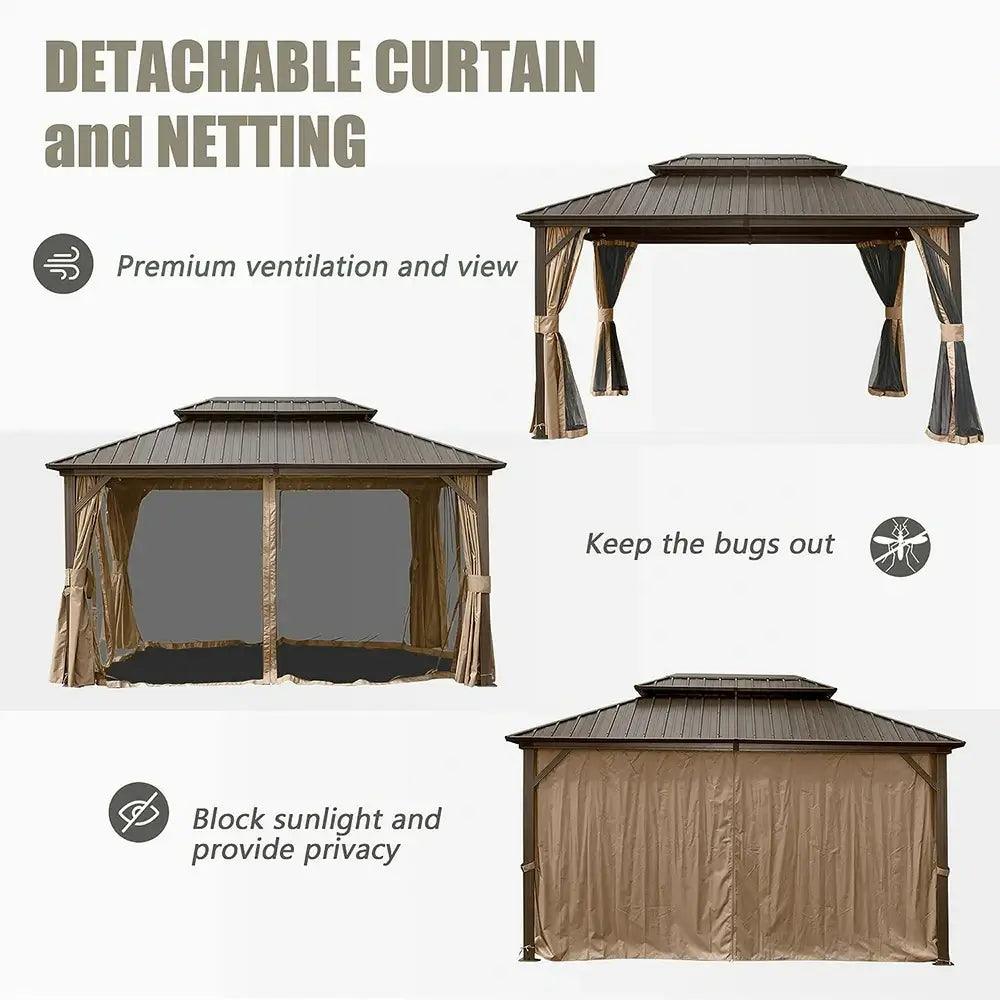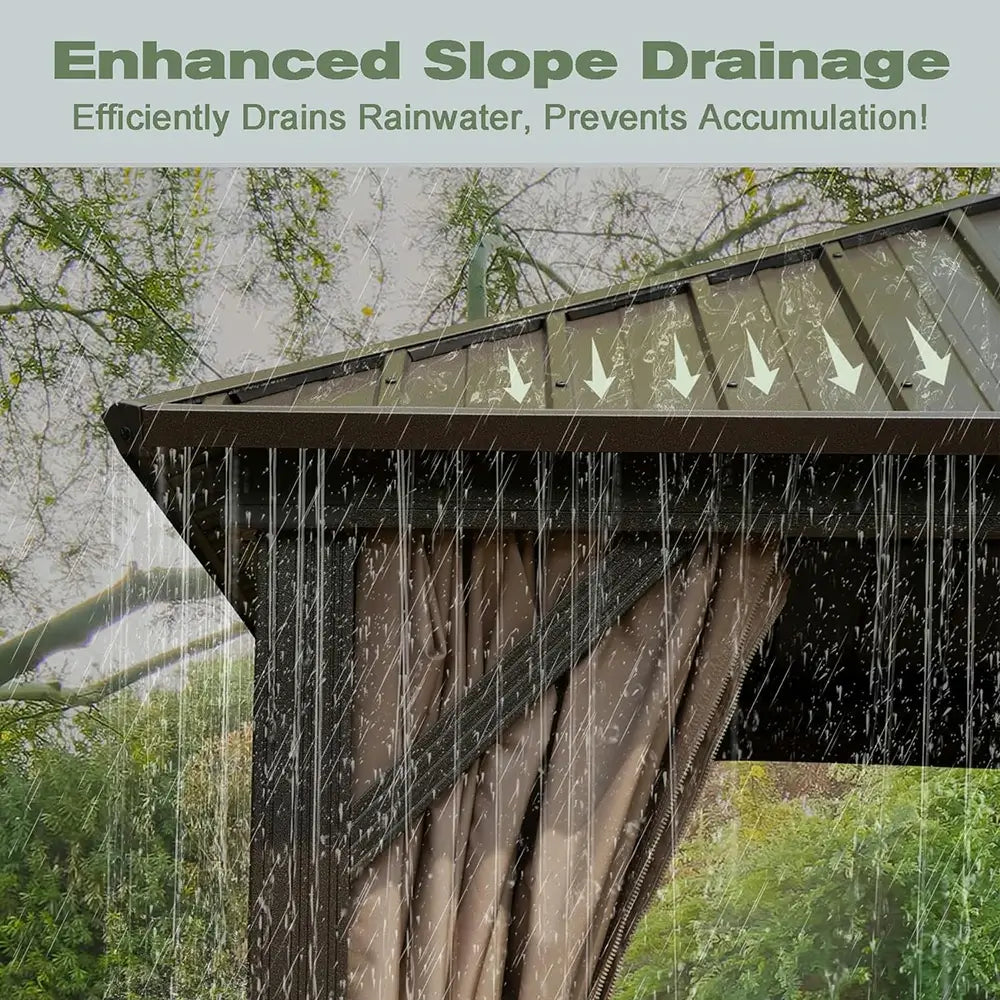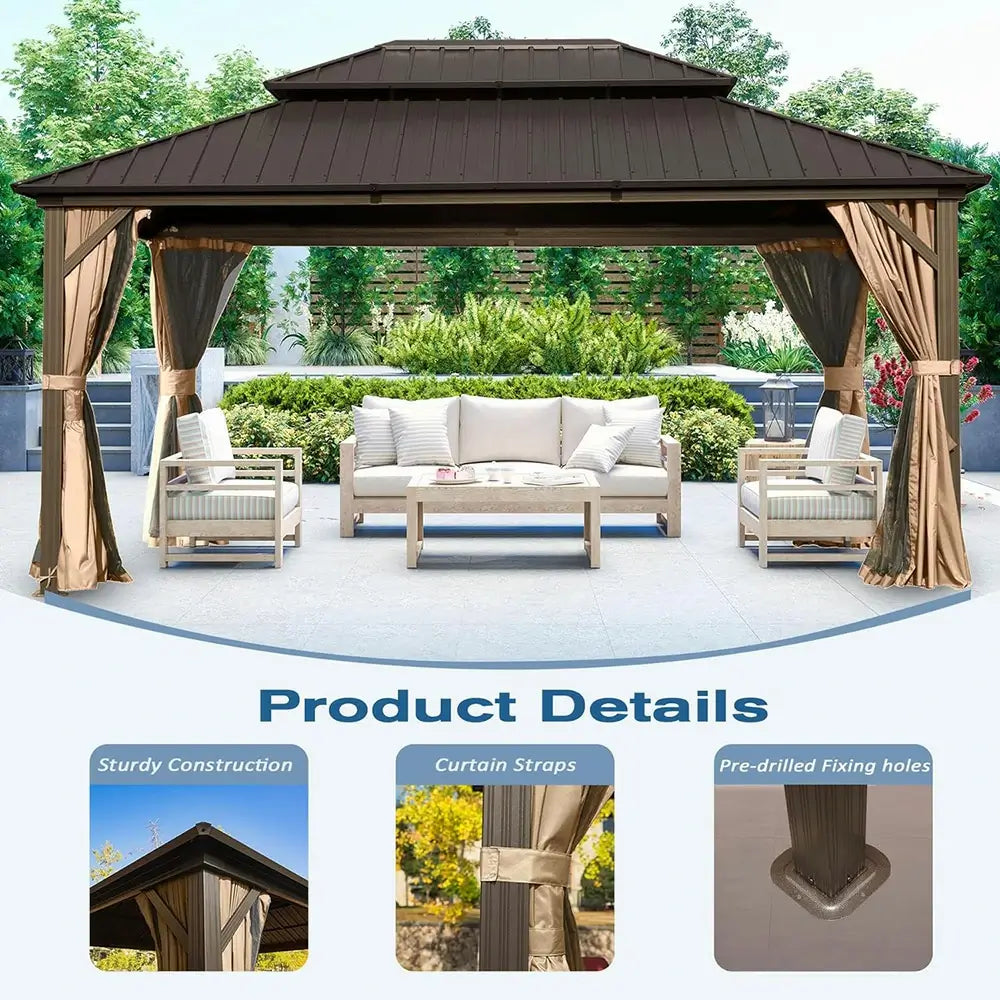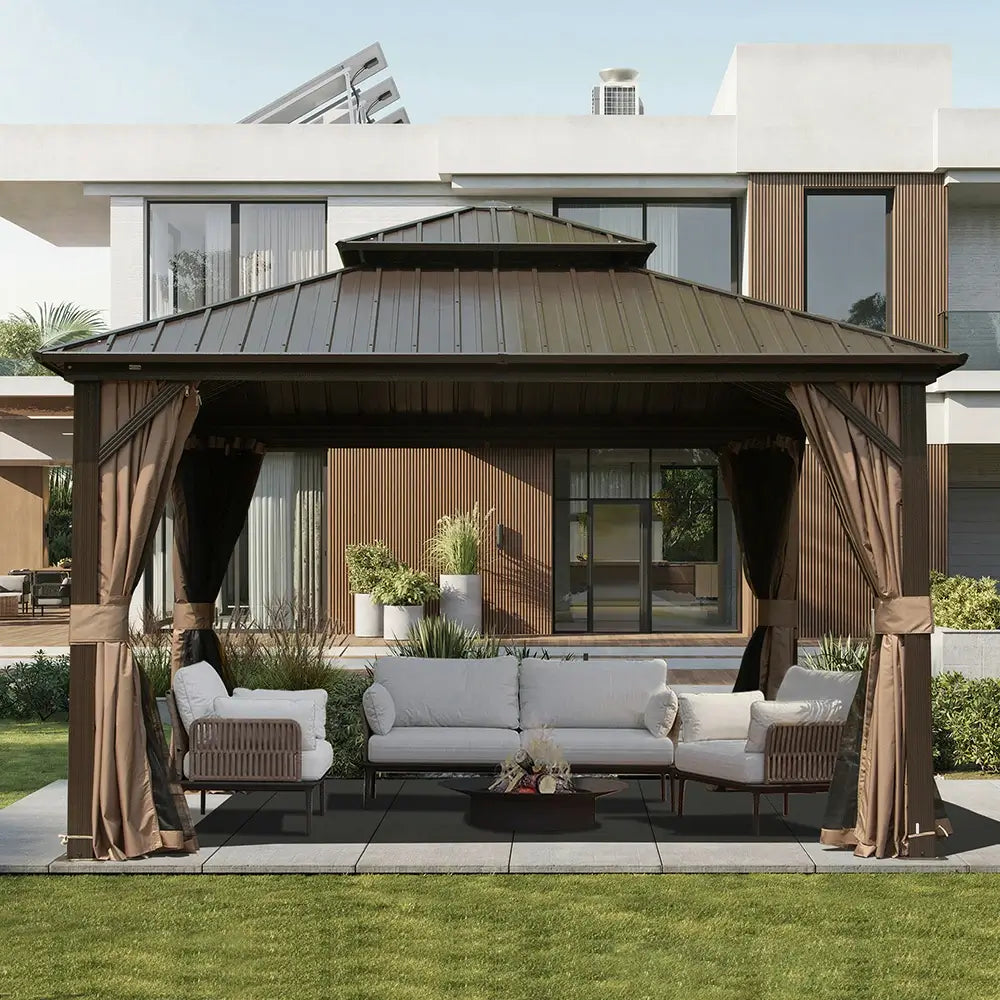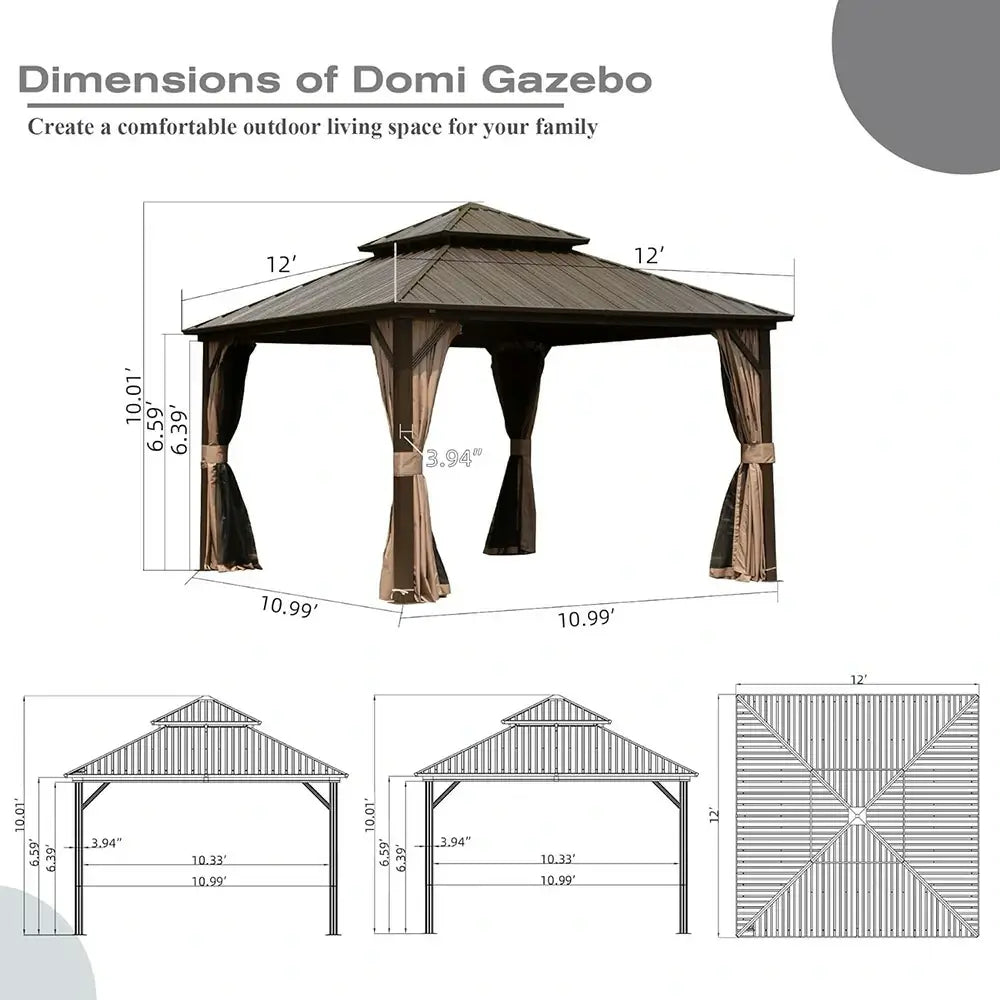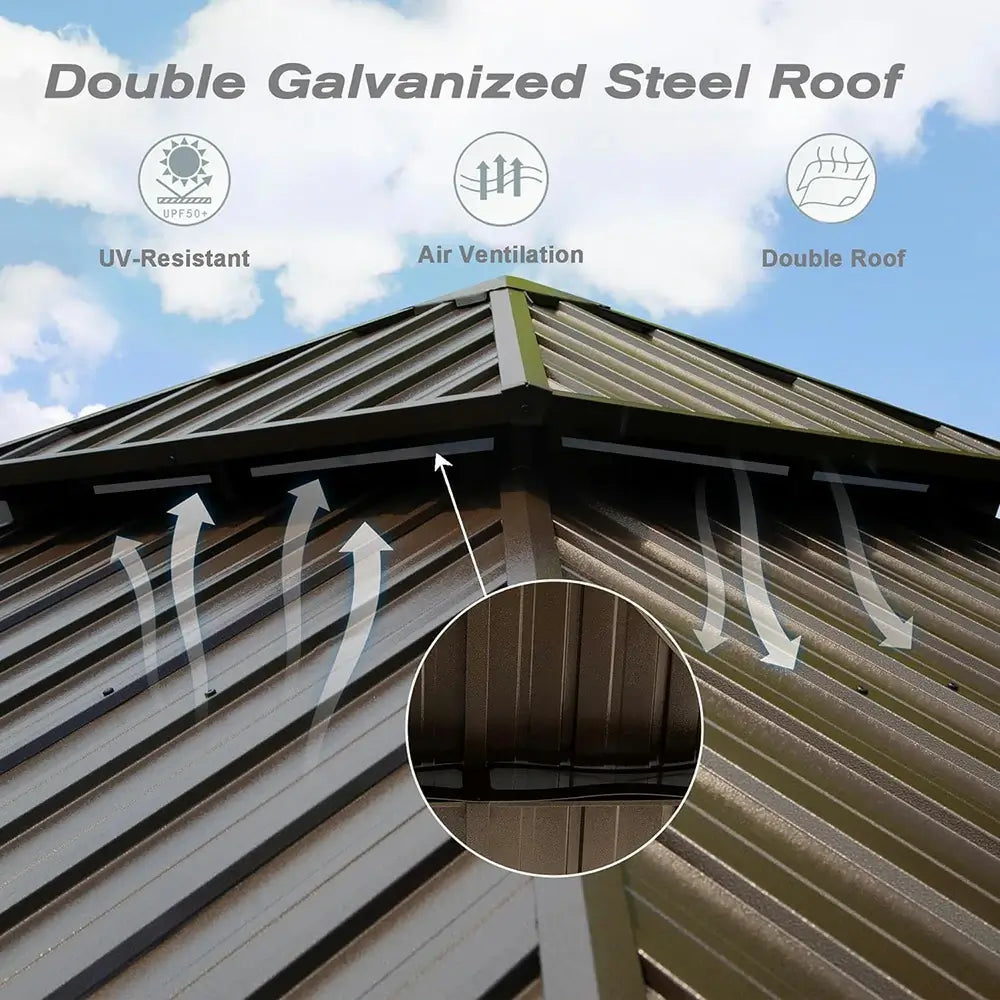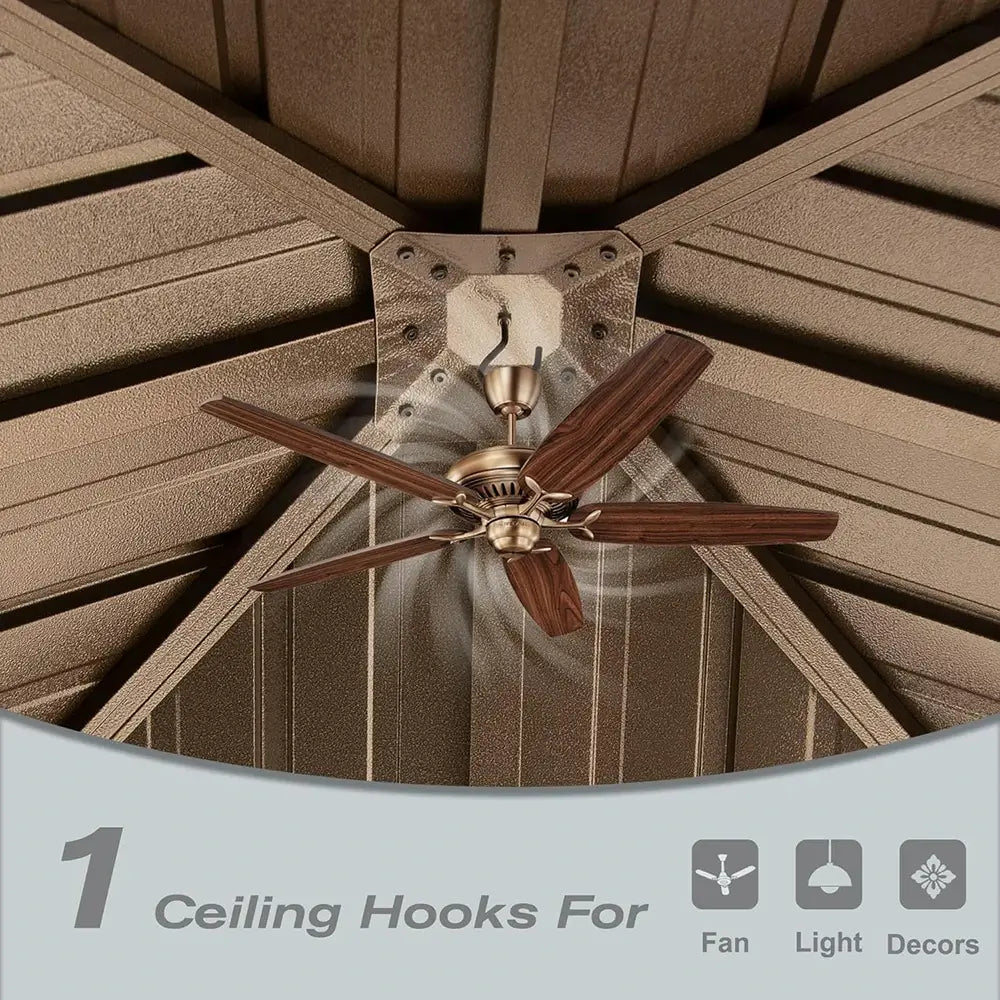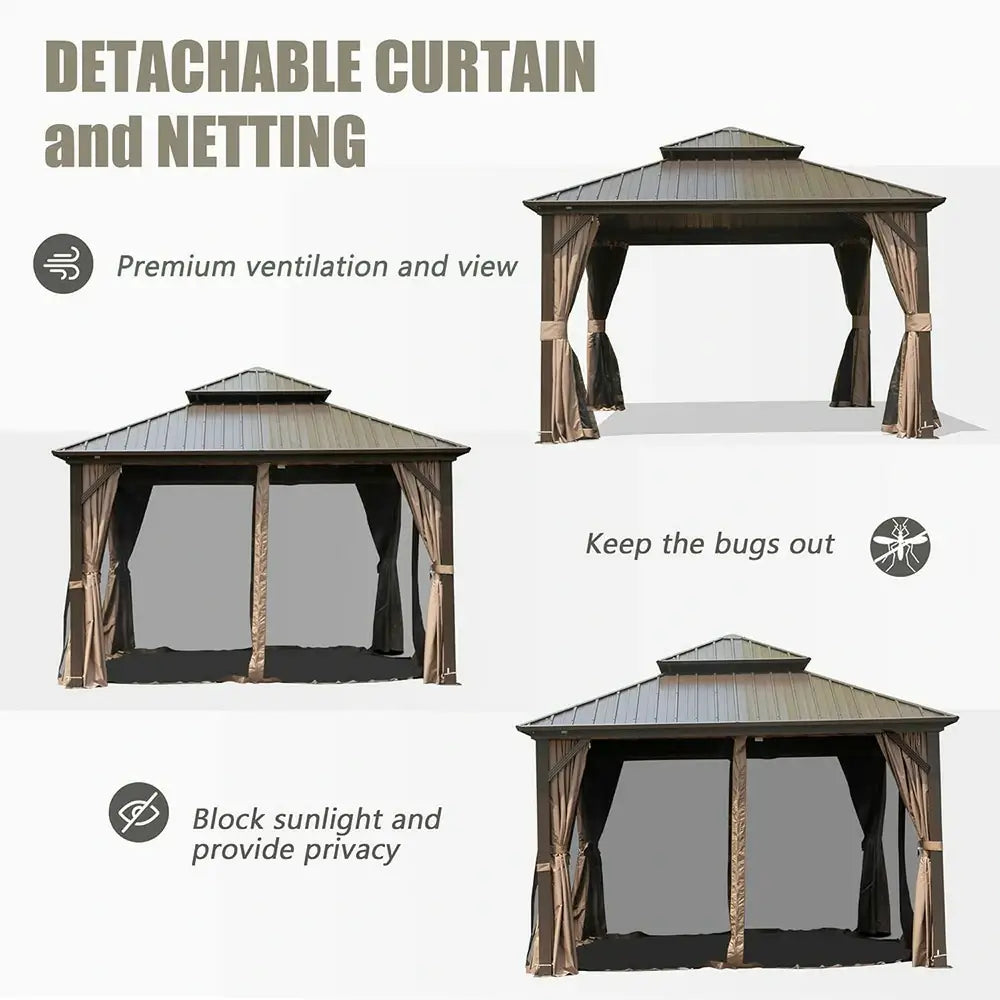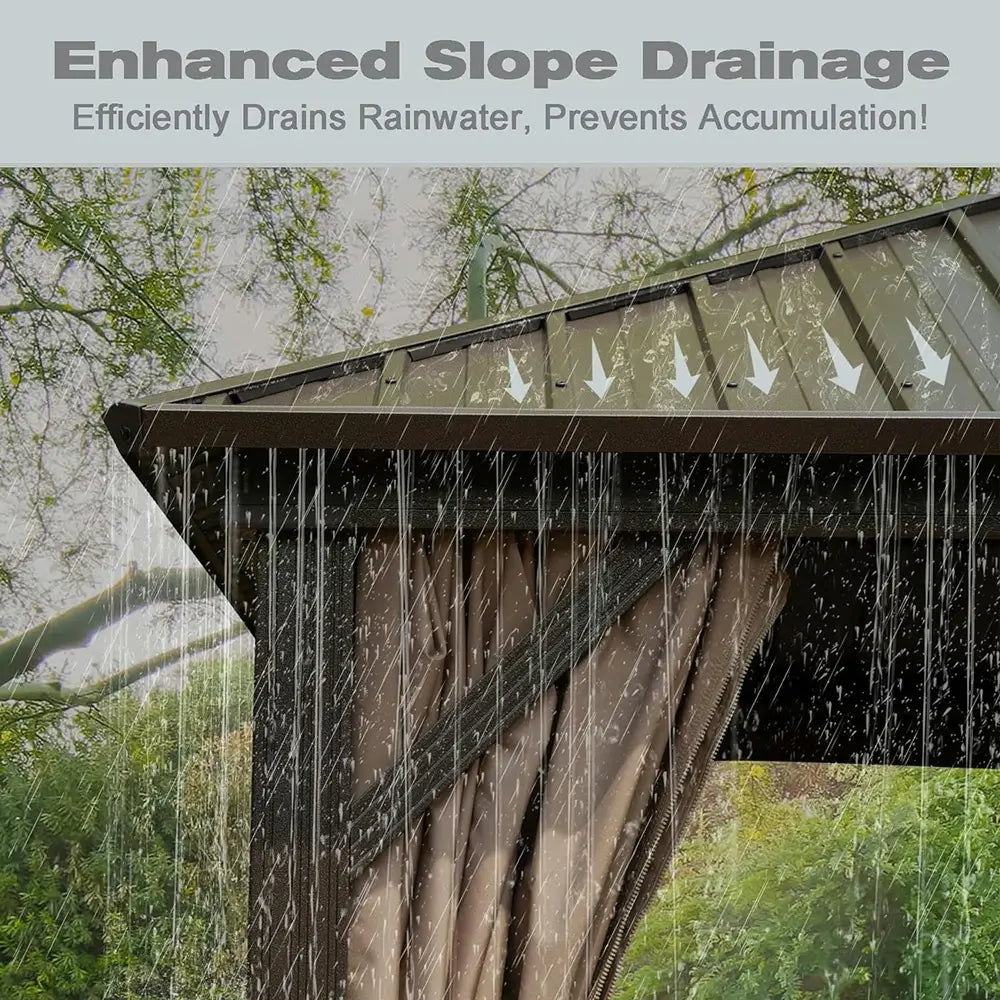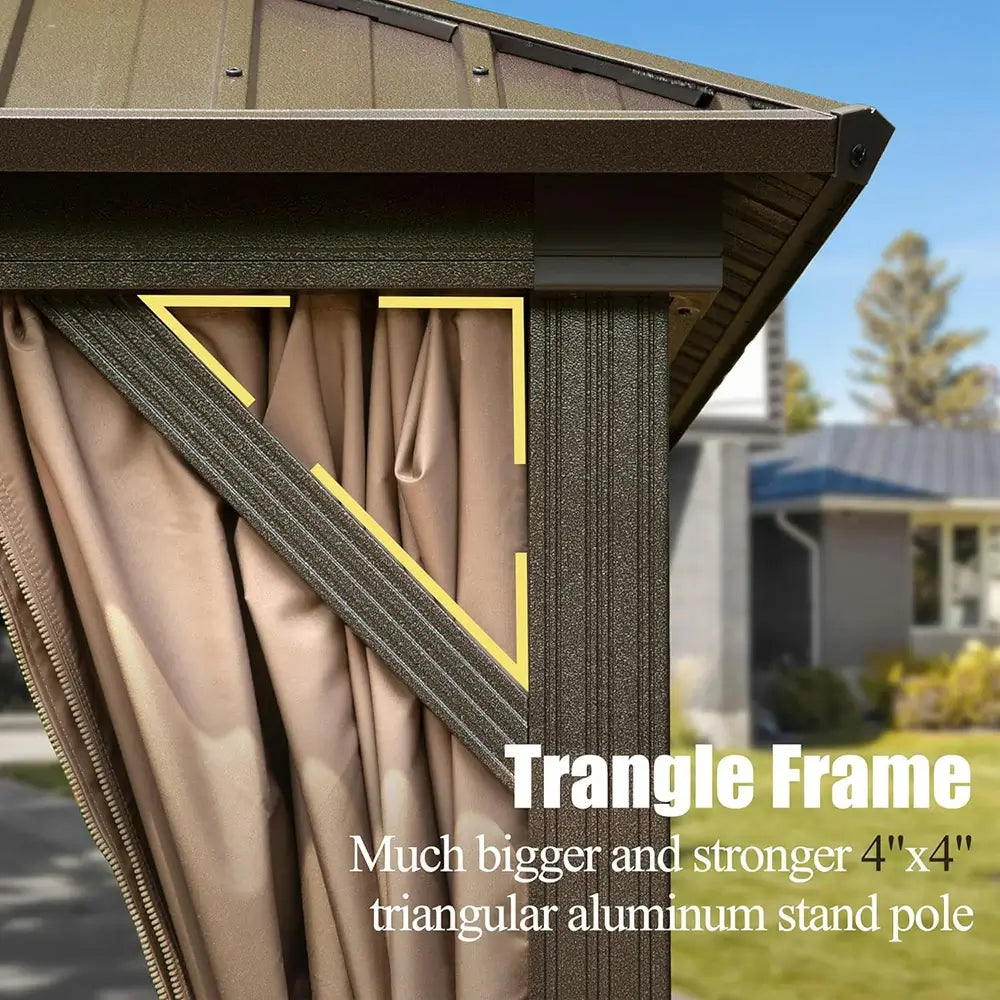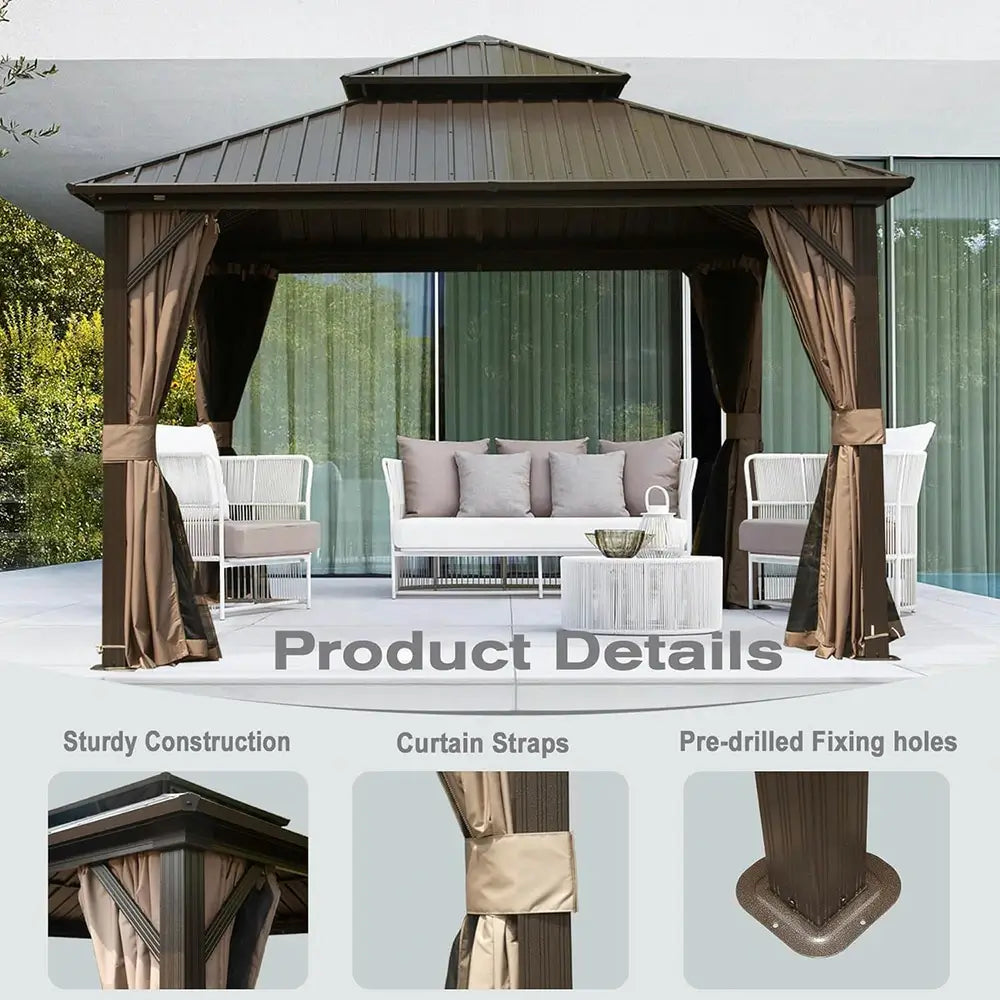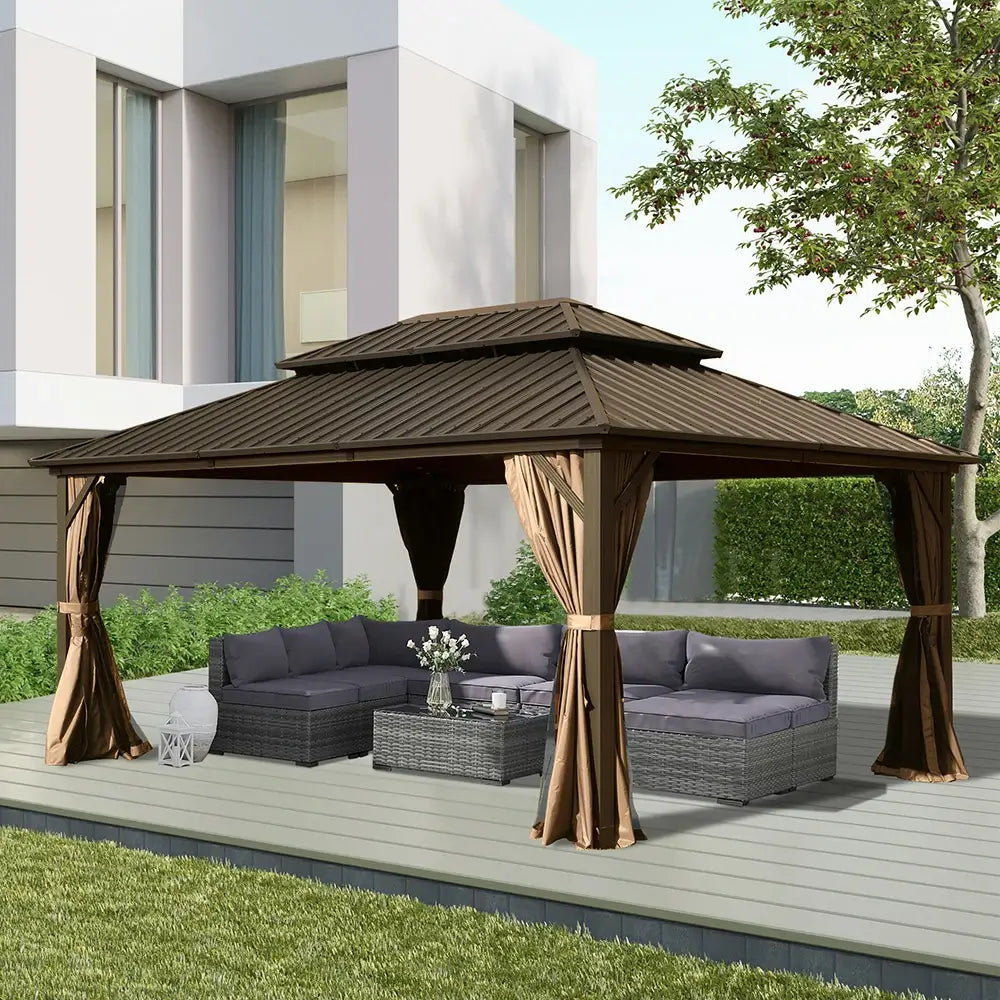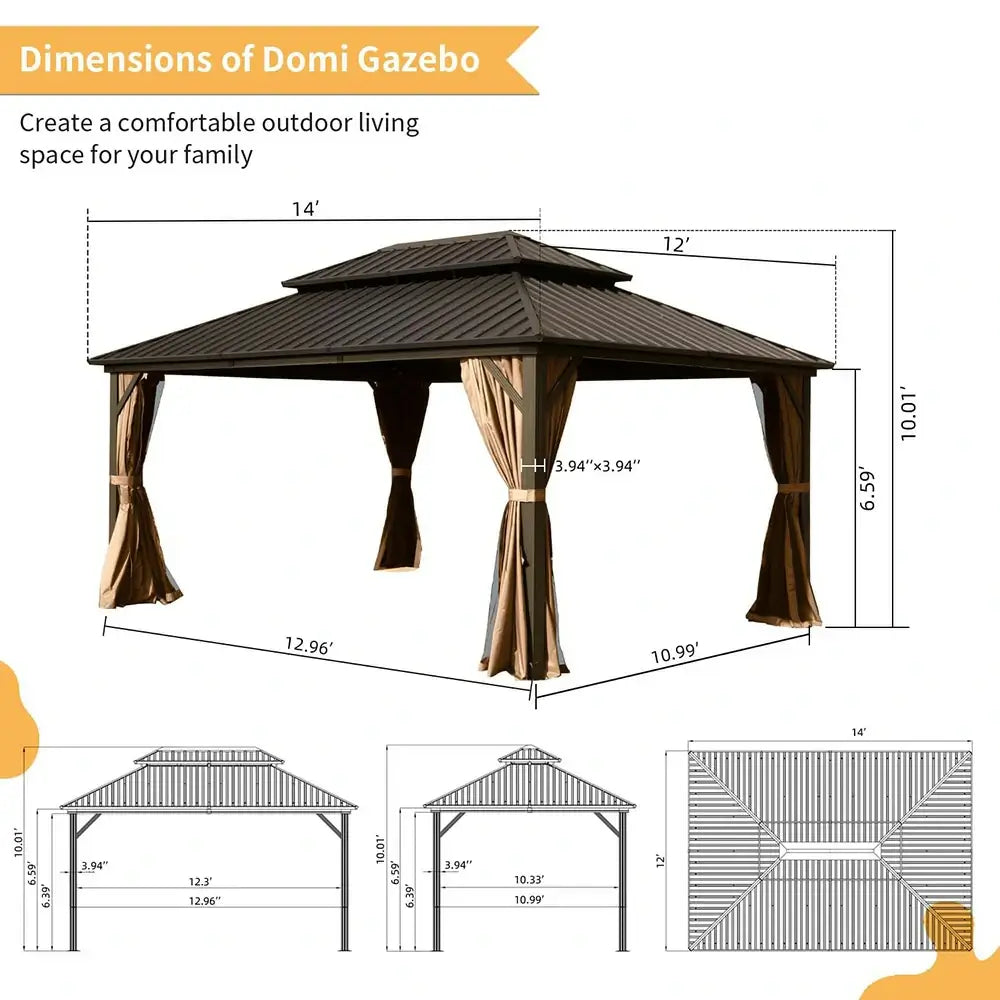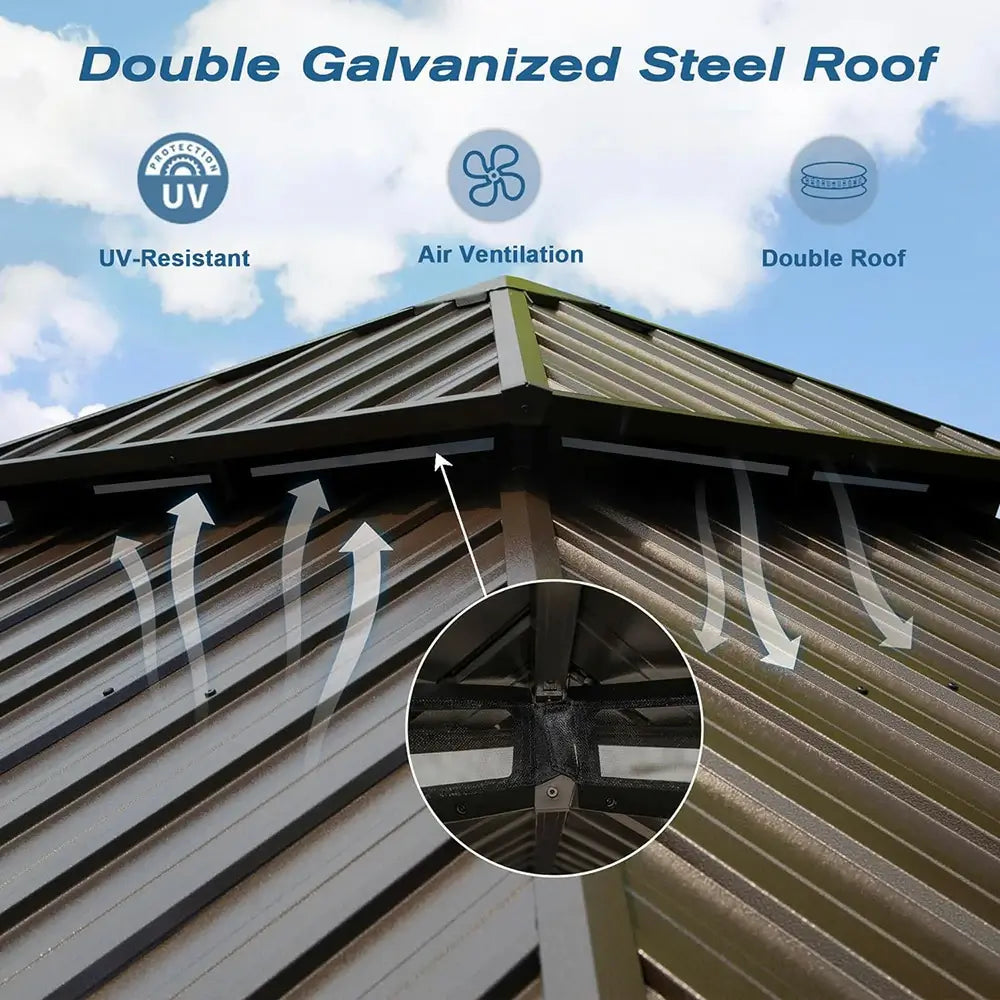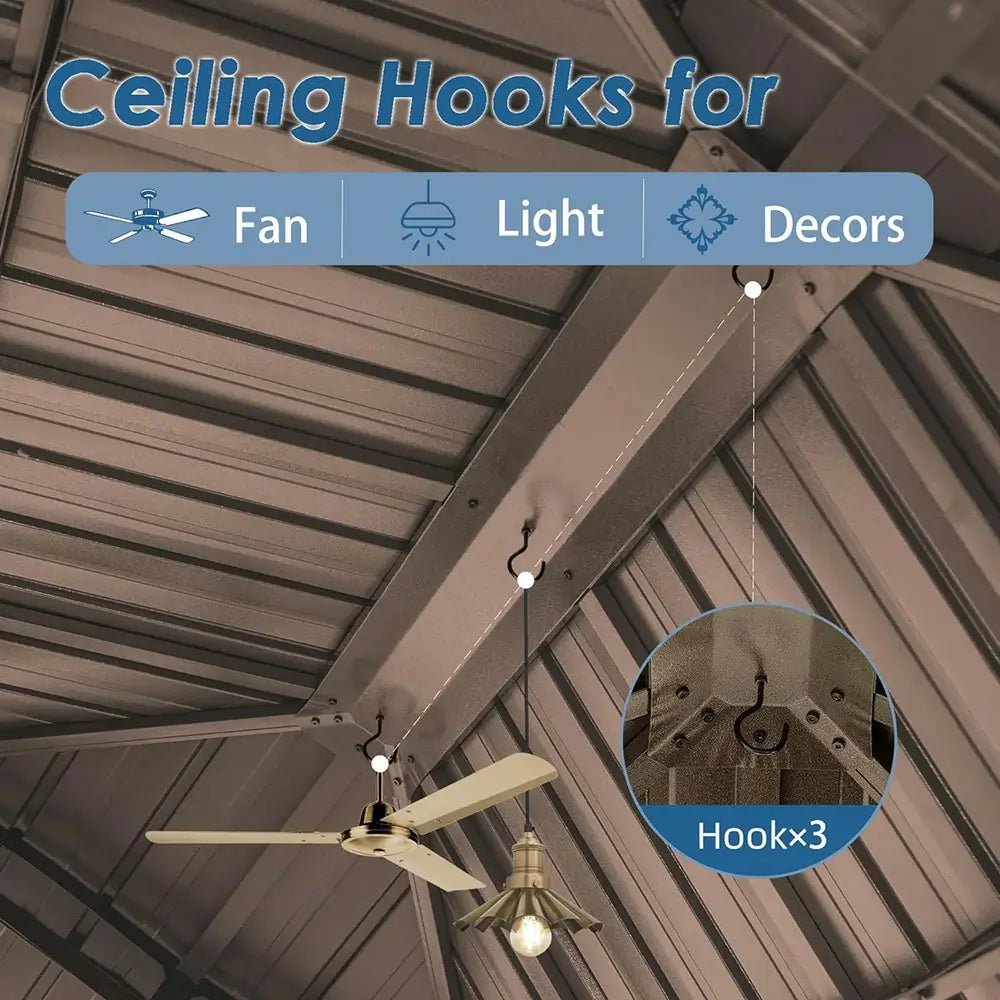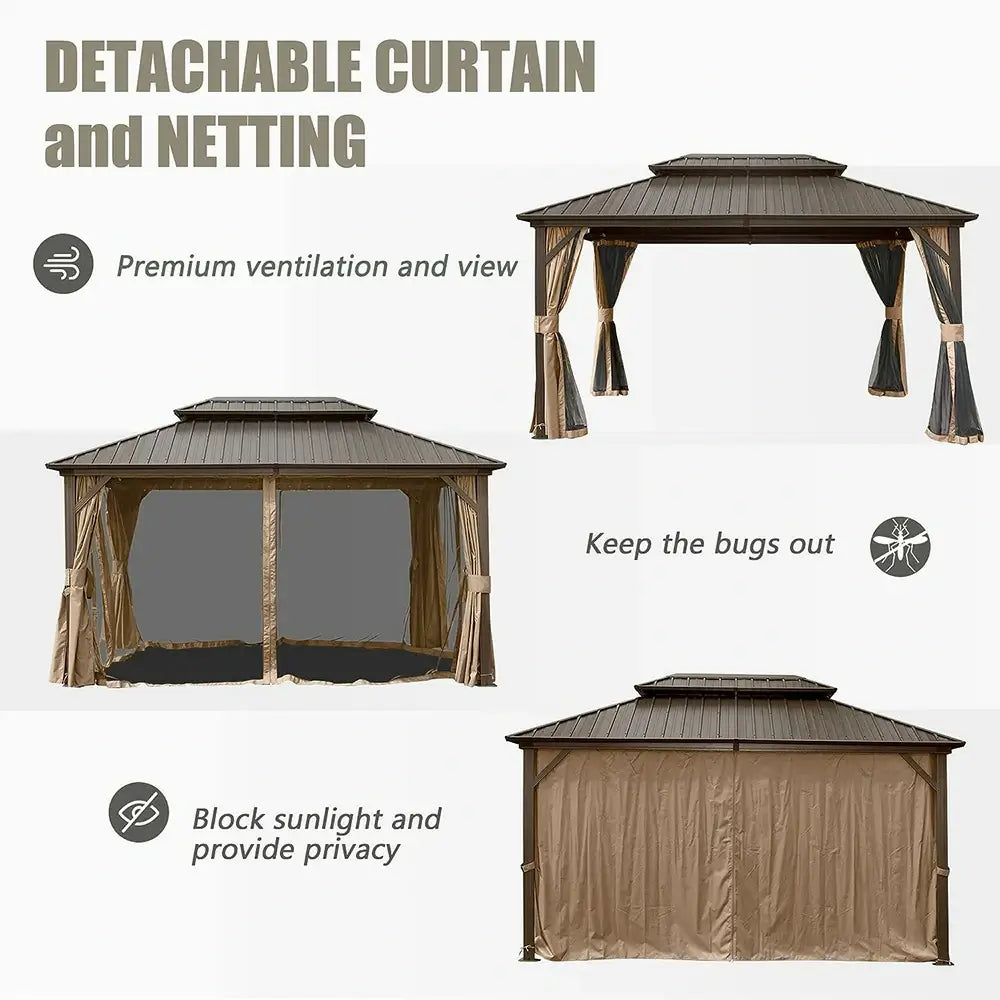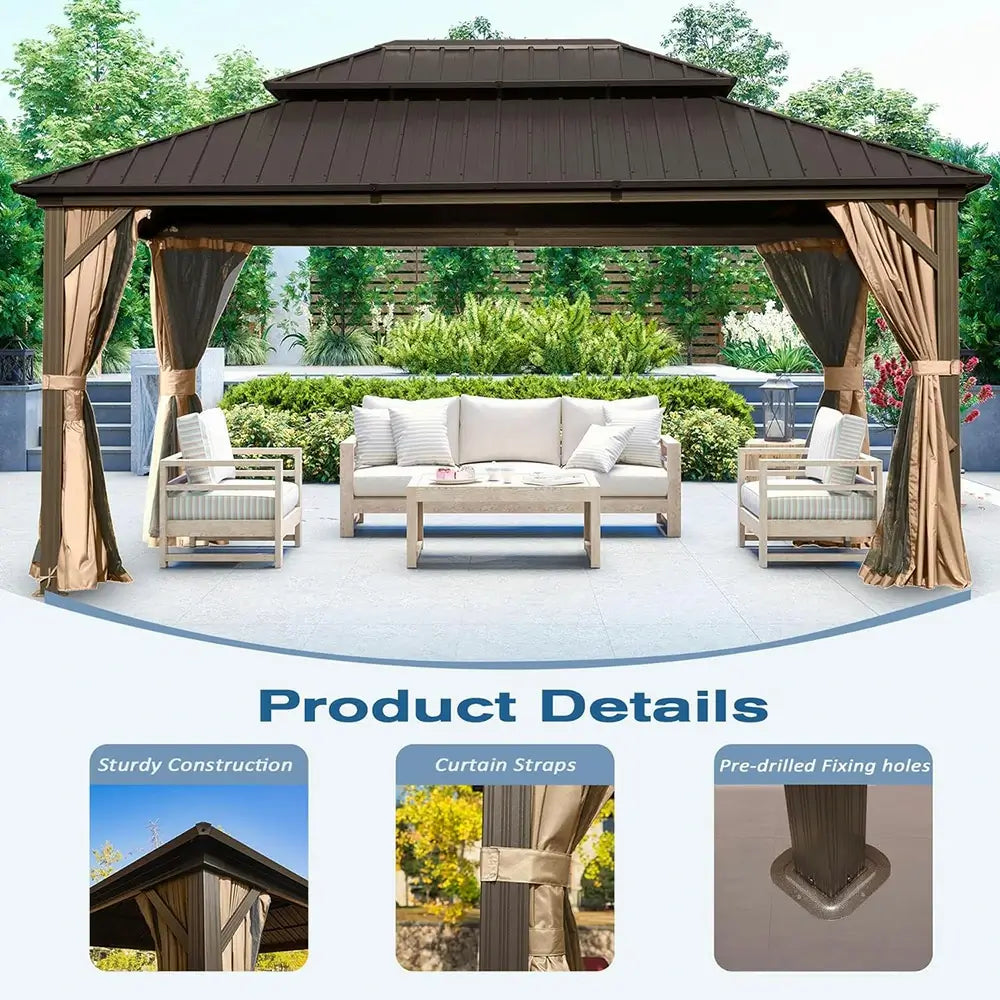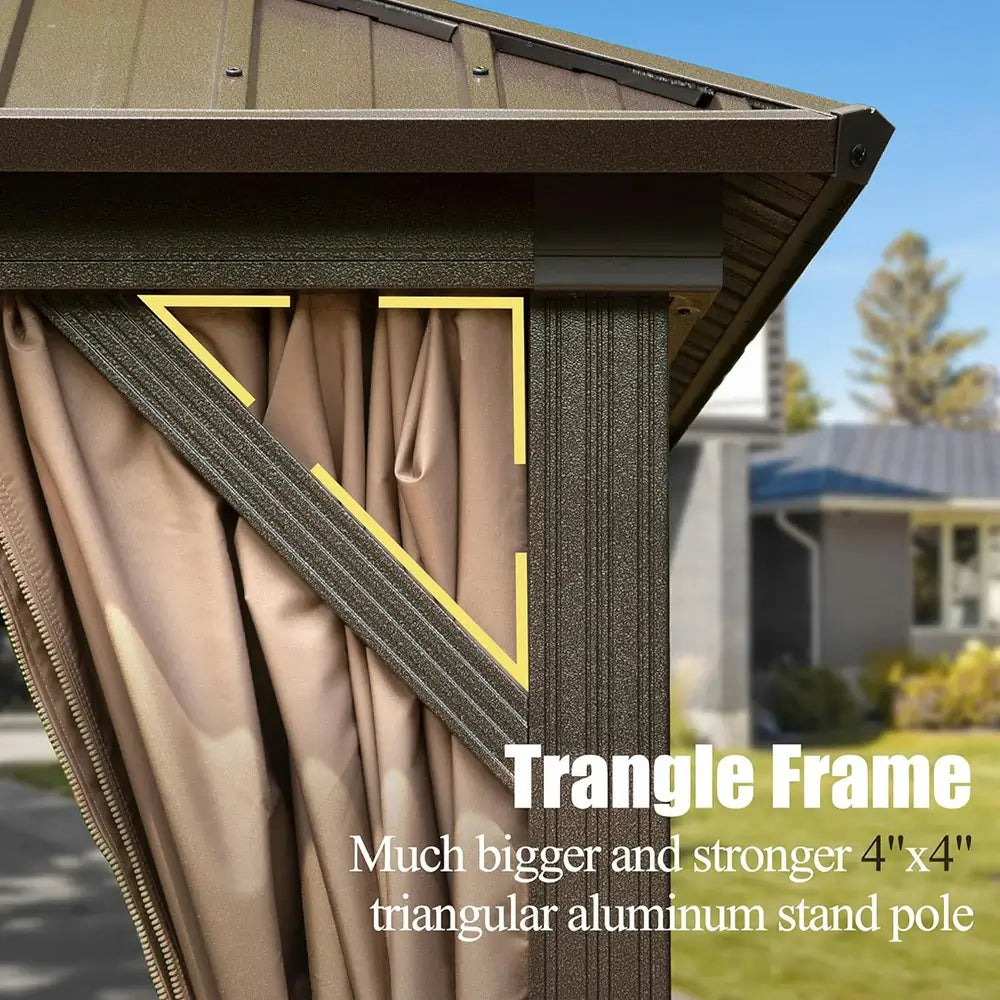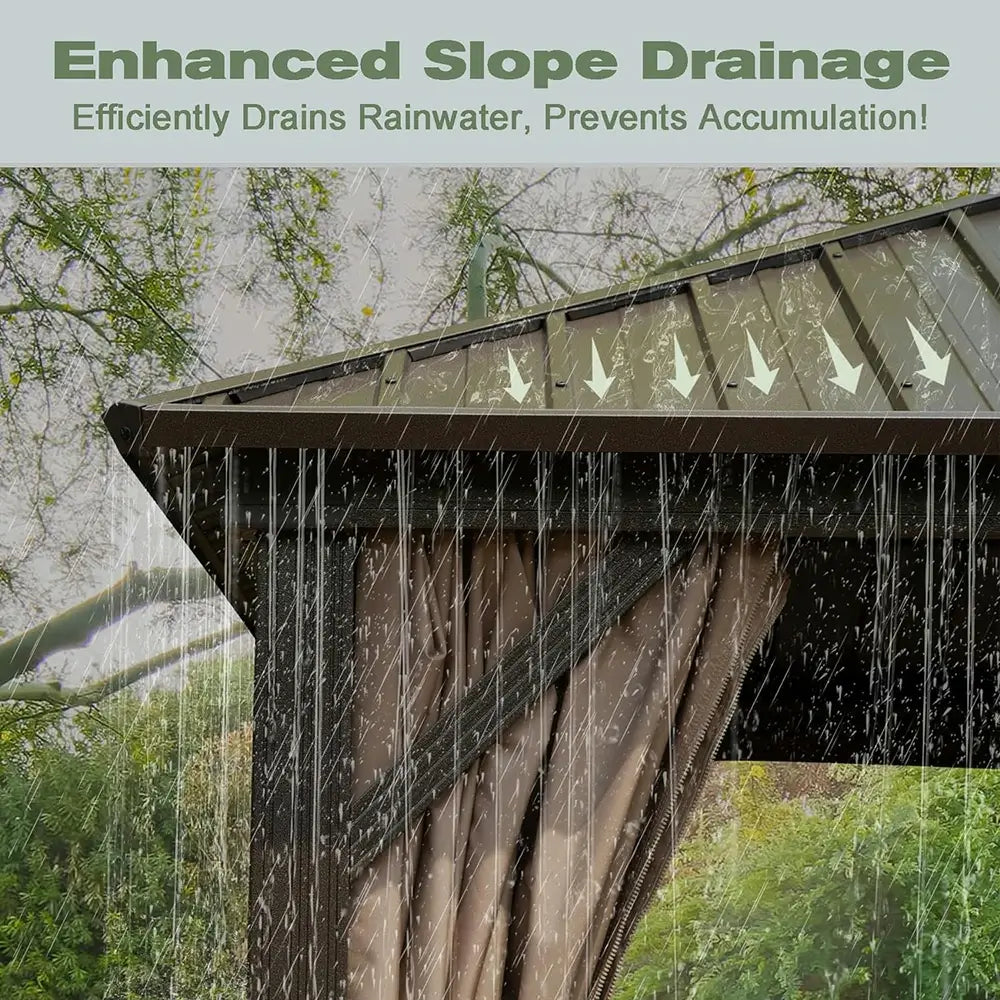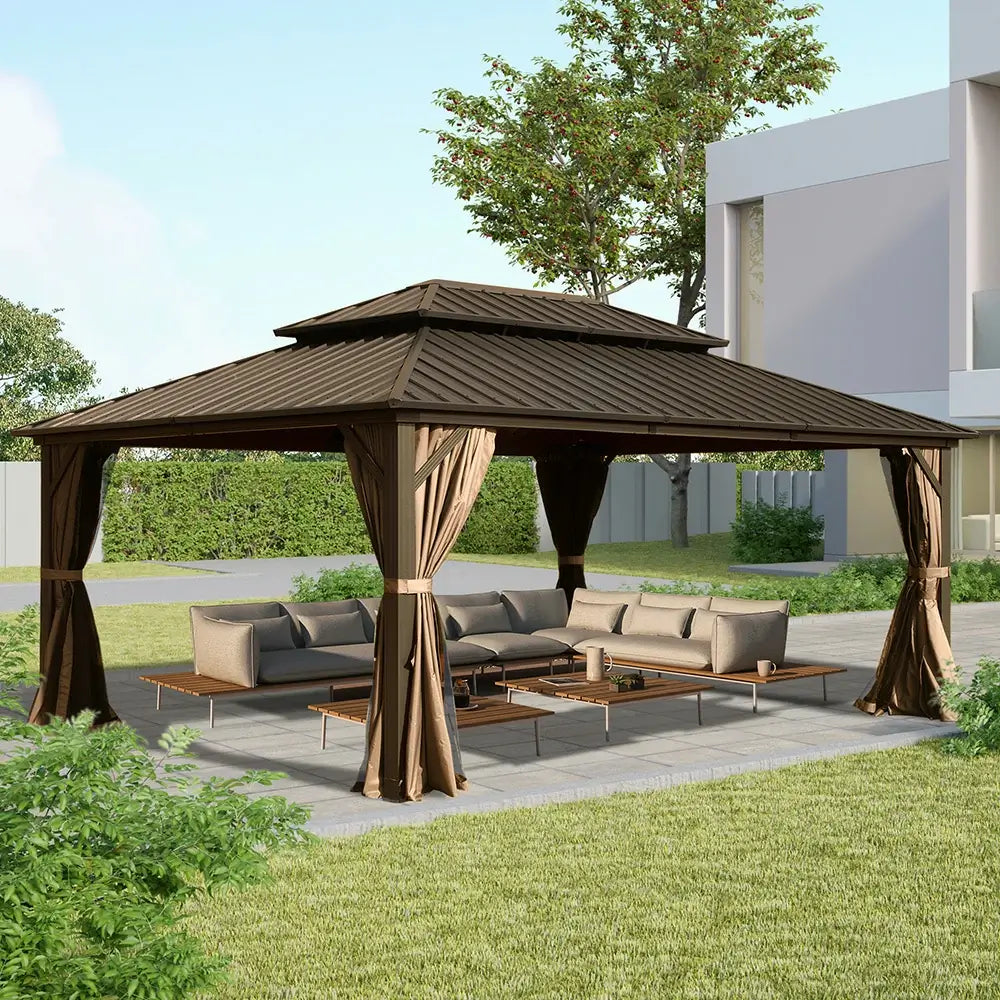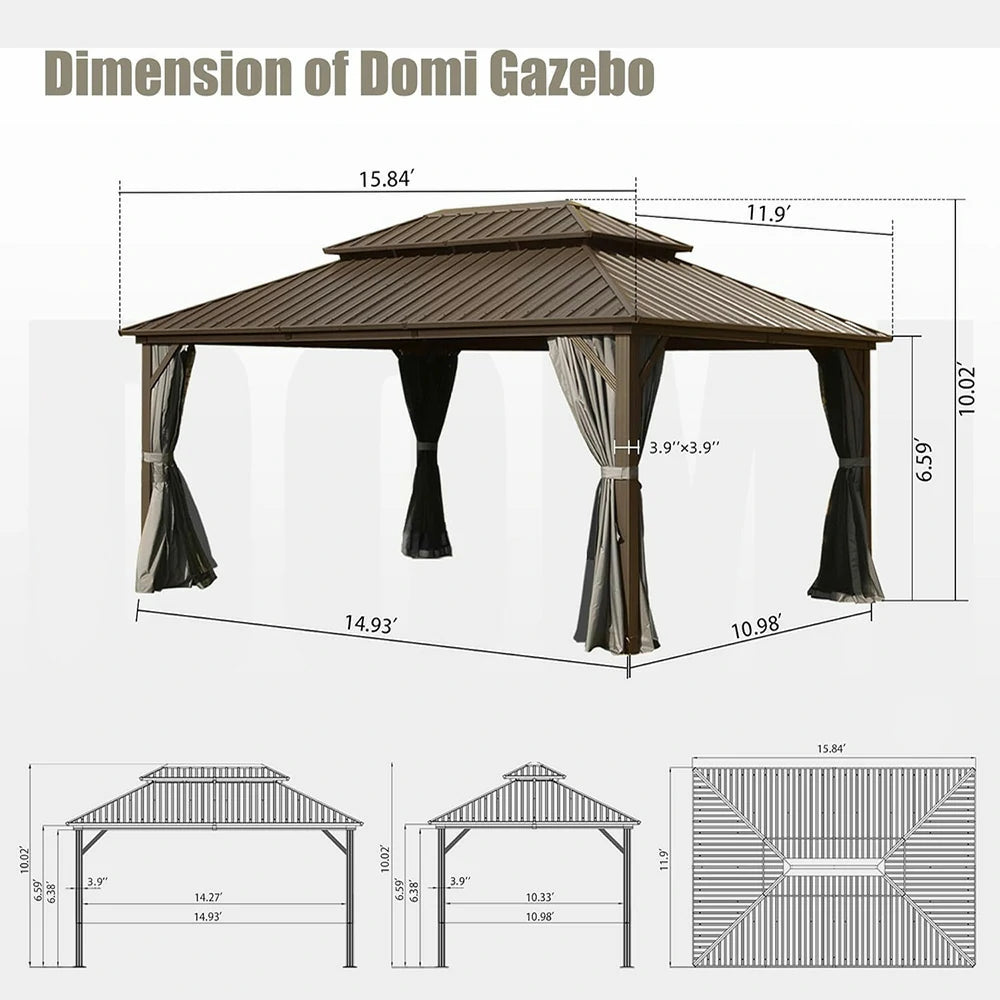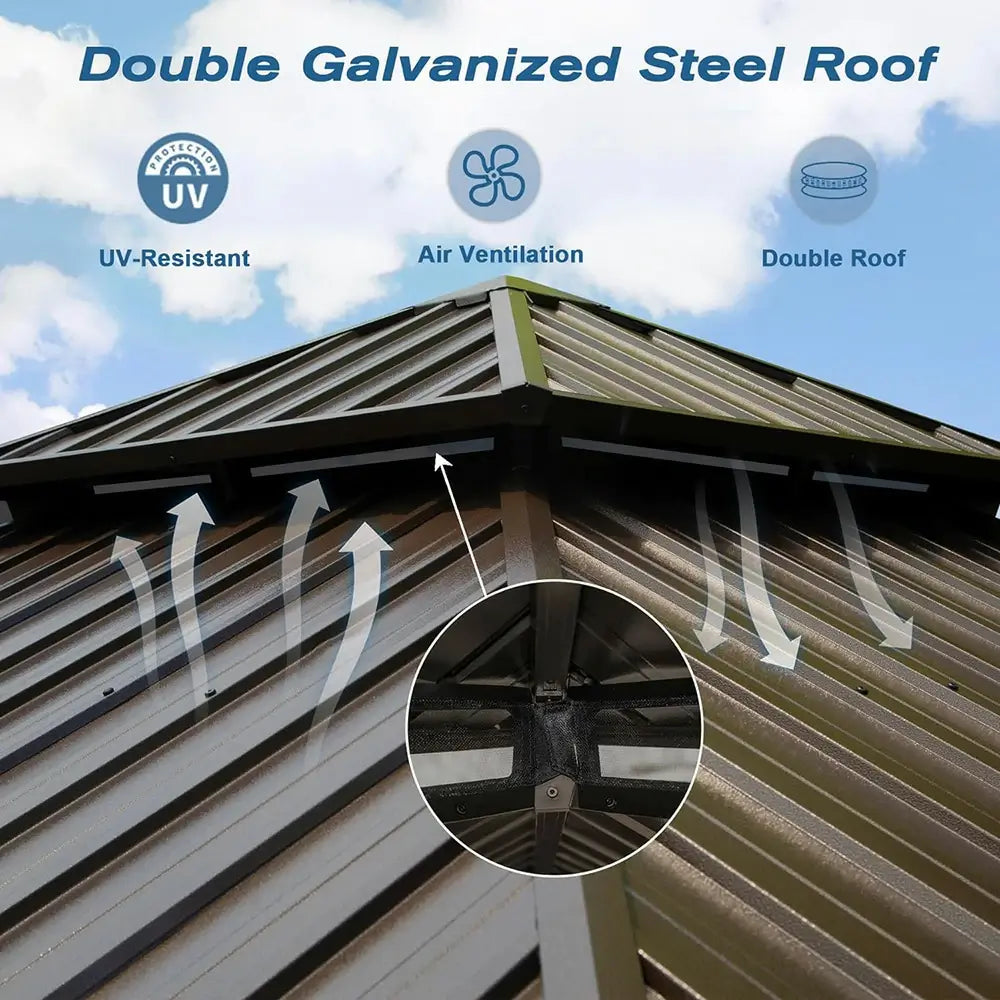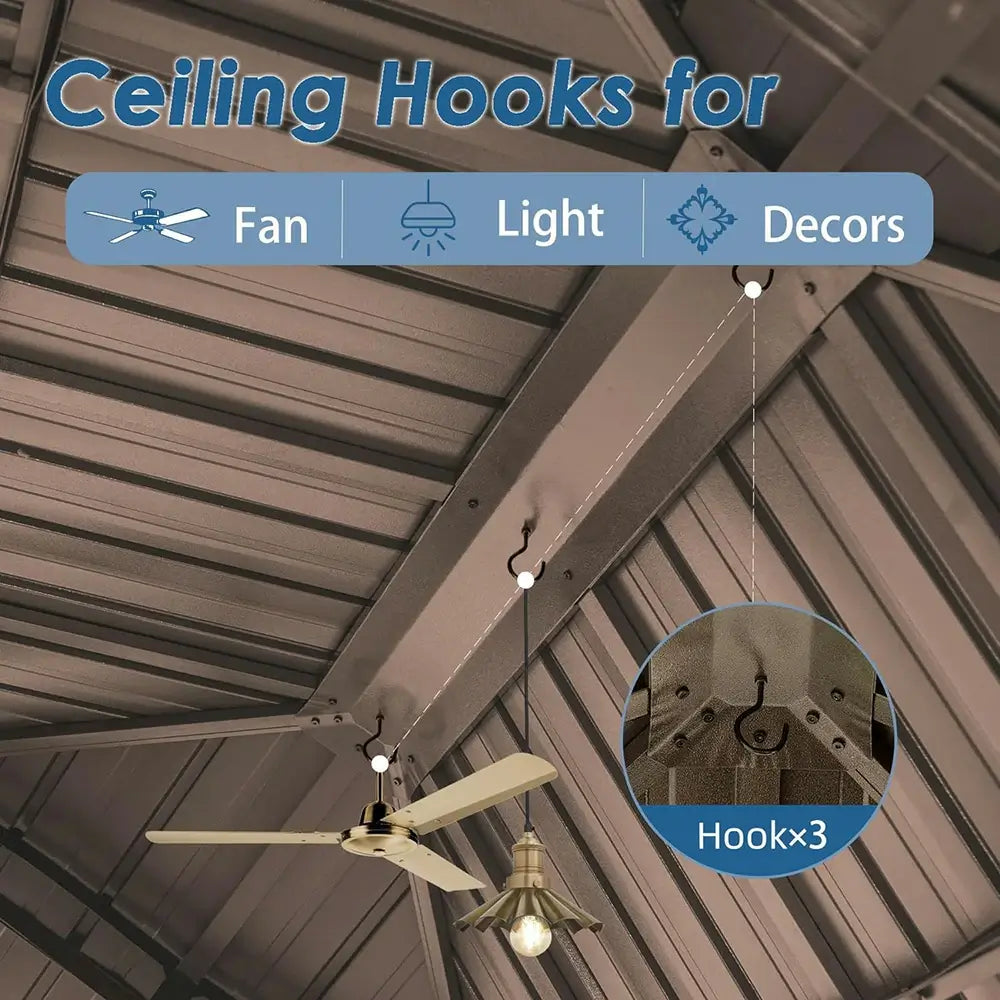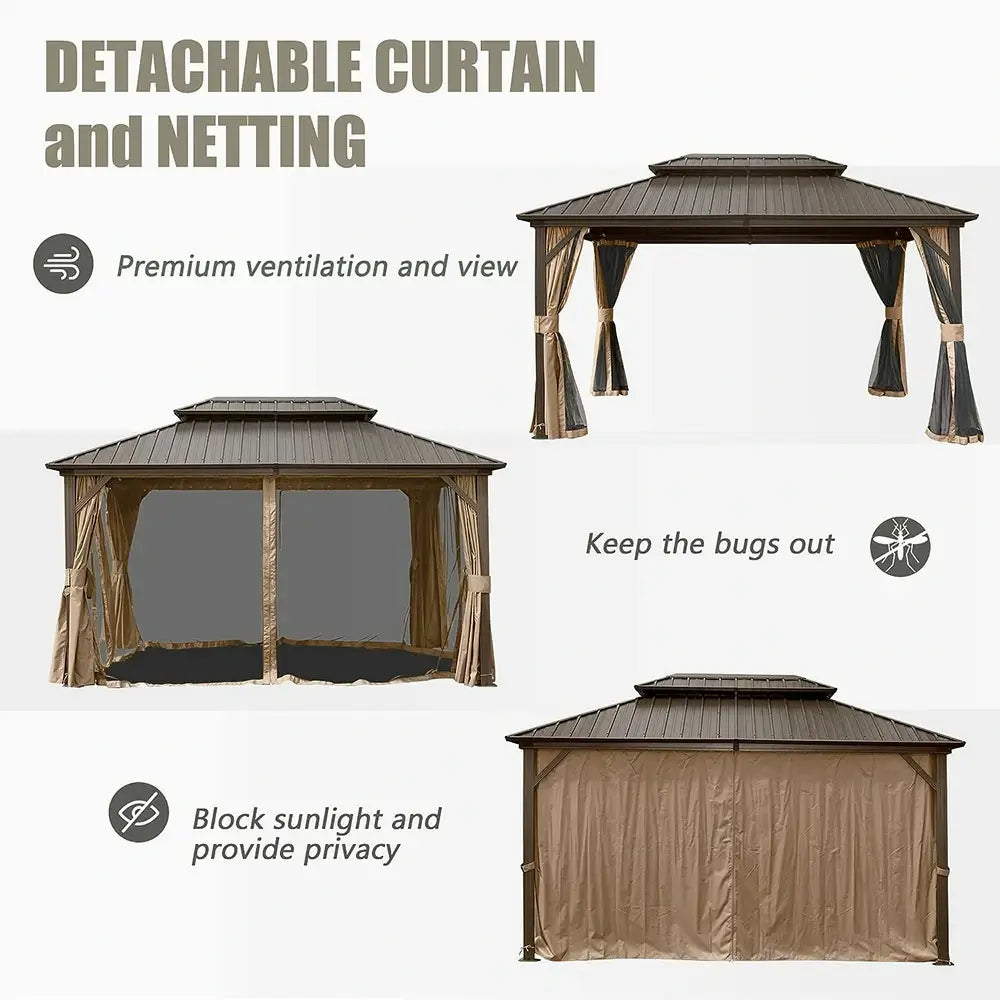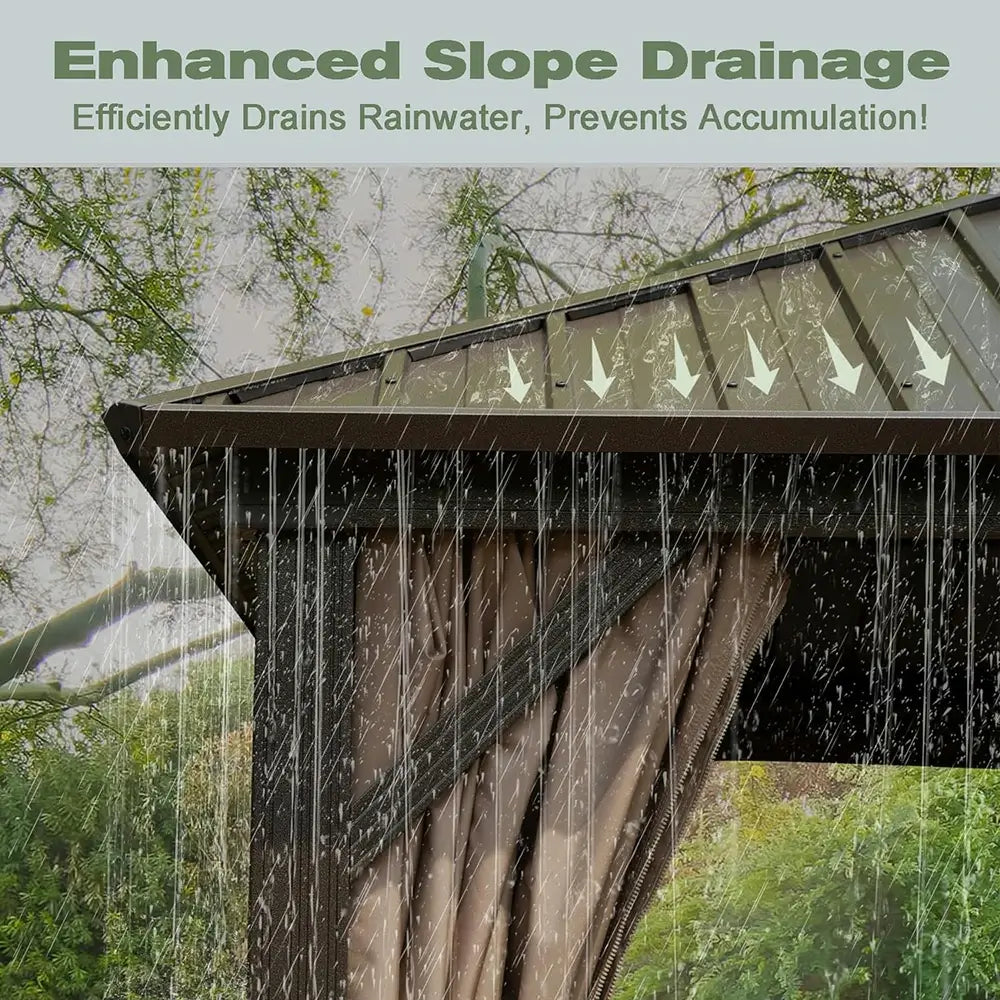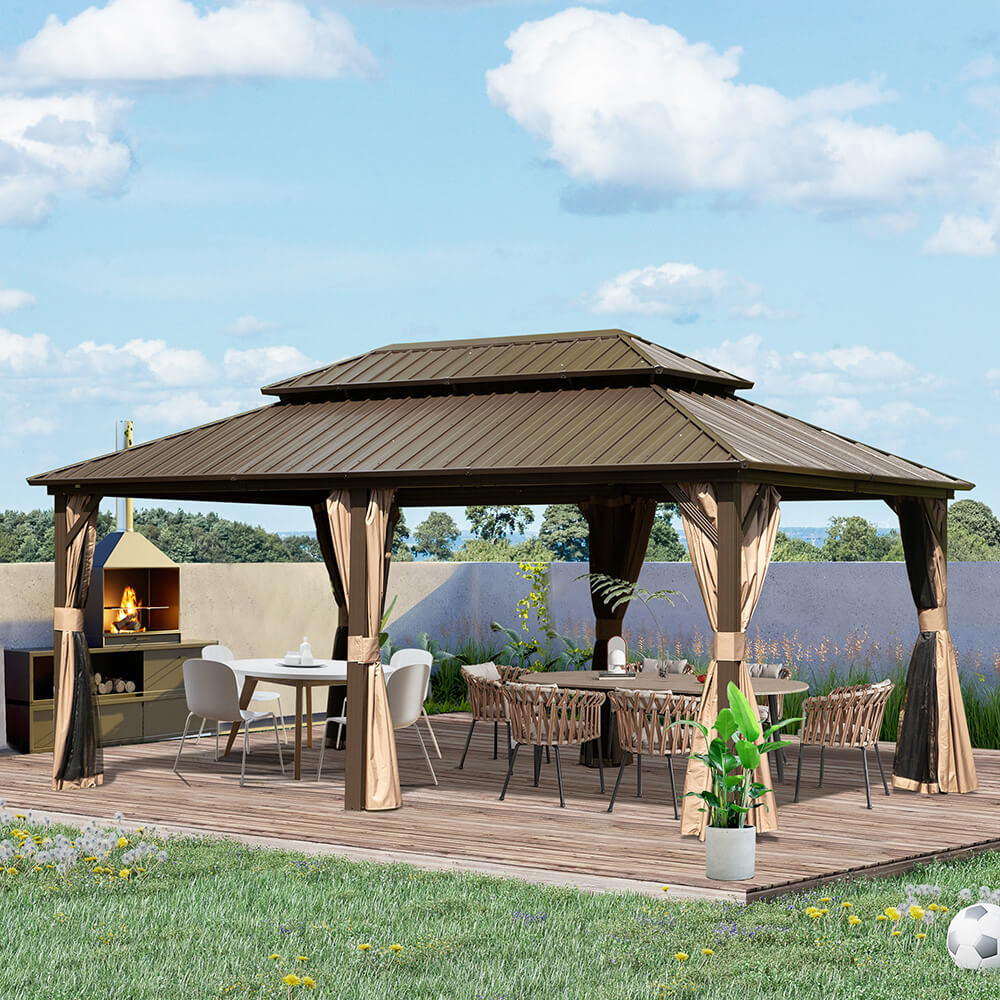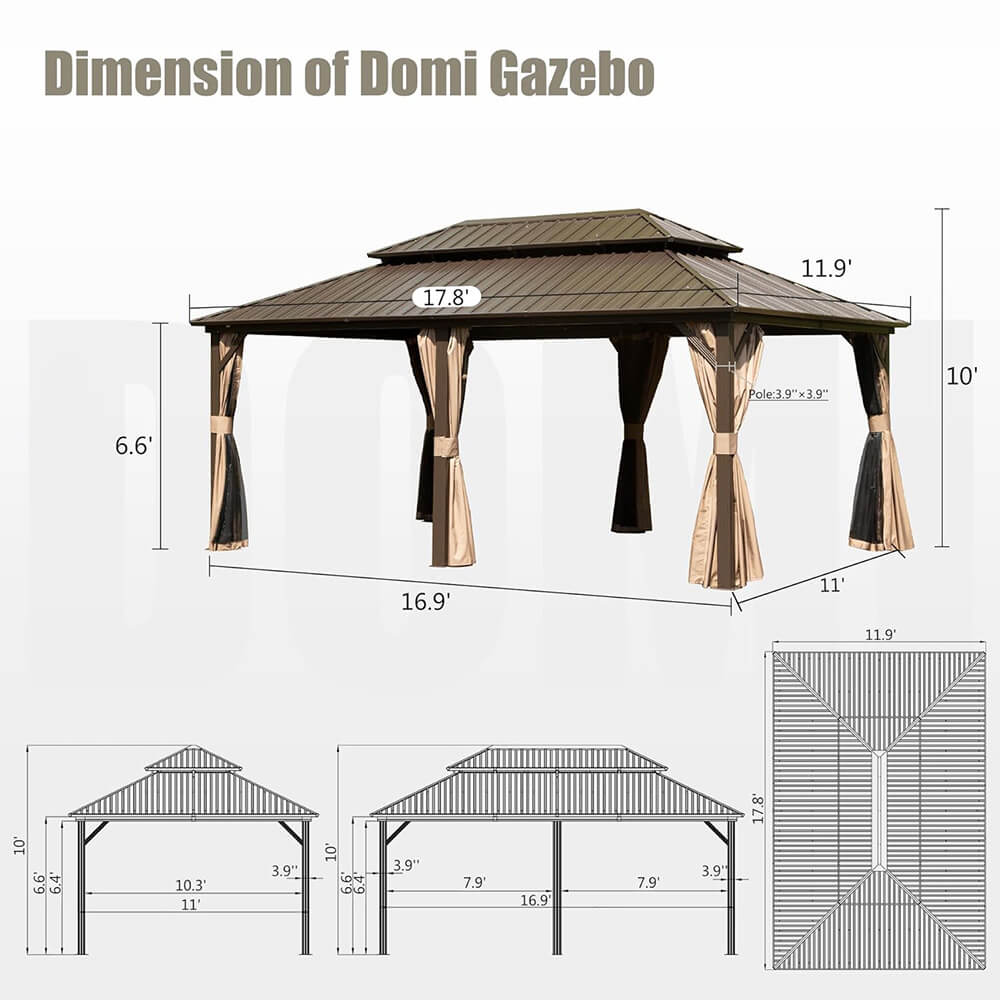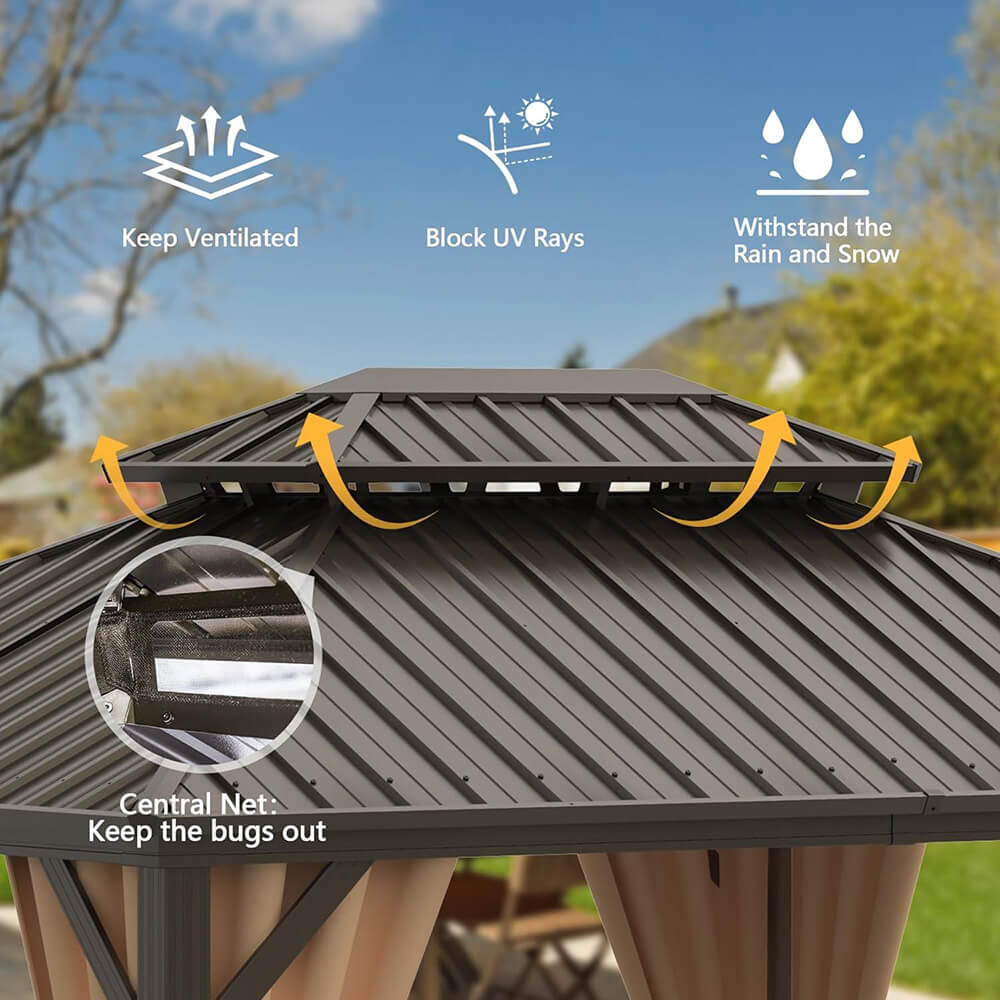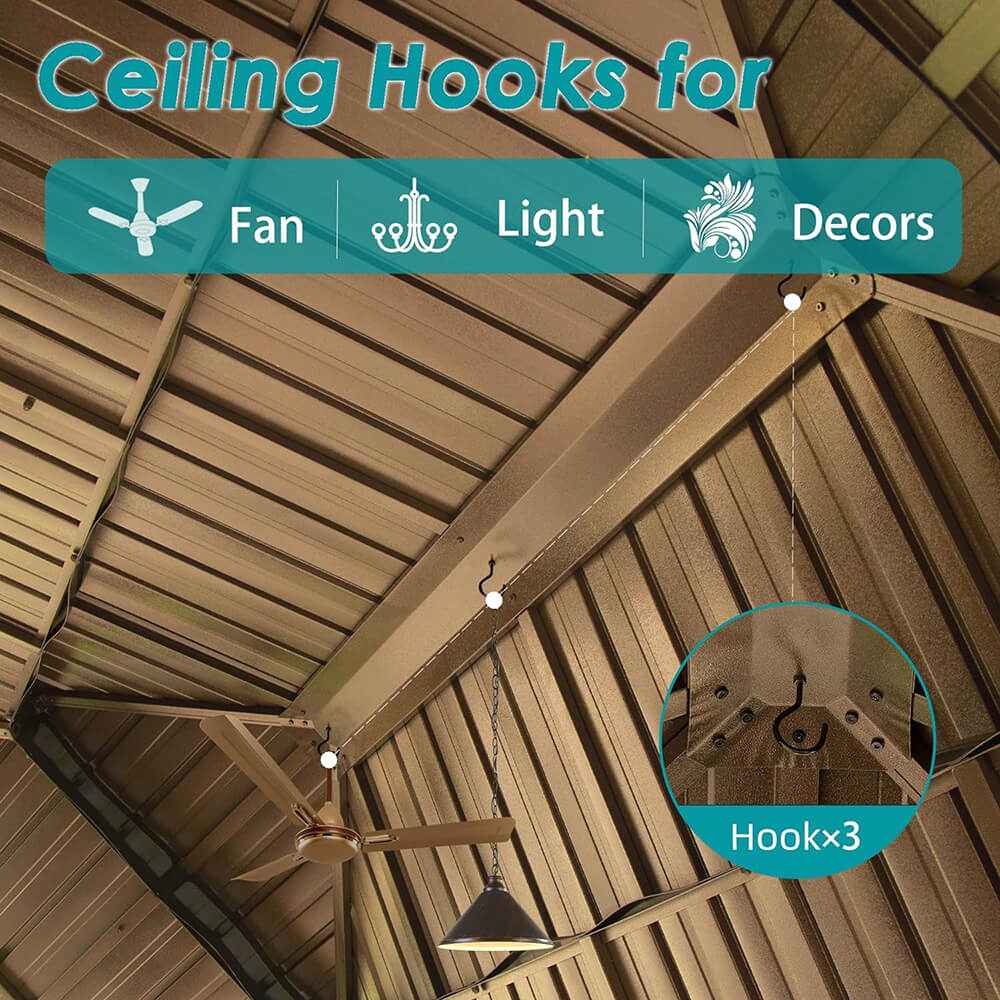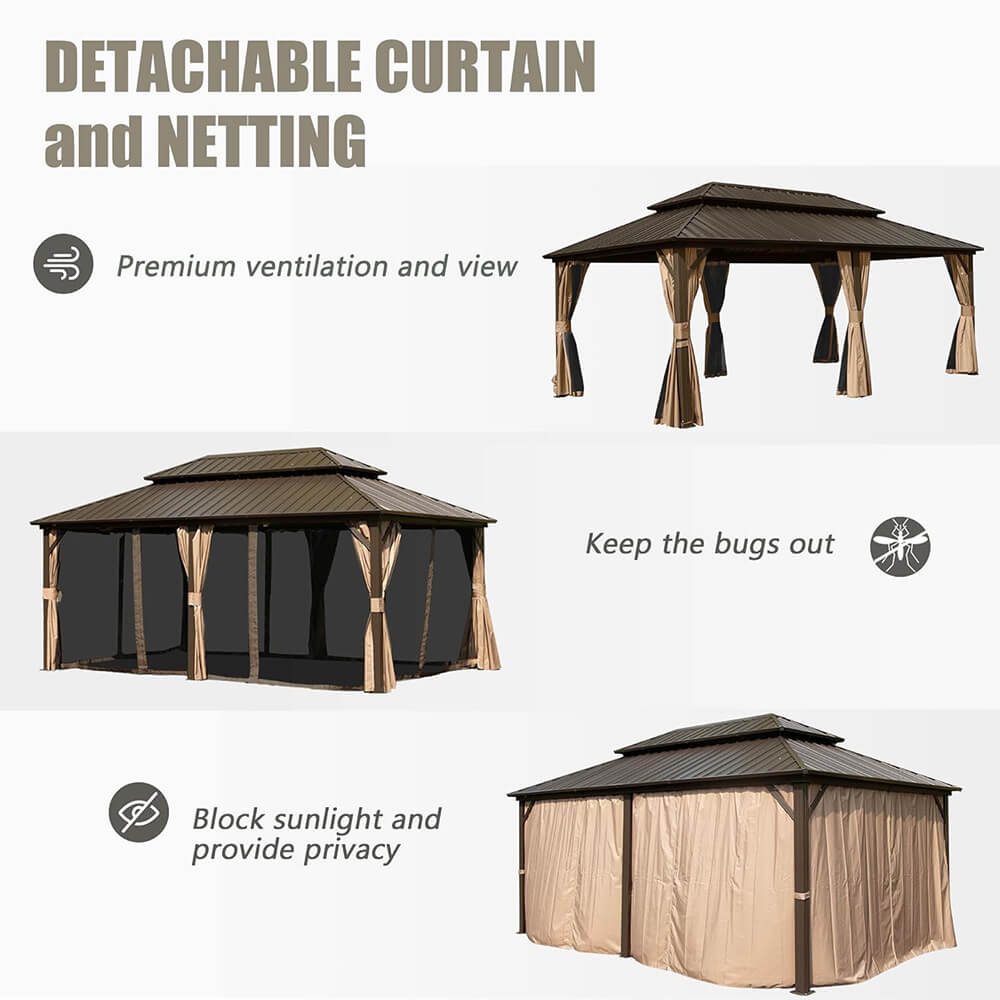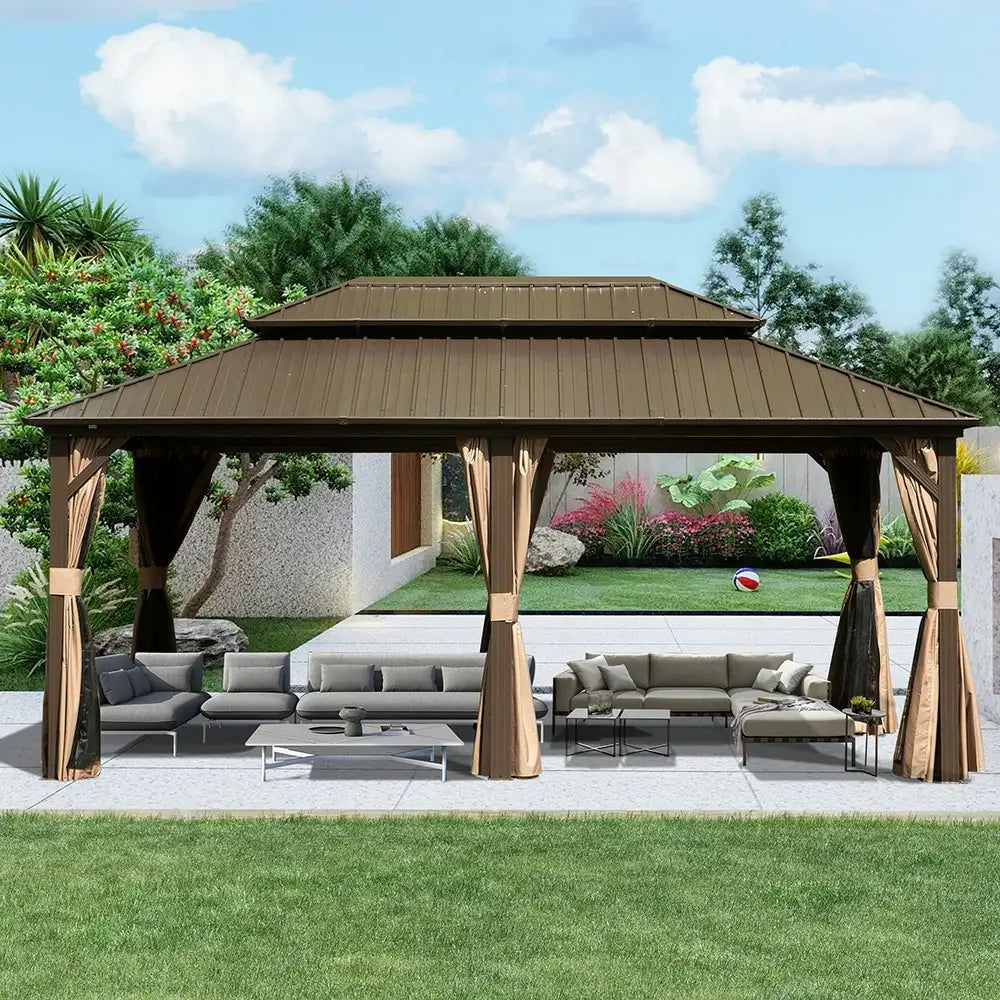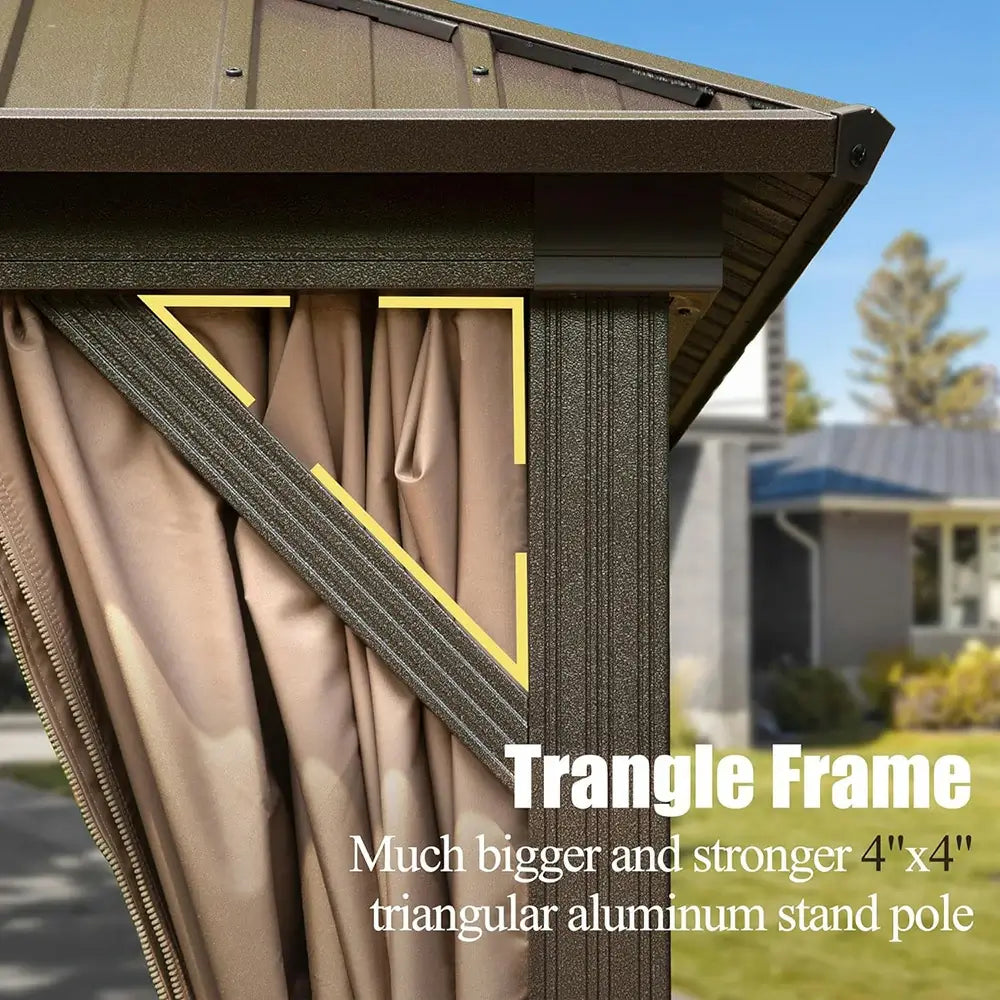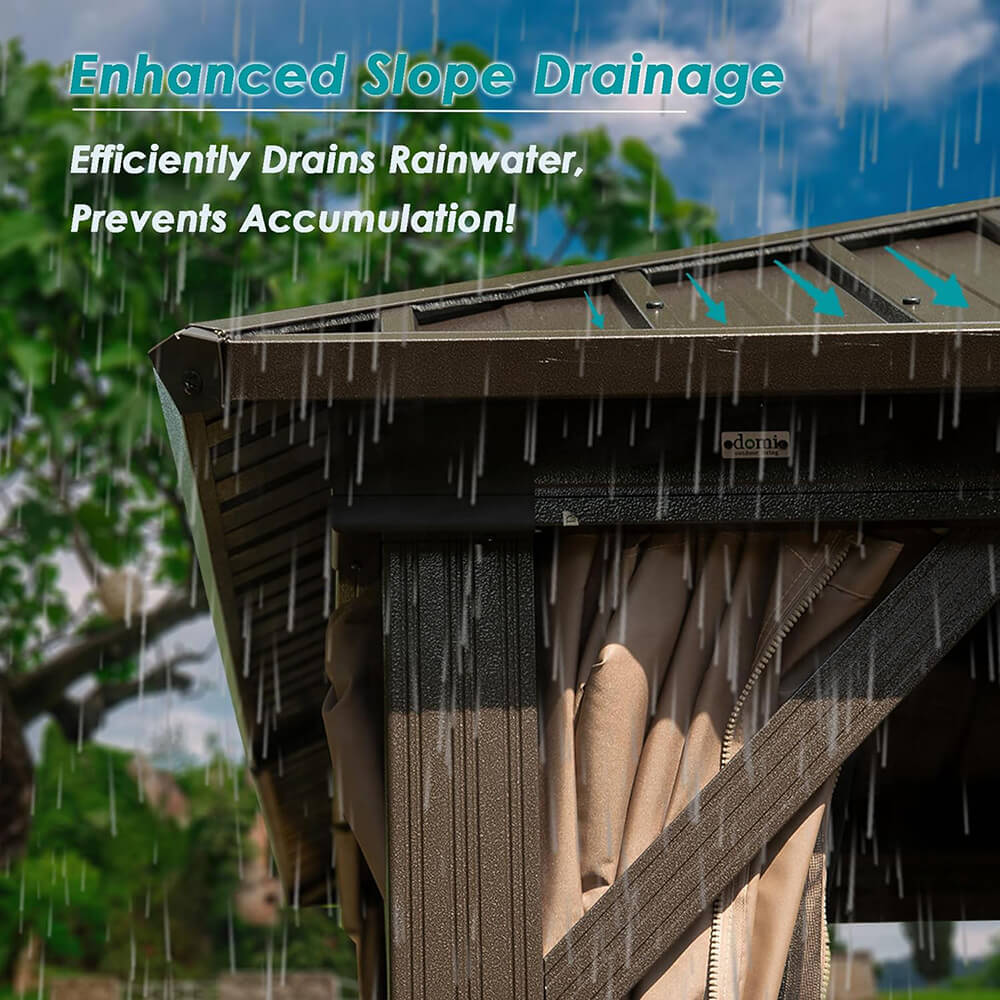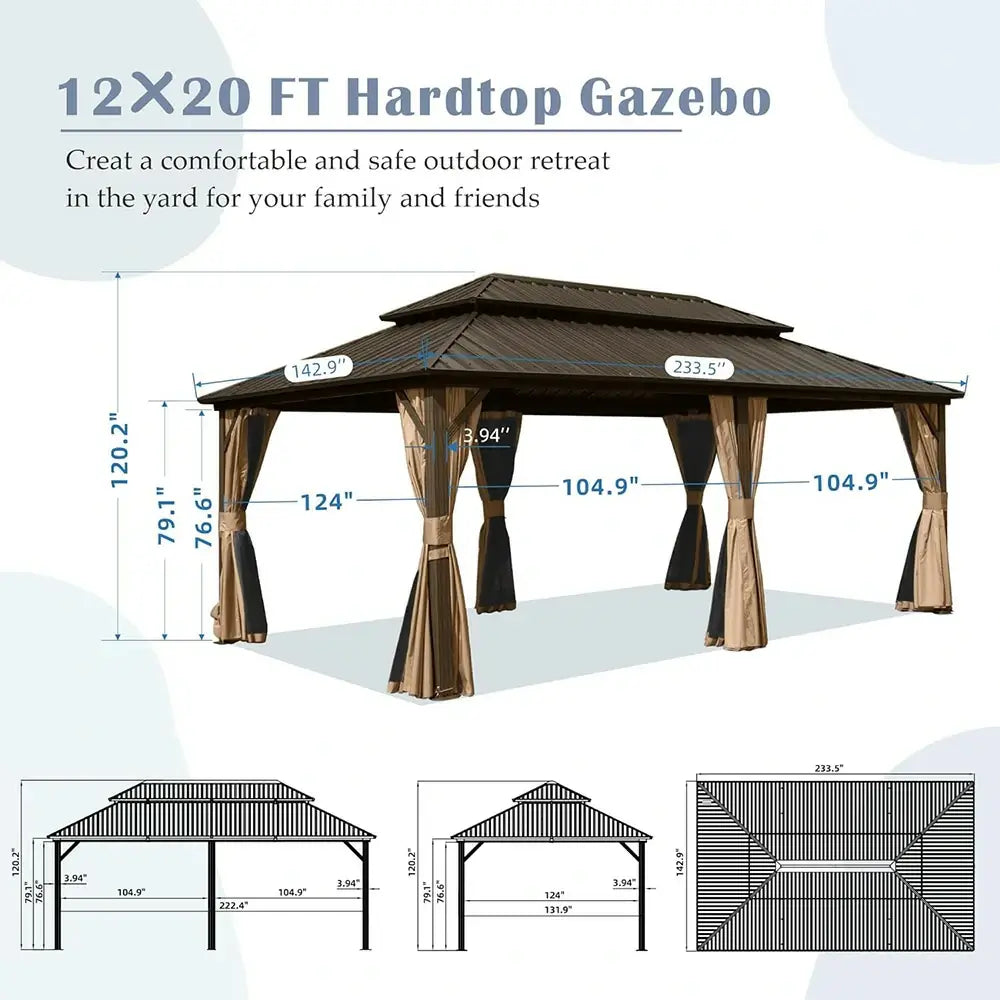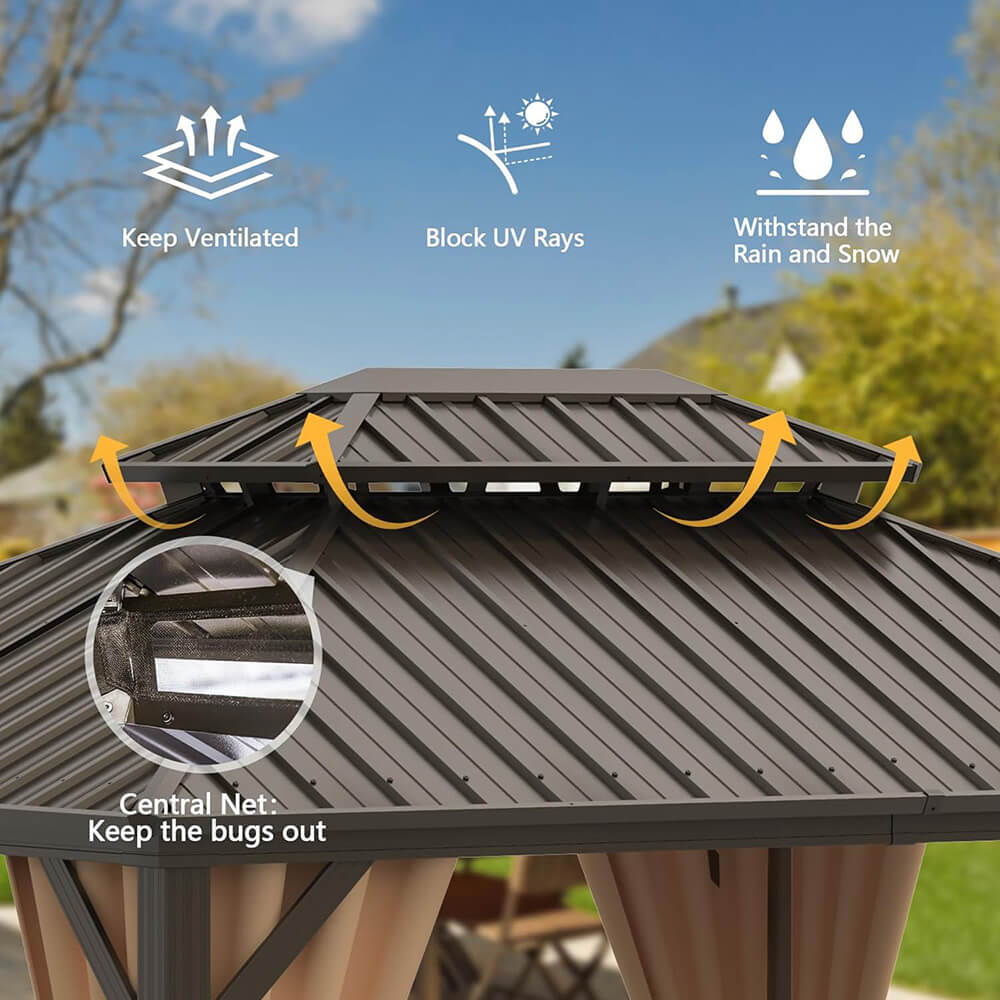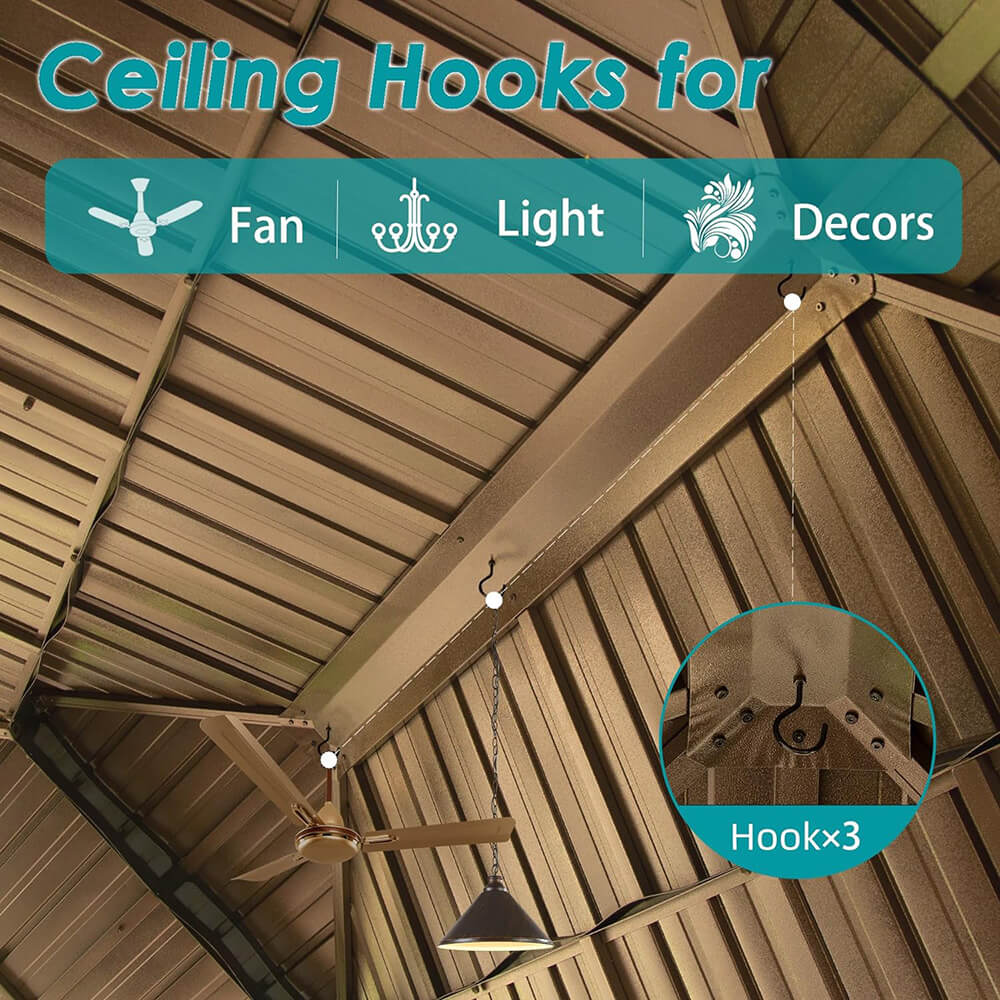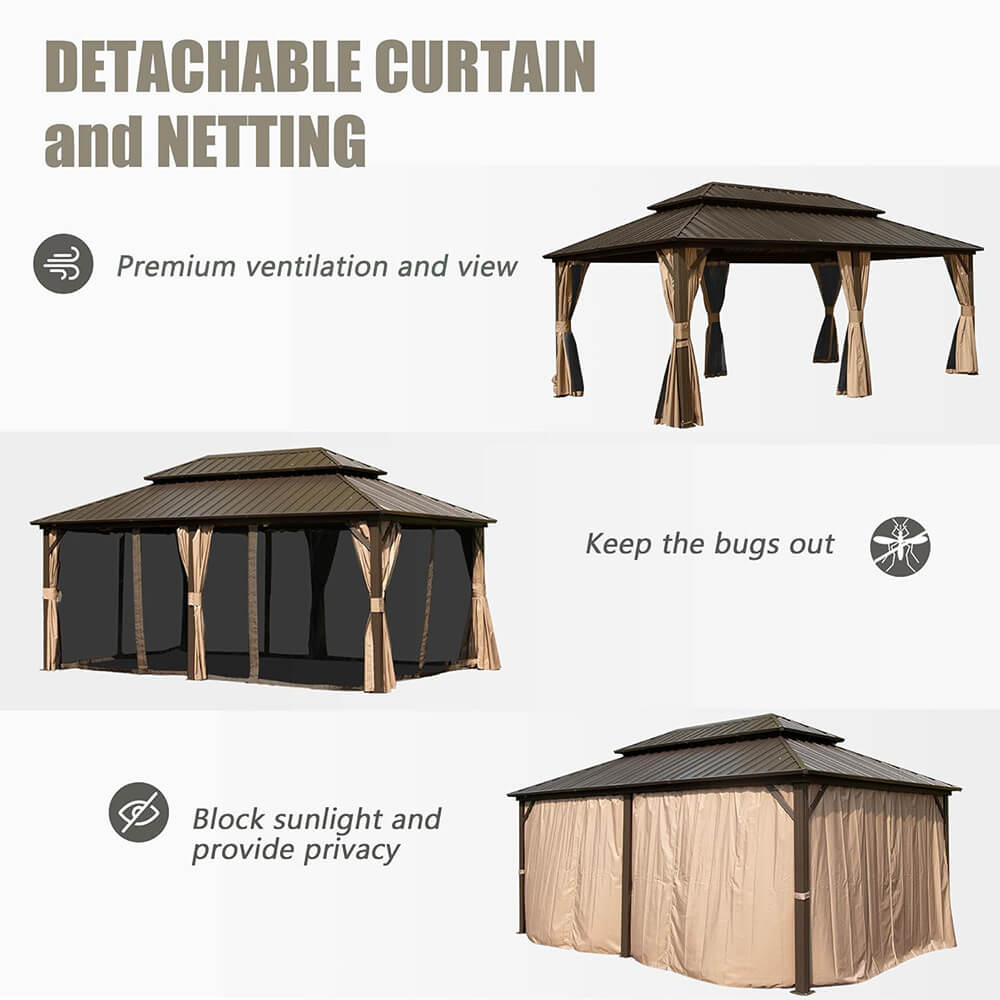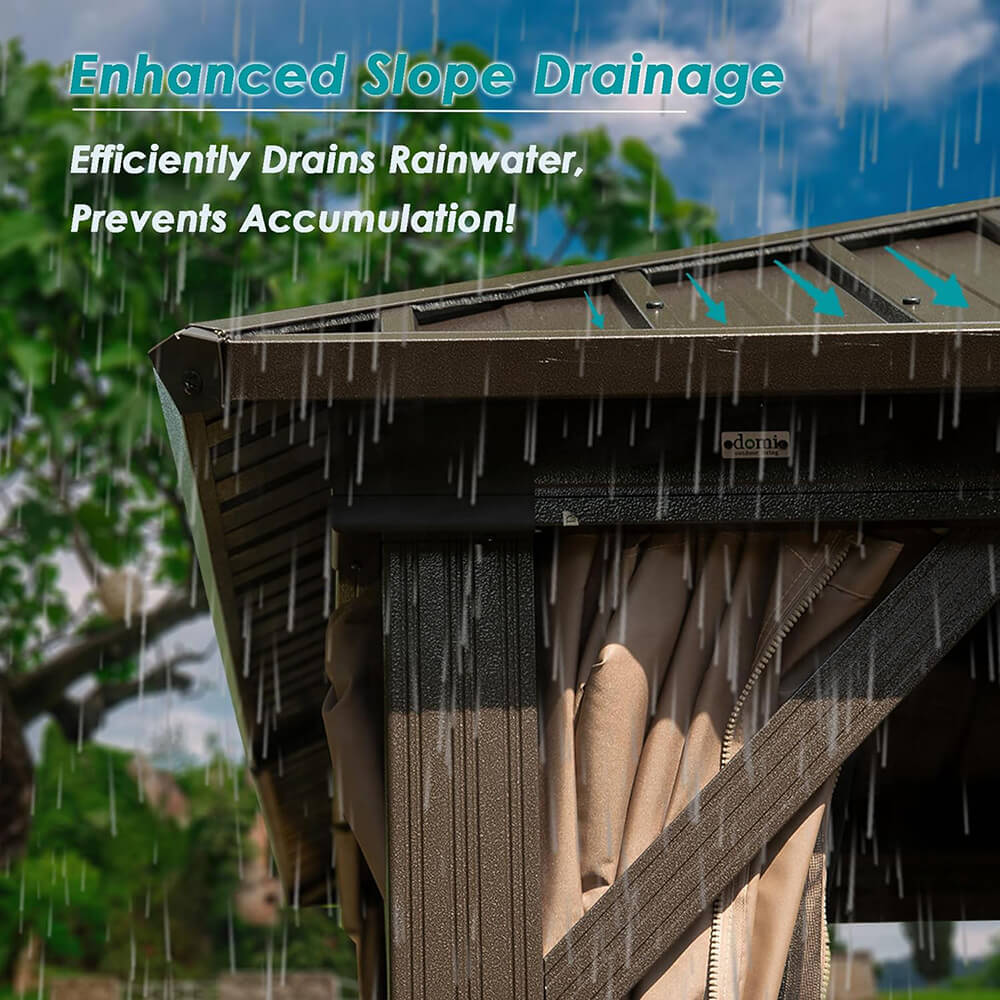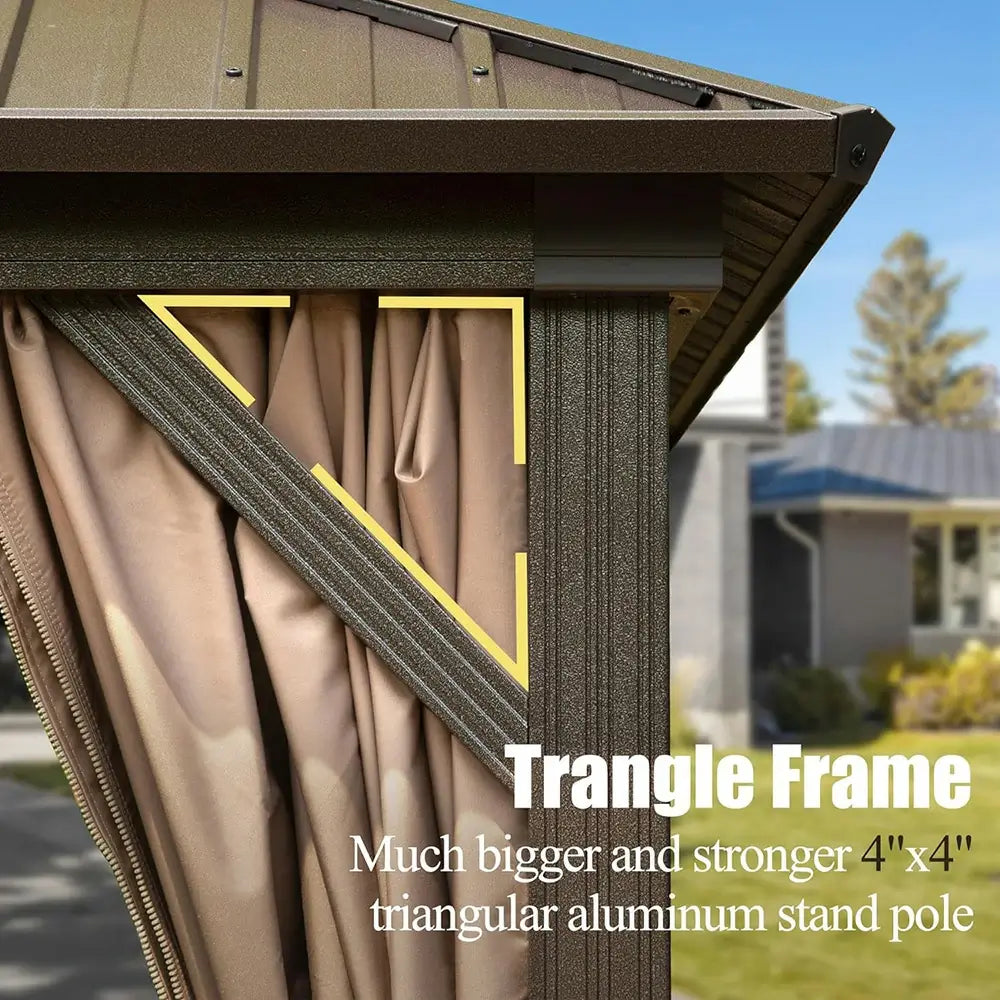 Hardtop Gazebo Classic W/ Netting & Curtain
SKU: LGMF1618
Product specification
To ensure maximum stability, please anchor the gazebo to the ground as soon as installation is complete. Additionally, in extreme weather conditions, we recommend securing the curtains and netting tightly and regularly clearing snow accumulation from the roof during the winter. These simple tips will help you make the most of your gazebo in the days ahead.
Material
Galvanized steel roof and aluminum frame
Fabric
180gsm polyester with PU coating, CP-84 flame retardant material
Roof hanging weight capacity
Sun & UV protection performance
Gazebo total weight
212.97 LBS(10x10 ft), 235.01 LBS(10x12 ft), 260.15 LBS(10x14 ft), 260.15 LBS(12x12 ft), 303.8 LBS(12x14 ft), 352.08 LBS(12x16 ft), 407.63 LBS(12x18 ft), 414.69 LBS(12x20 ft)
Get your hands on our classic gazebo today!
Looking for an affordable way to elevate your outdoor living space? Introducing Domi Outdoor Living'sclassicgazebo, offering high-quality design without the high price tag!
Durable Premium Material
With its spacious interior, our gazebo allows you and your guests to move around comfortably without feeling confined. The hardtop pavilion is crafted from durable materials like aluminum and galvanized steel, making it weather-resistant and long-lasting.
Classic and Modern Design
The design of our gazebo is both classic and modern, complementing any backyard or patio. Its double roof design creates a natural ventilation system that keeps the space cool, and the slope of the roof ensures the gazebo stays protected from harsh weather conditions.
Create the Perfect Ambiance
With its integrated hook, the Domi Outdoor Living Hardtop Gazebo allows you to customize your outdoor space effortlessly. Hang string lights, lanterns, or potted plants from the hook to add a touch of personal style and create a warm and inviting atmosphere. Whether you're hosting a garden party or simply enjoying a quiet evening under the stars, this gazebo sets the stage for unforgettable moments.

Versatile Outdoor Space
Domi Outdoor Living gazebo comes equipped with curtains and netting, providing privacy and an intimate setting for relaxation and entertainment. It's versatile, serving as a dedicated space for outdoor dining, entertaining guests, or even as a workspace for hobbies and projects like woodworking, painting, or yoga.

Upgrade your outdoor space without overspending - invest in Domi Outdoor Living's new entry-level gazebo today!
Compare with similar items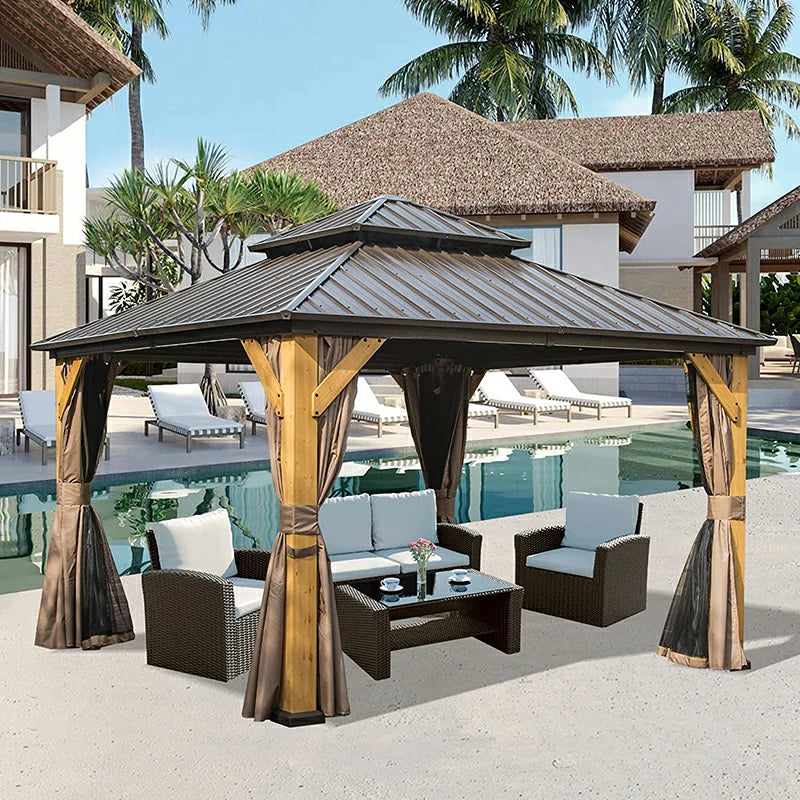 Material
Galvanized Steel Roof and Aluminum Frame
Galvanized Steel Roof and Aluminum Frame
Galvanized Steel Roof and Cedar Post
FAQ
Our gazebo is made to last. The whole installation requires at least 2 people to ensure safety and sturdiness. Make sure all parts are clicked or screwed properly following the instructions to ensure water resistance and sturdiness. Please contact us for any installation problems.
Our customer support is available Monday to Friday: 00:00 AM- 02:30 AM, 17:30 PM- 24:00 PM(GMT -8:00)
Average answer time: 24h
Contact Us
ls this a 4 season gazebo? Will it hold up with snow?

This is a 4 season gazebo, 99% UV-proof, UPF 50+ and the snow load rating is 22 LBS./Square foot.
How long is the warranty?

5 years warranty on the roof and frame.1 year warranty on curtains and netting. For detailed warranty policy, please check Warranty page.
How many boxes are there in total for the gazebo?

Different sizes come in different numbers of boxes, ranging from 4 to 8 boxes. The actual quantity will be determined based on the number of tracking numbers provided in the shipment notification email (one number corresponds to one box).
Can the gazebo be anchored to the ground/ a concrete pad?

The gazebo can be secured to wooden decks or concrete floors with M6 expansion bolts.
Does this structure require a permit?

Each state has different regulations and we do not provide any permit. Please consult HOA.
Does it have a rating for high winds?

The structure is absolutly fine in high winds, can handle 50 mph winds. Make sure all posts are screwed to a deck. As for the curtains, please keep them tied up. There is nothing that can keep them from blowing in the wind. So any storms, please cover furniture and tie the curtains secure.
Our customer support is available Monday to Friday: 00:00 AM- 02:30 AM, 17:30 PM- 24:00 PM(GMT -8:00)
Average answer time: 24h
Contact Us
This product has no reviews yet.