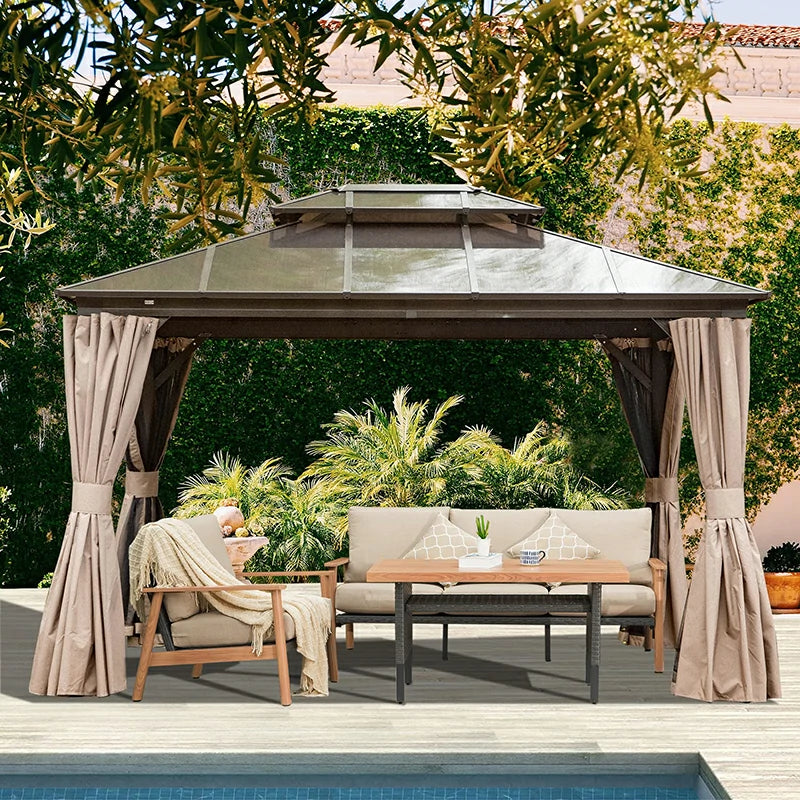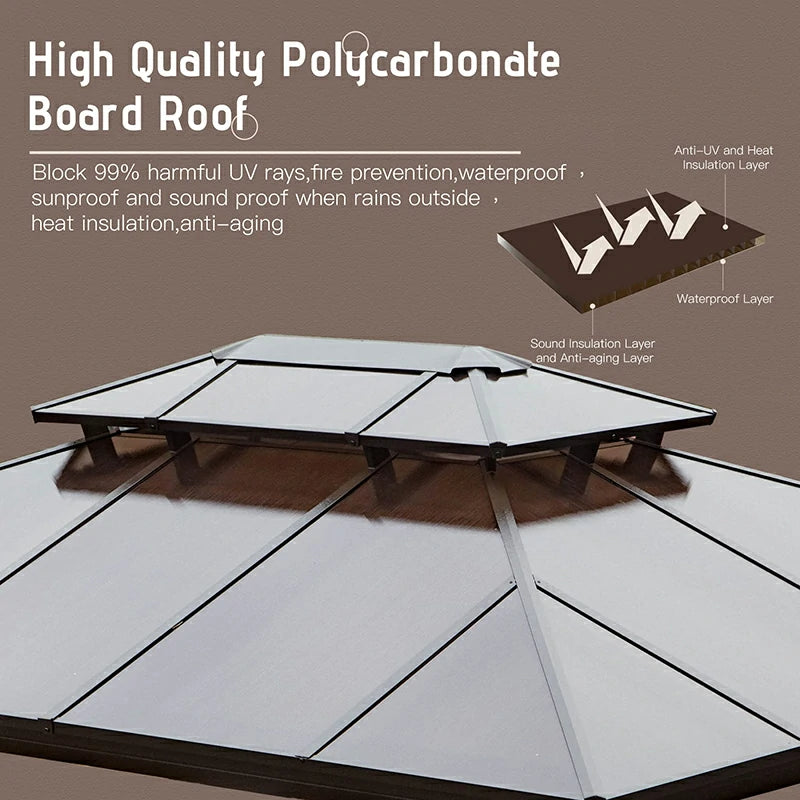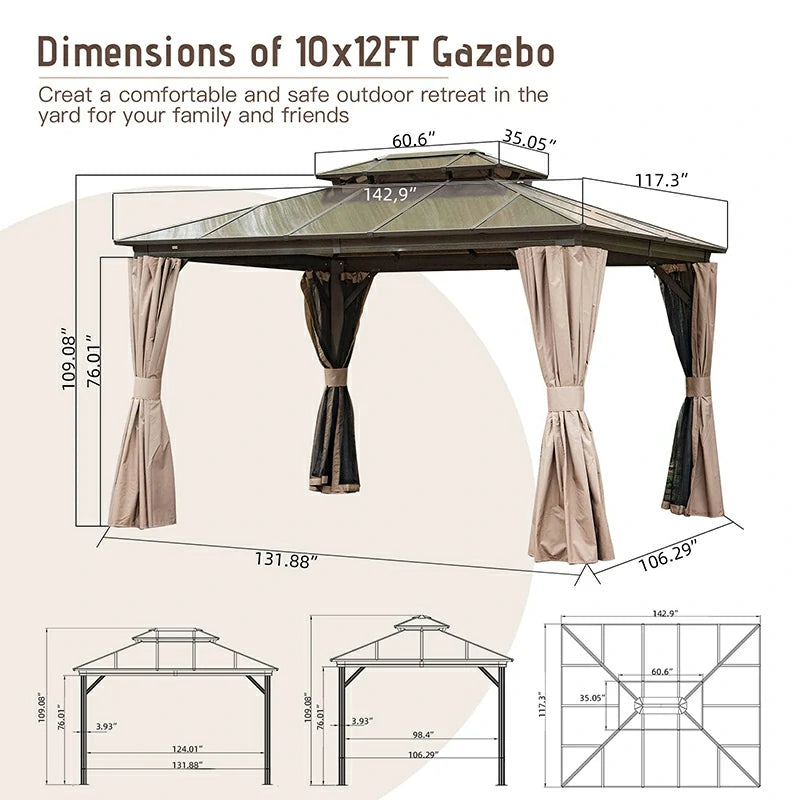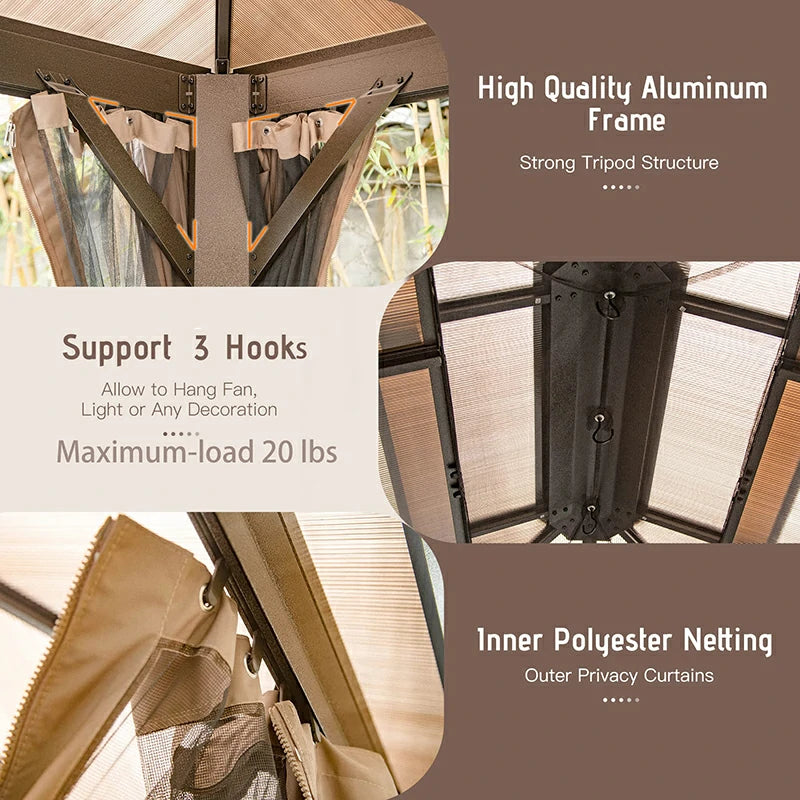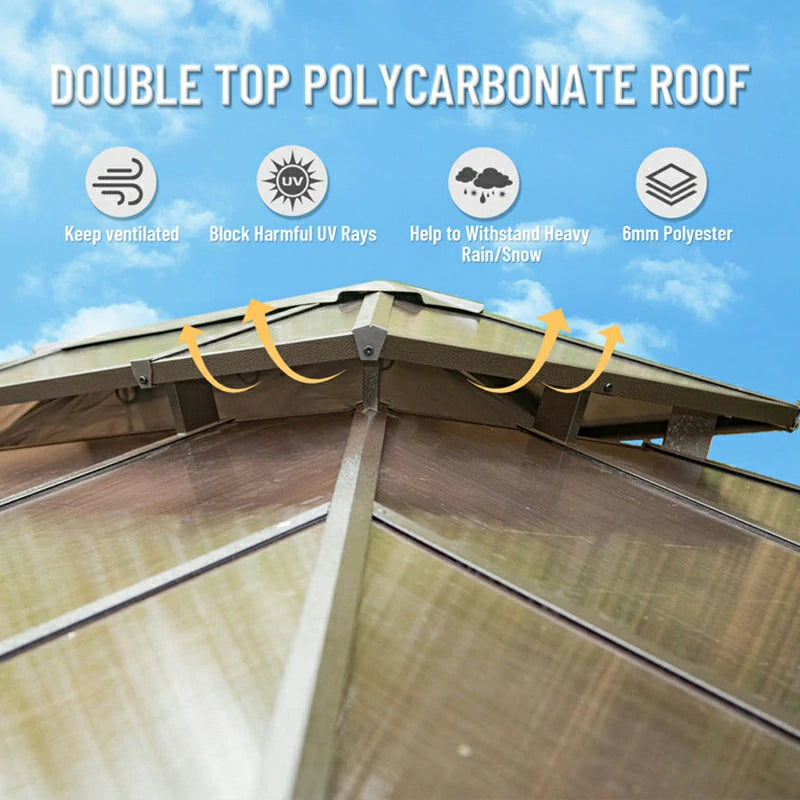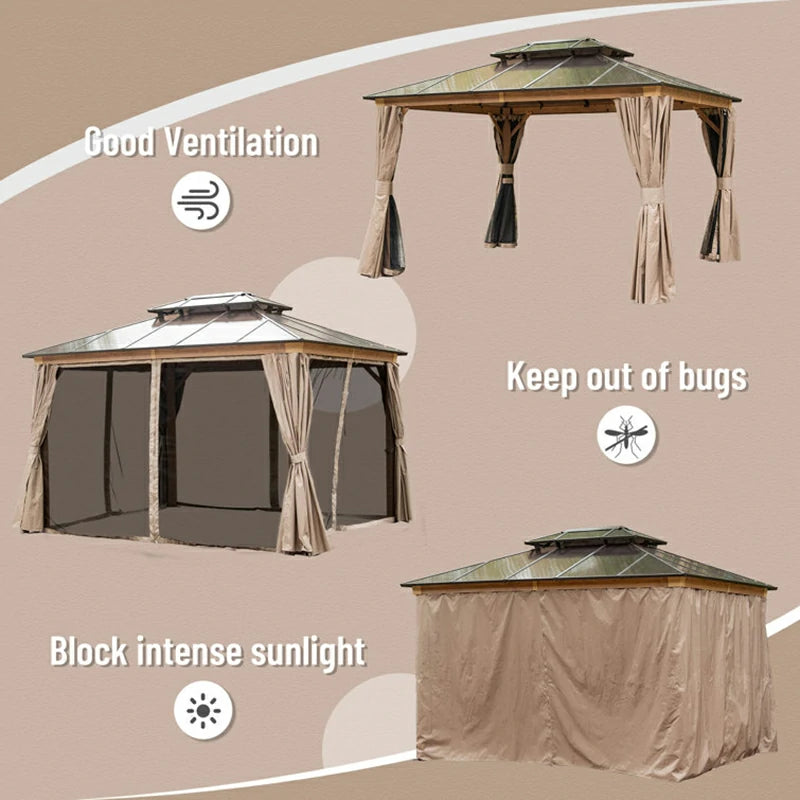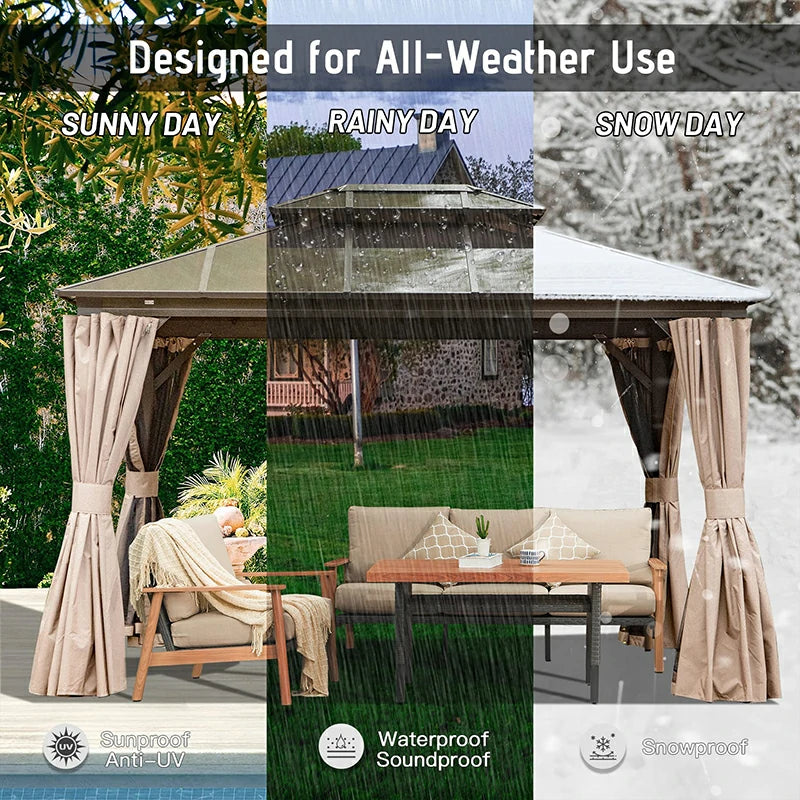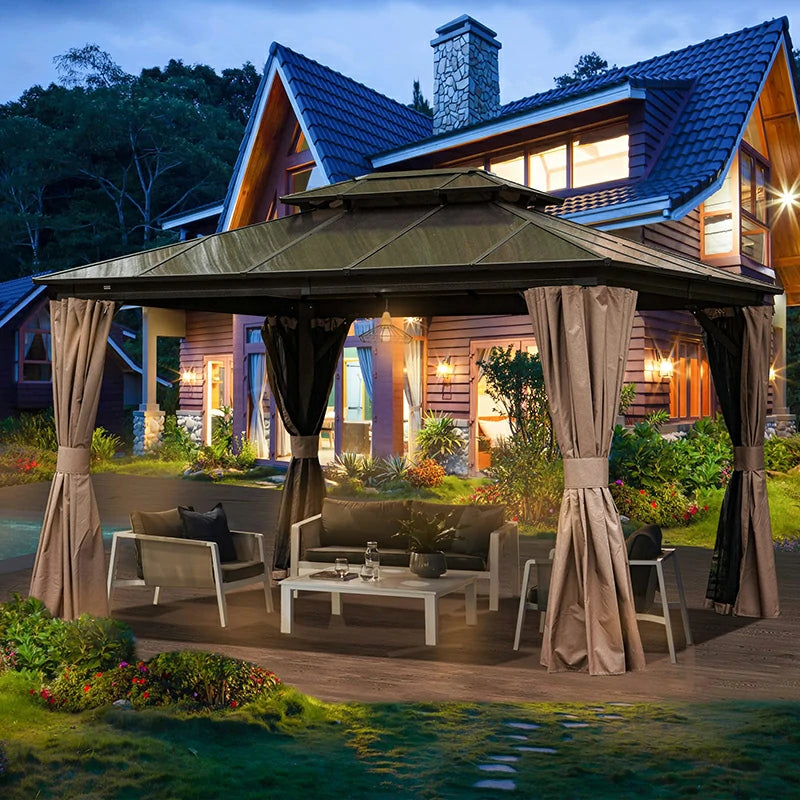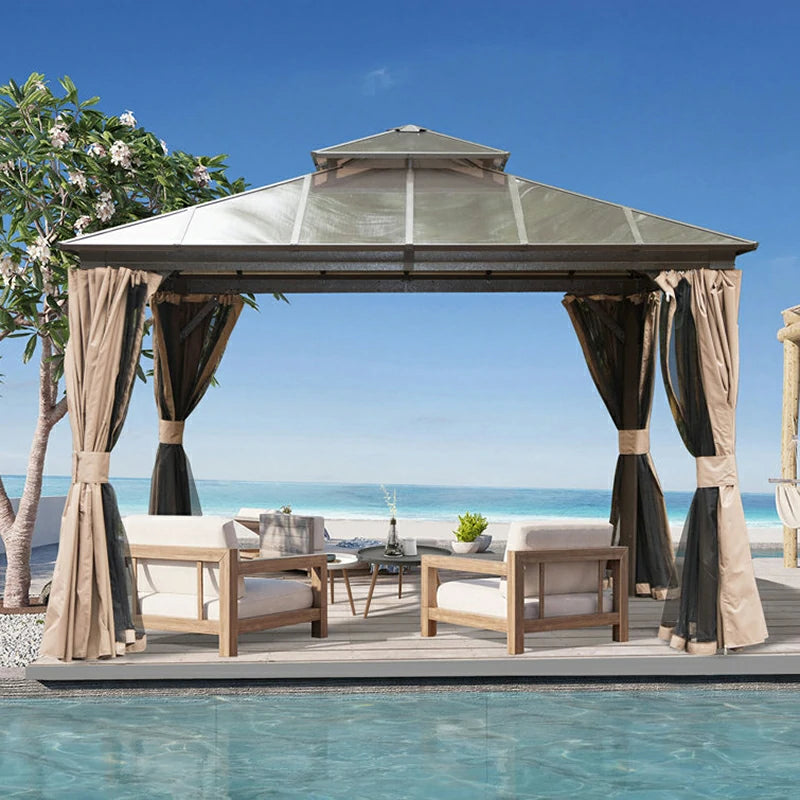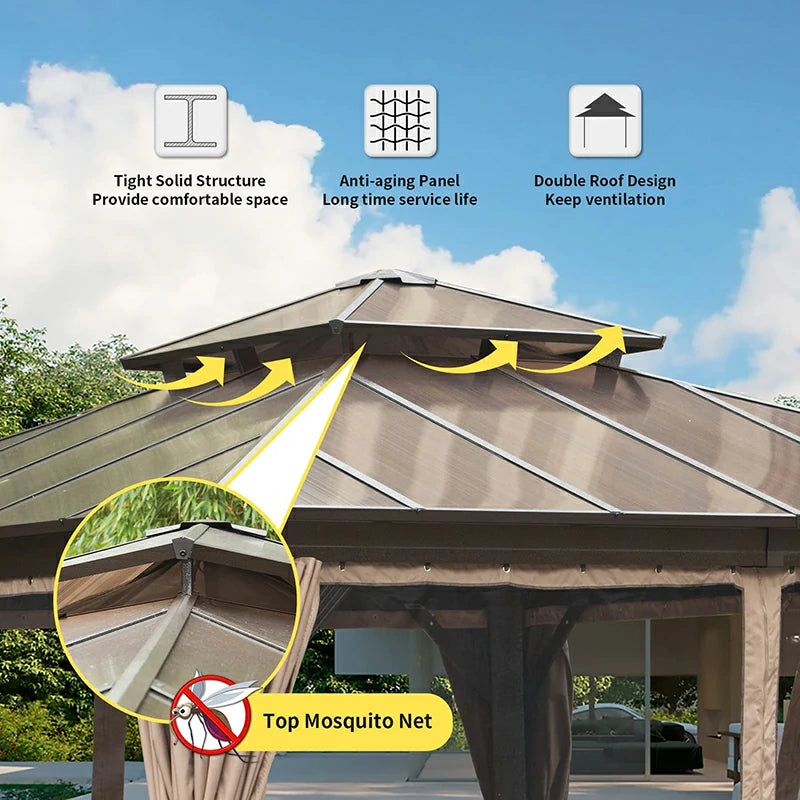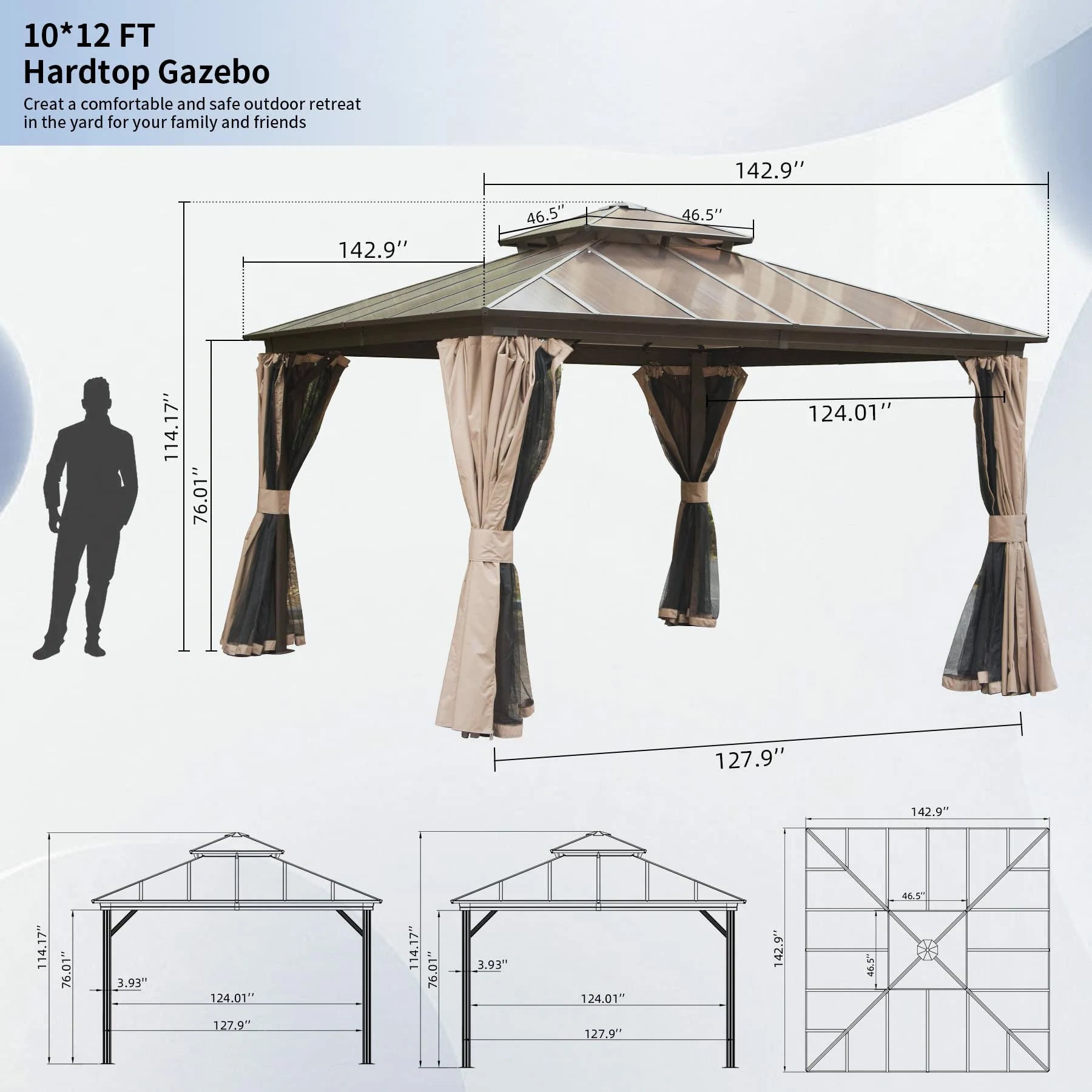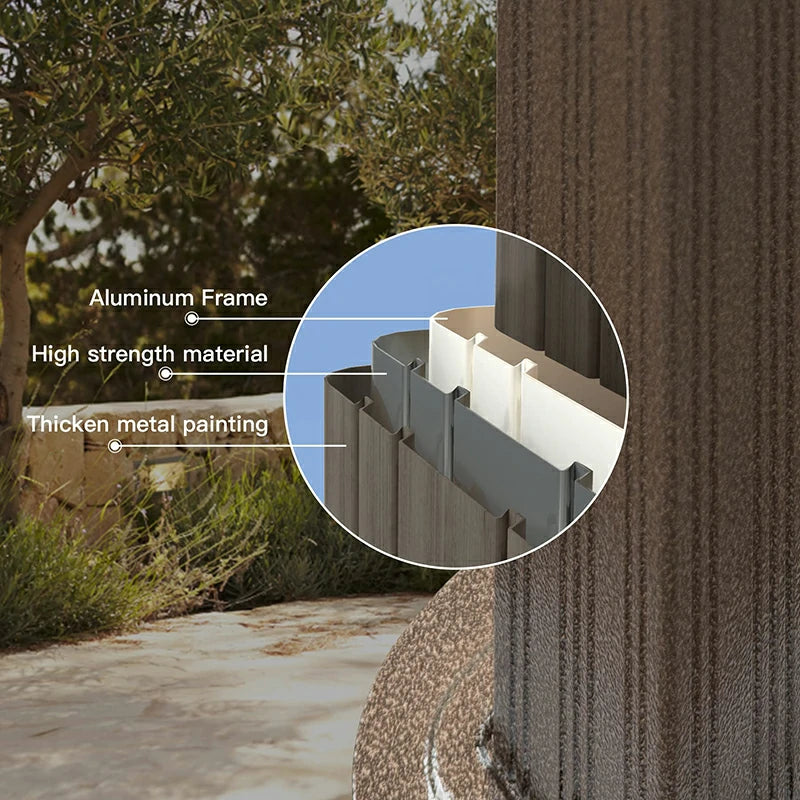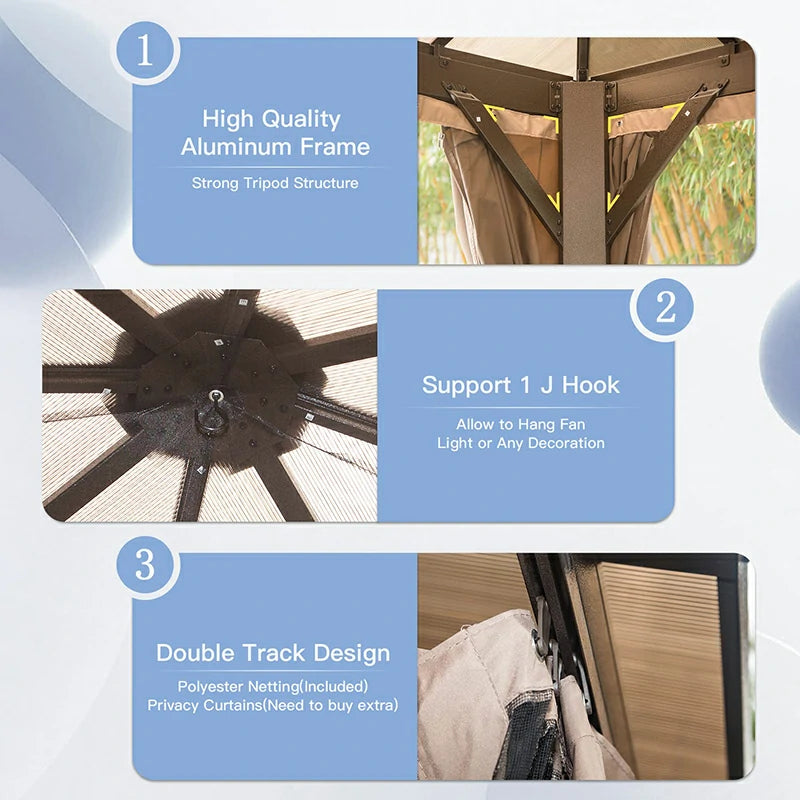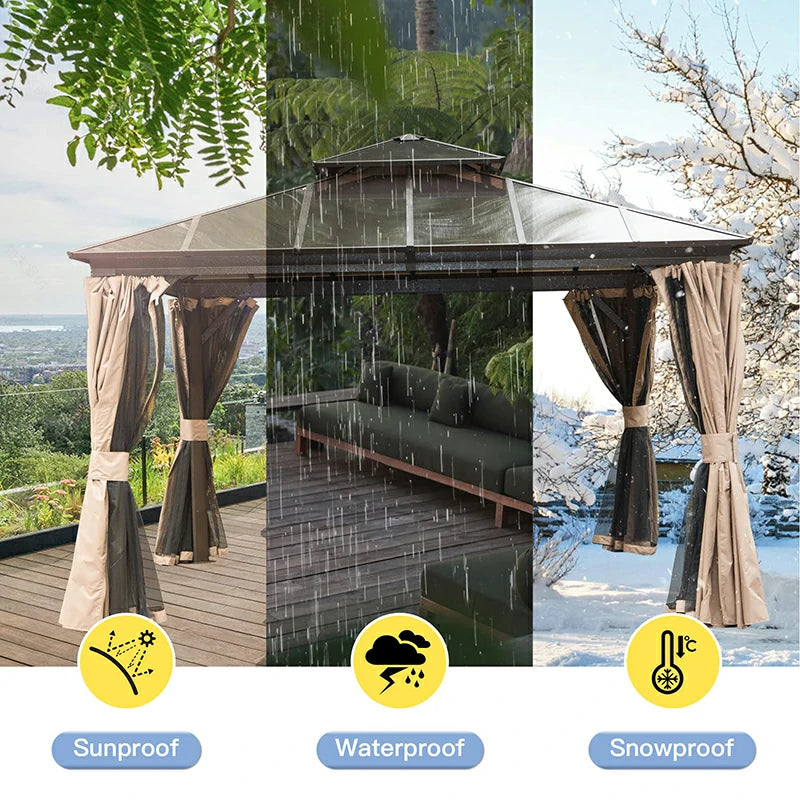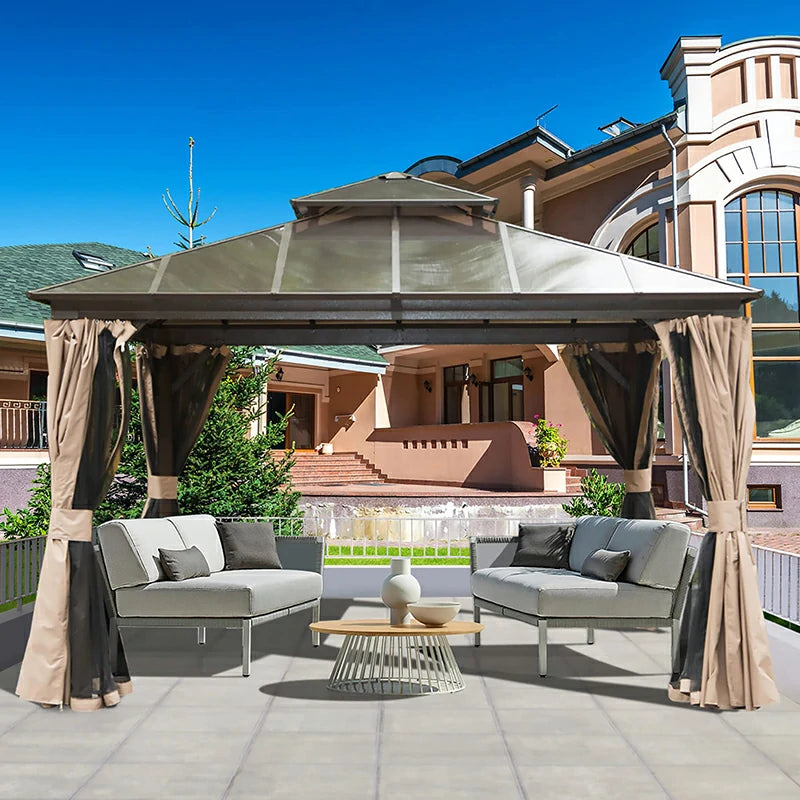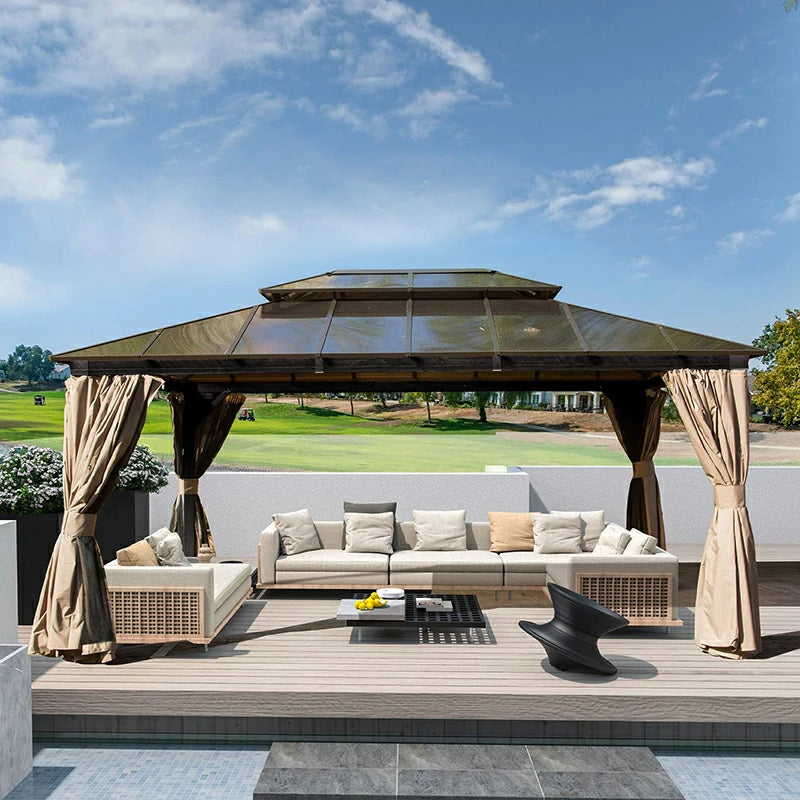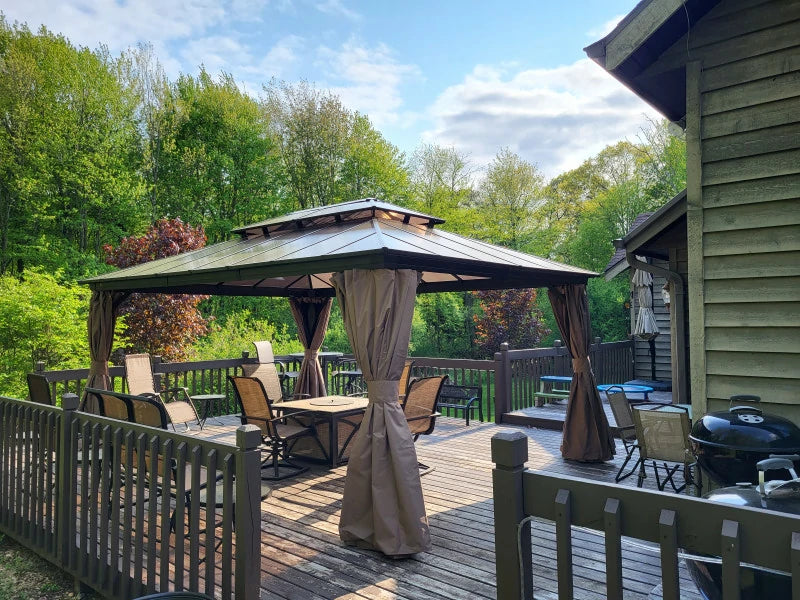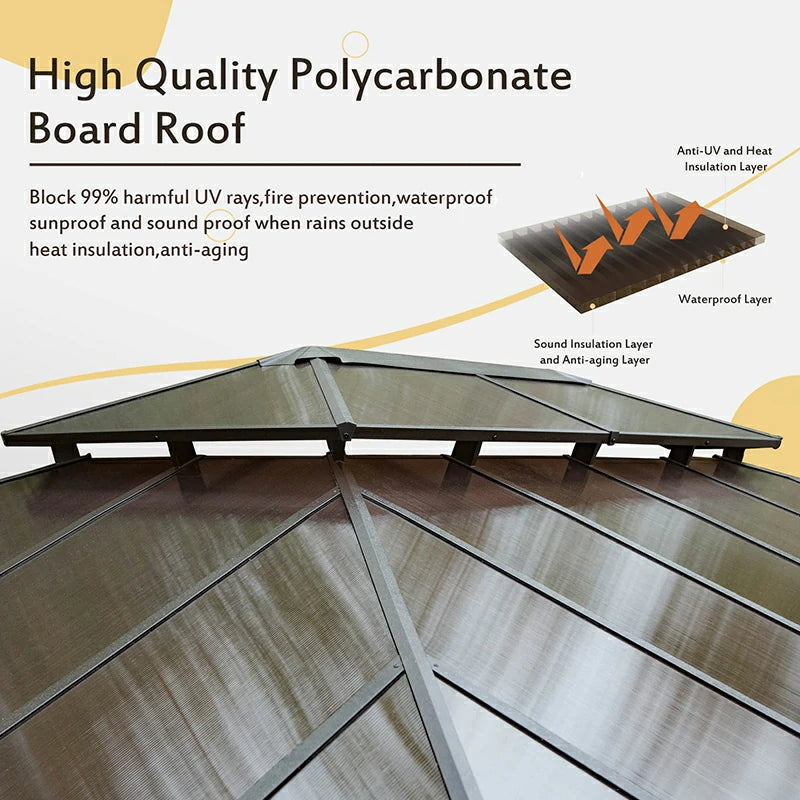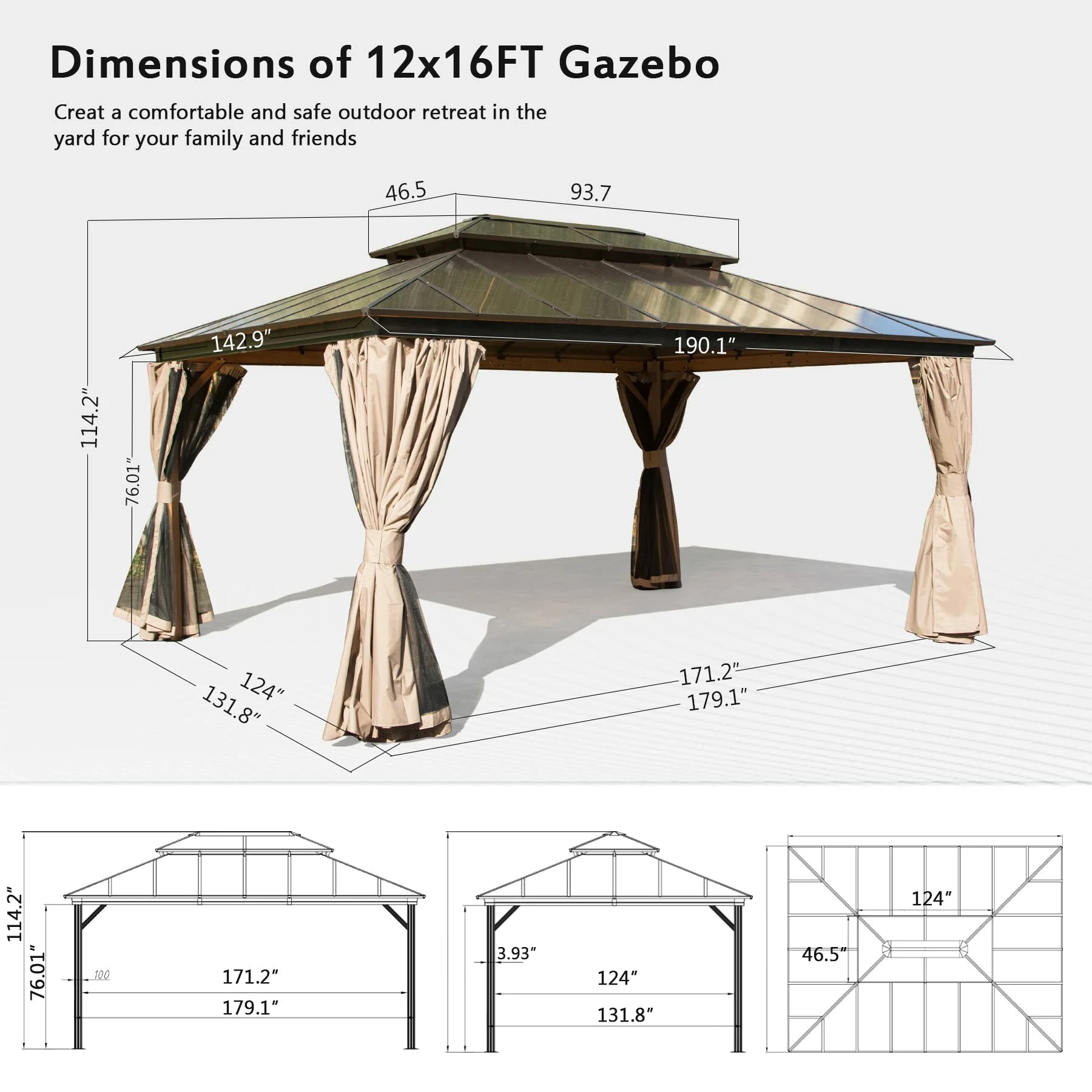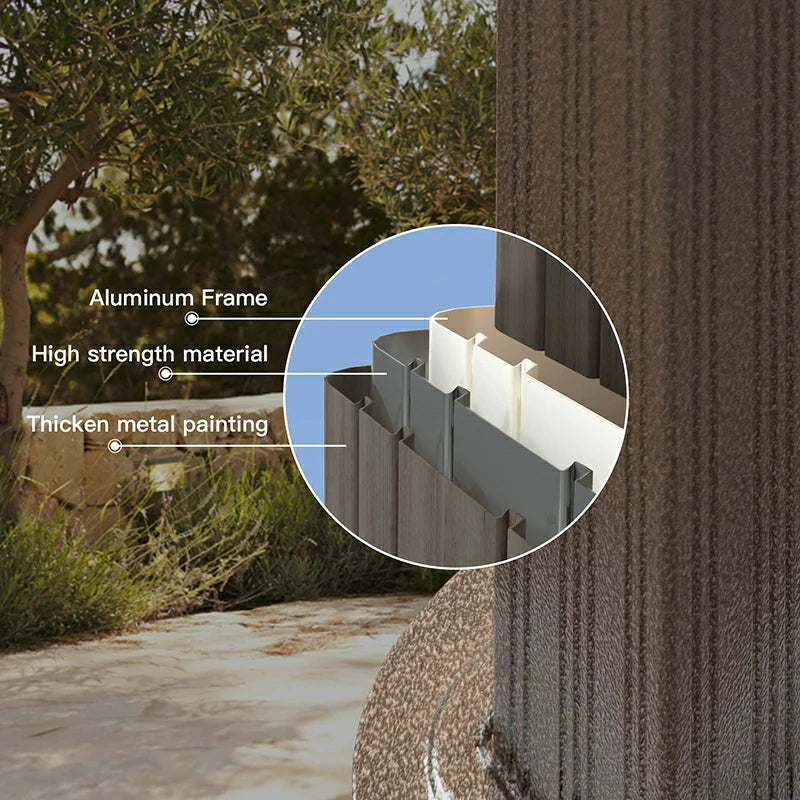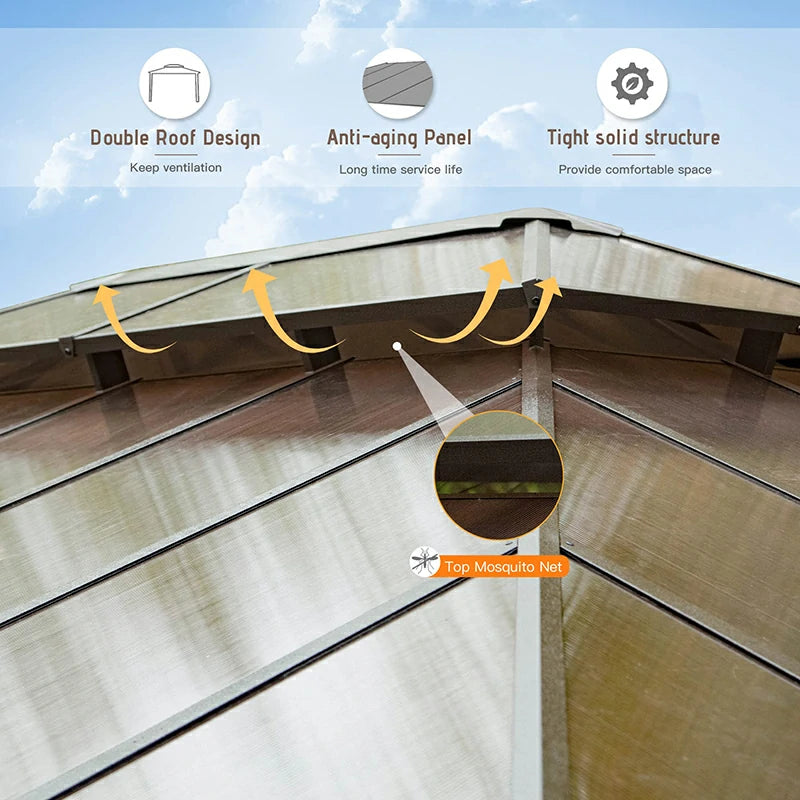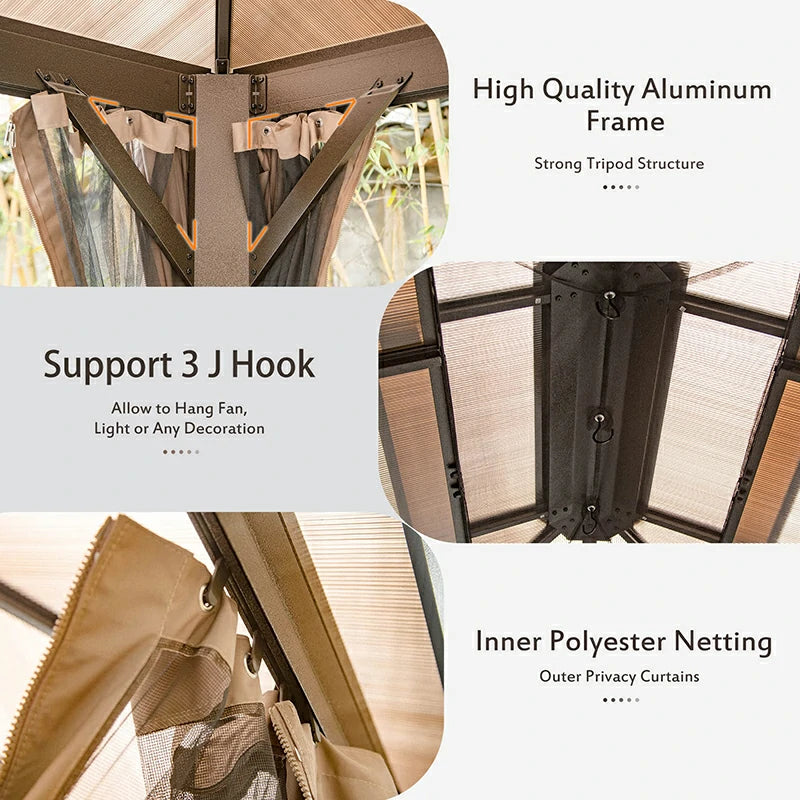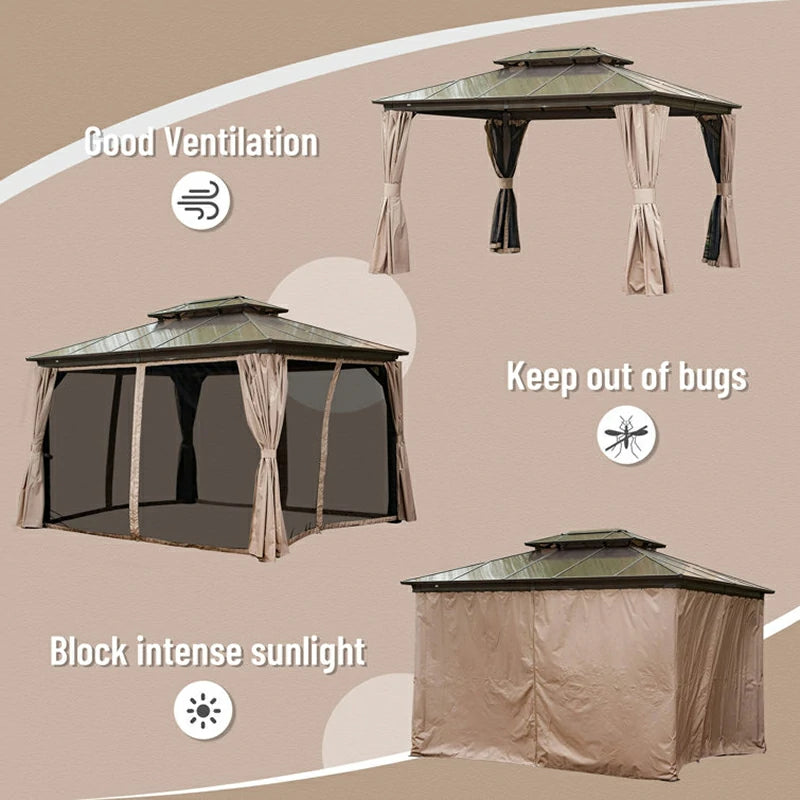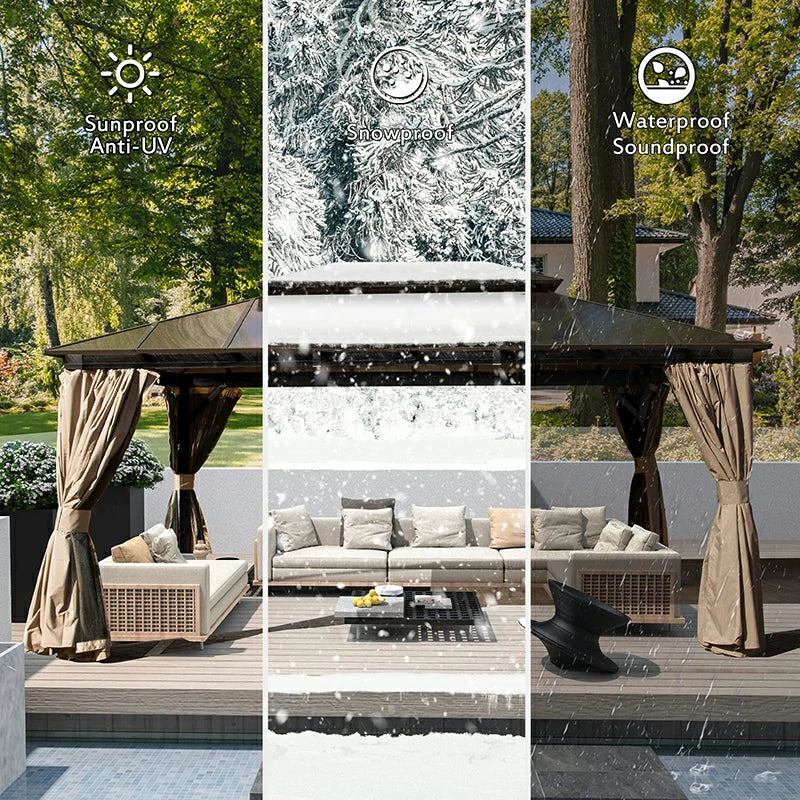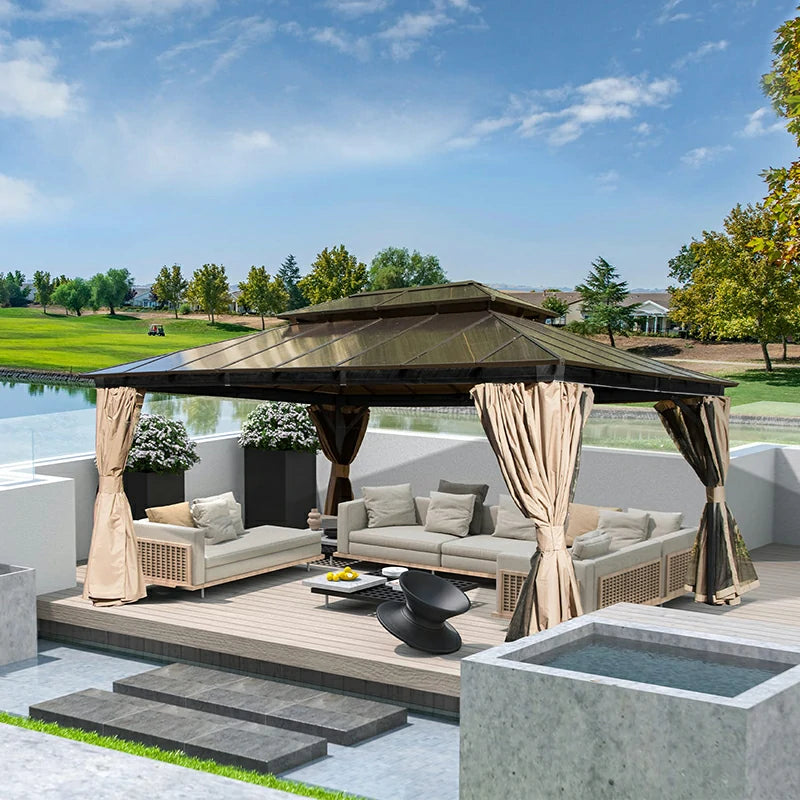 Polycarbonate Hardtop Gazebo Dark Brown
SKU: LGFP1584
Assembly manual

10' x 12' Instruction manual PDF→
12' x 12' Instruction manual PDF→
12' x 16' Instruction manual PDF→

Installation requirements
2-3 people are required to assist in the installation. Ladder and gloves are required for installation. Anchor the gazebo as soon as finish the installation.

Attention
Consult with your local governing authority / local municipal codes regarding the installation of temporary structures before purchaser and/or assembly. This structure may require a permission.

Installation services
The installation of the gazebo might be a bit challenging, but our collaborating professionals are here to make it convenient for you. Please visit HANDYBUDDY to schedule your installation service.

Disclaimer
All the installation service from website is from thrid party!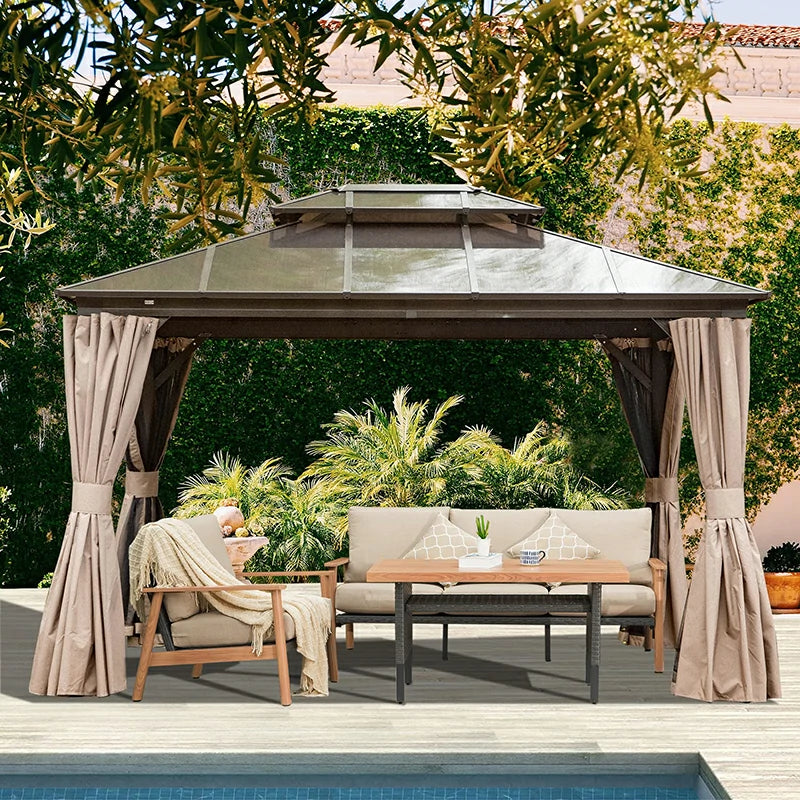 Product specification
To ensure maximum stability, please anchor the gazebo to the ground as soon as installation is complete. Additionally, in extreme weather conditions, we recommend securing the curtains and netting tightly and regularly clearing snow accumulation from the roof during the winter. These simple tips will help you make the most of your gazebo in the days ahead.
Material
Aluminum and Polycarbonate
Fabric
180gsm polyester with PU coating, CP-84 flame retardant material
Roof hanging weight capacity
Sun & UV protection performance
Gazebo total weight
162.04 lbs (10x12 ft), 181.21 lbs (12x12 ft), 220.45 lbs (12x16 ft)
The Flawless Realm of the Outdoors
Domi Outdoor Living Polycarbonate roof Hardtop Gazebo, the perfect addition to your outdoor living space. Constructed with a sturdy aluminum frame, this gazebo is built to last and withstand harsh weather conditions, making it an ideal choice for year-round use. It's large enough to comfortably accommodate your family and guests, yet compact enough to fit in most outdoor spaces.
Upgraded Polycarbonate Roof
Polycarbonate is a highly durable material that is resistant to damage from weather, UV rays, and impact, and it's also lightweight, making it easy to install. Plus, it allows natural light to filter through, creating a bright and airy atmosphere inside the gazebo while still providing shade and protection from the elements.
Carefully Crafted Top Design
The double-layered design of the metal gazebo canopy provides additional insulation, helping to regulate the temperature inside the gazebo and reducing heat build-up on hot days. This can help to keep you cool and comfortable while you relax outdoors. The top comes with hooks to customise the outdoor space.
Enveloped in Serenity and Privacy
Escape from the chaos of everyday life and immerse yourself in a haven of tranquility within the Domi Outdoor Living Hardtop Gazebo. Equipped with luxurious curtains and netting, this sanctuary offers you the seclusion and privacy you desire. Shield yourself from prying eyes, as the elegant curtains drape around you, creating an intimate space where you can fully enjoy cherished moments with loved ones.
Elegant Appearance
The elegant design and neutral color scheme make the Domi steel gazebo pergola stylish addition to any backyard or patio. Invest in the Domi Outdoor Living hardtop gazebo for a long-lasting, high-quality outdoor space that will be the envy of all your neighbors!
Compare with similar items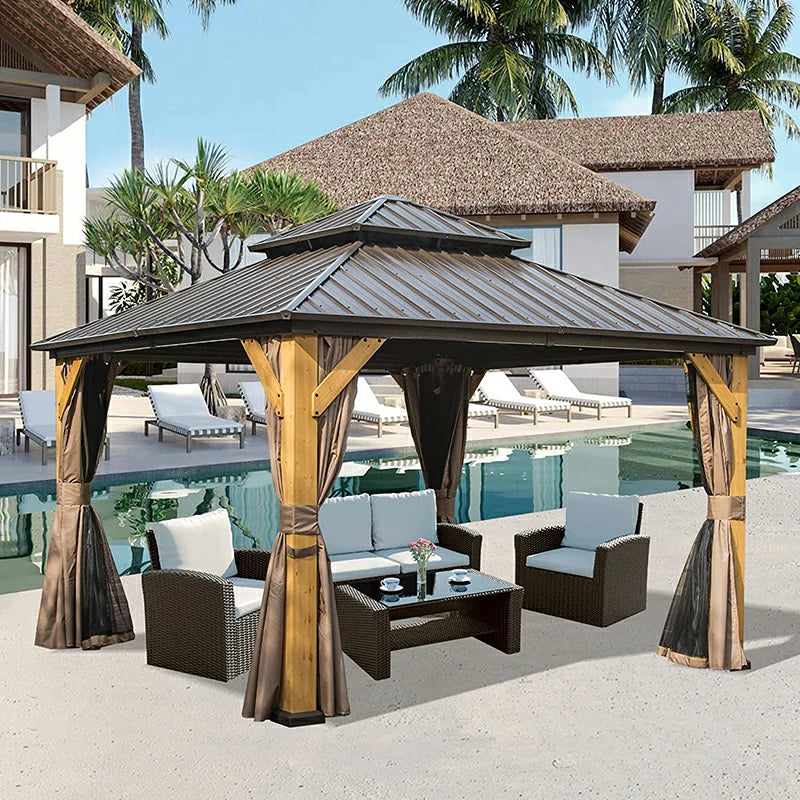 Material
Galvanized Steel Roof and Aluminum Frame
Galvanized Steel Roof and Aluminum Frame
Galvanized Steel Roof and Cedar Post
FAQ
Our gazebo is made to last. The whole installation requires at least 2 people to ensure safety and sturdiness. Make sure all parts are clicked or screwed properly following the instructions to ensure water resistance and sturdiness. Please contact us for any installation problems.
Our customer support is available Monday to Friday: 00:00 AM- 02:30 AM, 17:30 PM- 24:00 PM(GMT -8:00)
Average answer time: 24h
Contact Us
ls this a 4 season gazebo? Will it hold up with snow?

This is a 4 season gazebo, 99% UV-proof, UPF 50+ and the snow load rating is 22 LBS./Square foot.
How long is the warranty?

5 years warranty on the roof and frame.1 year warranty on curtains and netting. For detailed warranty policy, please check Warranty page.
How many boxes are there in total for the gazebo?

Different sizes come in different numbers of boxes, ranging from 4 to 8 boxes. The actual quantity will be determined based on the number of tracking numbers provided in the shipment notification email (one number corresponds to one box).
Can the gazebo be anchored to the ground/ a concrete pad?

The gazebo can be secured to wooden decks or concrete floors with M6 expansion bolts.
Does this structure require a permit?

Each state has different regulations and we do not provide any permit. Please consult HOA.
Does it have a rating for high winds?

The structure is absolutly fine in high winds, can handle 50 mph winds. Make sure all posts are screwed to a deck. As for the curtains, please keep them tied up. There is nothing that can keep them from blowing in the wind. So any storms, please cover furniture and tie the curtains secure.
Our customer support is available Monday to Friday: 00:00 AM- 02:30 AM, 17:30 PM- 24:00 PM(GMT -8:00)
Average answer time: 24h
Contact Us
This product has no reviews yet.