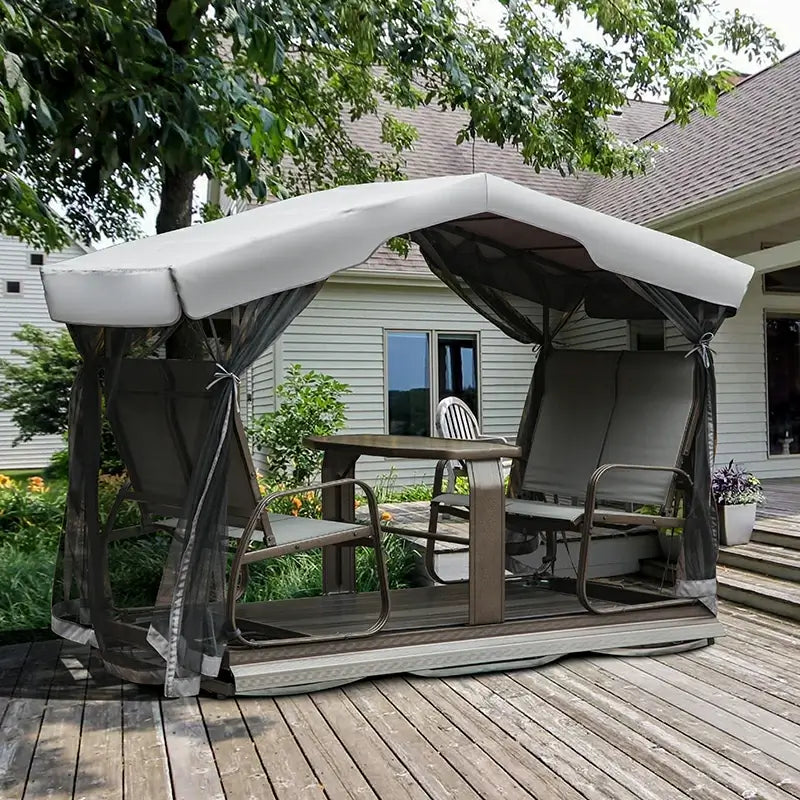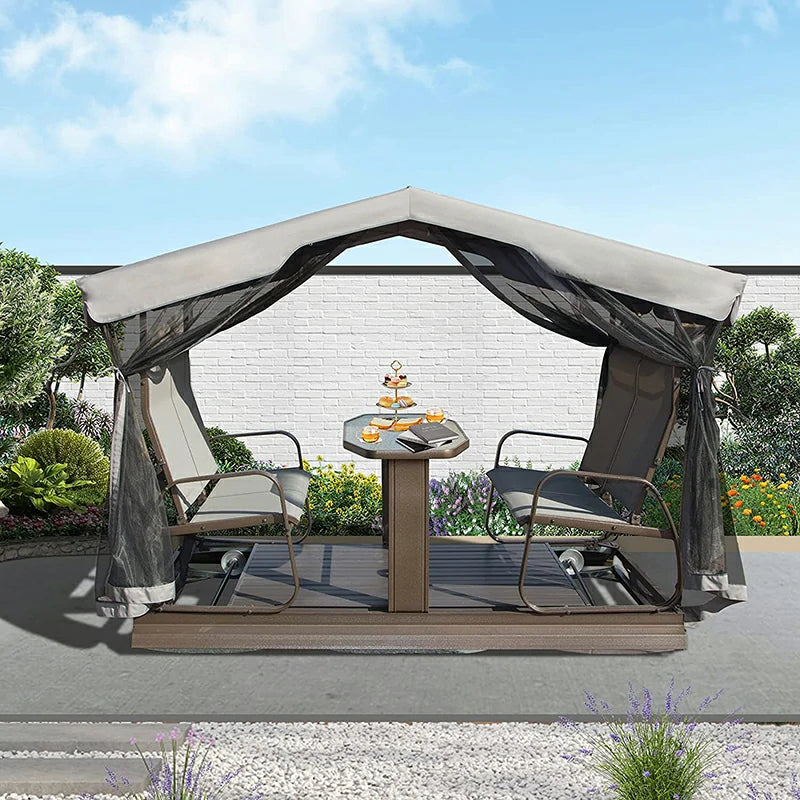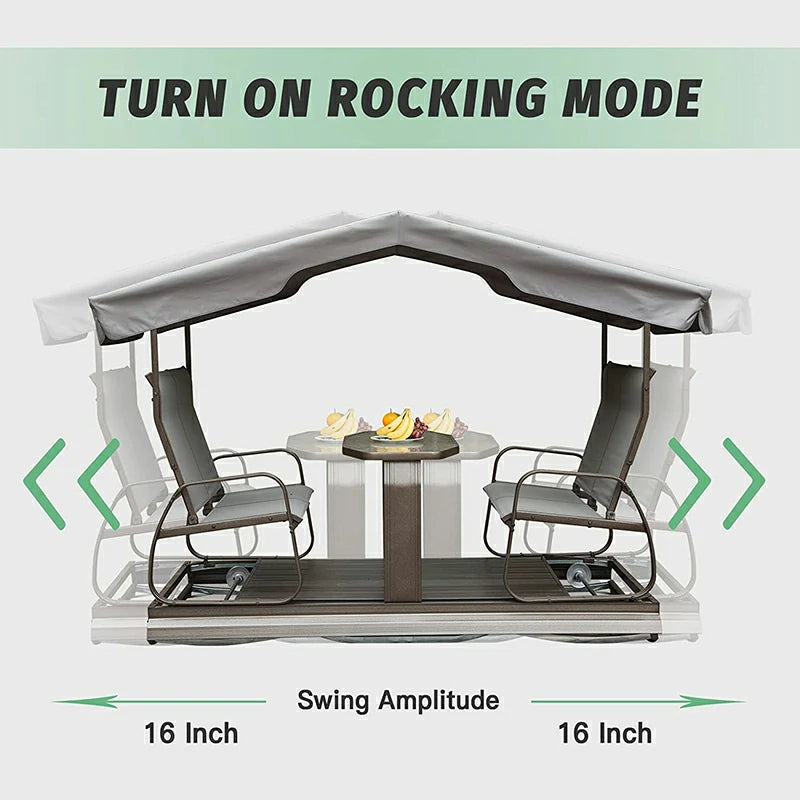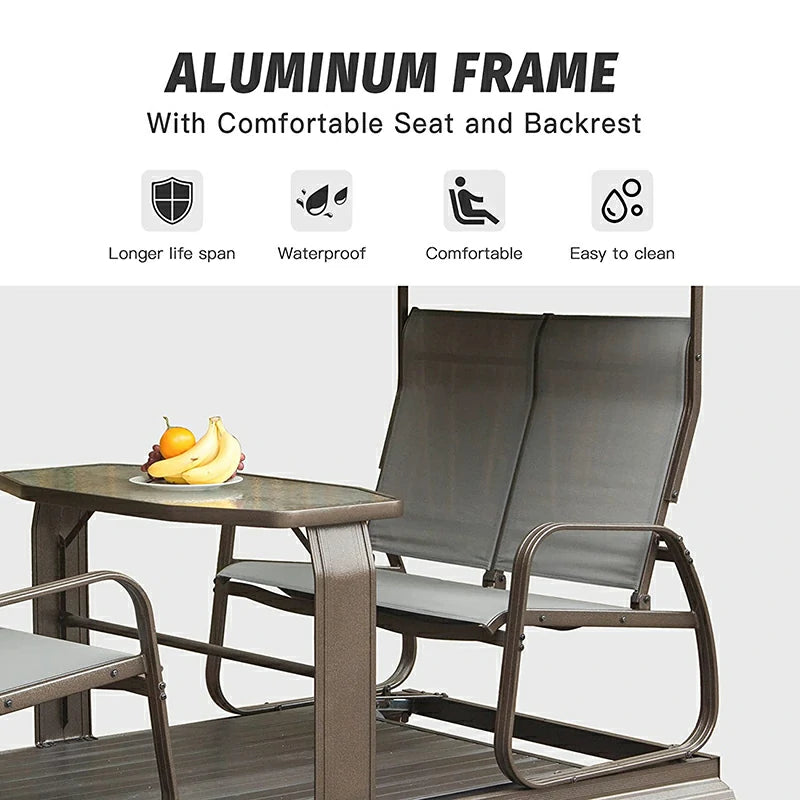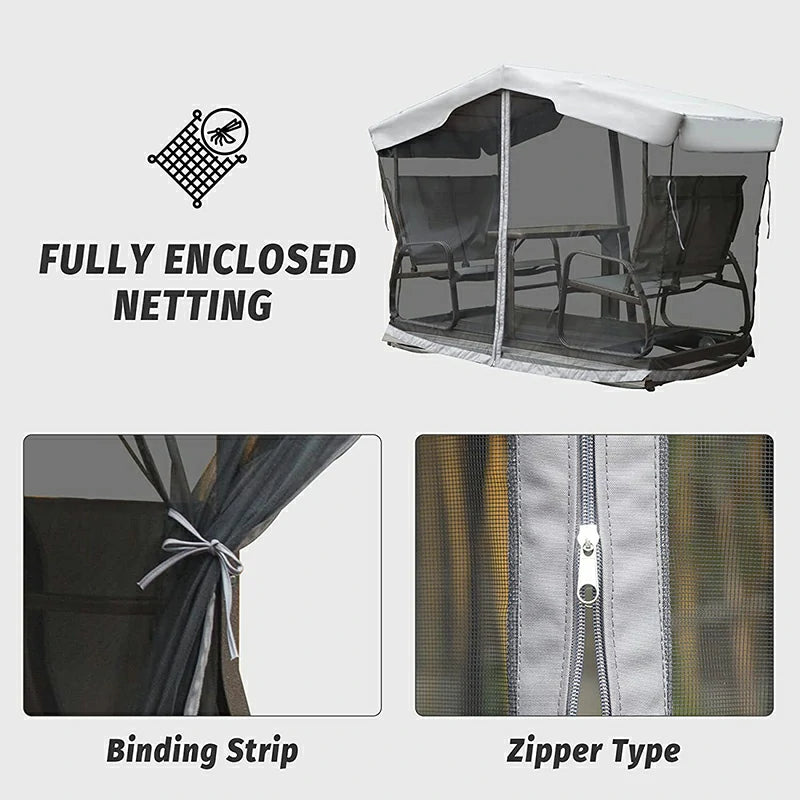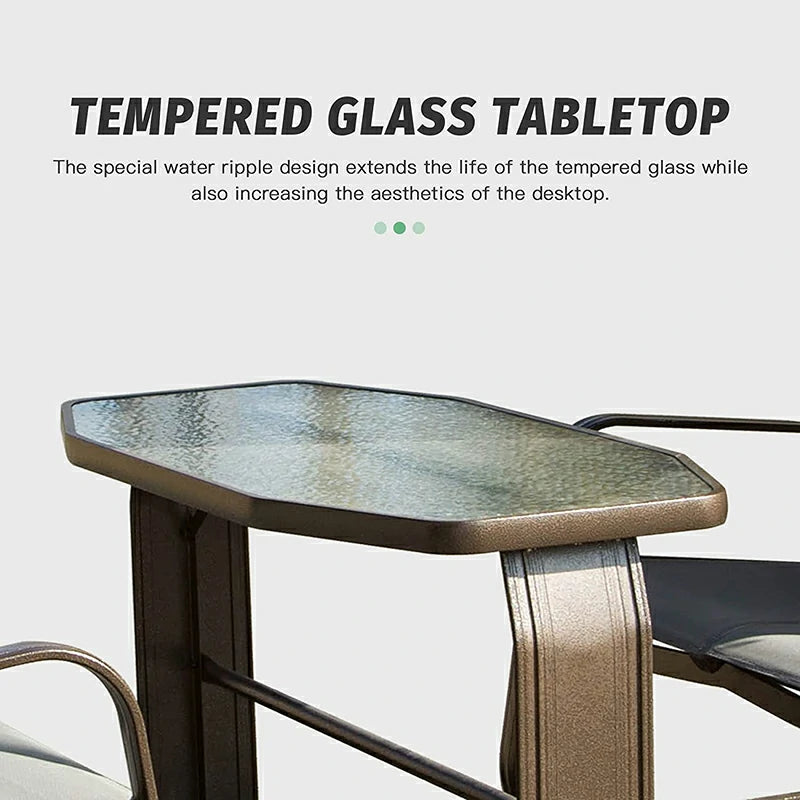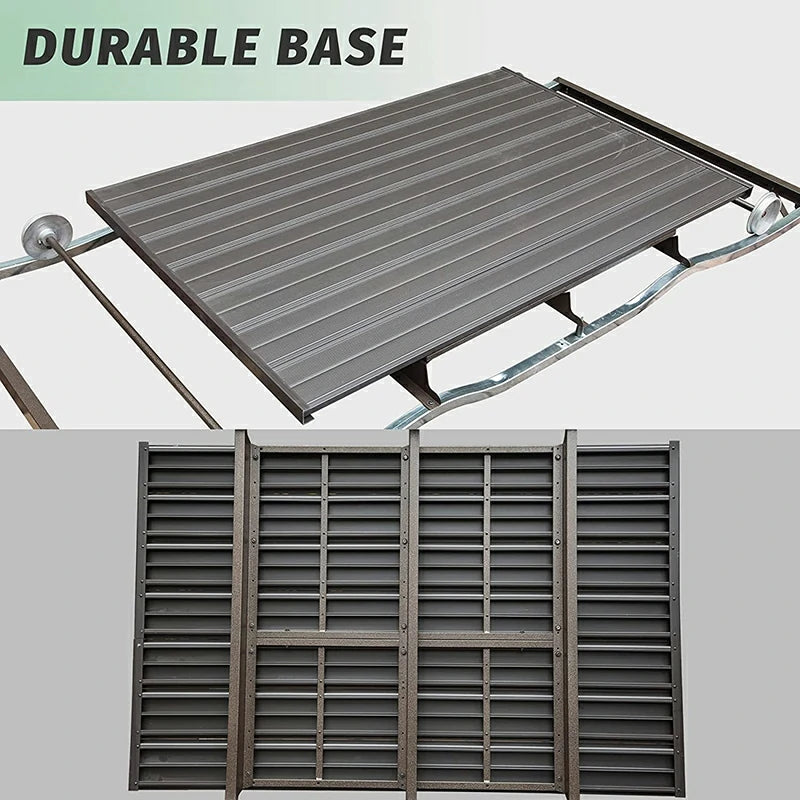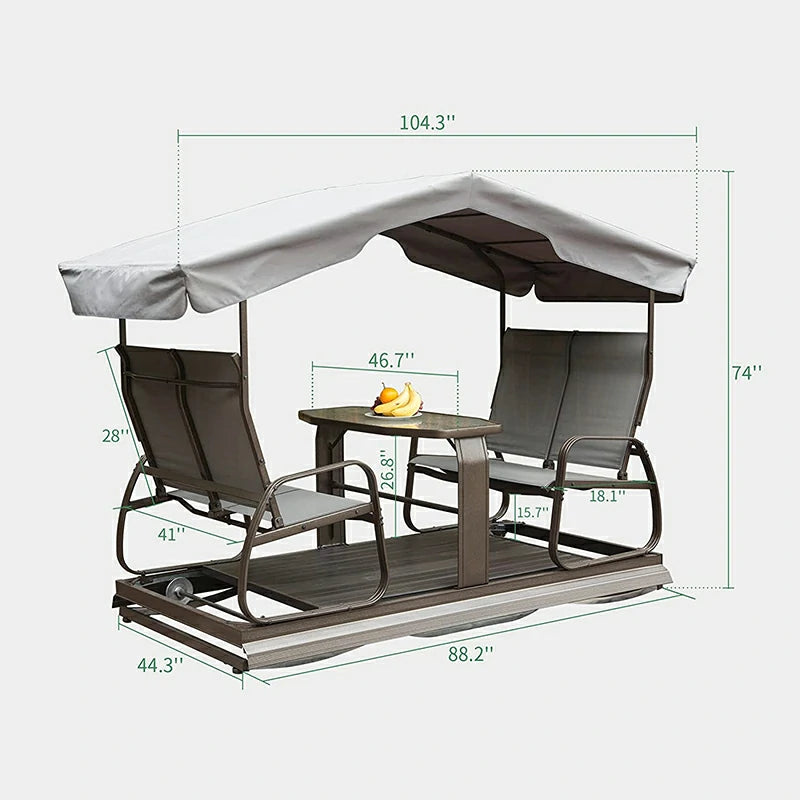 Patio Glider Benches with Canopy
SKU: LYFT0524
Product Specifications:

Brand: Domi outdoor living
Product Dimensions: 88.2"D x 44.3"W x 74"H
Item Weight: 132 pounds

Weight Limit: 350lbs Per Seat

Material: Aluminum, Textilene
Color: Brown,grey
Assembly Required: Yes
Relaxation at its Finest: Domi Outdoor Living 4-Seat Patio Glider Benches with Canopy
Unwind and indulge in the ultimate outdoor retreat with the Domi Outdoor Living 4-Seat Outdoor Glider Benches with Canopy. This remarkable piece of outdoor furniture redefines comfort and luxury, allowing you to experience blissful relaxation right in the heart of your own backyard.

Escape to Tranquility
Step into a world of tranquility as you sink into the plush, cushioned seats of this glider bench. The gentle gliding motion, reminiscent of a soothing rocking chair, creates a serene ambiance that will melt away your stress and worries. Whether you're enjoying a cup of coffee in the morning or watching the sunset with loved ones, this glider bench is your ticket to a peaceful outdoor haven.
Unmatched Durability and Style
Crafted with precision and elegance, the retro metal glider chair features a sturdy aluminum frame that guarantees longevity and stability. The tempered glass table top provides a sleek and functional surface for placing your drinks, snacks, or even a decorative centerpiece. With its timeless design and classic lines, this glider bench effortlessly enhances any outdoor space, creating a charming focal point that exudes style and sophistication.
Enjoy the Outdoors All Year Round
Experience the freedom of outdoor living without compromising on comfort or protection with the Domi Outdoor Living 4-Seat Outdoor Glider Benches with Canopy. Designed to adapt to every season and weather condition, this versatile patio swing chair offers you a world of possibilities for enjoyment in your garden, lawn, or any outdoor setting.
Shelter from the Elements
No more worries about sudden rain showers or scorching sun rays! The built-in canopy provides ample shade and protection, allowing you to enjoy the outdoors without exposing yourself to harsh weather conditions. Its adjustable design lets you customize the amount of shade you desire, ensuring your comfort and enjoyment in any climate.
Mosquito-Free Bliss
Say goodbye to pesky mosquito bites and irritating insects! Equipped with a convenient mosquito screen curtain, this glider bench creates a sanctuary free from bothersome bugs. Relish in the tranquil outdoor atmosphere without the annoyance of buzzing pests, and let your mind and body truly relax as you soak up nature's beauty.
Create Lasting Memories
The Domi Outdoor Living 4-Seat Outdoor Glider Benches with Canopy is more than just a piece of furniture—it's a catalyst for cherished moments and meaningful connections. Gather your loved ones, create lasting memories, and transform your outdoor space into a hub of togetherness and joy.
Spacious and Comfortable
With its four-seat capacity, this glider bench ensures there's plenty of room for everyone to relax and enjoy each other's company. The comfortable cushioned seats and ergonomic design provide optimal support, enabling you and your guests to linger for hours of delightful conversation, laughter, and shared experiences.
Versatile Entertaining
Host unforgettable gatherings and celebrations with ease. The glider bench's tempered glass table top serves as a convenient surface for drinks and snacks, allowing you to effortlessly entertain your guests. Whether it's a casual afternoon get-together or a festive outdoor party, this versatile piece of furniture sets the stage for fun-filled moments and creates an inviting atmosphere for all.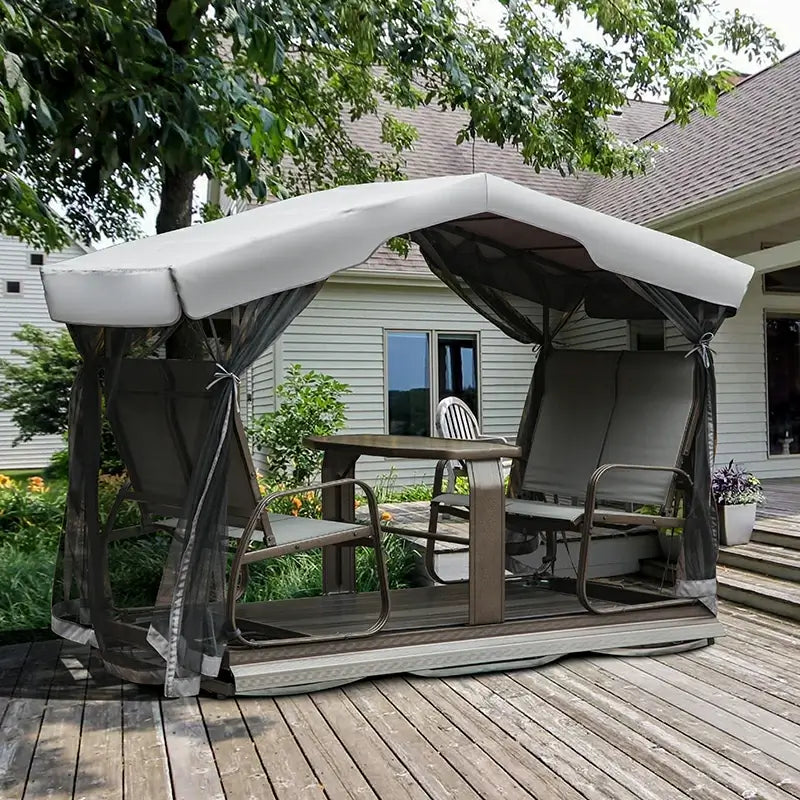 This product has no reviews yet.